Reading Time: 2 minutes
Join the challenge: Fun, free art competition
Join LumiVoice to reach 60 schools this year and ignite the creativity and passion of young minds. This challenge will inspire youngsters to take action in protecting our planet's incredible biodiversity with a fun, free art competition.
Voices for the Planet online wildlife art competition
has started and runs through 22 May. This year's theme is "Whispering Reefs" – beautiful coral reefs and the sea creatures living among them. Students can
participate by drawing, writing, singing, or taking photos or videos
. The challenge is open to kindergarten to secondary school students free of charge.
Share the competition with your school, a teacher, another parent, or a student. Become part of the voices for the wild with the fun free art competition.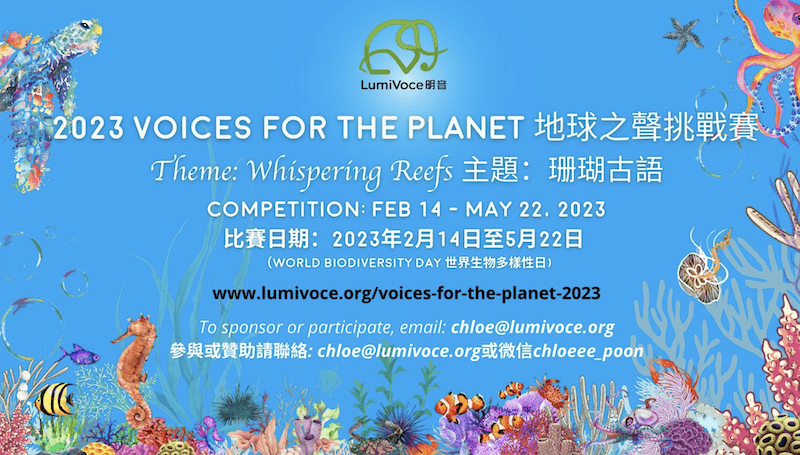 Protecting Hong Kong's future
Did you know Hong Kong waters have a higher coral diversity than the Caribbean Sea? About 40% of Hong Kong's total land area is designated as country parks, and although Hong Kong's marine area is only ~0.03 % of that of China, the number of marine species recorded in Hong Kong accounts for ~26 % of the total recorded in all of China.
What wonderful nature we're enjoying and surrounded by here in Hong Kong. It's a true treasure worth protecting so our children can live in a world full of green mountains and rich wildlife.
How to get involved
When: February 14 to May 22, 2023
Theme for the fun free art competition: Whispering Reef
Coral reefs provide an important ecosystem for life underwater, protect coastal areas by reducing the power of waves hitting the coast, and provide a crucial source of income for millions of people. Children will be able to learn about the different coral reefs and sea creatures by creating wildlife art with LumiVoice guidelines while developing love and compassion towards these wonderful creatures.
Submission: www.lumivoce.org/voices-for-the-planet-2023
Who can join the challenge?
LumiVoice welcomes all schools to take part in the challenge – Kindergarten, Primary and Secondary. They also invite corporations to support this impactful, community-based creative educational project that focuses on the environment, sustainability, and biodiversity through the arts.
If you are interested in being a partner or supporter of this project, please contact
chloe
@lumivoce.org
for further discussion.
Why should schools/students take part?
Ready-to-use guidelines for educators so they can save time to create a biodiversity education program
Free of charge biodiversity education materials so schools can easily participate even without funding
A diverse pool of wildlife experts and artists so children can experience learning outside-the-box
Children gain exposure to international talents through our biodiversity workshops
Supporting materials:
Individual guidelines for each category
Music and video stems
Research template
You may also like: Explore Hong Kong's Diverse Nature and Wildlife
Things to do This Month in Hong Kong