Reading Time: 2 minutes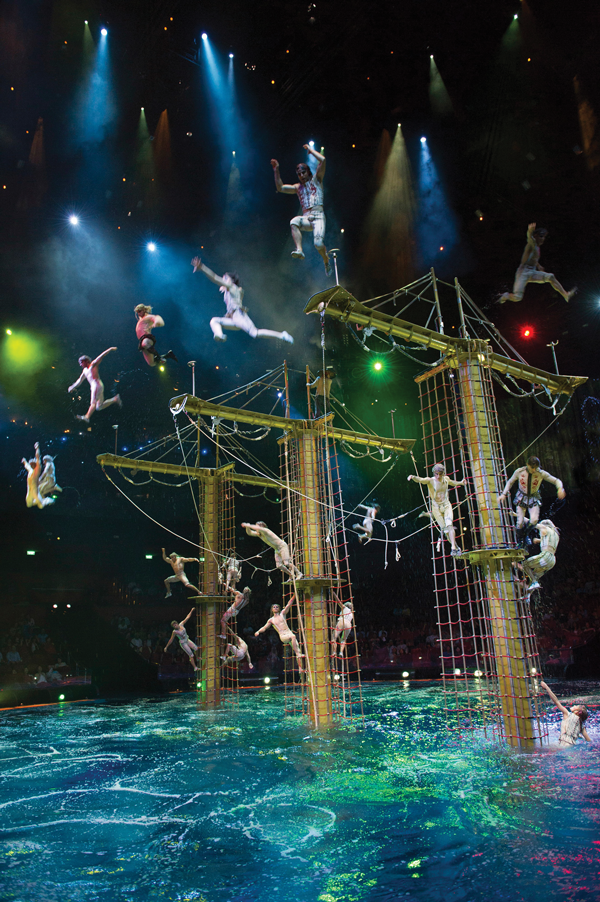 Heralded as "the world's most spectacular extravaganza" and having thrilled over three million spectators over the last five years, the bar of expectation was set pretty high when we walked into the City of Dreams' state-of-the-art theatre in Macau to see The House of Dancing Water. The show did not disappoint. From the moment things got going, we were treated to a high-energy visual feast of utterly jaw-dropping acrobatics, stunning motorbike stunts, unbelievable diving, boisterous dancing, a bit of ballet thrown in and a somewhat melodramatic love story to glue all the action together.
Everything about this show is designed to wow the crowds and to put on something never seen before. Both my boys and we adults found it unbelievable both in its human scope and also in its technical wizardry. The theatre was purpose-built and designed with the stage pool that holds a record-breaking million gallons of water (equivalent of five Olympic-sized swimming pools), but having seen how high the divers are before they plunge into the water, it was a comforting fact to know.
As the show gets started, all eyes are fixed on the massive bubbling pool in the centre of the theatre that divers are plummeting into, then suddenly the lights go out and when they come back on again, a hard floor is in its place for the next scene of the show. You are left wondering how on earth it is all happening and what is going to happen next.
When you attend any formal show lasting more than about half an hour with a four-and six-year-old, you might be concerned that they will be able to sit still, not get bored, or want to leave, but this mesmerising display of human flexibility and daring did way more than hold my boys' attention. They were gripped from start to finish of the 90-minute show. There were a few parts that my four-year-old found a bit noisy, but nothing that some 'hand covering' couldn't resolve.
On the way back to the hotel, my eldest's feedback was that the show "gave me more energy" and I think what he meant was that it was full of energy, and I couldn't argue with that. What makes it even more unbelievable is that the stars of the show perform this show twice a day. My other son declared that "it taught him some more moves" – I think I had better watch out for those because the moves in this show are definitely not something you'd want your child to try at home! It may be a ferry ride away but it's worth the trip.
DOS AND DON'TS
Do
Remember your camera or smartphone as you won't believe your eyes and will want to look back at some of the stunts post-event (although you're not allowed to use the flash during the show).

Bring ear defenders for younger children if they are sensitive to loud noises.

Bring a raincoat if you're sitting in the front rows!

Book your tickets and ferry in advance.
Don't
Forget your passport!

Forget to leave plenty of time to get there – the theatre is in the City of Dreams, but this is an enormous building and it does take some time to walk through the crowds of shoppers.
For more information visit
www.thehouseofdancingwater.com