Reading Time: 6 minutesIf there is any truth to the saying that "the way to a person's heart is through their stomach", you could do a lot worse than heading to one of Hong Kong's best eateries for a Valentine's inspired meal.
A British Love Story at Aberdeen Street Social
Executive Chef Chris Whitmore has whipped up a three-course British feast at Aberdeen Street Social for $550 per person (plus service). Diners will be welcomed with a glass of Prosecco and Oyster with caviar and champagne mignionette to set the mood. The dinner follows with a starter of Roasted French quail with pancetta and crispy quail egg or Cornish crab with BBQ tomato, basil and tomato vinagrette. Diners have a choice of two mains including Turbot with langoustine with morels, asparagus and baby peas or Roasted venison loin, red cabbage, Jerusalem artichoke, blackberries with juniper sauce.  End on an indulgent note with Chocolate tart or Strawberry Eaton mess. http://www.aberdeenstreetsocial.hk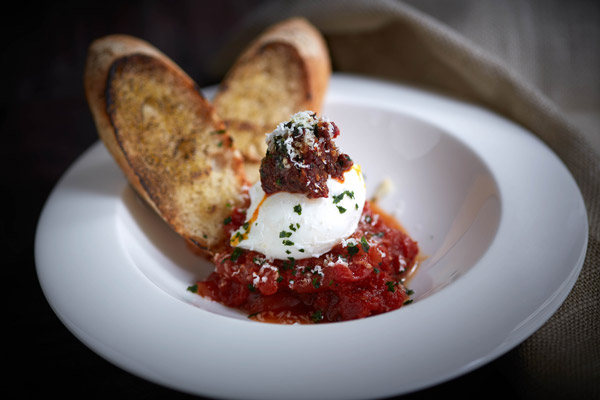 That's Amore at 208 Duecento Otto
Travel to Italy with your loved one at 208 Duecento Otto. Executive Chef Mick Bolam has specially crafted an Italian feast celebrating some of the most romantic regions in Italia. Dishes include Eggplant Milanese from Milan; Cacio e Pepe from Roma and a delicious special from Verona, the city of Romeo and Juliet. Diners can enjoy this feast for $598 HK per person (plus service). 208.com.hk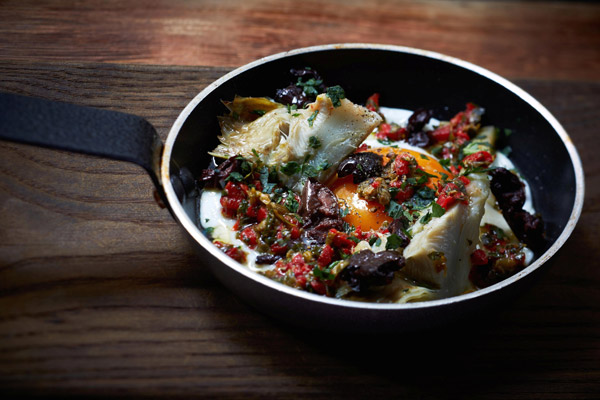 Sharing is Caring on Valetine's Day
Tapas is the perfect food to share with that special someone. For $550 HK per person, enjoy a special tapas tasting menu at 22 Ships, the buzzy intimate restaurant on Ship Street. Feast on Foie Gras Custard with Uni; Kingfish Ceviche with Coriander and Avocado and Squid, Piquillo Peppers with Chilli and Lime among many other delicious dishes. Sip on a complimentary glass of Cava while you dine. www.22ships.hk/home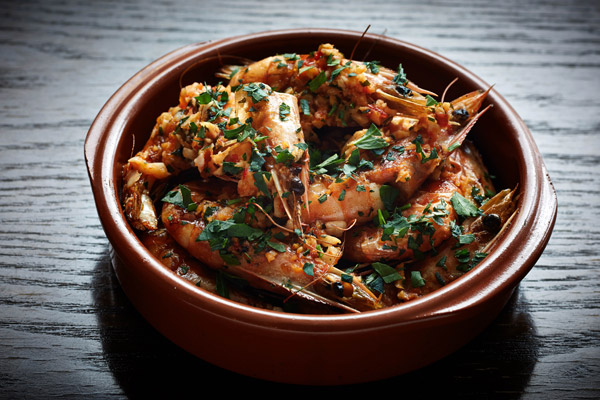 Feliz Dia de San Valentin
We've heard the Spanish know love and the know their food too. Ham & Sherry is offering diners a Spanish tapas tasting menu featuring Lomito Iberico de Bellota; Salt Baked Beetroot with Almonds and Goat's Cheese; Gambas with Zucchini and Lobster Sauce and Pan-fried Duck Breast with Pears and Smoked Paprika as well as other Spanish treats. Diners can feast on this tasting menu for $888 HK per couple. hamandsherry.hk
An Indonesian Romance at Potato Head
Potato Head Hong Kong has created a Valentine's Day menu with a spicy kick. Goku ikan tuna – marinated raw tuna with spicy coconut oil & assorted vegetables; Sate Udang dan Simping – Sambal Dabu Dabu – chargrilled prawn and scallop satays and Bistik Jawa – pan fried prime grade beef fillet mignons are just some of the mouth-watering dishes on offer. Satisfy your sweet cravings with Potato Head's Aneka kue Indonesia – a selection of assorted mini Indonesian-style pastries. This menu is available for HK $800 per couple. www.ptthead.com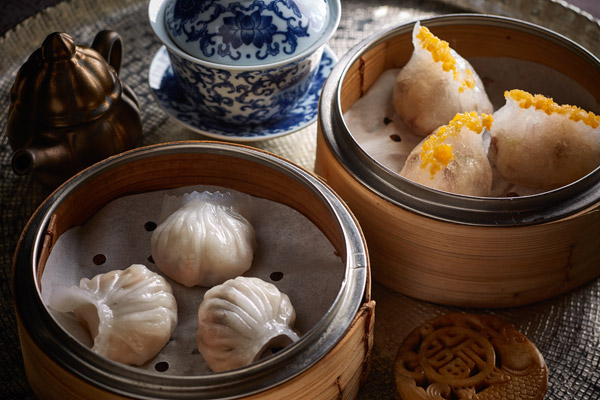 A Cantonese Love Story at Duddell's
For the couple looking for the finer things in life, celebrate at Duddell's. For $1380 plus service, couples can start with a refreshing glass of Ruinart Rose Champagne. Follow this with a range of sumptuous Cantonese delicacies, including Roasted duck broth with conpoy and black truffle; Fried king prawn with water chestnut and crispy head and Mushroom dumpling in pumpkin soup. www.duddells.co/home/en/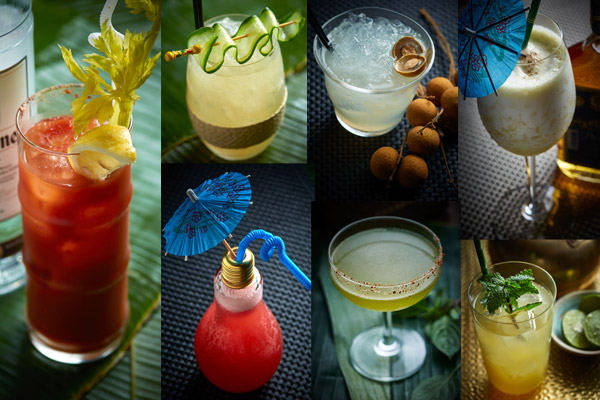 Get Ready to Mingle at Mak Mak
Mak Mak is offering a special cocktail for lovers and singles and dish featuring aphrodisiac ingredients for the whole month of February in celebration of Valentine's Day.  www.landmark.hk/en/dining/mak-mak
Tea for Two at the Clipper Lounge
Enjoy a Valentine's afternoon tea at the Mandarin Oriental's Clipper Lounge from 2:30 p.m. to 5:30 p.m. at a cost of $348 per person or $588 per couple. In the evening, enjoy a sumptuous buffet with an array of international dishes, fresh seafood and sashimi selections, desserts, as well as a new molecular ice cream station. Two seatings will be offered, with the earlier starting at 6 p.m. until 8 p.m. and the second seating starting at 8:30 p.m., both priced at $888 per person including a glass of Bellini per person.
Japanese – French at Wagyu Takumi
Wagyu Takumi is offering an eight-course Valentine's menu featuring French Oyster with Wagyu Jambon, Olive Oil Peal, Pan Fried Abalone with Shitake Consommé, Black Truffle and Pan Fried Blue Lobster with Caramel Spices by Chef Daisuke Mori at a cost of $2,680 per person.  www.wagyutakumi.com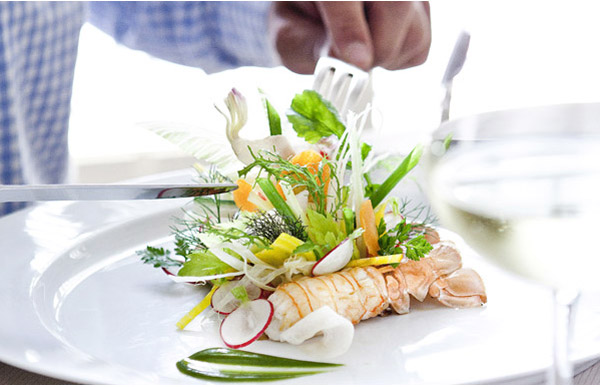 Opening night at Rech
Be the first to experience the new Alain Ducasse restaurant , Rech, at The Intercontinenal which opens on Valentines day with a special dinner featuring Gratinated oyster with Champagne Huître de pleine mer gratinée au Champagne; Wild red shrimps, gold caviar Gamberoni, caviar gold; Sea bass, shellfish and baby squid Blanc de bar, coquillages et calmars; Beef, duck foie gras and black truffle, Périgueux sauce Bœuf, foie gras & truffe noire, sauce Périgueux and Le fameux Camembert de Rech HK$1,288 per person plus service.
Lovingly Yours as Assagio
Between 10 – 14 February, Assagio in Hong Kong Arts Centre will be offering a five-course set dinner ($438*/person)
On offer are also three specially crafted Valentines items: Heart Shape Pizza ($108*), Fresh Oyster with Garden Herbs served with a glass of Sparkling Wine ($68*/ person) and Heart Shape Strawberry Semifreddo ($38*), enriching the sweet and memorable night of you and your beloved. www.miradining.com/assaggio-wanchai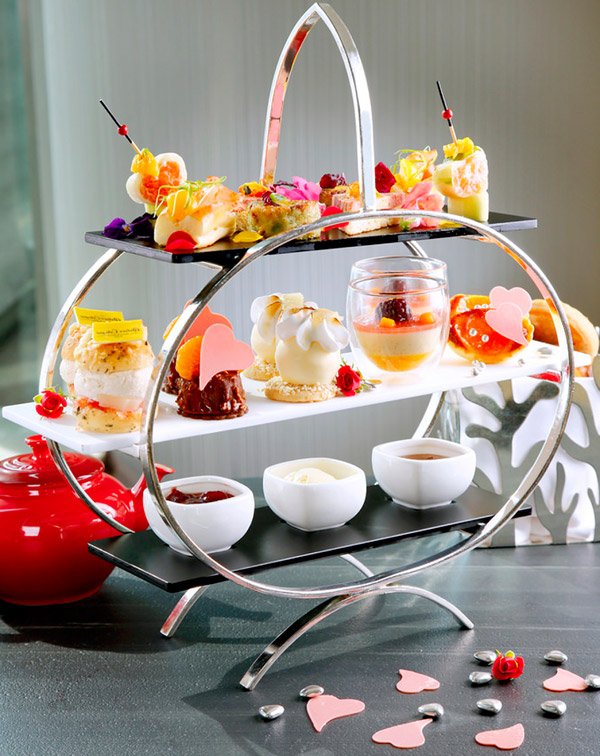 The scent of clementine at The Intercontinental Lobby Lounge
Throughout February and March, the Lobby Lounge celebrates romance with a Clementine themed tea set inspired by Atlelier Cologne's newest fragrance – Clémentine California. For $608 for two persons (Monday–Friday) and $628 for two persons (weekends & public Holidays, the Tea Set includes a selection of savoury and sweet items. The Tea Set also comes with freshly baked warm scones served with Devonshire clotted cream and special fruit jam and a special pass-around dessert.
www.hongkong-ic.intercontinental.com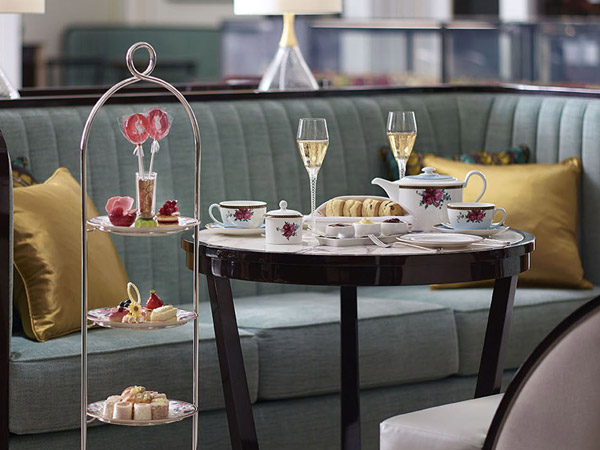 50 Shades of Pink at The Langham
Indulge in a range of colourful emotions with the 50 Shades of Pink Afternoon Tea at the Palm Court lounge. Executive Pastry Chef Matthieu Godard has created a selection of edible pink shades from Carmine made of sablé breton, vanilla cremeux, and mixed berries, to Cerise featuring cherry mousse, lemon curd and homemade biscuit. The experience continues with a savoury assortment of "pseudo" tomatoes with fillings of smoked salmon and cream cheese, chicken with Dijon mustard and green pea hummus with sesame paste. The Palm Court bakery will also serve a warm selection of plain and golden raisin scones, Devonshire clotted cream, and organic strawberry and rose preserves. The 50 Shades of Pink Afternoon Tea is available from 11 to 14 February 2017 and priced at HK$598 for two persons.
A taste of Spain at Alzina Spanish Asador
Celebrate the season of love at authentic Spanish restaurant, Alzina Spanish Asador, where Spanish-born Executive Chef Juanjo Carrillo will wow loved ones in the city with grilled specialties and other Spanish favorites in a seven-course menu for HK$580 plus service. Fresh Oyster with Strawberry and Beetroot Gazpacho and Spanish Caviar sounds a divine! And don't forget to wash it down with some sangria.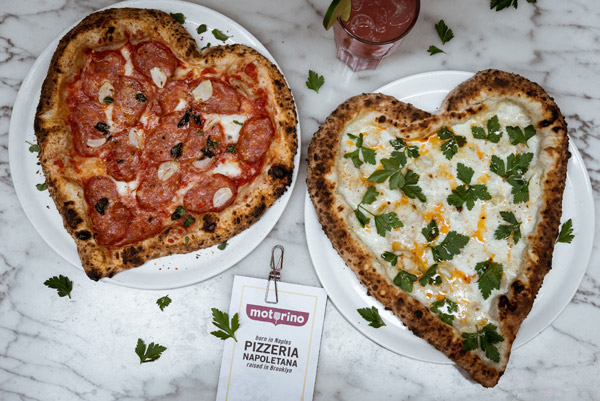 A 'pizza' your heart at Motorino
Hong Kong's chef-driven pizzeria, Motorino, invites guests to share their hearts one slice at a time with the return of its heart-shaped Neapolitan pizza. For a limited time, all Motorino's pizzas can be made heart-shaped upon request in-restaurant, for takeaway or delivery to your door. Available 11 February – 17 February 2016.
Gourmet hotpot at The Drunken Pot
Celebrate Valentine's Day with loved ones at trendsetting hot pot venue, The Drunken Pot, with an innovative set menu available from 11 February (Lantern Festival) to 14 February (Valentine's Day). Partake of their gourmet love delicacies featuring "Blossoms in My Heart" (Hk$78), crispy handmade dumplings made with fresh shrimps, pork, and black truffles paired with specially crafted love cocktails like "At First Sight" (Hk$98) which is a vodka-based cocktail designed especially for ladies, gently mixed with ingredients of romance including strawberry, rose petals, and strawberry marshmallow.
The Drunken Pot always aims to be ahead of trends, bringing something new and innovative to enhance the hot pot culture in Hong Kong. For more information, please visit www.thedrunkenpot.com.  For reservations, please call :The Drunken Pot at 8 Observatory Road: (852) 2321-9038;
The Drunken Pot at V Point: (852) 2323-7098.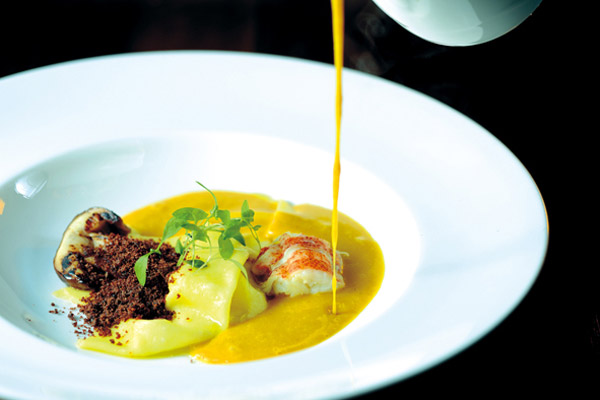 Journey of Amore at Cucina Italian Restaurant
Marco Polo Hong Kong Hotel's Italian Chef de Cuisine Andrea Delzanno has crafted an enchanting menu especially designed for couples featuring Alaskan crab meat salad with oscietra caviar and beetroot or Heart shaped ravioli with lobster, burrata cheese and cherry tomato for starters – designed to send hearts a flutter. Choose from main courses – Pan seared Japanese tuna with carrot, celeriac root puree and celery salad or Slow cooked Taijima Wagyu beef short ribs with braised red cabbage and raspberry sauce. Finally, fall in love with the sensual Mint and strawberry dome with chocolate chips and passion fruit sauce. 
Each couple will receive a box of chocolates to take home for a perfect end to a night of romance. Cucina's Valentine's Day dinner menu is priced at HK$998 per person.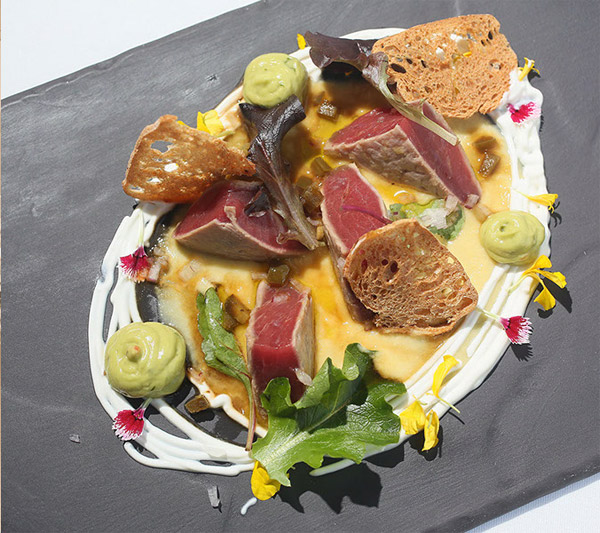 Truly Tapas at FoFo by El Willy
Sharing is caring seems to be the theme for Valentine"s Day at FoFo by El Willy.  Share seven different tapas and a choice of main course – FoFo's signature crispy suckling pig with smoked eggplant, stuffed piquillo pepper and red curry sauce Or Wagyu beef with potato foam, wild mushrooms, Spanish black truffle & green asparagus  (add $188) followed by a sweet, sharing concoction of strawberries and white chocolate. Priced at HK$1,688 + 10% per couple.
Love Dually at Lily & Bloom
2 for 1 on EVERYTHING beverage (including bottles) all night long. Valentine's Day is a celebration of 2 people becoming 1 so at Lily & Bloom, we want to celebrate this special TUEsday with an amazing 2-4-1 promo.
Valentine's Day 4-Course Dinner Menu (HK$580 per person) featuring Chilled Seafood Trio, Guinea Fowl Ballontine, Beef Wellington for Two and to sweeten it all up, Passion fruit semifreddo with vanilla scented seasonal fruit. 
Open from 9 pm till late on Tuesday, 14th February 2017.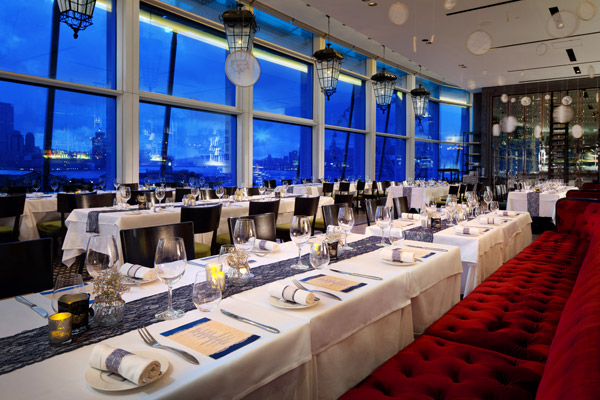 The French Window x ASHOKA® Diamond – A Feast of Love Valentine's Day Menu
Indulge yourself and your loved one with The Feast of Love at The French Window on this Valentine's Day. The 6-course menu highlights Flower Bouquet, Duo of Tuna and Swordfish Carpaccio and Sous-vide Short Rib with Lyonnaise Potatoes and Rose Harissa or Iberico Pork Fillet with Grilled Endive and Alsace Bacon Roll as main course. Wrap up the dinner with an exquisite dessert, The Puff Swans Platter.
The 6-course Valentine's Day menu is available on 14th February from 8:30pm to 11pm ($880*/person, minimum 2 persons). First 25 couples placing order will be entitled a diamond necklace sponsored by ASHOKA® Diamond (Valued at $2,500)!
If you are looking for an early dinner on Valentine's Day, you can try the 4-course Valentine's Day menu on14th February ($500*/person, minimum 2 persons) available from 6pm to 8pm. The 4-course menu is also available on 11th – 12th  February ($680*/person, minimum 2 persons) from 6pm to 10:30pm.
Booking is not available on 13th February due to event reservation. *10% service charge applies