Reading Time: 4 minutes
Angela Baura looks at the impact of those heavy school bags that Hong Kong kids lug around.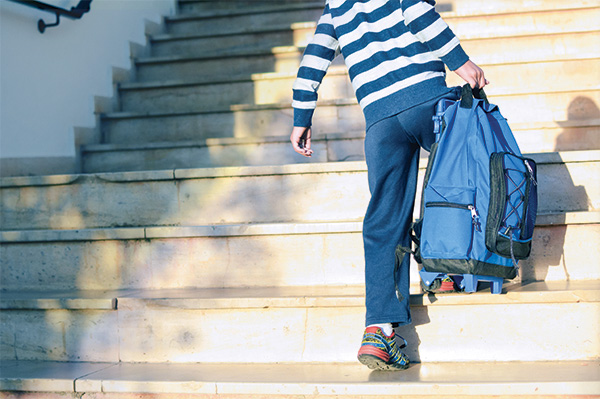 Standing tall, Naomi, age 7, is a happy and healthy child. Thanks to a series of simple fixes, she no longer struggles with neck and shoulder pain caused in part by her student backpack – a source of much physical and emotional angst last year.
"My osteopath immediately identified Naomi's causes of pain. She'd slouch when sitting and her muscles were strained from carrying a heavy school bag every day. Naomi had a few sessions and was given some stretches to do at home. We tidied her bag every day, so she didn't carry around unnecessary things, and her pain settled soon after,"
her mum shares.
Naomi is not the only student in Hong Kong to struggle under the weight of her school bag, according to alarming research by the Democratic Alliance for the Betterment and Progress of Hong Kong (DAB) last year. Around 80 per cent of primary students in Hong Kong carry overweight school bags, according to the survey, which covered more than 900 students from schools in 18 districts. The average weight of school bags was found to be almost 5kg, approximately 64 per cent heavier than the Education Bureau's recommended standard of 3kg – or 10 per cent of the carrier's average body weight. The figures were said to be the worst in a decade.
Regular use of an overweight backpack can cause numerous issues in a growing children including poor posture, curved spine, and pain in the upper and lower back, shoulders, neck, pelvis and feet, warns Abby Yek Cheung, a partner and physiotherapist at PhysioMotion in Central. And, it's not just the weight of the bag that causes problems. All too often, children wear their bags incorrectly, she says.
Speaking with Playtimes, Abby advises students, parents and schools how to take the load off children's backs.
Pick the right pack
Abby warns against across-the-shoulder or messenger bags, which don't distribute weight equally. The right backpack is best, she says.
Backpacks should be size-appropriate.
"The student should use a child-sized backpack. The width of the backpack should be no wider than the child's torso,"
she advises.
Last year, Island Christian Academy (IslandCA), a primary school in Sheung Wan, updated its policy on school bags in response to parents' feedback. Whilst Year 2 to Year 6 students are required to use the school's backpack, Year 1 students can bring their own smaller backpacks to school.
Vice Principal Charlotte Owen explains,
"Parents shared concerns that the bag was too big for some Year One students. They found it hard to lift their bag; they felt unbalanced and they were worried they might fall backwards. A few children were also getting sore backs and shoulders. The decision was made very easily and quickly to make the change. Parents were delighted and we have had no further comments about bags since."
The ideal backpack should also have wide and padded shoulder pads, a chest strap and – though not a common feature in backpacks – a pelvis strap, Abby says.
Wear it right
When a student sees Abby for the first time, she asks them or their parent to bring in their backpack. She shows children how to wear their backpacks and she sends a picture to the parent by WhatsApp to serve as an ongoing reminder.
"Backpacks should be worn on both shoulders, not just on one shoulder. They should sit squarely on the shoulders and the back, so weight is distributed evenly. Often students wear their bags slung low, which causes their upper body to lean forward to compensate. This puts pressure on the lower back. Bags should be worn high on the student's back, with the bottom part sitting one inch above the hip,"
Abby advises.
The chest strap and the pelvis strap, if available, should be clipped in place so the backpack is close to the body. Straps can be adjusted to accommodate lighter clothing in the summer and thicker clothing in the winter. This prevents chafing caused by bags swinging from side to side, she explains.
Lighten the load
Ten pounds in a backpack is equivalent to 70 pounds of force on a student's spine, according to a new study by Dr Kenneth K Hansraj, Chief of Spine Surgery at New York Spine Surgery and Rehabilitation Medicine. Put simply, one book is equal to seven books on a neutral spine and, for students whose spines tilt forward by 20 degrees, one book is equal to 12 books to the spine. Dr Hansraj recommends students only pack what is necessary in their backpacks. This may be difficult for hoarders, he notes.
Abby advises heavier items should be placed in the centre of the backpack to ensure students don't lean to one side. If a backpack is heavier than 20 per cent of a child's body weight, she recommends a rolling backpack with wheels.
Teachers can also be reminded that students should not carry too many items in their bag, Charlotte comments.
"Our teachers do not give students multiple text books for homework purposes. We give minimal homework so bags are light and children aren't sitting for prolonged periods of time after school. Year One to Year Six students have trays and Middle Year students have lockers to store their learning materials at school."
Seek help
The Plumb Line assessment is used as a reference of alignment for the body when examining posture.
"When you stand against the wall, the back of your head, your shoulder blades, your bottom and your heels should be touching the wall,"
Abby explains.
If this is not the case, if your child bends forward and you see a curve, or if your child complains of pain, seek professional help.
"Addressing postural habits, pelvis alignment, teaching children how to sit and how to carry their backpacks can prevent and fix backpack injuries. Be assured that if the issue is postural, it can be fixed,"
Abby concludes.
Bags of Ideas
Nike Elemental Kids Backpack
Features padded adjustable shoulder straps.
$209, www.nike.com.hk
Dustin Series Ergonomic School Backpack
Designed for primary school students it has a large top loading compartment for text books and a unique insulated rice box compartment.
$788, www.mykags.com
Nikidom roller
Hailing from Spain these ergonomic bags are designed for children age 7 to 12. The revolutionary roller schoolbag has 17.5 cm wheels that are quieter and make it easier to go up and down stairs.
$880, https://shop.freemax.com.hk
Ergobag Prime
This bag is adjustable to the back length of the child, for a child up to 150cm. The waist flaps stay in place, ensuring the strain is taken off the child's back.
$1,280
Pressure Free School Bag
Dr Kong school bags are designed using a pressure free concept. The middle back plate is hollow, which provides a pressure-free space, preventing the spine from hitting it and thereby protecting the spine. There is an online guideline to help parents select the correct size bag for their child.
$499, www.dr-kong.com.hk/
This article appeared in Playtimes Winter Issue 2018/19.