Reading Time:
6
minutes
It's that spooky time of the year, when we can ALL dress up, eat a mountain of candy and it's totally acceptable. We've rounded up the best way to celebrate Halloween in Hong Kong 2021.
Editors Note: Due to the current Covid-19 Pandemic, events are being cancelled or postponed at short notice. Please check with the organisers for regular updates.
Where to Celebrate Halloween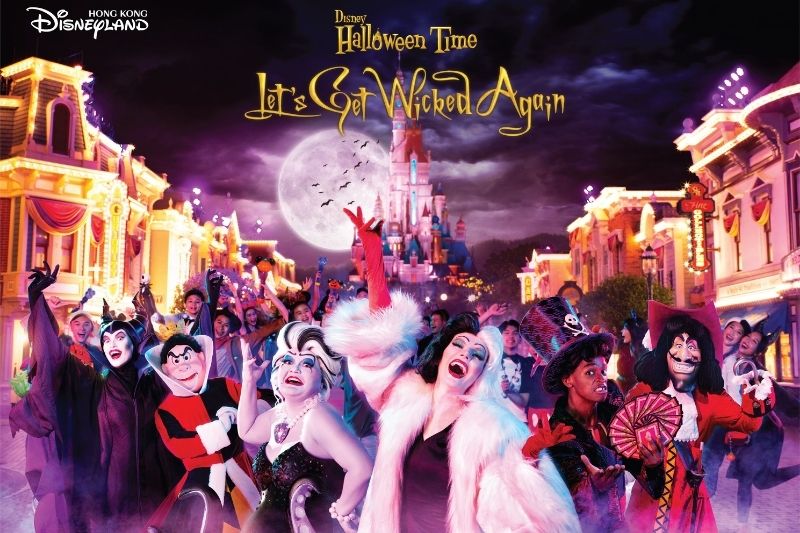 Get Wicked at Hong kong Disneyland with iconic Disney villains this Halloween. The Disney villains along with their Disney friends invite you all to join them in your favourite Halloween costumes, for a frightful time. Join the villains for a musical wicked show. Parade with mickey and friend down main street for the Halloween street party, and keep an eye out for special appearances throughout the park of the dastardly villains.
When: From now until 31st October 2021
Where: Hong Kong Disneyland
How Much: General Admissions prices start from $520 (ages 3-11) and $699 (12 & above).
Experience a spooky staycation you won't forget! Face your fears by breaking out of Hong Kong's most frightening escape room, the Coffin Homes, solving puzzles along the way. Upon your return to The Langham, enjoy a Halloween-themed feast featuring Spooky Chicken Tacos, Bloody Finger Hot Dogs, Pork Ribs and Sausages, Zombie Eyeball Bavarois and Graveyard Cupcakes. The package includes tickets to "Sugar Street Studio," daily breakfast, cocktails and dinner for two.
When: 14-16 October, 22-23 October, 29-31 October 2021
Where: The Langham
How Much: $1848 HKD per night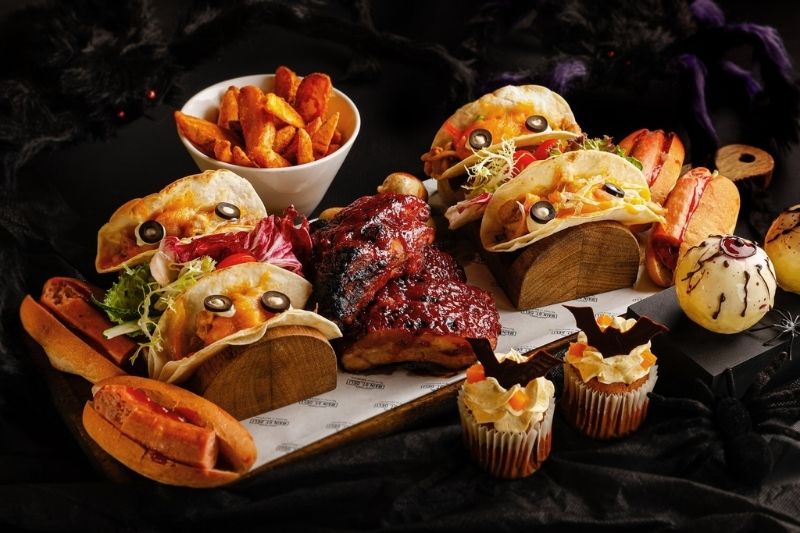 Paint & Wine Halloween
Grab a paintbrush, dress up as your favourite villain, and join the Hive for a spooky paint & wine themed Halloween event. Treats, wine and canvas are all provided. Tickets can be purchased at eventbrite.
When: 28th October 6.30 – 8.30pm
Where: The Hive Studios, 12P Smithfield, 8th floor, Kennedy Town
How Much: $150 for members and $200 for non members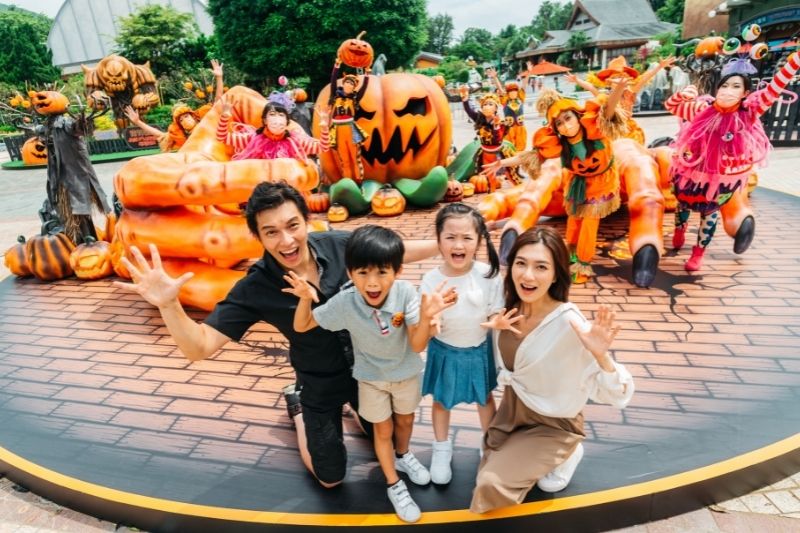 Instead of a traditional haunted house, Ocean Park will be showcasing interactive experiences for all visitors – Survivor of the Undead, Forbidden Rainforest Treasure Hunt and The Supernatural Ghost Tour. Creatures and ghouls will be waiting in the wings to entertain guests. Be ready for spooktacular performances and a jaunt around old Hong Kong's murder mysteries with your friends to find the clues to help the victims of this street. 
When: 1 – 31st October 2021 / Night Experience available 14-17, 22-24 & 20-31
Where: Ocean Park Hong Kong
How Much: General admission prices start from $249 (ages 3-11) and $498 (12 & above)
Halloween Fun by 5678 Studio and Happy baton
5678 Studio and Happy Baton are joining forces with some spooky activities for the whole family to celebrate Halloween in Hong Kong 2021. Activities will be arranged by age and include; Dancing & Halloween Tales, Witches Upcycled Craft Workshop, and a Pumpkin Patch Trampoline. Don't forget to dress up! Suitable for ages 2-7 years old, and tickets can be purchased via Eventbrite.
When: 17th October 10 – 4pm
Where: Kwai Bo Industrial Building, 17 D, Kwai Bo Industrial Building, 40 Wong Chuk Hang Road, Wong Chuk Hang
How Much: $280 which includes 1 child & an adult
A special one day workshop to learn the science behind making slime, with a Halloween twist! Hosted at MakerBay, suitable for ages 5 – 8 year olds. For more information visit www.curiositykidshk.com.
When: 9th October 10 – 11am
Where: Unit 508, Block B, PMQ, 35 Aberdeen Street, Hong Kong
How Much: $275
"Speed Up The Beats" Halloween Party
Repulse Bay's The Pulse will be launching a "Speed Up The Beats" Halloween Party this October, with a Rollerween party, Halloween-themed "Squid Game" Dalgona candy, and escape games. 
Into the beat – Madame Quad 's Spooktacular Rollerween – Madame Quad has set up an 8000 sq. feet roller skating rink on the 3/F. There will be three 2-hour open skate sessions each day, and a roller disco session each night on the 30 and 31st. Dance and skate all night long with a DJ pumping thrilling beats. Coaches will be on hand to teach the basic skills for skating, including stops, crossovers and backward skating during the first hour. Eco glitters and Halloween costumes will be provided, so skaters to create their own unique Halloween look. Prices start from $100.

Feel the beat – LOST The Pulse Escape Games –  Join the escape games at LOST at The Pulse, where you must use the elements of the room and your wits to discover clues to help you escape the room! 
Sweet to the beat – Free "Squid Game" Dalgona Candy Redemption – The Pulse has  prepared some Halloween-themed Dalgona candies for all shoppers. Upon spending $400 at the pulse, shoppers can get a chance to redeem a Dalgona candy and start the challenge. 
When: 30-31 October 2021
Where: 3/F The Pulse, Repulse Bay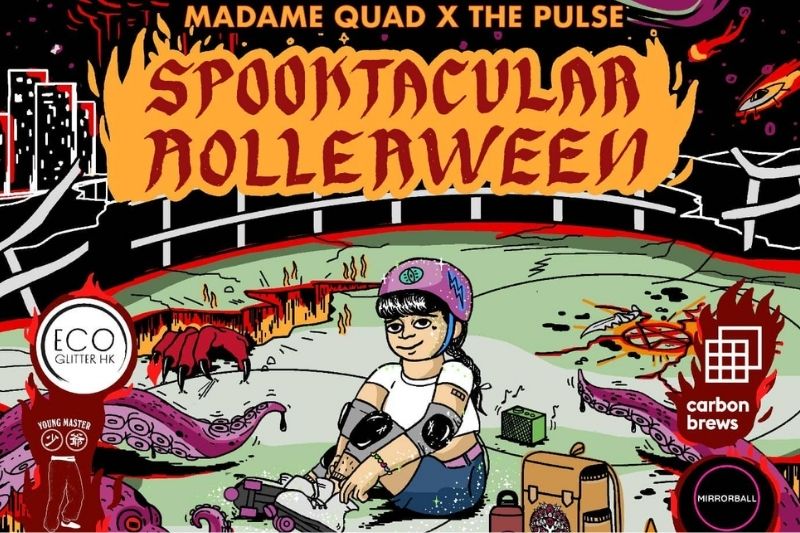 PMQ will be hosting a series of workshops with local brands some of which have a Halloween focus like the pumpkin lanterns from 3D paper art with Man Made Chan Pei. There are more than 40 different workshops to use from, across many different fields. Visit PMQ for a full list of what's available.
When: Throughout October
Where: PMQ, 35 Aberdeen Street, Hong Kong
How Much: Prices start from $300 HKD
The Peak will be transforming itself for Halloween with a series of fun family activities from 28 – 31 October 2021, with free admission to Sky Terrace when wearing Halloween costumes. ⁠What to expect? Trick or Treat candy hunting for $88 per child.⁠ A Fit & Treat Halloween children's workshop with for $400 (1 adult and 1 child). Free ⁠Spooky Halloween workshops featuring, pumpkin lantern making, ghost stories and more. Tickets available from The Peak. 
A spooktacular celebration for children aged 0-5 years old, hosted by The Wild Lot with sensory play workshops for children 6 months to 2 years by Little Nature Wanderlust. There will also face painting, pumpkin decorating and cookie workshops for all ages. Don't forget the Halloween costumes! 
When: 29th October 3 – 7pm
Where: The Wild Lot, 6-10 Shin Hing Street, Shop B, G/F, Sheung Wan
How Much: $350 per child (parents/caregivers can enjoy drinks (water/soft drinks/beer/hard seltzer/bubbles) and a selection of nibbles for $100 per person paid on arrival.
On 30th & 31st October, Aqua Luna will transform into a floating ship of terrors, cruising with ghouls and pirates for Halloween. Sail along the dark waters of Victoria Harbour and enjoy spooky Halloween tunes on the Haunted Harbour Cruise. 
When: 30 and 31st October 2021, 5.30pm – 8.30pm
Where: Aqua Luna Central Pier
How Much: $400 per Adult (including a glass of Halloween themed cocktail or
add $100 for free flow prosecco, house wine, beer, soft drinks or juices). $300 per child (including a glass of Halloween themed mocktail).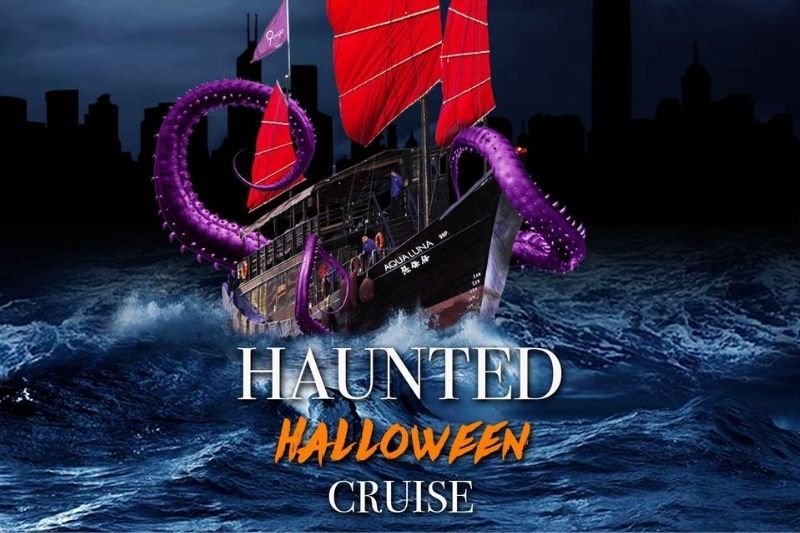 Head over to Tikitiki bowling for some fun games and give-aways this Halloween. With live music, a 3-course dinner, one hour free bowling, and the option to add on one hour free flow for $99. Best costume wins $500! Contact
reservations@urban-ent.com
for reservations.
When: Sat and Sun 6 – 10pm
Where: 4/F Centro, 1A Chui Tong Road, Sai Kung, New Territories
How Much: $299 Adults and $99 Kids
Want to learn to make your own Halloween costume? Learn how to turn plain fabrics into exciting and imaginative designs using screen print, heat sublimation ink and fabric markers to create your own matching bag to go Trick-or-Treating throughout The Mills.
When: 23 – 24 & 30 October 1.30 – 5.30 (hourly workshops)
Where: Techstyle X, Shop 108, The Mills, Tsuen Wan
How Much: $200 per person (suitable for ages 6+, with supervision required for children under 12)
The second in the series of game-based activities booklets that takes in many of the city's most famous landmarks in a fact-packed and thrilling challenge. Explore Hong Kong's Wan Chai district. Follow the clues and directions to find out who has been terrifying its residents and terrifying tourists. 
When: In your own time
Where: Do it yourself activity booklet
How Much: $350
For more Halloween happenings at The Mills visit their website here.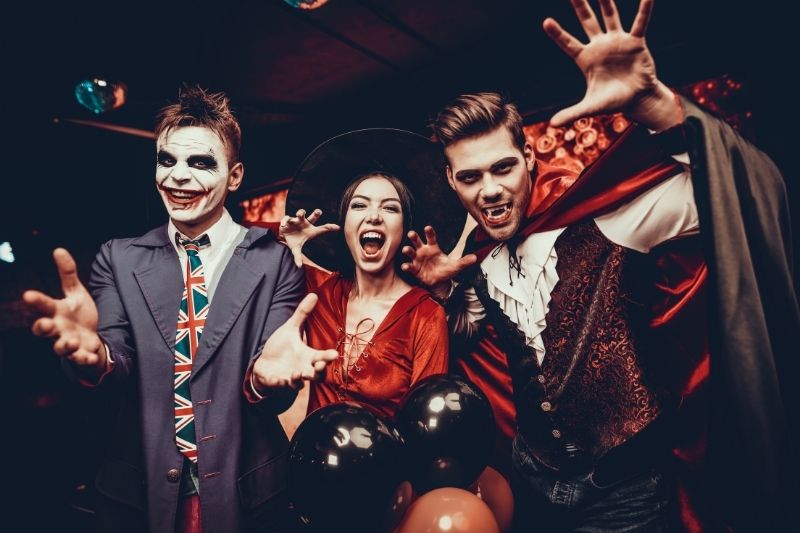 The most iconic way to celebrate Halloween in Hong Kong 2021, is to head over to Lan Kwai Fong for the annual Halloween street party where all sorts of scary things come out to play and go bump in the night. Bars and restaurants in the area will be hosting themed parties while party goers flock the streets dressed to impress. 
Celebrate Halloween 2021 with RULALIVE, in LKF, in your best Halloween costume and mask. Enjoy Sunday happy hour drinks with friends. Vaccinated only, and LeaveHomeSafe required at entry.
When: 31st October 2021
Where: G/F, Grand Progress Building, 58-62 D'Aguilar Street, Lan Kwai Fong
How Much: Free entry from 6 – 7pm, $100 cash after 7pm (includes 1 drink)
For some 'dead' laughs this Halloween head over to Comedy Showcase, as some Hong Kong finest comedians raise their old standup material from the dead, cobwebs and all! A unique way to celebrate Halloween in Hong Kong 2021. Tickets can be purchased at Zicket
When: 30th October 2021
Where: 1/F Fortune Building, 150-158 Lockhart Road, Wan Chai
How Much: Pre-sale $200 / At the door $250
At Home
Looking for an activity for the children to do at home? Perhaps a game of Scary Bingo, available for $265 from Petit Bazaar? Or let your little ones create their own spooky Halloween scene with Lego available from Bookazine. Activity Box has created a special Halloween themed box suitable for children age 3-8 years. The box features four craft activities with step-by-step instructions and materials for each activity. Extend the fun with Halloween fun facts, jokes and a DIY Slime science experiment, priced at $238.
Main photo courtesy of Shutterstock; photo 1 courtesy of Hong Kong Disneyland, photo 2 courtesy of The Langham Hong Kong, photo 3 courtesy of Ocean Park, photo 4 courtesy of Shutterstock, photo 5 courtesy of Aqua Luna, photo 6 courtesy of Madame Quad, photo 7 courtesy of Shutterstock.
Related Articles: