Reading Time: 5 minutesAt last, the holiday season is fast approaching. Summer time calls for a wardrobe update, but all too often, during pregnancy and post-pregnancy, women may feel like it's not worth spending money on short-lived maternity clothing, and prefer to make do with their existing wardrobe pieces.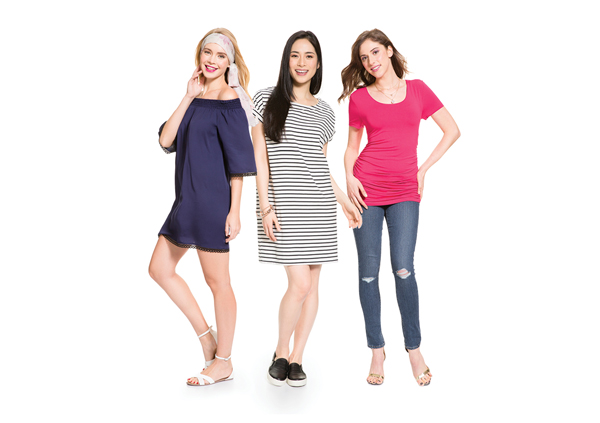 However, as a woman's shape changes and her needs adjust to fufilling the needs of a baby, it is vital to invest in a few key pieces that will adapt to your changing shape during and after pregnancy, while combining functionality. Women should not have to sacrifice style just because they are pregnant or breastfeeding!
Many of us are trying to lead more sustainable lives, and the key to building a sustainable wardrobe – whether you're expecting or not – is to invest in pieces that will last more than one season. So while you are pregnant, finding a few versatile pieces that satisfy the latest trends while combining practical, discreet nursing access is the perfect solution to give a wardrobe update that will take you far  beyond the nine months.
So, what are the spring/summer looks that can take you through pregnancy and beyond, and still top the style stakes?
Off-the-shoulder silhouette
The hottest spring trend, the off-the-shoulder silhouette is perfect for your summer holiday. Channelling the chic Riviera look, choose an A-line cut which discreetly conceals your bump during your first trimester while allowing for more room to grow throughout pregnancy. Style the relaxed look with leather thong sandals and a leather tote bag for a chic beach look or city brunch with friends – add a printed headscarf for a modern twist. After baby is born, the off-the-shoulder dress will hide lumps and bumps. When the occasion calls, add pointed heels and a graphic print clutch to update the look.
Graphic stripes
Iconic stripes à la Brigitte Bardot are a classic must-have that appear season after season, and are an effortless and subtle way to inject prints into your wardrobe. To avoid the guilt of purchasing multiple items during your pregnancy and for breastfeeding, it makes sense to combine the practical requirements of early motherhood with shapes that can flatter your figure during all stages of pregnancy.
A striped boxy maternity and nursing dress, like the one above from Mayarya, ticks all these boxes – an everyday piece that can be dressed up or down, the relaxed fit grows with bump while still remaining the perfect loose fit for post-pregnancy wear. Pretty pearlised popper buttons at the shoulder allow for breastfeeding access, making this a brilliantly eco-friendly choice combining style, function and quality. This style is also available as a tee (see below). Throw on during rushed mornings with baby in tow and retain your style kudos at brunch dates with friends or playdates in the sun.
Vivid colours
Hot pinks, bright yellow, cobalt blues and vivid brights are big news for the  summer. Avoid impulse purchases and only buy colours that you know will compliment your skin tone. Cobalt blues compliment fairer skin, bright yellows and oranges are gorgeous on olive skin tones while hot pinks are great on all skin tones.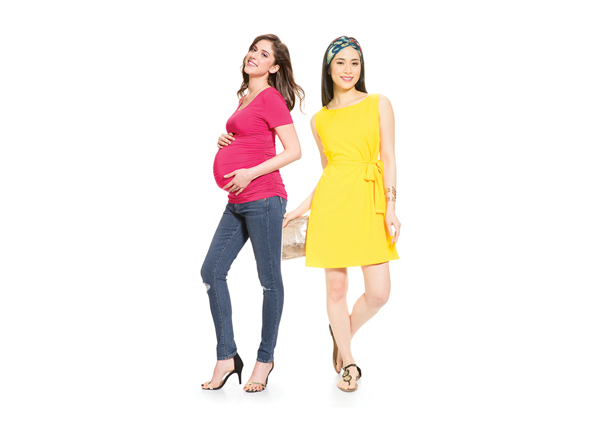 Invest in pieces that can be worn as your shape changes. Luxurious silky soft woven fabrics which are lightweight and drapey offer timeless style that can be worn season after season.
Modern cocoon shapes give you that effortless contemporary edge. While it conceals your early first trimester bump, the silhouette will also hide post-partum belly, too. Choose pieces that include discreet nursing access to ensure your new buys are multi-functional and stand the test of time.
Abstract prints
The spring/summer runways were abundant with vibrant palm prints, updated florals and pastel geometric shapes. For the style-savvy fashionista, bright prints are essential for your wardrobe – but again, be sure to invest in pieces that combine function and style.
Choose silhouettes that are bump-friendly but not bump-only, and button-front details that allow for breastfeeding post-pregnancy. Breathable, fluid, silky soft fabrics are great investments, perfect for summer holidays in the sun and a sure street style winner. Opting for pleated details at the empire waistline accommodates for growing bumps, while stretchy necklines that can be pulled down for nursing baby means you can wear them before, during and after pregnancy.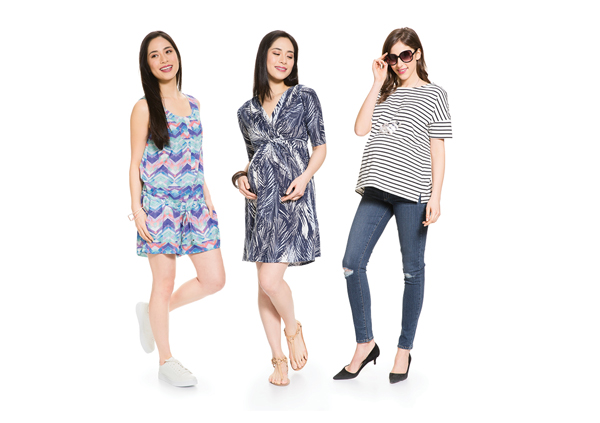 ---
Tips for an eco-friendly maternity wardrobe
Seek clever designs that are made to last all stages of pregnancy and beyond.
Look for multi-functional pieces you can wear to breastfeed baby if you choose to.
Invest in quality fabrics that you can wear season after season.
Consider how each new piece will work with your existing wardrobe and accessories – you should be able to combine at least three looks with your new buys.
If you're unsure what your essential items are for maternity, post-pregnancy or your regular wardrobe, book a home shopping appointment with Mayarya for a no-obligation service where a personal shopper will help advise you to avoid any unnecessary purchases for you. To get in touch, email info@mayarya.com or call 8100 4008.
---
Fast fashion: The facts
Everyone loves a bargain, but when it comes to clothes, are rock-bottom prices for up-to-the minute fashions sustainable – or desirable? The fact is that fast-fashion is harmful to the environment. At least 13.1 million tonnes of clothing are thrown away each year around the globe, contributing to the growing concern about the world's landfill. And a staggering 20 per cent of industrial water pollution is due to textile production.
Often, people look to purchasing eco-friendly organic cotton but are not fully informed about the many processes involved to make that organic cotton suitable as clothing form. Although it does play its part in contributing to a happier planet, organic cotton alone is not the answer to help our environment.
And it was only three years ago that we heard the devastating news of the collapse of the clothing factories of Rana Plaza, Bangladesh, which made garments for some of the world's largest clothing retailers. Yet, somehow, the HK$60 tees still retain their appeal to the masses. Our impulsive purchasing of cheap goods leads to throwaway fashion – it's an environmental hazard, and a huge waste of resources that needs to be addressed now more than ever.
What can you do?
First, we can think about what we do with our own old clothes:
Before you throw any clothing away, consider donating it to charities who can pass it on to others in need.
For budding fashionistas, you can upcycle garments by dying or printing directly onto old tees.
Next, we can think about our shopping habits:
As we browse the (virtual) aisles for our new season buys, think about how many times you will wear an item, and how many looks you can create with it.
The fabric quality, the make and finish of the garment and the style longevity are all important factors to consider when you are making a purchase.
If you are hesitating to spend that little bit extra for a higher quality garment, think about the 'cost per wear' and view your purchases as investments. For example, wear a HK$600 dress once per month and the cost per wear in a year is HK$50. Assuming the dress ticks all the 'investment dressing' criteria – timeless style, functionality, versatillity and quality fabrics – then the cost per wear reduces further the more you wear it. Now the HK$600 doesn't seem so high, especially when you can be assured that the people creating your garment were more likely to have been paid fairly with decent working conditions.
---
Find out what you really need to buy for your newborn at the Playtimes x Mayarya Pregnancy Club event on 22 May. Join experts from The Family Zone as they help you separate the must-have items from the nice-to-haves. Guests will receive a handy checklist of newborn essentials and a goodie bag.
RSVP: info@mayarya.com