Reading Time: 9 minutesHaving a baby in Hong Kong? It is certainly an exciting time in your life whether it's your first baby or your third. If you've decided to give birth in a public hospital in Hong Kong, are you fully informed on what's it like and will you be happy with the resources provided? Choosing to give birth at a public hospital like Queen Mary Hospital (QMH) Hong Kong may not suit every mum-to-be, so it's worth spending the time to understand the basics.
I gave birth to my daughter at QMH (almost 10 years ago), and although I remember the experience clearly, I asked a few new mums to share their recent insights into what it's like at QMH now. Their super helpful information is at the end of this article. It doesn't sound like much has changed overall, but of course there are some new rules and restrictions (which seem to be ever evolving) due to the pandemic.
Planning Ahead
Run through your considerations on where to give birth as far in advance as possible because you will have to register well ahead of your due date (around 11 or 12 weeks of pregnancy). Since public hospitals are designated to particular catchment areas (depending on where you live), you will be assigned to one in your area. If you fall within the QMH district, read on the learn more about giving birth at Queen Mary Hospital Hong Kong. If you're not in the QMH catchment, there's a chance you may still be able to register if they have the space available when you need it.
Queen Mary Hospital: 102 Pok Fu Lam Road, Hong Kong, 2255 3838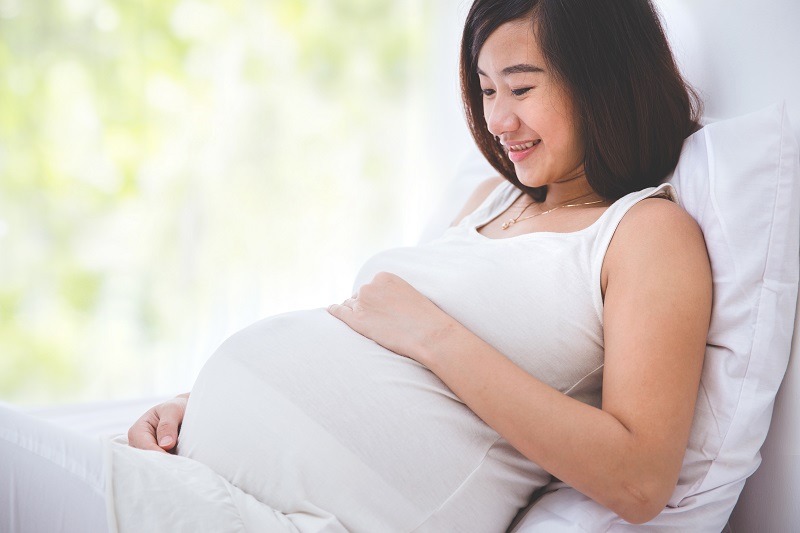 How do you register?
After your pregnancy has been confirmed, bring your doctor's note along with any other medical records, your HKID card, and proof of residential address to the Maternal and Child Health Centre (MCHC) in your area. Scroll down to see a list of MCHC clinics associated with QMH.
What is the pre-natal care like?
Choosing to give birth in a public hospital in Hong Kong is a great choice if you're seeking a medically safe, efficient, and affordable experience. Part of the preparation after you register with your hospital of choice involves attending antenatal visits within the public maternity system at your assigned MCHC. For example, Tsan Yuk Hospital is associated with QMH and both have antnenatal services. The following MCHCs offer prenatal care and are associated with QMH.
You will have a series of appointments at the MCHC or at QMH itself, depending on what stage of pregnancy you're in. Some blood tests (like the one to check your blood sugar level) are done at the hospital while other routine checks and scans are done at the MCHCs.
There can be a long wait at some of these appointments so it's wise to factor that in. Bring a book and some food to keep you going! I brought my laptop and was able to get a bit of work done in the waiting room. Be sure to ask what else you will need to bring as you may be caught off-guard when you need your own cup for urinalysis.
You can attend free antenatal classes through QMH which covers information on pain relief, birthing positions and breastfeeding. If you need these classes in English, you will want to check ahead. Alternatively, you can seek outside support.
You might also like: The Best Antenatal and Postnatal Classes in Hong Kong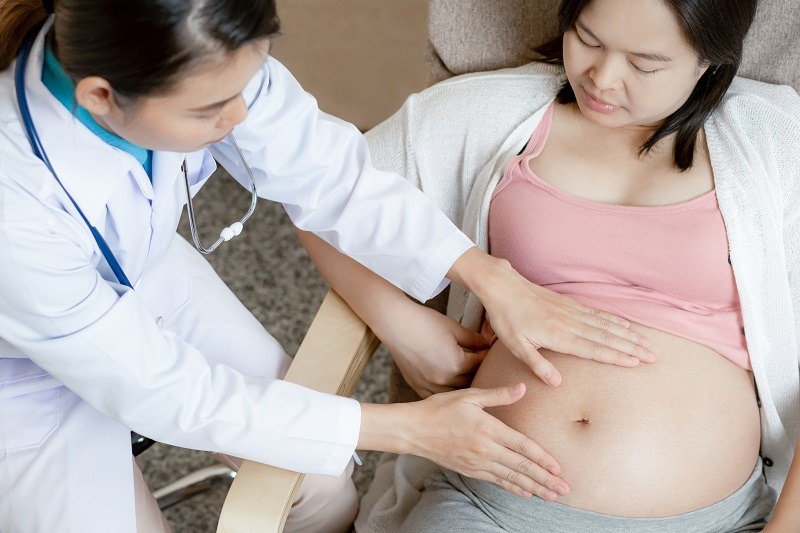 Seeking additional support
Through the public system you may see different nurses, midwives, and doctors (depending on who's on duty at the time). If you feel like having a more consistent support team outside of those appointments, you could look into seeing a private doctor for additional scans or for a second opinion on anything you're unsure about. Furthermore, you can opt for a package with a midwife to work on a birth plan or to run through a series of birthing classes. If this is your first baby, your first time giving birth at Queen Mary Hospital Hong Kong, or your first experience in a public hospital, you may want a little extra assurance.
I personally had both private doctor visits and a midwife package with Annerley (now under OT&P). If you're faced with questions you can't seem to get answered through the public system, this can give you some peace of mind before, during, and after your pregnancy.
Annerley is a wealth of pregnancy, birth and newborn knowledge. If you're not sure where to start, check out their FREE Just Pregnant workshop to get yourself oriented.
You might also like: Breastfeeding Tips, Advice & Resources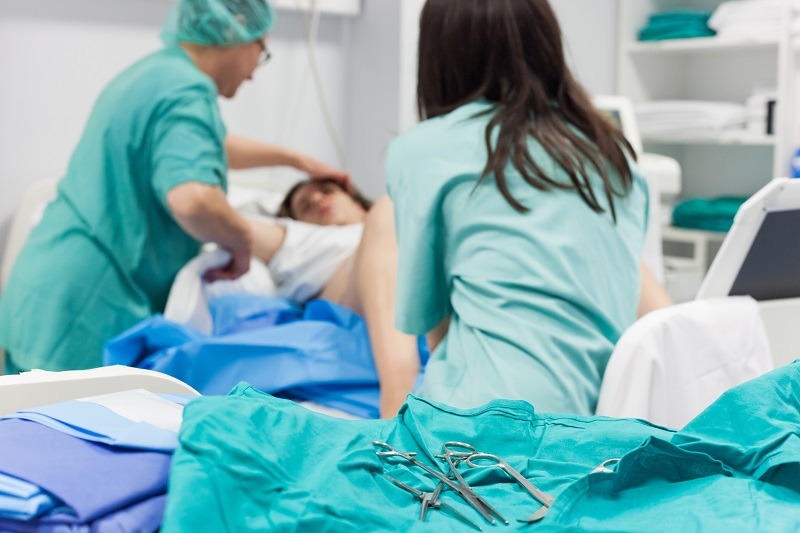 What will labour be like at Queen Mary Hospital?
When the time comes for actually giving birth, be aware that if you're not in active labour and dilated to 4cm, you will be admitted to the antenatal ward first. Once you're in there, you will not be with your partner (until visiting hours) but you will be in the company of other mums-to-be, and you might also be in the company of a group of medical students.
Like other public hospitals, QMH is a teaching hospital. When the doctor comes around to check on you, it's possible there will be a handful of medical students hanging around hoping to learn something. At some point, like near the time when you're entering active labour, you may not be happy with this. Express your wishes and they will politely leave. When I was in that situation, I quietly told the doctor I preferred not to have all the students around while I was starting to feel the pain of labour.
Once things are moving along and you're deemed ready, delivery room…here you come! It's GO time and your partner can be with you for labour and delivery*. Make sure you ask questions ahead of time about all of this at one of your check-up appointments so you know what the latest information is on how it all works.
*There may be some restrictions to this given the current pandemic.
What should you take to the hospital?
When using the public system, keep in mind you will need to provide a lot of your own items for your hospital stay. I came across an awesome blog which explains the whole process with a side of humour. In her blog, Alison shares lists of items you'll need within her blog post. It's definitely worth reading and taking notes.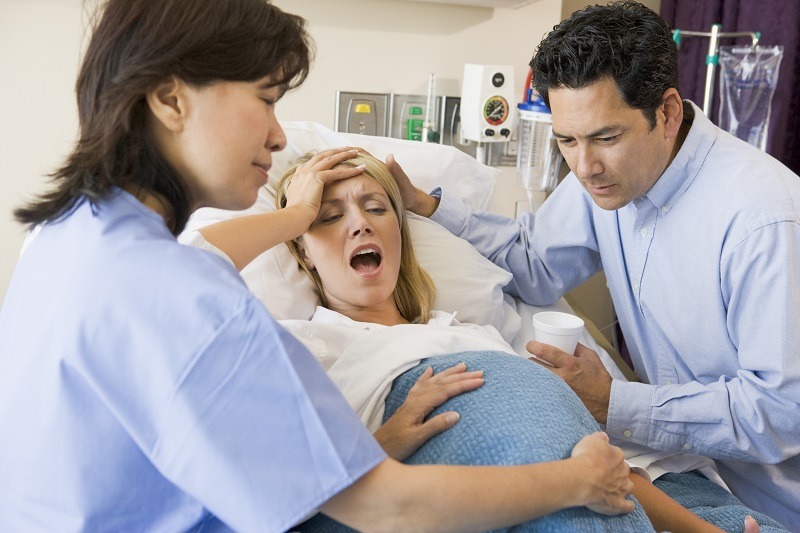 What happens during delivery?
During active labour you will be cared for by a midwife who will guide you through your delivery. If you opt for and can get an epidural, a doctor will come in and administer it when available. Likewise, if you have any other medical situations, a doctor can come in to help.
I was fortunate enough to have the loveliest midwife who was very calm and supportive. She told me to listen to her directions and even gave my husband some instructions too. She was patient, kind and extremely calm which felt rather important at the time.
During delivery if anything concerning comes up, you're in good hands. Additionally, if there is an urgent medical need for your newborn baby, you're in the right place. Being a public hospital, QMH has NICUs staffed and immediately available. Even private hospital births can end up at QMH in an emergency, including any delivery before 34 weeks or any other high-risk births.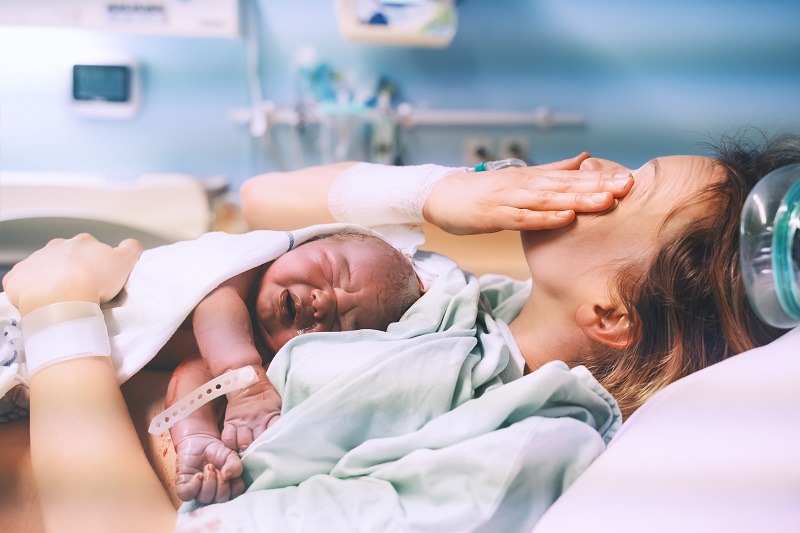 What kind of post-natal care will you receive?
You've been through a lot and after meeting your tiny bundle of joy, you will stay in the delivery room for a while before heading to the postnatal ward. It will feel like no time at all before you're settled into your small space in the ward with the other new mums and their newborns. It can be a bit noisy which means it's not easy to rest if the ward is full, especially during visiting hours.
The length of your stay here depends on what kind of birth you had. For a normal delivery it's around 24 – 36 hours while a C-section is longer. While you're there, the nurses will give your newborn a bath and can assist with breastfeeding. Before you leave, a pediatrician will check on your newborn.
What's the food like at Queen Mary Hospital?
Some would argue the food choices are not great for expats, including those with Chinese husbands or those with a familiarity with Chinese cuisine, but some say it's perfectly fine. Personally, I didn't mind the congee (mine was vegetarian). Thankfully my stay was brief and my visitors brought some snacks for variety. Plan ahead if you're not a fan of congee or boiled vegetables and rice.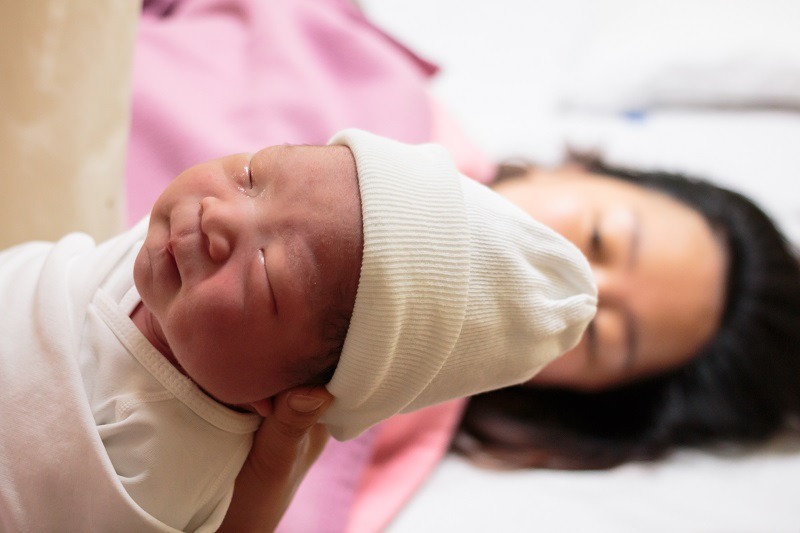 What happens after leaving the hospital?
In the first week after you've given birth, visit the MCHC to have a weigh-in and jaundice check-up. If you have a package with Annerley, you can have an at-home visit.
How much does it cost to give Birth at Queen Mary Hospital Hong Kong?
Prenatal and postnatal care is available free-of-charge at the MCHC. Hong Kong residents (with a valid HKID card) pay HK$120 per day plus a HK$75 one-time administration charge for childbirth, all payable by Octopus card. These costs cover you for whatever happens, whether you have a totally natural, medication-free birth or a C-section under anesthesia, you pay the same price. How amazing is that? All I remember about paying the bill was that the parking fee for a few hours was more expensive than the hospital stay. If you need care or intervention after giving birth, the costs are additional.
Final thoughts on giving birth at Queen Mary Hospital Hong Kong
Choosing to give birth at a public hospital like QMH may not suit every mum-to-be. It's pretty much a no-frills situation but a very safe, efficient and super affordable place to have a baby. If you're well informed and carry with you a great attitude, you'll be fine. A few of the mums I spoke with indicated that it does make a difference if you speak (even a little) Cantonese, especially in some situations.
What other mums say
We canvassed some Hong Kong mums about their experiences giving birth at Queen Mary Hospital Hong Kong. Here's what they had to say:
"I called Tsan Yuk hosptial to get an appointment to register. One the day the queue was about 3 hours. I needed mine and my husband's HKID. They took blood at this point and booked me in for a 12 week scan, also at Tsan Yuk hospital." POLLY (mother of 3, all born in QMH)
"I received 4 scans (at 12, 20, 32, 36 weeks) plus a glucose test. Appointments were once a month, then once a fortnight for check-ups with nurses and doctor (at QMH)." POLLY
"I gave birth to my first daughter 4 years ago (before Covid) in QMH and then 2 years ago in a private hospital still in Hong Kong and both before Covid. I had taken a midwife on the side (she drove us through every step in QMH). She used to be able to support parents to be in the birth room in QMH before. So she really helped a lot as she knew all the steps and tricks. This would be my first advice…having a midwife/doula or someone that knows the public system to guide and prepare you. I have to say I was followed in both systems for all my prenatal check-ups. When you arrive at QMH to give birth it's literally you and your luck … the nurses, the midwife, the anesthesiologist who are on duty. I had 3 interns trying to install the epidural and all failed… even if they kept the 4th tentatively in place but I was still feeling everything on my right (only half of my body was anesthetized). After 7+hours waiting for my cervix to open, baby was showing signs of distress. Our midwife and my husband were constantly in communication to monitor. After many hours they finally decided to go for an emergency C-section.
My advice would be:
Have someone that can support, prepare and explain what's going on. A midwife, a doula, or nurse that speaks the same language and knows the public system well.
Take your partner along so that they are also aware of all the steps and processes, and can ask for information and insist too know what's going on.
Be prepared for the unexpected, things don't always go to plan". ALEXANDRA 
"I was admitted directly from an antenatal appointment and seen by the doctor in K9 (at QMH) within the hour. I had baby heart monitoring for 1 hour and then a scan before being taken for a C-section. My husband was not allowed into the hospital or to accompany me (because of Covid 5th wave). He brought my things to the door downstairs before I went in to have my C-section. He came again to collect us when we were discharged." POLLY
"Take your own pillow, vests, and the hospital pack (can get from many shops and HKTV mall). I also took nice snacks for the days I stayed in. Chocolate is always great." POLLY
"I had my twins at QMH in 2019 (during protests) and my newest addition this February (during the 5th wave). The baby care in the NICU and Special Care Baby Unit is beyond fantastic. I was so impressed with the team of nurses, midwives and doctors. They really do save lives." POLLY
"I gave birth last November in QMH. My son is one and a half now. My water broke at 4pm and baby was out at 8:30pm. It was fast. We got into the hospital around 6pm and they were fast to check on me and gave me dinner. In the middle of my dinner the baby is coming so they took me to the labour room. Half hour later the baby is out. The nurses are very supportive and the doctors (mostly very young) but they're very nice and patient." JANE
"I was at QMH from 3rd March-11th March and my little girl was there after she was born (5th march) until 16th march. Some of the staff were great but there was a definite shortage. I believe many of the issues I faced were due to staffing shortages due to Covid. Also the insane rules they have (the Hospital Authority) in place had a big toll on everything as well. Labouring on my own with no nurses with me, etc and obviously no partner, the issues with her birth, not being able to visit her in NICU etc, etc. NICU were great in saving my daughter and being proactive in her treatment. We are hopefully seeing that she is going to make a full recovery but only time will tell." RENEE 
"The food is famous for not being great, but I thought it was perfect for after delivery. Breakfast for a westerner is porridge, egg and an orange. Lunch and dinner always included rice, steamed veg and a meat in sauce. It's not fancy but perfectly edible. You can always get Deliveroo if you're a fussy eater." POLLY
"I was in for 7 days and baby was in the SCUB. I think the total was about $1000. I paid on Octopus. With my twins in 2019 in the NICU we paid about $600 for each week they had to stay in." POLLY
All images curtsey of Shutterstock
Related Articles: