Reading Time: 4 minutes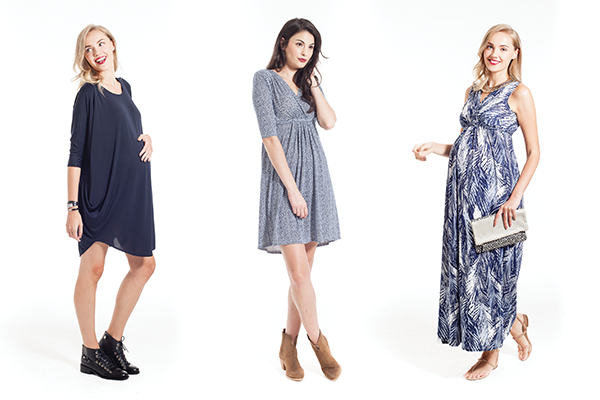 Each stage of pregnancy brings a new discovery for mum – avoid feeling unprepared and read on for a guide to your maternity essentials during pregnancy and beyond.
THE FIRST TRIMESTER – 0-3 MONTHS
If this is your first baby, it is likely that your bump will be very discreet during your first trimester. Morning sickness may have you feeling worse for wear but there are plenty of key preparations to consider during this early stage of pregnancy. Your skin is sensitive during pregnancy, your hormones are going crazy and you deserve to feel comfortable!
At this stage, you may not be telling everyone your news and so you may prefer to pick out some A-line dresses or loose-fitting tops to wear until you make your growing bump public knowledge. You can also plan for the coming months by investing in some staples that you will come to rely on like luxurious jersey dresses, expertly crafted maternity jeans that will grow with your bump and speciality maternity and nursing bras. Your band and cup size will grow during pregnancy and so it's important to take advantage of bra fittings to ensure that your bras are keeping up with the growth. Every woman is different but you can expect your band size to increase by up to two sizes and your cup size can increase by 2-3 sizes.
Invest early in buttery soft materials and supportive clothing that will make the world of difference to your mood!
Top Tips
• An A-Line silhouette for dresses and tops will disguise your bump until you're ready to share your pregnancy news.
• Don't forget to use stretch mark oil throughout your pregnancy – apply this religiously morning and night to avoid stretch marks.
THE SECOND TRIMESTER – 4-6 MONTHS
Your growing bump will become more prominent and hopefully any morning sickness will have subsided. This is the time to embrace your changing shape – form-fitting dresses will flatter your pregnancy curves. Style this look with a little heel while your feet can still handle the pressure. For that off-duty feel, longline shirts are easy, fuss-free and flattering options for all shapes and sizes. For larger busts, opt for a V-neck detail, with a gathered empire bust. The cinched-in waist will help balance your shape. A scoop neckline ruched tee is another good option for both smaller and larger busts. The fitted ruching detail will flatter your growing bump while the neckline remains modest.
Soft, over-the-belly leggings can be a saviour from the second trimester and beyond and are a great alternative to trousers as they start to become uncomfortable – pair them with a casual boxy top for off-duty chic. For the office, invest in maternity work pants designed with elasticated waistband panels that can grow with your bump. Wearing your pre-pregnancy pants with button extenders isn't too appealing and screams discomfort! If you prefer to wear jeans or shorts, Slacks & Co, J Brand and Paige offer comfortable and stylish options with discreet, stretchy elastic waistbands or over-the-belly panels which offer extra support for your bump. It's well worth investing in bottoms designed for maternity wear – they will be your go-to pieces through each pregnancy stage and postpartum too, when your body is still changing.
Top Tip
• A belly support is a great investment, especially in preparation for your third trimester, when your bump feels heavier and lower than ever. The Blanqi Belly Band and Ultimate Support Tank Tops offer some much-needed support at this stage.

THE THIRD TRIMESTER – 7-9 MONTHS
By this stage, you'll start to feel heavy and the belly band support you purchased in your second trimester will be an everyday necessity. As your bump grows, you might start feeling overwhelmed with hormones, your feet may start to swell and you may not feel at your most attractive. Don't fear, there are plenty of styles to suit you at your biggest and many of them will be wise investments that you can wear after pregnancy too. Maxi dresses are an expecting lady's best friend; a lightweight, printed maxi dress will skim over your hips and leave you feeling glamourous, yet not on display. Darker colours are more forgiving for curvier shapes; dark purple is a particularly good option as it suits every skin tone and is a versatile colour that can be dressed up or down depending on your mood and occasion.
Top Tip
• Towards the end of this trimester, take it really easy, and lounge in comfort and style during those evenings in. For the chillier winter months, choose soft, jersey PJs that you can use after pregnancy too. Don't forget to pack your nursing nightwear into your hospital bag!
POST-PREGNANCY
You might have a few lumps and bumps after giving birth to your little one, but this is completely natural. If you are breastfeeding, this will help you to lose some of that added weight gain but most of all, don't be afraid to embrace your curves. If you need a little help disguising a postpartum bump, try A-line shapes which sit looser around the tummy area. Otherwise, an elasticated waist helps to define your waist and create a balanced silhouette. Wear this style for shopping, meeting friends and attending playdates. Don't be afraid to accessorise with your favourite pieces of jewellery to keep your look up-to-date and personalised, although you may have to beware of tiny fingers grabbing them!
Thankfully, there are more options than ever for stylish, bump-friendly clothing, so being pregnant does not have to mean that you give up on looking good for nine months. Remember to stay true to your style and always make that special effort to pamper yourself.
---
Mayarya's Home Shopping Service assists women navigating their way through each stage of pregnancy and beyond. You needn't set foot outside; Mayarya will bring the latest collections to you so you can try on new styles in the comfort of your own home with the help of your own personal stylist. To book your own Home Shopping Service, e-mail info@mayarya.com call 8100 4008, or visit the website www.mayarya.com.