Reading Time: 4 minutesWhile we still may not be able to travel easily, we can still enjoy some home comforts! We've rounded up our favourite spots to indulge in Christmas dinners in hong Kong for 2021. Whether you want to eat in or go out, there's something for everyone.
Bookmark this page and keep an eye out as we continue to update our list with the best Christmas Dinners in Hong Kong. 
Eating Out
Holt's Café at Rosewood Hong Kong
Holt's Café is offering a 3-course set lunch and dinner throughout December.
On 24, 25 and 31 December 2021 for dinner and 25-26 December 2021 for lunch, Holt's Café has also prepared a Festive Feast ($1,480 per adult or $1,780 per adult inclusive of 2 hours of free flow champagne, red and white wine, HK$980 per child between 6-12 years old) that is perfect to share with the entire family. Tuck in to a sharing-style seafood platter and appetisers with the choice each of one main course, one dessert, and either coffee or tea.
The set lunch is HKD$398 per person and the dinner is $438 per person.
Uma Nota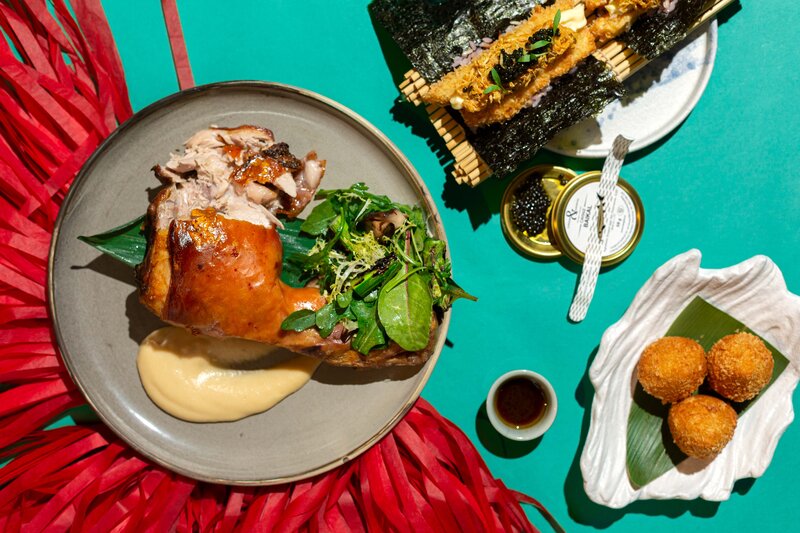 Spice things up this festive season with Uma Nota's Festive Chef's menu. The dinnertime Festive Chef's Menu (HK$490) is an intoxicating mix of Japanese and Brazilian flavours, and includes ribs, Brazilian fried dumplings and octopus and crab meat dishes. The Festive Chef's Menu is available every night until 30th December 2021 (excluding the 24th & 25th).
A special Christmas Menu exclusive to dinner (24th and 25th December 2021) is also available, for HK$550 per person, which includes roasted suckling pig leg, scallops and cured sea bass.
Pizza Express
From now until 3 January 2022, you can tuck into the Christmas Special Dine-in Menu at PizzaExpress, with sets for 2 and 4 people.
The set for 2 is priced at HKD$568 and includes two portions of lobster bisque, a pizza and a Christmas antipasti wreath. The set for 4 is priced at HKD$988 and includes four portions of lobster bisque, a pizza, a portion of dough balls, antipasti wreath, spaghetti, a parfait and tiramisu.
CRUST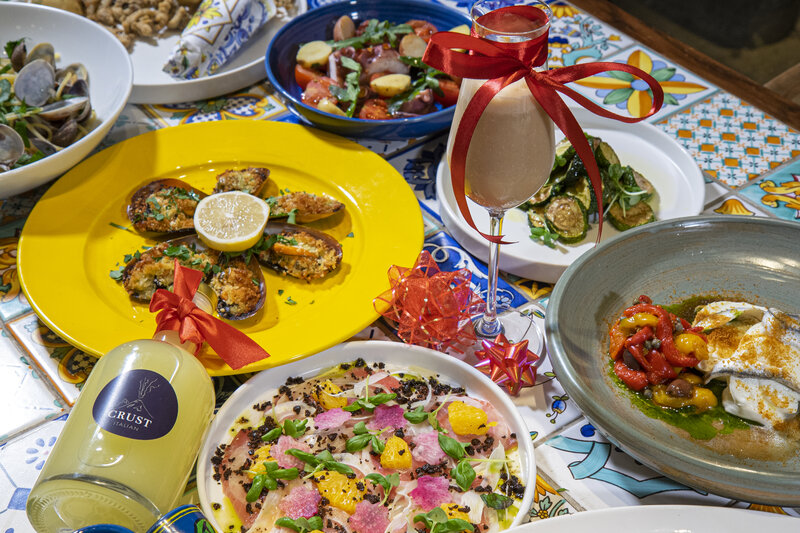 CRUST is bringing the spirit of a traditional Southern Italian Christmas to Hong Kong. From 23 to 26 December 2021, guests can enjoy a Feast of 13 Fishes Christmas dinner, which includes oysters, ricotta and prawn tartare, crab, spaghetti and panettone for dessert. The dinner is priced at HKD$888 per person, with an additional free-flow package available from $200.
CRUST is also open for brunch on Christmas Day and Boxing Day for $398 per person, with free-flow options available. Guests will also be regaled by a live performance of Italian opera!  
The Aubrey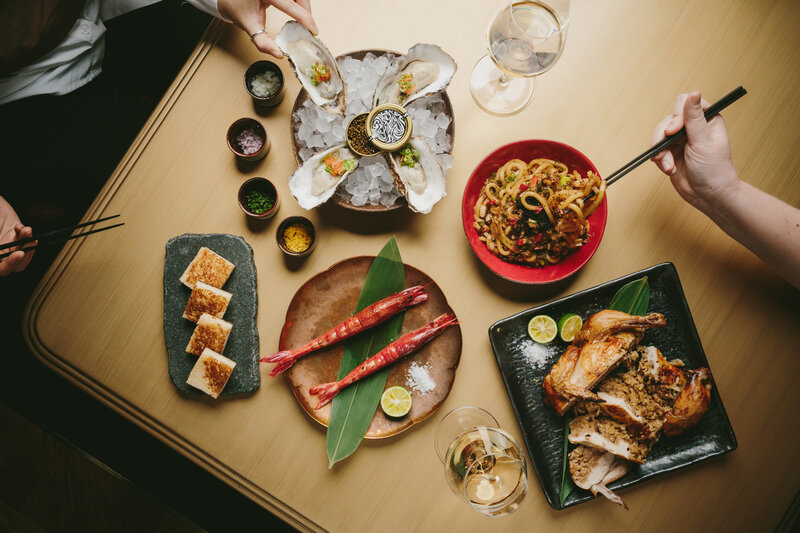 From 24 to 26 December 2021, The Aubrey will offer festive specials for dinner, including a Red Prawn Robata, Crab Udon Noodles and Baby Chicken Stuffed with Rice and Shiitake Mushrooms.
On Christmas and Boxing Day, guests can enjoy a festive brunch filled with gourmet treats like ribs and Saba Mirin Boshi, for HKD$988 per person.
Eating In
Sen-Ryo Christmas Takeaway Platters
Enjoy a quiet Christmas at home with your loved ones, and delicious platters from Sen-Ryo. This Japanese restaurant has two brand-new Christmas party sets, together with eight assorted seasonal sashimi and sushi Christmas takeaway platters. Suitable for 3-4 people and 6-8 people, the Christmas platters are perfect for intimate gatherings!
Early bird orders are open now and self-pickup is available between 20 December 2021 and 2 January 2022. During the early-bird period from 18 November to 19 December 2021, general customers can enjoy 10% off discount for any purchase with full payment; while Sen-Ryo members and Mastercard cardholders can enjoy up to 15% off discount. For orders placed between 20 December 2021 to 2 January 2022 with full payment, Sen-Ryo members and Mastercard cardholders can enjoy 10% discount. 
Pret a Manger Party Platters
Enjoy Christmas specialties at Pret, with their updated Christmas menu with sandwiches, mince pies, soups and drinks.
They also have Christmas party platters, suitable for 4-6 guests, that include signature pastries, salads and cookies. They even have a platter for vegans, that includes portobello mushrooms and sweet potato.
The cookie platters range in price, from HKD$100 to $230, while the rest of the platters are priced from $270.
FEAST Christmas Takeaway Menu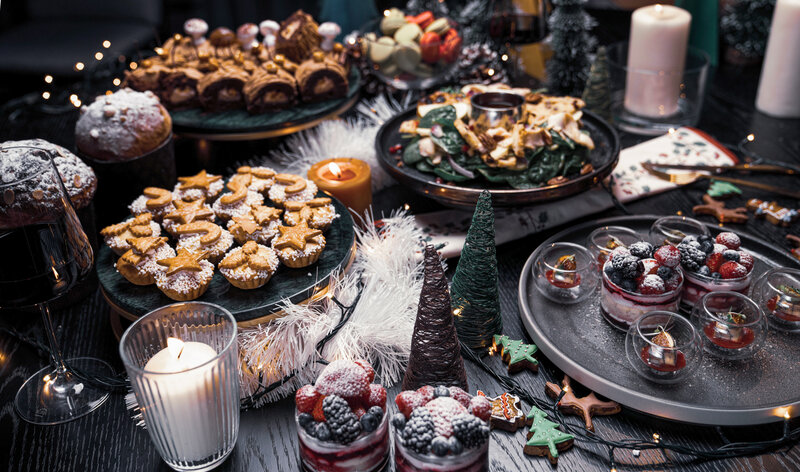 FEAST has a range of Christmas party food and desserts available for takeaway, including turkey, shoulder ham, duck, as well as Panettone desserts and bread & butter pudding.
Orders should be placed 48 hours in advance and pick up at the restaurant. Delivery is available subject to additional costs.
Prices for sides start from HKD$108 per kg, mains start at $1,188 for a ham and $1,488 for a turkey, while desserts start from $128. See here for exact prices.
Pizza Express
Enjoy Pizza Express' Christmas Party Sets from the comfort of your home. Made for 2, 4, 10 and 25 people, you'll find something for everyone. Enjoy a selection of pizzas, salads, spaghetti and dough balls.
Prices start from HKD$328 to $3,698. For exact prices, check here.
With all these options for Christmas dinners, staying in Hong Kong doesn't have to be so bad!
Related articles:
Featured image courtesy of Shutterstock; picture 1 courtesy of Uma Nota; picture 2 courtesy of CRUST; picture 3 courtesy of The Aubrey; picture 4 courtesy of FEAST.