Reading Time: 4 minutesOn the 5th of December, The Peninsula Hong Kong is lucky enough to have Santa Claus visiting all the way from Rovaniemi in Finland to oversee the hotel's official Christmas tree lighting ceremony.
But word on the street has it that Santa will be opening a secret Hong Kong workshop, AKA Lapland HK, this year. Between 10th – 13th December, some lucky children will undergo "elf training" as part of a fully interactive Christmas adventure for all the family. Once parents have bought tickets, children will receive a personal invitation and map to Santa's secret kingdom through the post. During the magical 75-minute experience, trainee 'Elfers' (and their big people) will be transported into a multi-sensory world of wonder, exploring different parts of Santa's magical workshop and meeting a whole bunch of entertaining and fun characters. 'Elfers' will get to keep their Elfer uniform, along with the passbook in which they will collect stamps and tick off what they've learnt along the way. There's also a special gift from Santa and a certificate upon graduating (signed and delivered by the very man himself!) www.glitterandgore.hk/event/santas-secret-kingdom/
When Santa makes his way to Pacific Place, he attracts quite a crowd but he's worth the wait. Tickets can be purchased in advance from the 1st floor ticketing desk and are priced $80 for visits up until 11th December and $110 between 12th and 25th. The experience begins with a journey through the sensory garden full of festive scenes created by miniature artist Shannnam. Admittance is for up to four persons and includes an instant photo with Santa and a pack of candles. All proceeds are donated to Operation Santa Claus.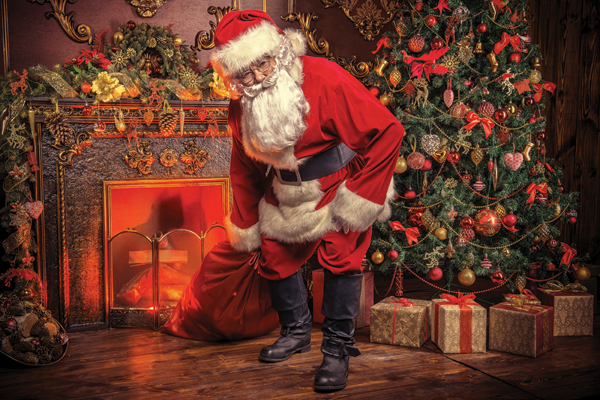 Being a great lover of books, Santa is also finding time to visit Bookazine this festive season. On the 3rd he will visit Repulse Bay, on the 4th it's Prince's Building, while on the 10th he makes his way to the Discovery Bay store before heading to IFC on the 11th. For timings contact enquiries@bookazine.com.hk
Many stores, shopping malls, restaurants, hotels and private members clubs have visits from Santa, so it's worth calling your favourite places to see if they are expecting a visit and how the booking system works. Bear in mind that sometimes it can take a little while for little ones to get to the front of the queue to sit on Santa's knee, so it's worth taking some snacks and activities to keep young ones entertained while you wait.
It doesn't quite count as seeing Santa, but tracking him online is still great fun for kids. Running for the 11th year, Google's Santa Tracker is an interactive app packed with features (games, ability to create printable ornaments, videos and more) that kick off on December 1st. It is on the 24th, however, that the app goes live as Santa fans can follow his movements across the globe with the integration of Google Maps. It's a great way to work on geographical skills and to relate to family members who live in other parts of the world.
Showtime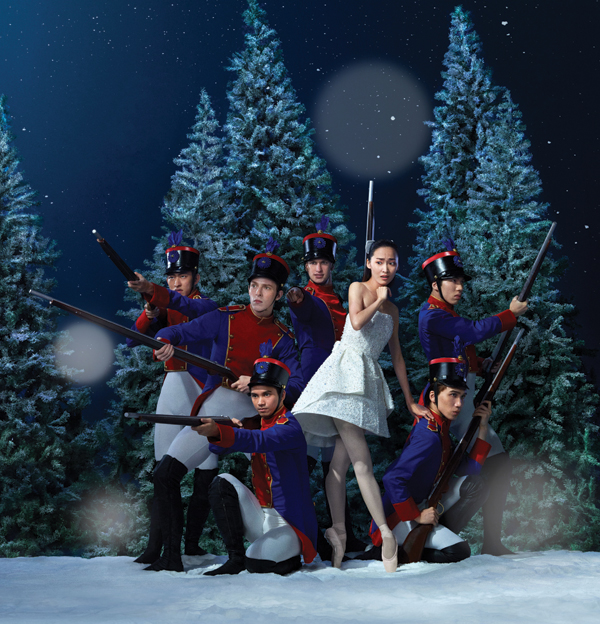 Christmas wouldn't be Christmas without The Nutcracker and this year is no different with Hong Kong Ballet performing the classic between 16-18th and 20-25th December. The enchanting tale of Clara, Fritz and the Nutcracker as they battle the evil Rat King has captured the imaginations of both children and adults over the years and for many families it has become a Christmas tradition
In addition to Hong Kong Ballet's live performances, fans can also see The Nutcracker on the big screen. On the 25th and 26th December, cinemas at IFC and The One in TST are showing the Bolshoi Ballet performing The Nutcracker (captured live).
Pantomime is another holiday tradition for many families, check out the Hong Kong Players pantomime, which this year is based on The Snow Queen (see our HOTP for ticket give away). This year we also have Wicked in town from the UK. The show schedule has now been extended to cover the Christmas period and up until 22nd January.
For those looking to get more vocal, The Welsh Male choir will be performing at The Arcade in Cyberport at 3pm on December 17th, snacks and mulled wine will be provided by Le Meridien hotel.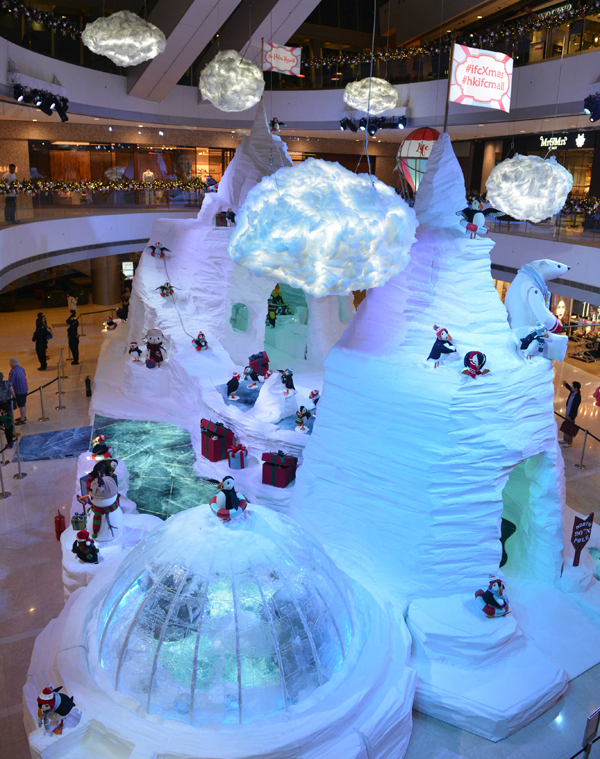 Deck the Mall
Hong Kong's shopping malls tend to go all out with Christmas decorations and shopping trips suddenly become far more appealing to children when there's the prospect of seeing a toy train chug around a snowy village, or feeding a token to a wish machine. And this year is no different. While opinion is divided on the circus theme of The Landmark decorations this year, there's no doubt many families will still want to pay a visit. The IFC has gone for puffins as part of a polar resort, while Harbour City has a little snowman called Snowie and Ocean Terminal has been transformed into a "Christmas party for Snowie". Elements mall gets our vote for best decorations this year with its Fantastic Mr Fox theme that will enthral fans of the Roald Dahl classic.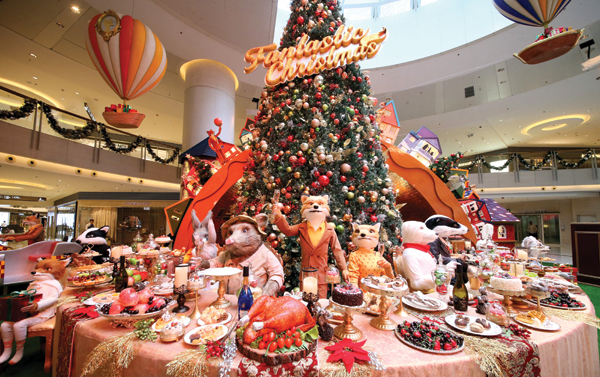 It's not just indoors that gets decked out, the exterior of buildings are pretty special, too. The festive lights are a sight to behold, especially when taken in from TST or from the harbour. How about sailing on the Aqua Luna?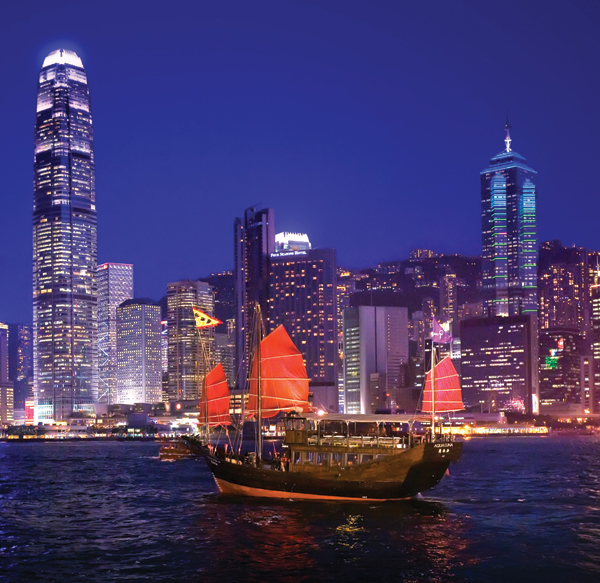 Bookings for the 45-minute harbour cruise can be made two weeks in advance and cost $195 for adults, $155 for children four-11 years, children aged three and under are free. Sailings are 5.30pm, 6.30pm, 8.30pm and 9.30, at 7.30 there is a special Symphony of Lights cruise. Enjoy a complimentary drink, relax on the lounge bed and take in the Hong Kong skyline at its festive best.