Recently updated on May 17th, 2022 at 10:04 am
Reading Time: 4 minutesDo you want to help others during COVID in Hong Kong? There is no lack of those who are struggling due to the ongoing COVID crisis and let's face it, Hong Kong charities are struggling too.
The continuous restrictions on events have had a massive impact on fundraising, resulting in reduced income, yet many charitable organisations in Hong Kong have seen the demand in their services increase and their costs increase, too. If you are able, please consider making a donation, of any size, to your chosen charity. Otherwise, perhaps you can donate some time.
Here is a list of organisations and groups that have been set up to help others during COVID in Hong Kong and offer aid during these difficult times. Plus some ways in which you can help local charities. Read on to see how you can get involved and check back for updates.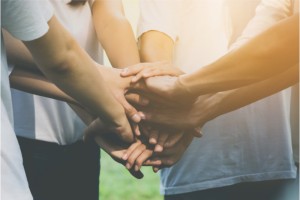 Refugee Union
Did you know that refugees in Hong Kong receive a daily food allowance of just $40, and that must be used at Park'n'Shop? This is difficult at the best of times, but with the food prices currently so high, it's even worse – an 8Kg bag of rice was $86 but it's now $113. All these small increases add up. Refugee Union are asking for donations of the following items: bags of rice; boxes of pasta; cooking oil; canned tuna or sardines; canned beans; canned soup; instant noodles; UHT milk; fresh vegetables; fresh fruit; toilet paper; Panadol Extra. They also welcome cash donations.
Hands on Hong Kong
Hand on Hong Kong have put out a call for Cantonese speaking volunteers to help low-income families with online learning. A number of low-income families live in subdivided flats, struggling to get by and are unable to give their children the support they need to engage with home learning. The charity is also looking for volunteers to help deliver care packages within the community. If you feel you may be able to offer help, contact Hands On Hong Kong.
Hong Kong Moms Buddy System
The Hong Kong Moms Facebook group has restarted its 'buddy programme' which offers to help anyone in need – whether they are elderly, families with young children, refugees, domestic helpers or homeless. Help is usually in the form of delivering goods of providing general assistance. To sign up to be a volunteer, simply complete the google form.
Quarantine Support Group
Created in March 2020, Quarantine Support Facebook group has provided invaluable advice to thousands of people looking to return and navigate Hong Kong's strict quarantine rules. It's an excellent source of information sharing. The group's founders have helped with food deliveries to people staying at Penny's Bay and often put out calls for help. They have also set up a buddy system for anyone in isolation. If you'd like to volunteer to be a buddy, click here
Share for Good
Share for Good is an open platform, large scale crowd donation platform welcoming all Hong Kong individuals, groups, and private corporations to donate to those in need. Browse through the overall needs list on the platform or the requests from each non-profit organisation, then choose to make donations or donate cash for the bulk purchase of supplies. The current list comprises 13 items that are urgently needed at the moment, such as rapid antigen test kits, oximeters, cellular SIM cards, supermarket cash vouchers, protective face shields, etc. Together with its key partners, Yan Chai Hospital and over 30 non-profit organisations, Share for Good is calling on the public to join its initiative by donating supplies or cash through the platform, which allows for targeted distribution of resources to those in need.
Pet Buddy System
It's all about give and take with the 'pet buddy system'. Multiple pet buddy support groups have been set up on Whatsapp around Hong Kong. The idea is that pet owners, concerned about what would happen to their pet should the owner test COVID positive and get taken to quarantine or hospital, can support each other. By joining the group you are putting yourself forward to take care of someone else's pet, while locating volunteers to look after your own pet, should you find yourself in that position. Perhaps you can set up your own Pet Buddy Whatsapp group in your area if there isn't already one. If you know of any existing groups, email us HERE.
Hong Kong Pets Coronavirus Support
Hong Kong Pets Coronavirus Support is a Facebook group for pet owners in Hong Kong who need assistance as a result of owners being quarantined or hospitalised with coronavirus. The group shares information about pet quarantine and connects owners with those who can help look after them while they are sick.
Hong Kong Flight Volunteers for Pets
Hong Kong Flight Volunteers for Pets is a recently formed Facebook group formed to match up people who are flying from Hong Kong and may be able to act as volunteer chaperone for a pet. It's very easy. The pet owner does all the paperwork, fee payments, and bookings. The pet owner or designated person meets you at the the airport with the pet for check-in and then you pick up the pet at customs on arrival where the owner or designated person will be waiting on the other end. It's really that easy, and you could help reunite a pet with their family. (This is not the private jet group.)
Farmhouse Products
OK, so possibly not the first thing you'd think of if you have to go to quarantine, but what about your house plants? Don't leave them at home to die. The folks at Farmhouse Products are offering to foster your plants on their farm.
More Charity or Volunteer Opportunities?
If you have information on a charity or initiative set up to help the community that requires volunteers or specific donations, please email the details to: online@ppp.com.hk
Feature image courtesy of Shutterstock.
Related Articles: