Reading Time:
4
minutes
We all know by now that breathing polluted air is bad for you. Really bad. Those of us living and working in Hong Kong face air quality issues on a regular basis and, ideally, we should do more to combat our exposure. Ranging from minor upper respiratory irritation to chronic respiratory disease and heart disease, air pollution may also lead to cancer, chronic bronchitis and asthma attacks and it affects a number of different systems and organs in the body. This makes it all the more important for schools in Hong Kong to be equipped with air purification systems. 
Children are at a particularly high risk to air pollution exposure because they tend to breathe more quickly than adults and their lungs are more permeable to pollutants. The tiny air pollution particles can also cross the blood-brain barrier, which is less resistant in children. There are clearly health implications of long-term exposure to air pollution. Now, in the face of an ongoing pandemic, what is the role of air quality?
Role of Air Quality in COVID-19
Research has shown a possible link between poor air quality and an increase in COVID-19 severity due to its effect on cardiopulmonary and other diseases. Experimental studies show air pollution causes a weakened immune response which may allow a virus to easily infect a person. Air pollutants reduce UV radiation which in turn reduces our ability to synthesise Vitamin D, a vital component to the immune system. Low Vitamin D levels are associated with an increased risk for respiratory diseases as well as viral and bacterial respiratory infections.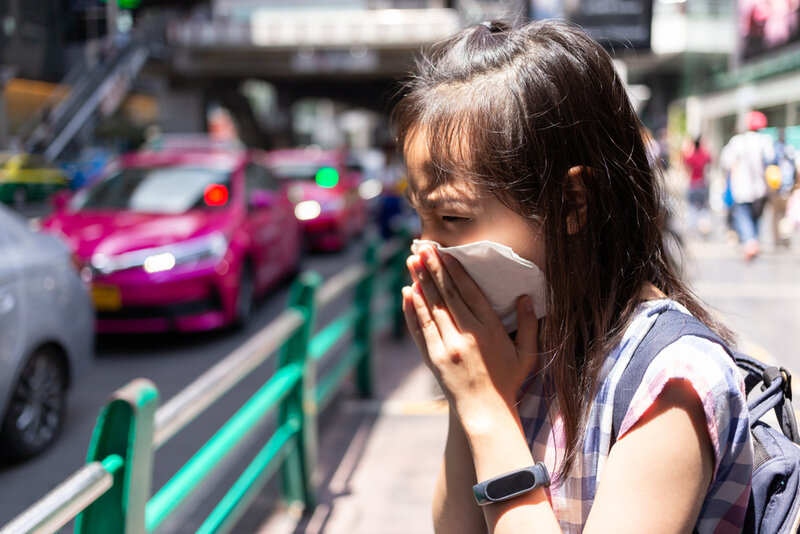 Additionally, polluted air may also be able to carry more viruses due to a complicated set of interactions with particles and gases along with weather conditions (temperature, humidity, UV radiation, etc). More studies are needed to understand the impact of air pollution on COVID-19. In the meantime, there are studies taking place in schools in the USA and the UK that are examining air purification in classrooms in light of the COVID-19 pandemic. 
Air Quality and COVID-19 in Classrooms – The Studies
In the UK, there is a pilot study comparing air purifiers and ultraviolet lights to a control (no devices) in 30 primary schools in Bradford, West Yorkshire. The research is aimed at reducing the spread of COVID-19 in classrooms. If successful, the programme could be rolled out nationwide. The pilot starts this month with results available before the end of the year. It is believed that the air purifiers and UV lights may also reduce school absences due to cold and flu infections and improve air quality for those with asthma and hay fever.
Research in the USA found that many classrooms are poorly ventilated, and that better ventilation can reduce student absences due to illness, both during a pandemic and more normal times. "After surveying the installation of air filtration systems over the past year, we found that they can significantly improve air quality in classrooms by lowering aerosol levels, which in turn lowers COVID-19 transmission risk."
How Is the Hong Kong Government Helping?
Update 01 March,2022: The Hong Kong Education Bureau will issue a subsidy of HKD$70 million this month to schools for inspection of ventilation conditions and for purchasing air purifiers. An EDB spokesperson said, "…schools should increase their alertness and conduct comprehensive ventilation assessments for their school premises. Appropriate enhancement measures should be taken as soon as practicable to maintain proper indoor ventilation at schools so as to safeguard the health of students, teachers and school staff."
Additionally, the Hong Kong government, through the Environmental Protection Department, releases hourly Air Quality Health Index (AQHI) information. This information helps guide when to take precautionary measures to protect your health. Precautions are best based on the level of ambient pollution. When the AQHI is high, it's better to be indoors with an air filtration system or air purifier running. This will decrease your exposure.
Unfortunately, most sources of outdoor air pollution are well beyond the control of individuals. In Hong Kong, the majority of air pollution comes from roadside pollution from motor vehicles, marine vessel emissions and power plants, both in Hong Kong and the Pearl River Delta.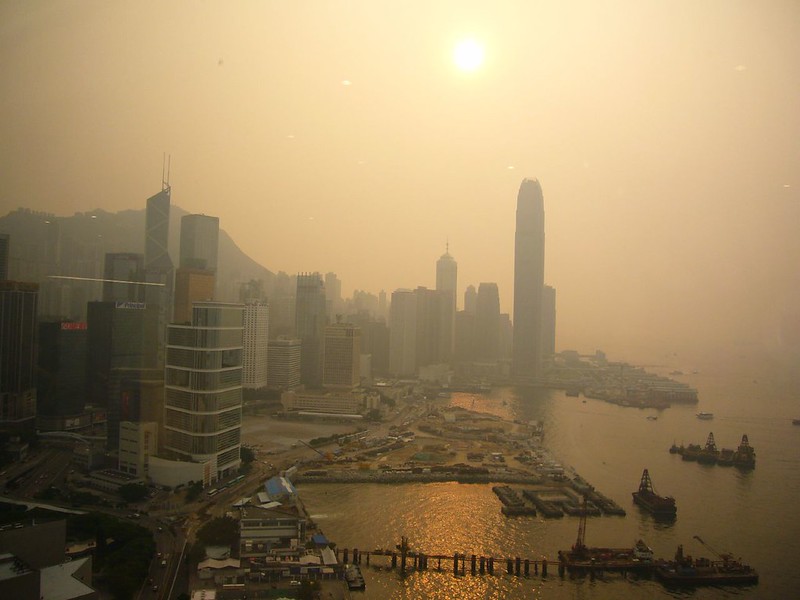 How To Protect Children
Exposure to pollution decreases cognitive performance and impairs neurological function in children due to childhood being a critical period for brain formation. It is imperative to take steps to limit children's exposure to pollution because during important times of physiological development, pollutants can result in long-term health problems, dysfunction and disease.
Children spend the majority of their time indoors and at school. In these modern times, we all spend most of our time indoors, so it becomes important to ask: what are schools doing to protect our children and their staff?
The Hong Kong Education Bureau (EDB) publishes health risk guidelines based on the government's AQHI, but this does not fully account for PM2.5 which is considered by the WHO to be of great importance. Schools following these guidelines may be misguided by the AQHI in terms of actual health risk so should seek to aim higher than the government standard and look at global recommendations.
What Are Hong Kong Schools Doing?
Some Hong Kong schools are safeguarding the health of their students and staff by installing air purifiers throughout the school, monitoring indoor and outdoor air quality locally and creating their own policies to handle poor air quality days. Discovery Bay International School, for example, takes information from the government as well as from another source and their own monitoring equipment. Decisions regarding outdoor activities are made based on all the available information and a school policy, with a far higher standard than that provided by the EDB. Air purifiers are used throughout the school which are now known to greatly decrease exposure to air pollution.
Island School has a Clean Air Committee, initiated as part of a sustainability improvement plan created by a group of ESF Secondary students. The plan also included increasing the biodiversity of plant species in the KGV campus.
International College Hong Kong set up the first Miyawaki forest in the city, with students helping to plant the trees. Miyawaki forests can help boost carbon sequestration, much more than traditional reforestation projects. 
Hong Kong Schools With Air Purification
Island Christian Academy;

Kellett Kowloon Bay; Kellett Pokfulam;

Discovery Bay International;

Kennedy School (ESF);

Nord Anglia (Lam Tin);

Kingston International School;

ICHK Hong Lok Yuen;

Fairchild Junior Academy;

Mudpies Education Centre;

Mulberry House; Victoria;

YMCA CIKG;

Malvern College;

St. Catherine's;

Stamford American;

Hong Kong Academy;

Mills International Preschool;

Tutortime Caine Road;

FIS new campus in TKO;

Galilee International Kindergarten;

Rightmind;

Mighty Oaks International Kindergarten;

Discovery Mind Primary School;

Discovery Mind Kindergarten;

International Montessori School
*If your school has air purifiers or an air quality policy above and beyond that of the EBD, please let us know. We'd love to add them to this list.
This article appeared in Playtimes Autumn Issue 2019 and was updated in November 2021.
Related articles:
Featured image courtesy of Shutterstock; picture 1 courtesy of Shutterstock; picture 2 courtesy of Flickr.