Reading Time: 4 minutesWhat to find out where serves the best pizza in Hong Kong? Check out our list below, judged by an Italian! #bestpizzahk
Amalfitana
The artisan pizza at Amalfitana draws its inspiration from the Amalfi Coast, boasting traditional toppings with a modern twist. They have been very creative with some of the topping pairings and I would recommend you try something you wouldn't usually go for as this place is all about hidden gems.
Amalfitana Repulse Bay is ideal for a day at the beach with the family on the weekend, the little ones are taken care of with the special "bambino" menu. Alternatively, visit with your other half for a romantic dinner on the waterside while listening to the waves.
The Central restaurant manages to still have an al fresco feel with large windows that open.
There is also a wide selection of wines, and delicious cocktails, they even have a cigar menu for those interested! Happy Hour, or Amalfi Hour, runs 3pm – 7pm daily at Central.
Must Try: Amalfitana – Tomato, mozzarella, bufala mozzarella, cherry tomato, porcini, mushroom, parma ham and rocket
Pizza Price Range: HK$140 – HK$250
Address: Shop 105, G/F, The Pulse, 28 Beach Road, Repluse Bay and Yu Yuet Lai Building, 43-55 Wyndham Street, Central
Motorino

Motorino has a wide selection of pizzas and the dough texture is of a high standard where it's thick and delicious but not so thick it fills you up completely. Toppings are paired very carefully by the talented chefs to make the pizza experience more unique, you are also able to create your own pizza or add to the existing toppings if you wish to do so.

If you want to go for dinner, I would recommend the Wan Chai branch as it has more of an Italian flair and is more spacious, you can also see the big pizza oven where the magic happens. The SoHo branch is much more suitable for lunch as it is more of a casual vibe.
Motorino offers a great value, family friendly brunch as well as a set lunch menu, so if you want to pop in for something quick to eat it's the perfect place to do just that!
Must Try: Quattro Formaggi – Gorgonzola, provolone, fior di latte, pecorino, parsley and chili oil
Pizza Price Range: HK$108 – HK$208
SoHo – 14 Shelley St, Central
Wan Chai – 15 Ship St, Wan Chai
Fiata Pizza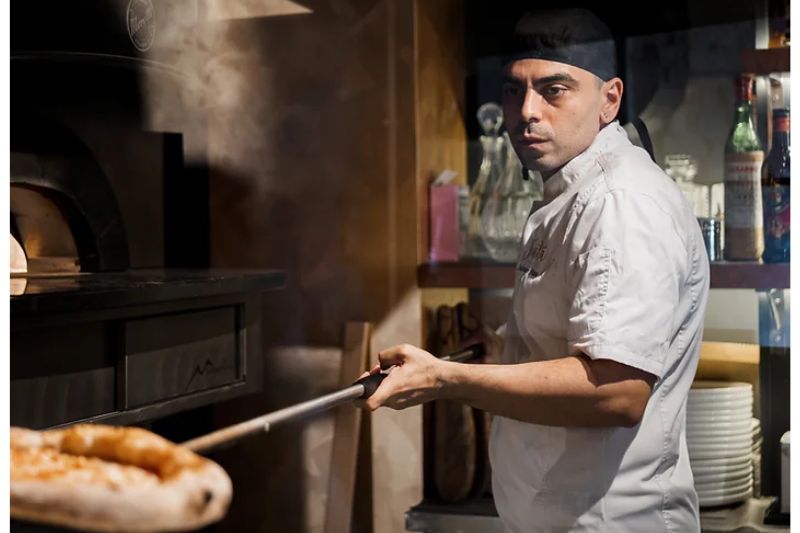 You can't go wrong with "True Italian Pizza by Salvatore Fiata". The Napolitano style pizzas boast a light, but crispy dough and a wide selection of toppings. Fiata Pizza ranked as number 62 in the best pizzerias in the World by 50 Top Pizza, which is pretty impressive! There is a pizza set lunch which costs from $150.
Must Try: Estate: focaccia with Grana Padano DOP 24 months, Parma ham (24 months)
burrata cream, Alife red onions jam
Pizza Price Range: $175 – $235
Address: 2-4 Staunton St, Central
You might also like to read: Best Family Restaurants in Hong Kong 
Gustaci Pizzalounge
Pizza Price Range: $128 – $188
Address: G/F, Block B, PMQ, 35 Aberdeen Street, Central
Babacio Hong Kong
The flagship restaurant in Central overlooks Tai Kwun and has a terrace for al fresco dining. It is also pet friendly.
Pizza Price Range: $108 – $288
Address: 5/F Carfield Commercial Building, 77 Wyndham Street, Central and Tung Chung
Ciak
The texture of the pizza dough is deliciously crispy and is extremely flavoursome, made using a 36 hour natural fermentation process. The toppings are mostly traditional with a bit of a modern spin.
Ciak also does amazing homemade pasta incase you're not in the mood for pizza. The Eggplant Parmigiana and the Ricotta Cheese Cannoli are also my top picks for non-pizza loving guests. There is a great set lunch menu at both venues and the wine selection is also very good.
Must Try: Norcina Pizza – homemade sausage, mushroom and mozzarella
Pizza Price Range: HK$160 – HK$280
Address: Shop 327-333, 3/F Landmark Atrium, 15 Queen's Road Central and Shop 265, 2F Cityplaza, Taikoo Shing
208 Duecento Otto – CLOSED
The chefs at 208 really hit the nail on the head with the pizza. The dough is thin underneath but has nice thick crust so it isn't too filling and leaves plenty of room for dessert! There is a large selection of traditional toppings with a variety of vegetarian options. The chefs use only the best buffalo mozzarella imported from Italy so you know the quality will be spectacular.
208 has beautiful wallpaper that, when accompanied with candles, creates the perfect ambiance for date night. During the day, the restaurant is lively and is child friendly so becomes a good location for family Sunday brunch.
Must Try: Prosciutto e Rucola – Mozzarella, cherry tomatoes, rocket, parma ham and scamorza
Pizza Price Range: HK$158 – HK$208
Address: 208 Hollywood Road
Kytaly – CLOSED
Pizzas at Kytaly should be enjoyed as if they are high end dishes. The dough, which takes two days to make, has the perfect texture; not too chewy or crunchy and with a subtle flavour that complements the carefully chosen toppings. This is easily one of the best pizzas I have tried – including in Italy!
The highlight of the cosy restaurant is undoubtedly the terrace, lined with trees and mood lighting, complete with views of Tai Kwun. The décor is stylish yet comfortable and very well thought out so that guests feel welcome and at home.
A variety of vegetarian options are available and, if you like Nutella, then you must try the Tiramisu Nutella from the dessert menu.
Enjoy a cocktail or a glass of Italian wine, Kytaly is known for serving a fantastic Negroni so don't miss out on that!
Must Try: Tartufo – Mozzarella di bufala campana DOP, grated black truffle
Pizza Price Range: HK$178 – HK$398
77 Wyndham Street, Central

About the Author: Rosa Maria Cheng-Mazzeo is an Italian, born and raised in Switzerland. She has lived in Hong Kong since 2008 and is a mum of two lovely children.
*Main image courtesy of Amalfitana, all images courtesy of restaurants.