Reading Time: 7 minutes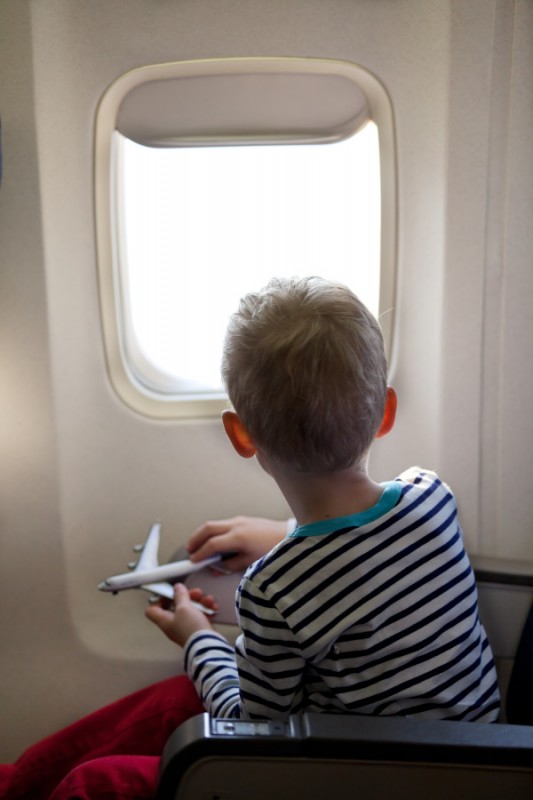 When 11-year-old Orla and nine-year-old Rosie set off for Chek Lap Kok airport one morning last summer, they couldn't help feeling nervous about the journey ahead. They are not generally fearful flyers, and they were embarking on a familiar journey that they have made several times in the past – from Hong Kong to Glasgow via Dubai – but this time, it was different. This time, they would be flying without their mum or dad. They would be two of the estimated hundreds of thousands of children who fly as "unaccompanied minors" all over the world each year.
The thought of putting our most precious cargo – our irreplaceable children – on a plane, alone, to jet off halfway around the world can seem a very drastic option. As well as the major worries about whether they will be safe on the plane and will arrive unscathed at their destination, there are also the mass of minor worries to consider. Will they remember to eat? Will they ask for help if they need it? Will they cope with airline toilets unaided? Will they sleep? Will they be able to deal with any unexpected hiccups such as turbulence? But despite these very natural worries, for some parents, especially those living in such an international city as Hong Kong where extended family may be scattered in different corners of the globe, sending children on an airline-run unaccompanied minor scheme can sometimes provide an affordable and practical solution to a logistical problem.
Rosie and Orla's mum Arlene Goode, from Discovery Bay, explains, "We wanted the girls to spend some good, quality time with their grandparents and cousins in the UK over the summer, but my husband and I don't get enough annual leave to stay for extended periods. In the past, I'd flown with them, dropped them off with family, then come straight back to Hong Kong to go straight back to work, but this was an expensive option. As the girls are a little older now we decided to try the unaccompanied minor service."
Rules and reservations
When children travel as unaccompanied minors, the airline agrees to escort them onto their flight, assist them with any connections and hand them over to a pre-arranged person on arrival. In addition, some airlines have special children's lounges in airports with books, games and snacks, where children can wait for connecting flights.
Hong Kong mum-of-three Amanda Walsh worked as a flight attendant and cabin manager for an Australian airline for many years, and says the care her airline provided for unaccompanied minors was excellent. "We would meet the children at the boarding gate, and we would usually board them first. One of the flight attendants would settle the child into their seat and have a chat with them, explaining the safety procedures if they hadn't flown before and showing them where their call bell was. It is really important to build a rapport with the child so they feel safe and secure. During the flight, we kept them busy with the activity packs, movies if it was a long flight, and (in the pre-9/11 era) visits to the flight deck to see the pilots. Once we landed, we would hand the child over to ground staff if they were transiting – my airline had a designated lounge for unaccompanied minors in all the major airports. If the child was at their destination, we would take them to meet their carer."
Each airline has a specific set of rules and regulations about the age of children they will accept to fly solo. Children generally need to be five years or older to take a non-stop flight on their own, and many airlines stipulate that a child needs to be over seven years old before they can take a journey that requires a connecting flight. Often, there are restrictions on connecting flights – for example, they cannot involve a change of airport, and there can often be no longer than a five-hour layover period. Children over 12 are generally allowed to fly alone, but they often don't have to – many airlines offer parents the option of sending them as unaccompanied minors up to the age of 17. Sometimes, 12- to 17-year-olds can fly as "Young Travellers" – which means the airline is aware of their travel arrangements, but no special help is provided.
While booking a child as an unaccompanied minor does save an airfare for a parent or guardian to escort the child, the service does not come free. Unaccompanied minors usually have to pay the full adult airfare, plus an extra service fee, which usually amounts to somewhere around US$100 to US$200 for a return international flight. Reservations cannot be made on the internet – they have to be made by phoning the airline or travel agent directly, and there is additional paperwork to be completed.
One of the most crucial elements when sending children alone is to plan who will pick them up at the other end well in advance – the airline has to be notified of the designated person, and any deviation from this plan can cause problems. Amanda explains, "We were super-picky about who picked the child up. The person had to have photo ID. If it wasn't the person on our details, we could not hand the child over. Nine times out of ten, it was just that Mum was parking the car and Aunty ran in to pick up the child, but there were a few situations where there was a custody battle going on and the other parent would turn up and try to pick up the child."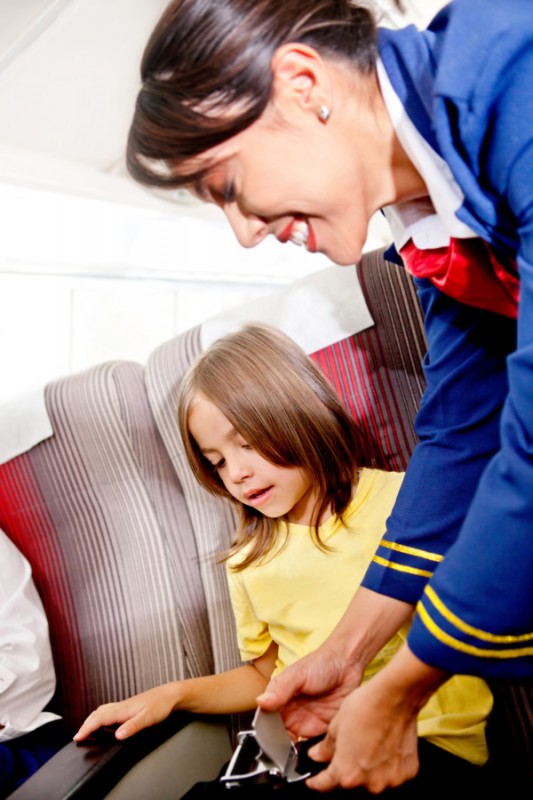 Fasten your seatbelts
With all the preparation and paperwork completed, the flight over, and the child safely delivered to the designated person on arrival, sending a child as an unaccompanied minor can seem a time- and cost-efficient option. But however efficient, it can never be a completely seamless babysitting service, and it will not be suitable for all children. The child will have to deal with different airline staff in the departure lounge, on the flight and on arrival, and while in the air, staff will not have time to sit and hold a child's hand throughout the whole experience. Regardless of their age, some children will take this in their stride, while others will find it unsettling – parents will be the best judge of how their child will cope. Additionally, children who might need medication during the flight will not be allowed to fly solo, unless they can take responsibility for their medication themselves, and some airlines refuse to accept children with severe allergies, such as a peanut allergy, in case the child has a reaction that requires medication.
And despite the stringent checks and double-checks made at each stage of the journey, unaccompanied minors have occasionally gone astray. In one high-profile case in the States, a ten-year-old girl was left stranded at Chicago's airport where she was supposed to be taking a connecting flight, as the airline had outsourced the escorting of their unaccompanied minors to an outside company, who had failed to turn up. In another case, two children ended up in the wrong destination as both of their flights left from the same gate and staff got the children mixed up. Even more alarmingly, there have been occasional reports of predatory paedophiles switching seats to sit next to unaccompanied minors. Some airlines have a policy of not seating unaccompanied children next to men, although after various complaints and court cases on the grounds of sex discrimination, some airlines are either reviewing or abandoning this policy.
Smooth landing
But despite the occasional horror story, for the vast majority of the hundreds of thousands of children who fly as unaccompanied minors every year, the journey goes without a hitch. For Arlene's family, the experience was a very positive one. She says, "We were happy with the way it worked out. The kids were very nervous and hesitant at first as they had never flown alone before and it's such a long way, but after the flight, they seemed more than willing to do it again. The airline booking staff were very helpful, thorough and efficient, and formalities were stringent. I did worry about the girls while they were on the flight.Although I knew they were in safe hands, it's natural to worry. I was a bit on edge until I heard they were safely in Glasgow with my mother. I was also concerned as there was a T8 during take-off, but everything seemed to go smoothly. In fact, it worked so well that we'll be doing it again this year – but this year, we'll also send my son, who will be eight by then."
And for many children, getting from A to B suddenly becomes a much more exciting adventure when they are flying solo. Once the initial jitters have subsided, they might get a taste for their new-found freedom, without parents in tow to cramp their style! This is a sentiment shared by 11-year-old Orla. "I loved feeling independent," she says, "but I also felt safe because the airline staff really looked after us".
---
Be prepared!
• Pack a copy of your child's itinerary and birth certificate in your child's carry-on bag. Include travel dates, flight numbers, departure and arrival times, and a booking number. You should also include your own contact details.
• Give your child a mobile phone with pre-programmed numbers.
• Include some snacks, and some sweets to suck to ease popping ears on landing.
• Let your child pick out some books, small toys or electronic items to take on the journey – but don't forget to explain that gadgets need to be switched off for take-off and landing.
• Put a sweatshirt in your child's carry-on luggage in case they get chilly on the plane. Some parents pack a day's worth of clothes in case the checked luggage gets lost.
• Dress your child in loose, comfortable clothing – keep tricky fastenings to a minimum as your child will need to be able to undo them (and do them up again) when using the plane's toilet.
• On the big day, arrive at the airport early to deal with any last-minute paperwork (airlines generally advise arriving three hours before an international flight, and two hours before a domestic flight). In many airports, parents can get gate passes to take their child directly to the gate.
• Stay at the airport until the plane has taken off. Occasionally, even after boarding, the flight may be cancelled or delayed.
• Make arrangements with the person picking up your child in good time, and remind them to bring photo ID to the airport – without it, the airline may be reluctant to hand over your child.