Reading Time: 6 minutesLooking for things to do in Hong Kong? Check out these top family-friendly events and activities running in Hong Kong August 2023. You can also check out our What's On page for more.
Wildly Fun Summer at Hong Kong Disneyland
Dates: Until September
Head to Hong Kong Disneyland this summer an enjoy a brand new stage show, Adventure is Out There; meet your favourite characters in Adventureland and be mystified by the magic of Lord Henry Mystic's great nephew, Reginald Montgomery – who carries a mysterious bag filled with rare and extraordinary objects from all around the world. Be on the lookout for four talented musicians who will surprise guests with spontaneous performances. Or cool down at the Pixar Water Play Street Party and at the new Summer Splash Bubble Party in Fantasyland. Have a close encounter with Toy Soldiers at Toy Story Land and enlist in the Toy Soldier Boot Camp, combating the summer heat with a soaking wet challenge.
Meet the Bugs at Bookazine
Date: 20 August
Attention all insect enthusiasts! Kadoorie Farm is buzzing into Bookazine! Witness the captivating beauty of the insect kingdom up close and personal. Meet the astonishing Giant Prickly Stick Insect and the majestic Stag Beetle (Dorcus Hopei), along with their knowledgeable keepers, to learn more about these incredible creatures and expand your knowledge of the mesmerising insect world like never before. No appointment needed! Simply walk in and immerse yourself in this extraordinary experience.
CoComelon Playground
Dates: Until 27 August 2023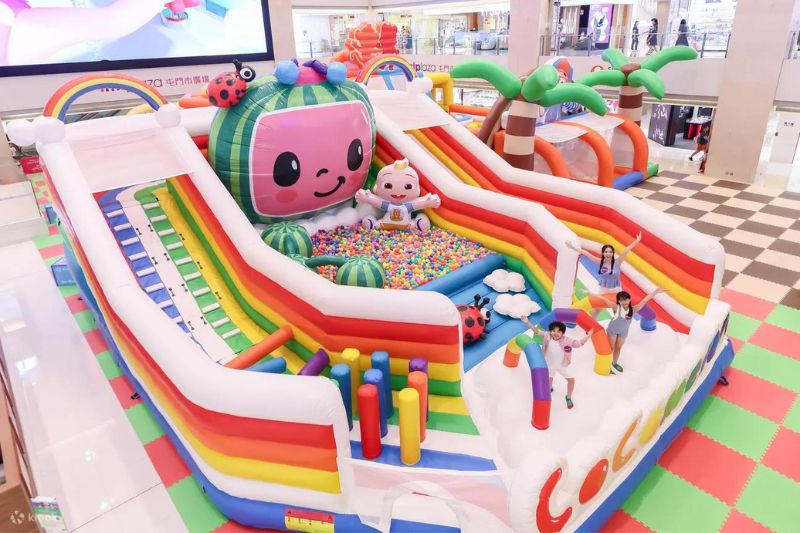 Kids will love jumping and sliding on this CoComelon themed inflatable playground at Tuen Mun Town Plaza. Bookable through Klook, sessions are either 25 or 50 minutes.
Gimme LiVe 2023
Dates: 5 August – 26 August (weekends only)
Mira Place's annual musical event "Gimme LiVe 2023" returns with a theme of "So LiVe So Good". For four consecutive Saturdays starting from 5 August, 20 singers including Gigi YIM, Joey WONG, Angela HUI, Taco WONG, Top 10 finalists of "King Maker V", and Albert CHAU, winner of "Midlife Sing & Shine", will rock the shopping mall with a musical feast. Popular TikTok singer Axi CHEUNG, who has more than a million followers, and popular TikTok rapper, Homeboy, will also be featured in their first shopping mall gig in Hong Kong.
PinkFong World Adventure
Dates: Until 3 September
Join Pinkfong, Baby Shark and friends as they explore fin-tastic song and dance in Hong Kong's first Pinkfong immersive event! It features over 16 games and activities, including interactive motion games, play areas and music from the creators of the world famous Youtube hit- Baby Shark (parents be warned!). Travel around on a spaceship with Pinkfong, Baby Shark and friends as they venture to different worlds, like the Baby Shark World Reefville, Pinkfong Wonderville and Pinkfong and Baby Shark's Space Adventure. Tickets are available from Trip.com or Klook.
Skate Asia 2023
Dates: 4-15 August 2023
Head to Discovery Bay Ice Rink to watch participants in Skate Asia, the world's largest recreational skating competition. The competition features 1,750 skaters from over 10 countries and regions. A total of 46 ice rinks in the region will participate in the competition. The opening ceremony takes place on 8 August and will feature performances  by 6-time champion of Hong Kong Championships Harry Lee as well as world-renowned figure skater and the 2022 U.S. national champion, Mariah Bell.
The Legend of the Gold Coast Treasure
Dates: 1 July – 3 September 2023.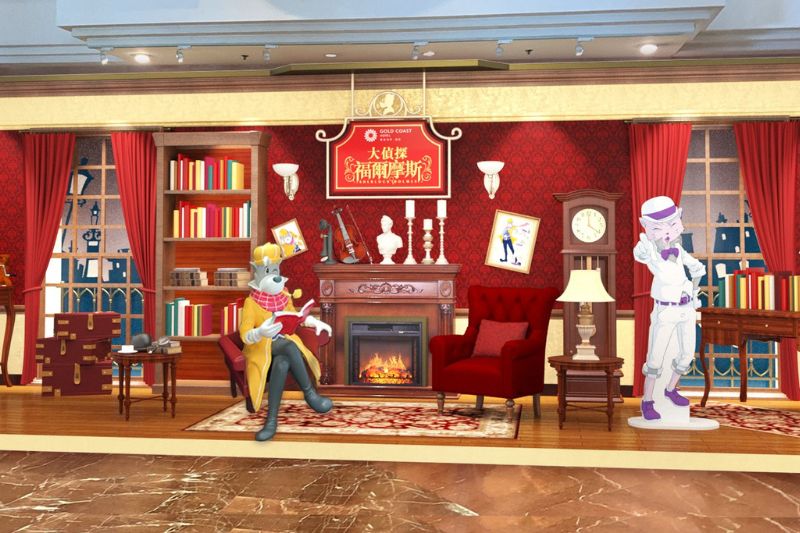 Enjoy a Sherlock Holmes themed summer staycation at Gold Coast Hotel this summer. "The Great Detective Sherlock Holmes Themed Package" includes a sea view room with balcony, the chance to meet characters and a "Sherlock Holmes Cookie Workshop." Other Sherlock Holmes activities include a themed afternoon tea and interactive games in which young detectives will solve mysteries using their observation skills, logical thinking and STEM knowledge.
See you in Central Market
Dates: from 17 August
Central Market celebrates 85 years of being open, and the second anniversary of its reopening with a series of events and activities. The events will showcase three main themes: "Select for Central", "Found in Central", and "Come to Central", showcasing how the the iconic landmark has been transformed into a vibrant community hotspot.
Dinosaur Fun in Kwun Tong
Dates: 4-31 August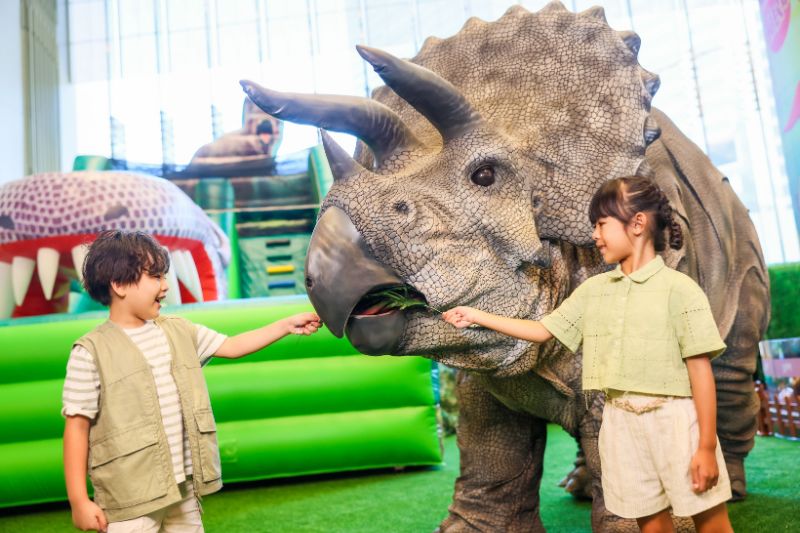 Dinosaur lovers can visit a 4-metre-long T-Rex and an 8-metre-tall Brachiosaurus for a thrilling photo op, or whizz down the 6-metre-tall "Dinosaur Slide & Trampoline" at YM² Yue Man Square (YM²) this August. Visit at the weekend for a special meet and greet with a Triceratops.
Ocean Park Summer Splash!
Date: Until 27 August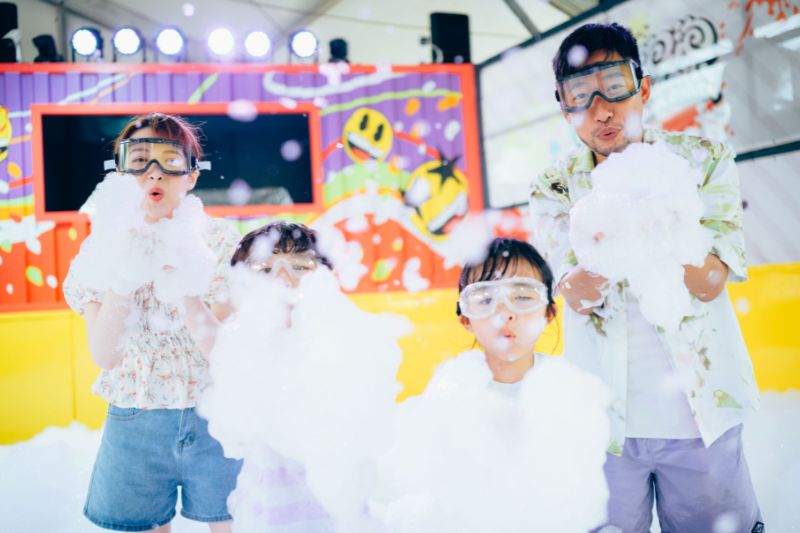 Get ready for epic water fun at Ocean Park this summer. Grab you water gun and head to the emoji themed water gun combat zone, or head to the pool of bubbles for some foam-filled fun with live DJ performance and dancers. There's plenty of fun for smaller visitors, too, as they explore the mist-spraying arches and water fountains. Make the most of the fun with by visiting again and again. Purchase an InFUNity Entry Pass, which allows unlimited access to the Park before 30 September 2023.
The Quarryside Summer Fest
Date: 25-27 August
A supporting event of "Happy Hong Kong, The Quarryside Summer Fest takes place in Quarry Bay and offers free arts and cultural activities, food and drink promotions (around 50 F&B outlets will provide exclusive offers tailor-made for the Fest) and live music performances. The festival focuses on creative health and wellness, featuring activities such as Silent Disco, mindfulness and yoga, swing dance classes, and a community art installation. Visitors can also participate in workshops and family activities. Pre-registration is required for some programs. For more information, visit www.quarryside.hk.
teamLab Hong Kong
Date: from 9 July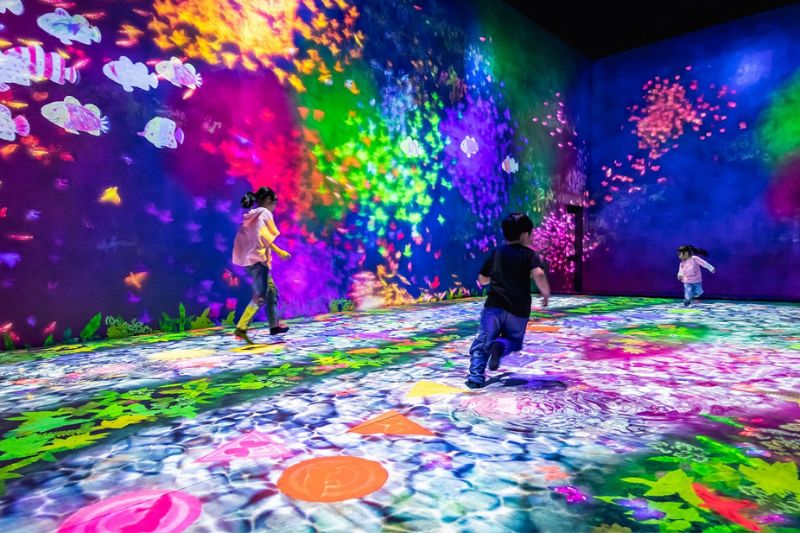 Combining art, science, and technology with the natural world, teamLab is brining a multi-sensory experience not to be missed in Hong Kong. The international art collective is comprised of interdisciplinary specialists, including artists, programmers, engineers, animators, mathematicians, and architects. The interactive exhibition in Hong Kong will be held at Megabox in Kowloon Bay.
They have held exhibitions worldwide, including in major cities like New York, London, Paris, Singapore, Beijing and Melbourne plus teamLab museums and large-scale permanent exhibitions such as teamLab Borderless and teamLab Planets in Tokyo, teamLab Borderless Shanghai, and teamLab SuperNature Macao. Additionally, teamLab's artworks are in the permanent collection of the Museum of Contemporary Art, Los Angeles; Art Gallery of New South Wales, Sydney; Art Gallery of South Australia, Adelaide; Asian Art Museum, San Francisco; Asia Society Museum, New York; Borusan Contemporary Art Collection, Istanbul; National Gallery of Victoria, Melbourne; and Amos Rex, Helsinki.
Early bird tickets are available from June 8 to July 9 on FWD Max's platform and Trip.com. General tickets go on sale from July 9 onwards.
Disney 100
Dates: Until 3 September 2023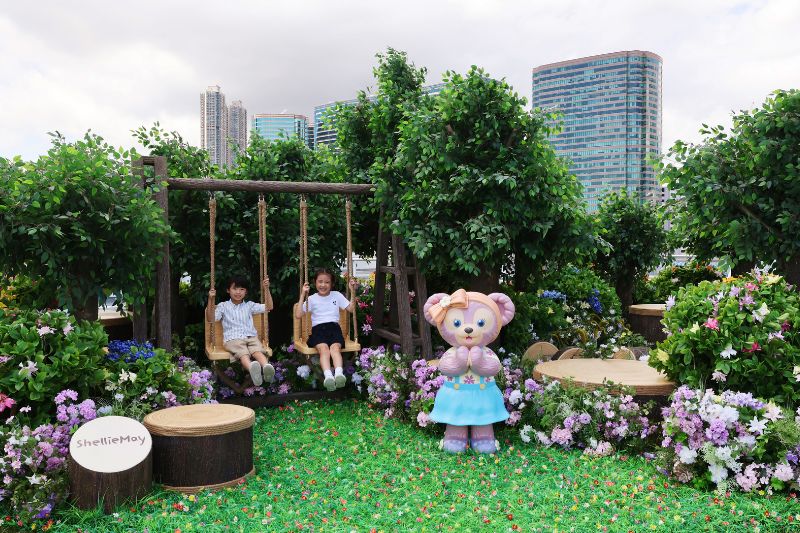 Visit the 30 Disney characters dotted around Harbour City & LCX this summer. Board the enormous "Sea Explorer" with Mickey and friends at the Ocean Terminal Forecourt. Or get into the "Enchanted Balloon Odyssey" with Woody and Stitch at the Ocean Terminal Deck. The main entrance of LCX has been transformed into a train station that takes visitors to the forest world of Duffy and Friends. Or perhaps you'd prefer to be transported back in time with the 3.5-meter-tall Pinocchio at the "Time Travel Theatre". Meanwhile the "Disney Princess Library" at Atrium, Ocean Terminal offers access to the magical world of the princesses.
International Children's and Youth Film Carnival (ICYFC)
Date: 8 July-19 August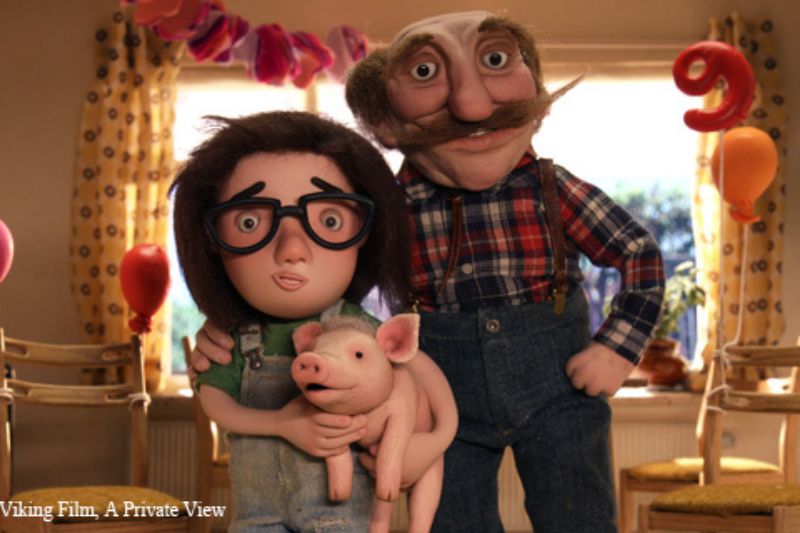 The ICYFC has over 50 fun-filled film screenings on offer for you and your kids to escape the summer heat. Choose from a selection of feature films, animations and short films from around the world screened at a range of venues across Hong Kong. There's also a special Dome Show and Stargazing Night at the Space Theatre. Tickets for LCSD venues cost $70 from www.urbtix.hk. Emperor Cinema tickets cost $90 from www.emperorcinemas.com.
Emil and the Detectives
Dates: 4-6 August 2023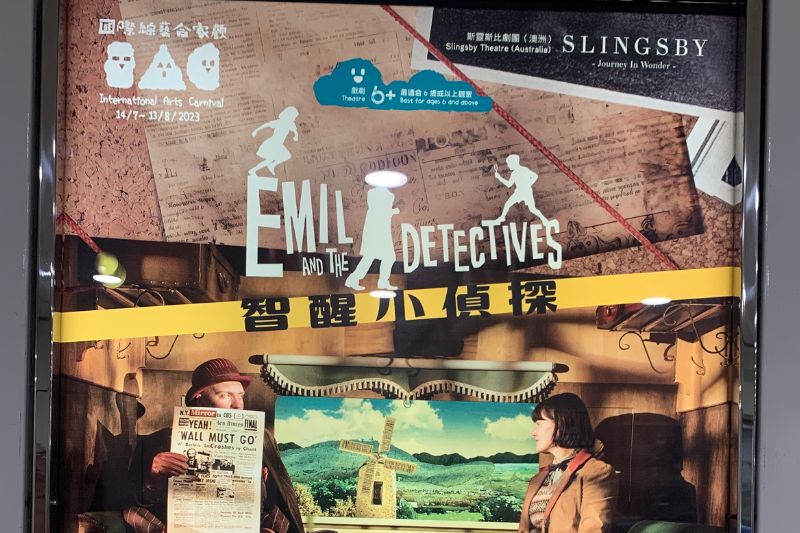 Part of the International Arts Carnival and performed by Slingsby Theatre from Australia, don't miss this performance based on the 1929 novel, Emil and the Detectives. Emil embarks alone on a train journey with a stash of cash to give to his grandmother. Before he even leaves the train, though, his money has vanished! Emil gathers quick-thinking and resourceful children to help him outwit the thief. Can a bunch of kids work together to outsmart the criminal? A great performance for children over the age of 6.
Harbourchill
Date: Until 6 August
For five weekends this summer, the Wan Chai harbourfront area will be transformed into "the city's backyard garden," a summery carnival with all kinds of live events for the family. The 3,000-square-foot space will house various pop-up installations, shelters, chairs and swings and a series of movable animal furniture designed by the Hong Kong Arts Centre in collaboration with Napp Studio. For entertainment there will be live music shows on a water stage, a variety of performing arts programmes from different countries, thrilling X-game performances, and a special edition of 'A Symphony of Lights' light and music show. The Harbour Office has also collaborated with Social Ventures Hong Kong (SVhk) to create the WE+ Kiosk, which will sell snacks and beverages as well as goods featuring a Wan Chai theme. Check out the website for updates on scheduling.
Kids Weekend at Frites
Date: 12 August 2023
Sit back and unwind over lunch at Frites in Kwun Tong as your children are entertained by face painters.
You might also be interested in: