Reading Time: 6 minutes
Check out these top family-friendly events and activities running in Hong Kong in July 2023.
Happy Valley Weekend Market
Date: 8 – 9 July, 10:30am – 6:30pm
Check out the Happy Valley weekend market and explore the selection of handmade products, food items and browse the preloved books available through Rebooked.
Address: 16 Min Fat Street, Happy Valley (small street after HSBC on Sing Woo Road)
Virtually Versailles
Date: Until 9 July
Presented as part of the French May Arts Festival, this is a chance to experience France's grandeur and heritage right here in Hong Kong. The immersive exhibit at the Hong Kong Heritage Museum combines innovative design, multimedia and interactive installations, allowing you to step inside the famed Hall of Mirrors, the French gardens and even Marie-Antoinette's bedchamber to relive the palace's glorious history. www.heritagemuseum.gov.hk
The Legend of the Gold Coast Treasure
Dates: 1 July – 3 September 2023.
Enjoy a Sherlock Holmes themed summer staycation at Gold Coast Hotel this summer. "The Great Detective Sherlock Holmes Themed Package" includes a sea view room with balcony, the chance to meet characters and a "Sherlock Holmes Cookie Workshop." Other Sherlock Holmes activities include a themed afternoon tea and interactive games in which young detectives will solve mysteries using their observation skills, logical thinking and STEM knowledge.
Wildly Fun Summer at Hong Kong Disneyland
Dates: Until September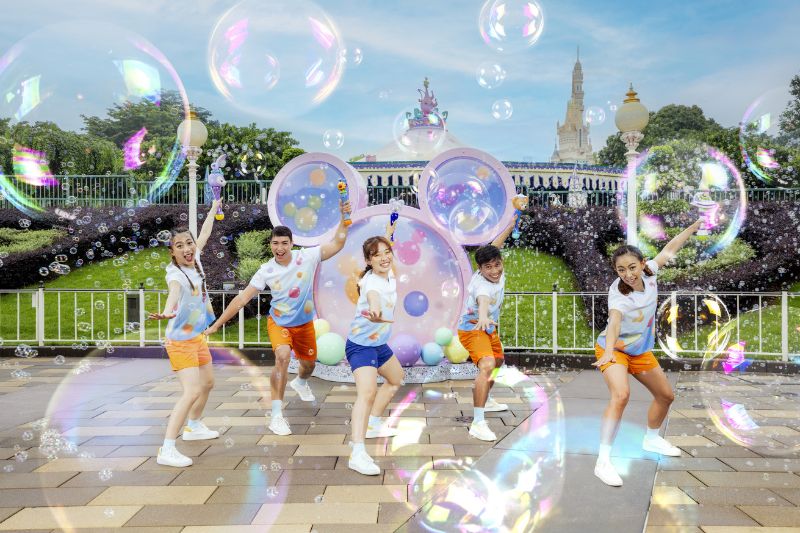 Head to Hong Kong Disneyland this summer an enjoy a brand new stage show, Adventure is Out There; meet your favourite characters in Adventureland and be mystified by the magic of Lord Henry Mystic's great nephew, Reginald Montgomery – who carries a mysterious bag filled with rare and extraordinary objects from all around the world. Be on the lookout for four talented musicians who will surprise guests with spontaneous performances. Or cool down at the Pixar Water Play Street Party and at the new Summer Splash Bubble Party in Fantasyland. Have a close encounter with Toy Soldiers at Toy Story Land and enlist in the Toy Soldier Boot Camp, combating the summer heat with a soaking wet challenge.
Summer Fun with the SPCA
Date: 22 July 2023
Join The Society for the Prevention of Cruelty to Animals (Hong Kong) at Cyberport for a series of fun family and pet-friendly activities organised in partnership with Interval and MessyJam.
The Socialisation For City Dogs + Brunch at Interval offers professional insights on dog training and practical tips from an SPCA Senior Dog Trainer, plus some quick drills on-site. Participants will also receive personalised advice to help them navigate busy cities with their dogs. Following the workshop, a dog-friendly brunch will be served at Interval. The event costs $550 including workshop and brunch for one person and one dog.
Make a personalised dog tag & coaster using resin gel, glitter and dried flowers at a workshop by Messy Jam, followed by brunch at Interval. Cost is $650 (including a set of handicraft materials + brunch for an adult and a child)
Considering adopting a dog? Learn about the adoption process and practical techniques for a smooth transition when first bringing a rescue dog home – starting from the first 3 days, 3 weeks and 3 months. Rescue puppies from the SPCA will also be there to meet and mingle with people, and hopefully find their furever home.
SummerFest
Dates: Until 23 July
Join Hong Kong's annual festival of fun at Central Harbourfront this summer. There's a huge number of events and activities with the theme of 'Fun in the Sun' to encourage everyone to enjoy themselves.
2 July – X-Dimension Summer Party; C for Chess Chess Fun Day
7 July – Fit & Well Moonlight Yoga
8 July – ShinyVibes
14 July – HKFYG x HGC Summer Jam – Green Picnic x Band Sound
15 July – HKFYG x HGC Summer Jam – Green Picnic x Busking; Baseball for all Fun Day
16 July – Be the Heroine
21 July – Four Wheel Garage Market – relax; sf Winds E-pop Night
22 July – Four Wheel Garage Market – refresh; My Rhythm Playground
23 July Four Wheel Garage Market – recharge
Entry is free, so you can save your money to enjoy the delicious array of food that will be on offer. www.summerfest-centralharbourfront.hk
Ben Sir's Fairy Symphony: Swan Lake
Date: 7 July
Presented by Chong Hong Kong Youth Symphony Society, enjoy this live symphony of Swan Lake accompanied by storytelling by famous artist, actor and educator Banjamin Au Yeung. www.urbtix.hk
Harbourchill
Date: 8 July – 6 August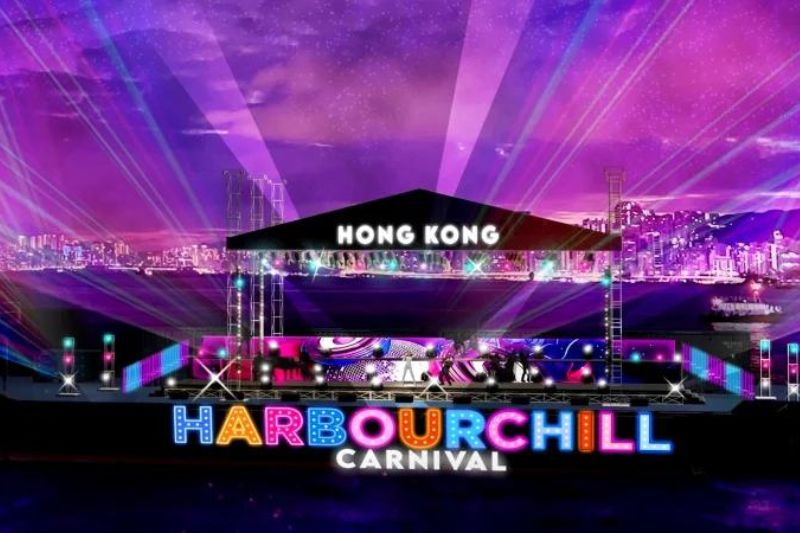 For five weekends this summer, the Wan Chai harbourfront area will be transformed into "the city's backyard garden," a summery carnival with all kinds of live events for the family. The 3,000-square-foot space will house various pop-up installations, shelters, chairs and swings and a series of movable animal furniture designed by the Hong Kong Arts Centre in collaboration with Napp Studio. For entertainment there will be live music shows on a water stage, a variety of performing arts programmes from different countries, X-game performances featuring thrilling extreme sports in action – from daring skateboard stunts to gravity-defying BMX tricks and amazing street dance performances, and a special edition of 'A Symphony of Lights' light and music show. The Harbour Office has also collaborated with Social Ventures Hong Kong (SVhk) to create the WE+ Kiosk, which will sell snacks and beverages as well as goods featuring a Wan Chai theme. Check out the website for updates on scheduling.
International Children's and Youth Film Carnival (ICYFC)
Date: 8 July-19 August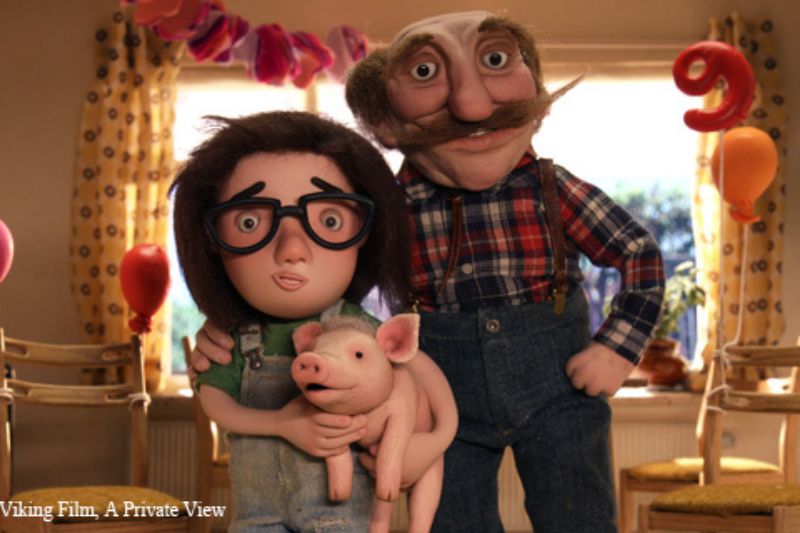 The ICYFC has over 50 fun-filled film screenings on offer for you and your kids to escape the summer heat. Choose from a selection of feature films, animations and short films from around the world screened at a range of venues across Hong Kong. There's also a special Dome Show and Stargazing Night at the Space Theatre. Tickets for LCSD venues cost $70 from www.urbtix.hk. Emperor Cinema tickets cost $90 from www.emperorcinemas.com.
Ocean Park Summer Splash!
Date: 8 July – 27 August
Get ready for epic water fun at Ocean Park this summer. Grab you water gun and head to the emoji themed water gun combat zone, or head to the pool of bubbles for some foam-filled fun with live DJ performance and dancers. There's plenty of fun for smaller visitors, too, as they explore the mist-spraying arches and water fountains. Make the most of the fun with by visiting again and again. Purchase an InFUNity Entry Pass, which allows unlimited access to the Park before 30 September 2023.
teamLab Hong Kong
Date: from 9 July – 14 Jan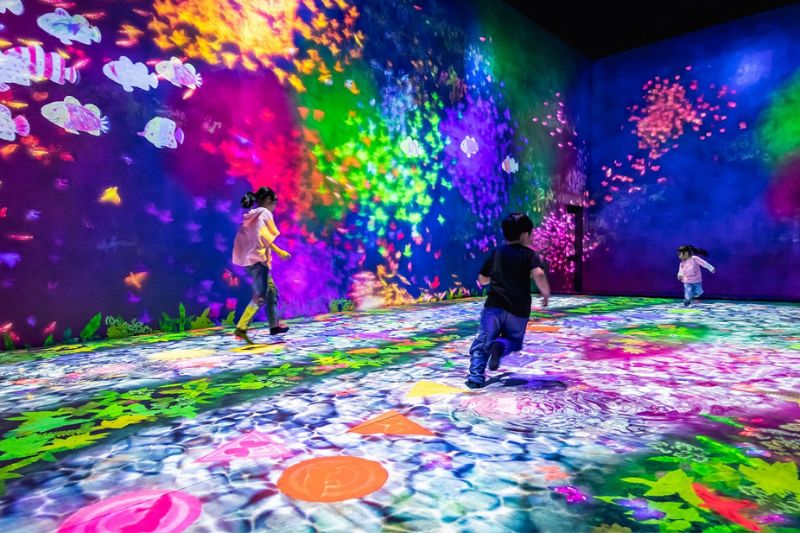 Combining art, science, and technology with the natural world, teamLab is a multi-sensory amusement park experience not to be missed. The international art collective is comprised of interdisciplinary specialists, including artists, programmers, engineers, animators, mathematicians, and architects.
The play installations include Graffiti Nature – The Beating Mountains and Valley are a three dimensional terrain that shift around you. It's a world created by visitors. Colour your own picture of a creature and see it come to life alongside those created by other visitors. The more animals and flowers you draw, the more nature expands. At The Light Ball Orchestra, bounce and roll giant, colour-changing light-balls. Slide through a colourful fruit field or play genius hopscotch, just some of the fun, immersive activities at teamLab Future Park.TeamLab Future Park is located at MegaBox in Kowloon.
Early bird tickets are available from June 8 to July 9 on FWD Max's platform and Trip.com. General tickets go on sale from July 9 onwards.
Sam and Her Amazing Book of Dinosaurs
Date: 14–16 July
This long-awaited collaboration between Hong Kong Ballet and the award-winning UK-based design powerhouse 59 Productions tells the story of nine-year-old Sam as she moves to a new neighbourhood in Hong Kong. One morning, she receives a dusty old dinosaur encyclopaedia with a portal that transports her back to prehistoric times where she makes friends with a baby dinosaur who becomes her best friend. Inspired by a children's pop-up book and augmented with lively animation and video projection, this heartwarming story of making friends and starting over is sure to delight all ages. www.hkiac.gov.hk
PinkFong World Adventure
Date: from 13 July
Join Pinkfong, Baby Shark and friends as they explore fin-tastic song and dance in Hong Kong's first Pinkfong immersive event! It features over 16 games and activities, including interactive motion games, play areas and music from the creators of the world famous Youtube hit- Baby Shark (parents be warned!). Travel around on a spaceship with Pinkfong, Baby Shark and friends as they venture to different worlds, like the Baby Shark World Reefville, Pinkfong Wonderville and Pinkfong and Baby Shark's Space Adventure. Tickets are available from Trip.com
Peppa Pig Live! Peppa Pig's Celebration
Date: 22 July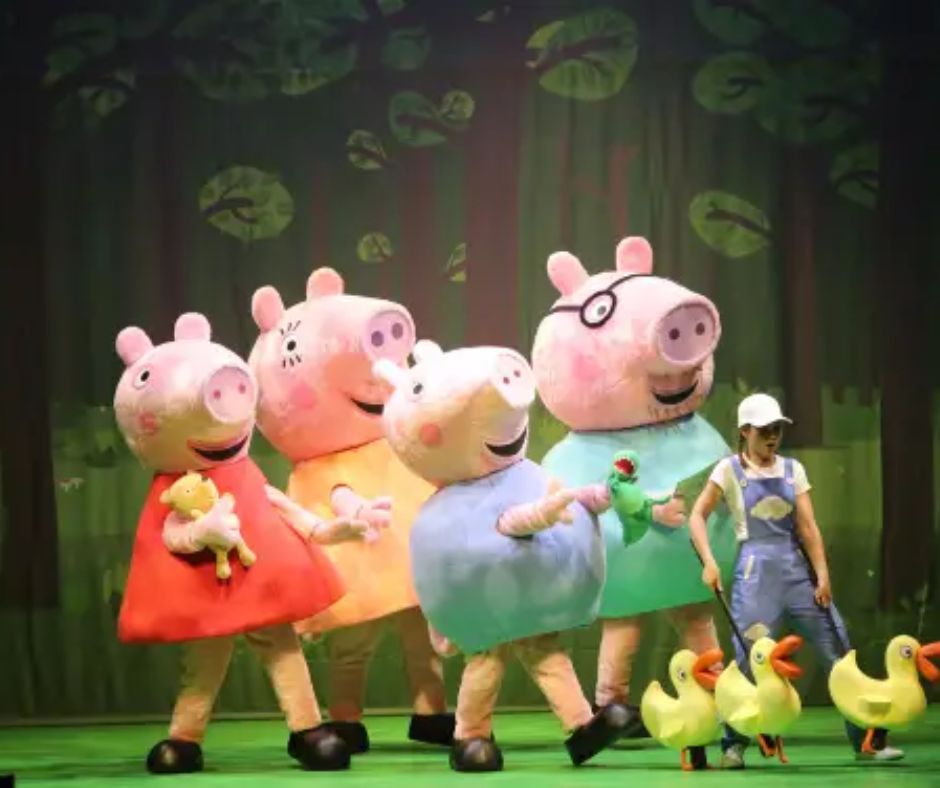 Peppa Pig returns to Hong Kong this July in the musical extravaganza Peppa Pig Live! Peppa Pig's Celebration. The 90-minute live show highlights family fun, friendship and teamwork as Mummy Pig prepares a special surprise family photo album for Pippa. Embark on a heart-warming and cheerful journey, full of surprises and snorts of laughter! Tickets are available now through Trip.com Venue: 3rd Floor, Star Hall, Kowloon Bay International Trade & Exhibition Centre, Kowloon. Tickets: $280.00 for adults and children
Hong Kong Book Fair
Date: 19–25 July
It's time to celebrate reading again with the 33rd HKTDC book fair. Pop along to browse through a huge variety of books, from the latest popular fiction to biographies to children's books and more. The week-long event also offers a string of cultural activities for visitors of all ages to take part in. www.hkbookfair.hktdc.com
Date: Until 26 July
Images from the Hong Kong Museum of Art's diverse collections become play in this interactive exhibition. Photographs of eyes, nose, and mouths – taken from nearly forty works of art – are projected through a large LED screen and three touchscreens. By sitting at one of three benches and moving it, see how the portraits can be altered, creating your unique self-portraits using a different combination of facial features or even recreating your own face.
Date: 28 July – 1 August
Join the largest gathering of anime fans and gamers in town this summer. The event is sure
to delight all fans of animation, comics and video games with its events, music and rare and limited edition collectibles. There's also a Cosplay Contest with a grand prize of $5,000 for the best costume.
Bookmark this page and keep checking back as we add more fun events and activities happening in Hong Kong in July 2023