Reading Time: 3 minutesWhether you're a seasoned home baker, a complete beginner, looking to sharpen your skills with a fun baking course or simply need to acquire some gear, we've got you covered. In this guide, you'll discover where to find the best tools and baking supplies in Hong Kong, as well as a mix of our favourite baking classes for you and your kiddies to enjoy.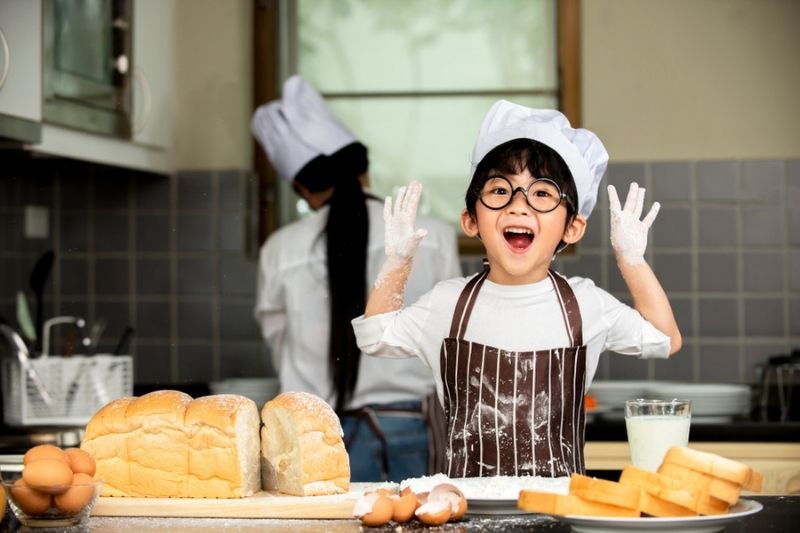 Stocking a huge variety of items, Baking Warehouse is chock full of pretty much everything you could dream of for baking bread, cookies, pastries, cakes and much more. From a large selection of different flours to special ingredients and baking tools, they also carry cookware, cutting boards, kitchen gadgets, small appliances, containers, pasta makers, rolling pins, turn tables, decorating tools, moulds and forms, plus cookie cutters and baking mats. For baking bread, you'll find proofing baskets, raising agents, bread knives, seeds, grains, plus other ingredients. 
Baking Warehouse, Unit 01, 12/F, Lladro Centre, 72 Hoi Yuen Road, Kwun Tong
Looking for French butter to up your baking game? Cakes Library has it. Online shopping is currently suspended but you can go into the shop to find all manner of baking ingredients, baking tools, small appliances, specialty items and classes. They currently have a promotion on cake making classes – For 2 people to make a cake it's the tuition fee plus $80. Interested in a parent-child class? Bring a child under 12 years old to your class for just $50 extra.
Cakes Library G/F, EF12, Food Lane, TKO Gateway, 2 Sheung Ning Road, Tseung Kwan O AND Room 603, 6/F, Sino Centre, 582-592 Nathan Road, Mong Kok
Looking for a baking course in Hong Kong? Look no further! Complete Delete has classes, workshops, DIY kits and cakes galore. With a dizzying array of baking ingredients and supplies, you will find all you need for a home baking project. They also offer workshops for adults and kids, plus parent-child classes, specific Wilton classes and they'll even host baking parties. Choose from one of their many specialty courses and start baking cupcakes, cake pops, and cookies like a pro. 
Complete Deelite 3/F, On Lan Centre, 11-15 On Lan Street, Central
Pretty much anything you need for baking can be found here. Baking ingredients like flour and cream as well as baking tools, accessories, tins, cookie cutters, piping bags and more line this shop. 
Hong Kong New Oriental Baking Supplies Unit 1, 26/F, Kwai Hung Holdings Centre, 89 King's Road, North Point
Little Bear Baking Supply Shop
From organic spelt flour to Panettone paper moulds, French butter and Tahitian vanilla beans, Little Bear Baking Supply Shop is worth a wander through. The shop is not far from the Tai Koo MTR and carries all the bakeware you might need for a day of home baking.
Little Bear Baking Supplies Shop, Shop H3, G/F, Kornhill Gardens Block 2 @ 1112 King's Road, Quarry Bay
In addition to all the ingredients you might need for baking cakes, cookies and more, I Love Cake also stocks baking tools, cake moulds, cookware and appliances. They offer baking courses in Hong Kong too, but you'll have to check they're on (due to COVID 19).
I Love Cake has multiple locations across Hong Kong.
Need Tahitian vanilla beans or French tempering chocolate? Look no further for your baking supplies. Ichi Cake is a 'first-class dessert bakery material sales center' full of amazing baking ingredients, tools and appliances. Choose from any of their eight stores located across Hong Kong, Kowloon and the New Territories. Join Ichi Cake's membership program to get discounts and special shopping privileges. 
Ichi Cake has 9 locations across Hong Kong.
With the big expansion of M&S Foods recently, there are a lot more baking supplies on offer. From specialty flour to a variety of sprinkles, piping bags, baking tins, cookie cutters and whisks M&S has what you need to do home baking. In case you're after some amazing croissants or pain au chocolat and you're not up for the task of making them yourself, M&S stocks the best on the market. Pop them in the oven and prepare to be impressed.  It's technically baking right?
M&S has multiple locations across Hong Kong.
With several shops stocking baking supplies across Hong Kong, Twins Baking Supplies also offers baking and decorating courses. They carry a wide range of products including a good selection of different flours, sugars, specialty ingredients, baking shells, candy cellophane, cookie tins, paper baking cups, pie pans, piping bags, baking scales and measuring spoons, thermometers, fondant tools and more. 
Twins Baking Supplies, 1/F, Luki Tower, 5 O'Brien Road, Wan Chai
Related articles: