Reading Time: 8 minutes
Mum, why aren't you reading to me?" I can sense the rising frustration in my daughter's voice as she, for the third time, reminds me to turn the page. "I can't," I blurt out in annoyance. "There are typos and grammatical errors everywhere. I'm not reading this book to you." My three-year-old daughter stares at me incredulously for what feels like an eternity and then very slowly backs away… 
And I'm left feeling confused, wondering if semicolons nonsensically splattered across a page and tales of pathetic princesses passing out and being smooched by strangers are sane reasons for banishing books from my children's bookshelf.
As parents, what should we be looking for when choosing books for our children? Should reading be a fun pastime or an opportunity for children to learn about the world that they live in? How important is excellent writing compared with beautiful illustrations or compelling characters? And at what point is it appropriate to break free from the monotony of reading the same story to our children a zillion times over?
Know your child
"The most important consideration when choosing a book for your child is whether your child will enjoy it or not," says Mio Debnam, renowned editor and author for young readers and regional advisor of the Society of Children's Book Writers and Illustrators in Hong Kong (SCBWI). "Give children a say in what they read… and don't get too stressed if your child is enjoying Captain Underpants (for the 30th time) while your friend's five-year-old is reading Shakespeare, having finished reading Homer's Odyssey!"
Debra Perrin, former library assistant at Bradbury School, adds, "Parents should take their children to a library or bookshop, engage their interest and follow their lead. If a parent's aim is to raise an independent reader, then a child has to learn how to choose a book."
Children are more likely to enjoy books with a storyline and characters that they can relate to, advises Vivian Chung, director of Story Jungle Education Centre, an English learning centre in Central. For beginners, she recommends books that are funny or on topics specifically matching their interests. After children become more comfortable with reading, she chooses books on topics that they can still relate to but are completely foreign to them, "such as a book about Anne Frank," she explains.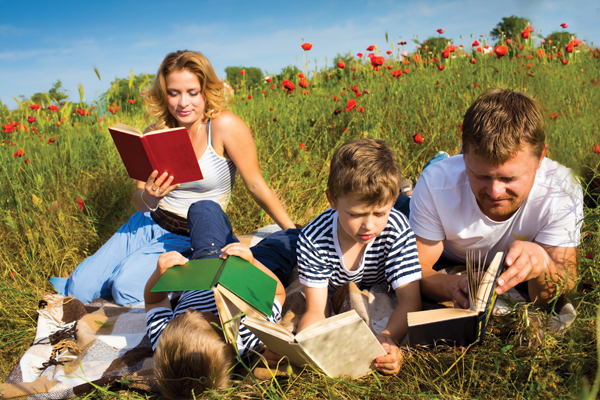 Parents can also choose stories for children that teach relevant lessons, says Katie Larson, an educator, researcher, and founder of Annie the Reading Dog – a new reading tutoring service aided by Annie, a reading therapy dog. "Research shows that children and young adults are more likely to learn from fiction books than non-fiction books because they are able to view the characters' lives from afar and watch a story unfold; the subconscious connections they make to the characters tend to make them more accepting of the lessons in the story. You may be surprised at the ability of the literary character to teach something you have been trying to for weeks!" says Katie, who recently finished writing her first book Freckles the Fish, a fictional story of a fish who experiences a series of emotions.
Tracey Nicole Batty, mother of five-year-old Isabella, agrees. "I believe one of the biggest gifts I can give my daughter is healthy self-love and self-esteem. I believe in You Can Heal your Life author Louise Hay's message so I bought all of her children's books. If Isabella has had a tough experience and is quite sensitive – for example, if another child at school is picking on her – I would read her the Adventures of Lulu. Doing this generally opens up a conversation so I can offer her my input on how to handle the situation."
"The most important consideration when choosing a book for your child is whether your child will enjoy it or not."
Younger readers will respond best to simple stories without too many words and illustrations that are uncluttered and uncomplicated, advises Mio. Repetitive elements or rhyme allow children to have fun filling in the words as the parent reads to them. Older readers will appreciate more plot twists, and can tolerate a higher word count and more elaborate language.
Hoping to instil in her 29-month-old twin daughters the same passion for reading that her mother, a librarian, instilled in her, Sandra Hoslin is attuned to her children's preferences. "We like books with illustrations that are pleasant, interesting and give us something to talk about in addition to reading the book," she says. "Our girls currently enjoy rhyming books, such as The Gruffalo, as well as books about day-to-day things – going to the playground, exploring a farmhouse, spending time with grandparents, learning to do things by yourself."
For read-alone books, and especially for beginner readers, parents should choose books that contain at least 70 per cent of words the child knows and comprehends. "This is important because children will rarely become interested in a book they barely understand," says Vivian, who also runs Ms Vivian's Reading Club – a reading programme designed to help children foster a habit and love of reading.
The "five finger rule" is a well-known method to test this out. "The rule is to turn to a full page in the book and ask your child to hold up a finger for each word he or she doesn't know. If there are five or more words your child does not know, you should choose an easier book," advises Vivian, who believes the method is best suited to younger children.

What to look for
"A really good book is a good story with a great plot, compelling character and lovely writing that stays with you," says Mio.
She believes that for picture books, the writing and the pictures are equally important because they should both tell different aspects of the story. As children learn vocabulary and to use language by experiencing great writing, parents should aim to find books where the standard of writing is great, but where the story is not compromised.
At the same time, "a lovely story with unattractive pictures that only show what it says in the text without enriching or adding more details to the story is not really very appealing," Mio advises.
"Illustrations are very important, as they say what the text doesn't," says Virginie Zurcher, first-time author of The Star of the Zoo. "If the illustrations don't say more than what's already written, it will be hard to reinvent the story and let the child describe what he sees. This is especially the case for younger children."
Wordless picture books are also a wonderful way to teach a child about storytelling and spark discussion between the reader and a parent. Unfortunately, parents do not always realise the worth of wordless picture books, as they feel they are not "educational enough," Mio laments.
What to avoid
Don't confuse the purpose of leisure reading with academic reading, warns Vivian. "Some of the parents I work with care more about getting their four-year-olds to read chapter books rather than really fostering their love for reading. They encourage their kids to 'wean off' picture books and ask them to look up every word they do not know. This will definitely turn your kids against books and reading," she advises.
There's also "no need to shove morals down a kid's throat," says Mio, who dislikes books that are overly didactic or moralistic. "Fiction should be read for enjoyment – to lose yourself in the magic of the story. Many works of fiction do help kids to figure out how the world works, and what behaviour is decent or otherwise… but that should be gleaned from them reading and thinking about how the characters in the book behave and what the outcomes are, within the context of the story."
Non-fiction books do not need to be dry and dull either. "Non-fiction can be told in a narrative way that captures your interest and makes you want to read on. Don't get me started on non-fiction which contains woolly facts – which are [often] vague or incorrect – as that makes me go mad!"
Parents should also be wary of buying books related to children's merchandise. "Whilst some have been written well and are enjoyable reads, others are dotted with terrible grammar and punctuation errors and have no story," says Mio.
"It's important not to be seduced by brand names," advises Nury Vittachi, acclaimed author, journalist and founder of the Man Asian Literary Prize, the Hong Kong Asian Literary Festival and the Asia Literary Review. He believes that media-programming can influence children to buy modern books that are shallow, derivative or inappropriate.
"Recently, a mother told me that her son had seen a bit of Game of Thrones on TV and wanted to read it," he says. "It was a shame [because] Game of Thrones unfailingly exploits violence and sex to keep readers hooked, cultivating the worst, rather than the best, of human nature."
Instead, Nury recommends the "timeless greats" – classics such as The Hungry Caterpillar for younger children and The Hobbit for older children, which have much more depth and richness than the likes of Hello Kitty or Glee.
Ultimately, however, the experts agree that reading anything is better than not reading at all. As Katie's parents used to say, "If you can't find a book, a cereal box is good enough! As long as you are reading!"
Mio concludes, "Getting a child to read and enjoy any book opens the door to regarding reading as a pleasurable activity. Instead of putting children off reading 'easier' or 'less worthy' reads, allow them to continue; but, simultaneously introduce them to a wide range of genres and types of book. The best way to do this is by sharing a book with a child. Read to them, or if the child is an able reader, allow them to read to you."
---
So, you think you can write?
If you're thinking of writing your own children's book, here's some advice.
"Making up stories for children seems very easy for many people. But getting a children's book published by a sizeable, recognised international publisher is very, very difficult," says Nury Vittachi. "The reason is that children's books look simple on top, but have a rich, complex structure underneath."
Determined to see their books in print, some hopefuls go down the self-publishing route. Tracey Starr, until recently this magazine's editor-in-chief, received, on average, one self-published children's book from a Hong Kong-based author per month. Few, however, make it onto Playtimes' Bookshelf page.
"Kids begin to learn to read and write by reading storybooks, so I think it's crucial for these books to serve as good examples," she says. "I have seen books filled with grammar and spelling mistakes; characters that haven't been developed; and complete gaps in the logical progression of stories… A particular pet peeve of mine is inaccurate rhyming: 'long' and 'song' rhyme; 'long' and 'son' do not. In far too many cases, it appears that the time and effort have all gone into illustrating, producing and marketing the books, and not into writing or editing."
If you want to write a children's book, you need to do lots and lots of reading, Mio Debnam advises. She encourages aspiring writers to read lots of books of the genre and age range they intend to write for and to analyse award-winning books. They should begin by asking themselves – and members of the audience they hope to reach – the following questions: What makes these stories great? Is there tension? Is there humour? Are the characters well-rounded? Is the story arc well rounded? Does the story make you empathise with the characters and make you want the main character to succeed?
"All these sorts of things make for a good story, and should be present in every good story whether they are picture books, middle-grade reads, young adult or adult books. They should all be present in your story, too!" says Mio, who encourages writers to join a nurturing critique group like the SCBWI because "your adoring family may not give you the specific feedback you require."
Once you've written what you believe to be the perfect story, you can then research and pitch to editors, says Virginie Zurcher, who believes the support and input of her editor made her book "50 times better" than her original manuscript.
Whilst great storytelling and fabulous art are vital elements in children's literature, "magic" is the most important thing of all, concludes Nury. "There's a certain transcendent element that is vital. You could call it magic, or charm, or imaginativeness. It includes all those things and more. It is the ability to draw readers into a rich, immersive story and make the unreal real. That's all too rare!"
---