Reading Time: 2 minutes
Here's the latest on Hong Kong's Covid measures: 
June 2022
Hong Kong's Covid measures update as of 16 June (and until 29 June) requires you to present proof of a negative rapid antigen test (RAT) before entering bars and clubs. This could be due to rising case numbers. The Centre for Health Protection said it was investigating 971 cases as of 15 June with 76 additional imported cases.
Your result must be obtained within 24 hours before entering bars, pubs, clubs or nightclubs. Simply present a photo showing the RAT device with your name, testing date and time written on it as the proof.
For the Hong Kong Vaccine Pass, you're now required to have three doses of the vaccine along with use of the LeaveHomeSafe app.
May 2022
Eat dinner out past 6pm with up to 8 at your table (from 05 May), head back to your gym for a long overdue workout, got to a movie, relax with a foot massage, let the kids have a little MORE fun and a few other of life's pleasures are back too (hint…sun and sea).
On the rollercoaster of restriction waves in Hong Kong, there is finally a little MORE relief to Hong Kong's Covid measures. Kids can go back to some of their favourite pastimes and so can we all. Hooray!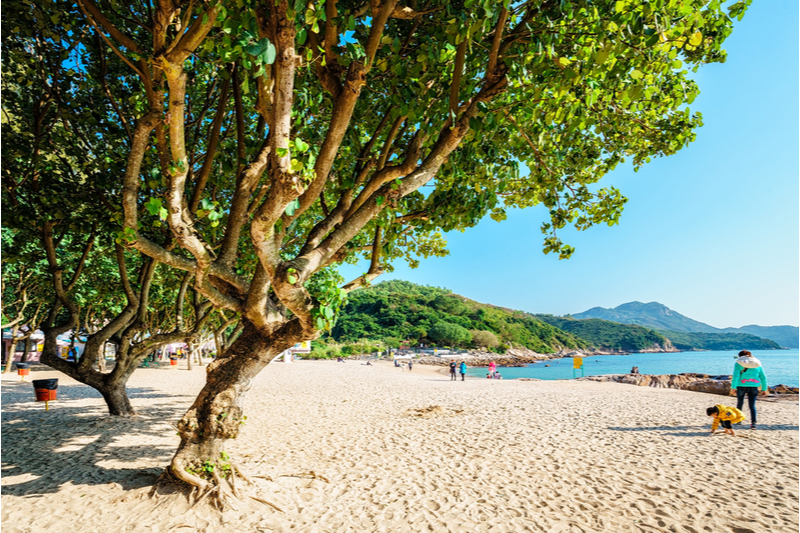 As COVID cases continue to decline, it's time for Hong Kong's rules to ease up a little. *Be aware there may be vaccination requirements, capacity limits, etc. Always check ahead if you're unsure.
What Will Open Soon or Ease Up?
From 05 May*
Beaches…FINALLY!
Mask free exercise indoor/outdoor. Breathe a sigh of relief on this one!
Dine in restaurants with up to 8 per table
Pools* now delayed until 12 May
From 19 May
Bars!! From 19 May bars and clubs will reopen (until 2am)
Up to 120 people can attend banquets also from 19 May
Social gatherings going from 4 to 8
Restaurants may be able to stay open until midnight
Bath houses, party rooms, karaoke rooms, mahjong parlours and cruises
What Else is Open?
Sports grounds – indoor and outdoor (ice skating rinks, bowling alleys, etc)
Playgrounds
Beauty and massage parlours
Gyms
Cinemas
Churches/places of worship
Amusement parks
Video Game Centers
Concert halls, libraries, museums
So head out to your favourite restaurant, visit your local playground (indoor or outdoor) with the kids to burn off some energy, hit the beach, wander around a museum you've wanted to check out and enjoy a good workout at the nearest gym. Take the kids to a family friendly beach or head outside to your favourite playground.
Check out our list of NEW family-friendly restaurants and book your table.
What's Next?
Stay tuned for more updates. More easing of restrictions is meant to be phased over the next 3 months.
Images courtesy of Shutterstock