Reading Time: 4 minutes
Clockenflap 2023: Hong Kong's home-grown festival
Music-loving mums and dads with teens, tots and ear-defendered babies in tow, have been turning up at festivals across the globe from Glastonbury to Lollapalooza. Global organisers now cater for everyone seeking the thrill of live, open-air music. These music-loving families are now looking forward to Hong Kong's own live music festival, Clockenflap 2023, coming to town next month.
Clockenflap is Hong Kong's biggest international outdoor music and arts festival. This year promises to be amazing with US hip-hop legends Wu-Tang Clan, Swedish indie-pop superstars The Cardigans, British rockers Arctic Monkeys and Bombay Bicycle Club, acclaimed US singer-songwriter Sasha Alex Sloan, critically adored British alt-rock genre-hoppers Black Country, New Road, Japanese dance-pop dynamos CHAI and local Canto-rock heroes KOLOR and more…actually, across the three day festival there are more than 100 performers coming to six different stages. Scroll down to check out a list of artists and the event map.
Clockenflap 2023: Back after more than 3 years
Returning to our city for the first time since November 2018, Clockenflap 2023 will recapture the world-class festival experience that has wowed fans in previous years. With a spectacular outdoor environment featuring multiple stages; an eclectic range of top quality food and beverage outlets; and a wide-ranging lineup of must-see international, regional and local acts, Clockenflap is a free-standing event, with festivalgoers able to move easily and without restriction between the various stages and attractions throughout the weekend.

Festival attractions @ Clockenflap 2023
There will be so much to see and do at the festival. A fun souvenir to take away from your experience is a free old-school photograph developed on the spot! Handmade Hong Kong will host the popular Craft Market, which will feature around 30 different stalls selling all manner of festival-friendly items.
Authentic Belgian wheat beer brand Hoegaarden is joining Clockenflap as the official beer partner. This year's event will see the heart of the festival transformed into a botanic beer garden for Hoegaarden The Beer Gaarden – the festival's green space where guests can slow down and relax with Hoegaarden's wheat beers and discover its latest, low-alcoholic Fruity Range - Hoegaarden Rosée and Peach wheat beers, and matching sorbets.
The Gaarden will feature some fun photo opportunities including an eye-catching welcome sign, a photo booth with a green wall and the Hoegaarden Bike. Staff will be on hand to help create fun slow-motion gifs for social media sharing. There will also be an array of chill-out areas complete with bean bags, picnic tables and parasols.
Food at Clockenflap 2023
Next to the Harbourflap Stage, you'll find foodpanda's Food Bar where you can grab some good eats and chill out, snap fun photos and enter to win limited edition foodpanda x Clockenflap goodies.
Some of the food highlights include The Chilli Lab which will be recreating the famous chilli sauce from the recent local hit movie Chilli Laugh Story. They'll also serve up local street food classics like shumai, goose oil soy sauce lo mein noodles and chicken wings. Kuuchi Cafe in partnership with Blue Bottle Coffee will offer coffee, coffee cocktails, signature Liège Waffles and other light refreshments.
Check out: Clockenflap Staycation
Family area
As in previous years, families and children of all ages are well catered for at the festival, from puppet-based performances at Treasure Chest Theatre, to showing off their passion for percussion at the Drum Jam, to soothing sonic explorations with I is One. Other highlights including West Island School, Om Peace and Children's Discovery Museum.
More than music @ Clockenflap – there's ART too
Clockenflap is about more than music, and the festival's arts programme serves up a spectacular selection of Instagrammable attractions and audiovisual adventures. Open call winner Pause.Record.Play gives everyone a chance to jam together using a collection of special sound effects; Videotage curates a visually astonishing journey into artists' mental imagery of local cityscapes; Relentless Melt presents a special selection of abstract and psychedelic films; Memorabilia Mobile invites audience members to become a model, with Clockenflap as the backdrop; while street art by Caratoes and Parents Parents plus the ever-popular, otherworldly Birdmen will provide photo ops galore.
Artists taking the stage
US Hip-hop legends Wu-Tang Clan will play in Hong Kong for the first time and The Cardigans (behind global smashes such as Lovefool, Erase/Rewind and My Favourite Game), will make their long-awaited Hong Kong debut. London-based indie-rock innovators Bombay Bicycle Club return to Clockenflap 12 years after headlining the festival in 2011 and ahead of a new album. These three acts are coming to Asia to play Clockenflap exclusively. They join British rock icons Arctic Monkeys, French synth-rockers Phoenix, Norwegian folk-pop duo Kings of Convenience and the German electronic supergroup Moderat.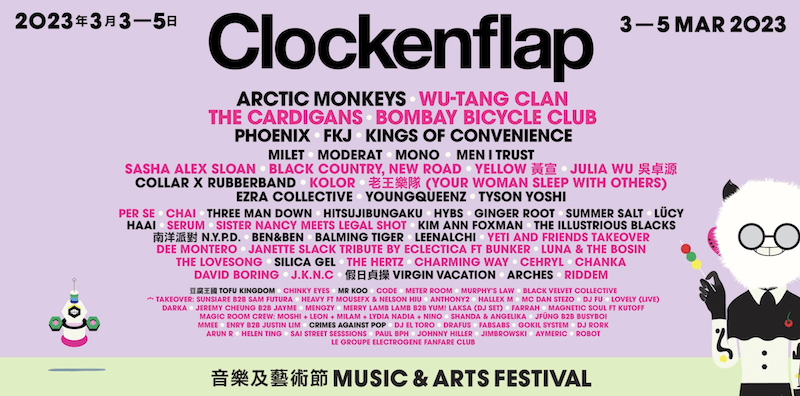 As for local artists, Clockenflap welcomes acts that blur the boundaries between the underground and the mainstream, from Canto-rock giants KOLOR and poetic pop duo per se to indie-pop five-piece The Hertz. They join local rap trailblazer Tyson Yoshi and COLLAR x RubberBand, who will perform together in a one-of-a-kind collaboration.
From the indie scene, the festival welcomes The Lovesong, Britpop-channelling Canto-rockers Charming Way, as well as previously announced Hong Kong hip-hop don YoungQueenz, alt-rockers Arches and breakout rock act 南洋派對 N.Y.P.D..
Getting in early on the hottest up-and-coming acts that capture the youth zeitgeist, Clockenflap has added red-hot American songstress Sasha Alex Sloan to a lineup that includes French multi-instrumentalist FKJ, Canadian indie darlings Men I Trust, Thai indie-pop duo HYBS and Cameron Lew's soul project Ginger Root.
The rest of the line-up includes new artists, up and comers, Taiwanese musicians and more! Come see the show.
Here's the festival map to help you navigate your way around: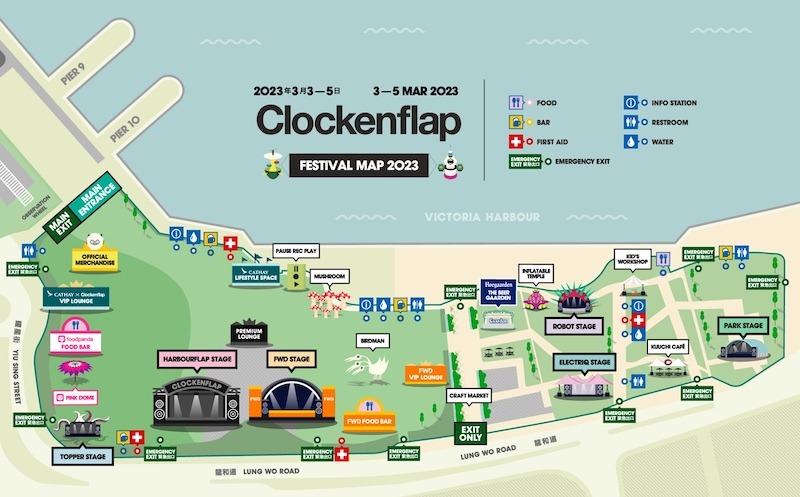 Tickets
Tickets are priced HK$1,620 for a three-day pass or HK$1,080 for single days through www.clockenflap.com/tickets.
All retained and non-refunded tickets purchased for previous years have been updated for this year's event and will be valid for entry on arrival at the event. You will find your ticket(s) in the "My Tickets" page of your Ticketflap account when you log in. The old festival ticket(s) are not valid so be sure to log in to Ticketflap and download the newly issued ticket(s). If you need some help with recovering your updated ticket(s), please email contact@ticketflap.com.
You might also like: Things to Do in Hong Kong this Month
Photos courtesy of Shutterstock and Clockenflap