Reading Time: 4 minutes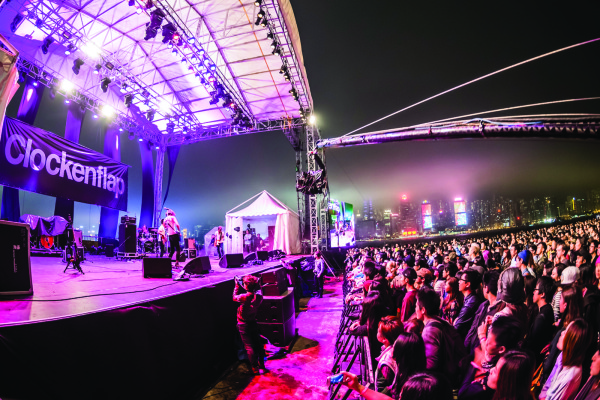 While once considered the sole domain of youth – high on the happy herbs, threading flowers in their braids and swaying around in the mud – the music festival has emerged in the new millennium as a firm favourite with the family crowd.
Music-loving mums and dads, with teens, tots and ear-defendered babies in tow, are turning up at festivals across the globe from Glastonbury to Lollapalooza. It's prompted organisers to cater for everyone seeking the thrill of live, open-air music.
The music-loving families are now looking forward to Hong Kong's own live music festival, coming to town next month.
Home-grown festival
From 27 to 29 November, Clockenflap will be celebrating its eighth birthday with an impressive line-up of local and international talent.
Dubbed the city's premier festival combining music, art and film, it has emerged as one of the biggest events on the city's entertainment calendar. First held in 2008, and attracting a crowd of 2,000, Clockenflap now hosts more than 45,000 people over three days. Organisers are hoping a slightly larger venue this year will attract even more.
"We were looking to move to the old airport site at Kai Tak because as we grow we need more room, but we've now been able to secure more land at the West Kowloon Waterfront Promenade, so we're staying put for now," says Clockenflap spokesperson Kinny Barlow. "People coming to visit us can expect our biggest line-up yet with more than 150 performers over the three days."

It's all about the vibe
So, we have to ask… what does Clockenflap mean?
"Actually, it has no specific meaning, it defies definition and that's what our festival is all about," says Kinny. "It's about people, community, inspirational music and accessible art for everyone, and attracting families is a huge part of that."
This year there is a 15,000-square-foot family zone to keep the kids entertained. As well as the iconic bouncy castle, expect theatre performances, comedy acts and art workshops to compliment the performance stage for family-friendly music acts. Organisers are sensitive about the line-up, and between noon and 7pm, only acts considered appropriate for kids are scheduled.
"Two out of three of Clockenflap's founders are parents themselves, and we understand the need to cater for all ages," says Kinny. "We have learnt from experience what works and what doesn't, and we are expanding the number of activities for kids to get involved with."
Babies are more than welcome. Ear defenders are provided to protect small ears, and a breastfeeding room and changing facilities are available. The three- to 10-year-old age bracket is well looked after. As well as inflatable fun, kids can take part in the Justinian Olympics, testing their athletic prowess with iconic events like the sack race and turnip and spoon dash.
Regular Clockenflap attendee May Harbutt heralds the festival as the best family activity in Hong Kong. Last year she took her seven-year-old daughter Bella and 18-month-old daughter Jessie for the first time.
"It's so baby- and kiddy-friendly; the big space, great music, art and excellent activities – one day wasn't long enough," says May. "It was fun for the little ones to have a mad dance with strangers and it was so easy for the kids to make friends while they were playing, running around and sitting on the grass."
May recommends attending the festival with other families. "It's better if we go together with our friends, so parents can take turns to look after the children in the kiddy area while the others are having a great dance in front of the other stages," she says. "It's a fun family activity and the kids love it."
This year, special attention has also been paid to tweens and young teens. It's a group which usually wants something a bit cooler than the family area, but they're too young to be hanging out with older siblings at the adult stage. For the first time, aspiring music makers will be able to try their hands on the turntable at DJ school.
Imogen is a 15-year-old Hong Kong student who attended her first Clockenflap last year.
"It was an amazing experience," she says. "I went with a group of friends and we were able to listen to live music and bands you normally wouldn't have access to in Hong Kong. It was great to dance and chill out with friends in such a cool atmosphere."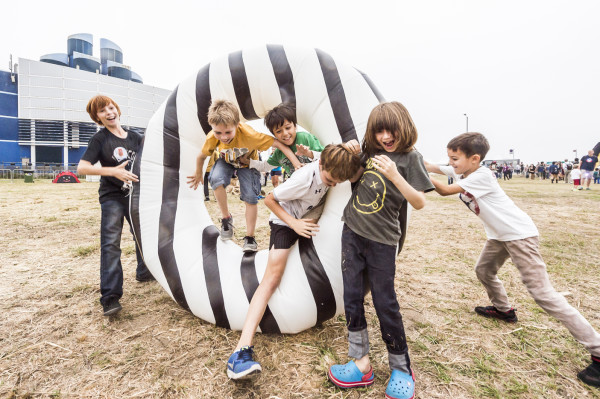 What to expect 
"In Hong Kong we live in a very commercialised world, so we are trying to provide something different," says Kinny. "While we do have a number of high-profile acts and headliners, we also like to give many smaller names an opportunity to perform and grow their fan base. We always remain true to our quirky, fun and diverse style."
Sixty percent of the performers are from overseas or around the region, with the rest made up of local talent.
Tickets can be purchased for a single day or all three days for those wanting to soak up everything the festival has to offer.
While parents may be concerned about the availability of drugs and alcohol at the festival, organisers say every attempt is made to ensure teens can't get into trouble.
"We are very strict on checking ID to prevent underage drinking and we have a zero-tolerance on drugs," says Kinny. "We have plenty of security and undercover police officers walking around to keep an eye on things."
While children are very welcome during the day, organisers recommend a leaving time before 7pm, when activities and kid-friendly performances come to an end. Then – assuming you have any energy left – it's time for Mum and Dad to grab a drink and head for the main stage.


What the Flap?
What: Clockenflap Music and Arts Festival
When: 27–29 November, 2015
Where: West Kowloon Cultural District
Children aged under 12 enter free of charge, with a maximum of two free children per one paying adult. Valid HK Student ID holders and everyone aged between 12 and 18 receive discounts on all ticket types.