Reading Time:
8
minutes
Make no bones about it, children can thrive on a well-planned meat-free diet, shares Angela Baur. Here's what you need to know about introducing a meat-free diet for kids.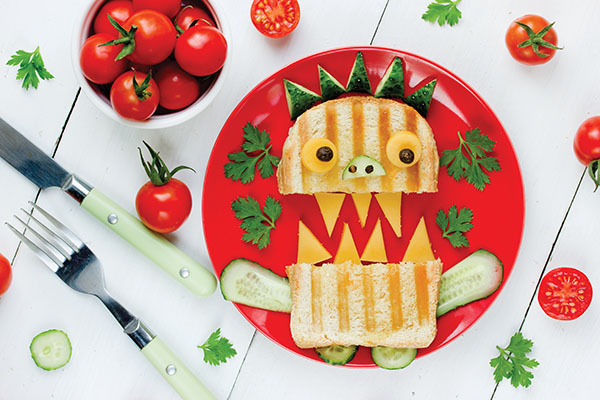 Appalled by a documentary's revelations on the animal farming industry, Connie Wong Luciw and her husband, John, decided to ditch meat from their diets. As they struggled to digest grisly details of how animals are treated, the adverse effects on the environment, and the risks to human health, they agreed their family – kids and all – would adopt a vegetarian lifestyle.
A year later, armed with significant research on the pros and cons of vegetarianism, Connie and John are more confident than ever that they've made the right choice for themselves and their children, ages eight and four. Yet, they continue to face scepticism from family and friends.
It's one thing to opt for a flesh-free diet as an adult for ethical, environmental, health or cultural reasons, but is it a healthy option for growing children too? Are parents who choose a vegetarian or (gasp!) vegan diet for their offspring condemning them to a lifetime of insipid salads and ill-health?
"No!",
say experts and in-the-know-parents Playtimes grills meat-free mums, as well as local health and wellness consultancy Health Nation, on how best to nourish growing bodies on a meat-free diet.
Does meat matter?
According to the American Dietetic Association (ADA), "well-planned vegetarian diets are appropriate for individuals during all stages of the life cycle, including pregnancy, lactation, infancy, childhood and adolescence, and for athletes." This view is shared by the Academy of Nutrition and Dietetics and the American Academy of Paediatrics. Research shows that vegetarian children and teens take in less cholesterol, saturated fat and total fat, and eat more fruits, vegetables and fibres. Some cultures have successfully abstained from animal meat for eons.
So, why make a meal out of meat?
Ethical, environmental and health concerns aside, a meat diet is said to offer all nutrients essential for healthy growth and development such as Vitamin B12, protein, zinc, iron and Omega 3 in an easily absorbable and accessible form. Some nutrients can only be found in foods made from meats. Studies of vegetarians in both Europe and the United States show that kids who miss out on nutrients available in meat and dairy products are at risk of permanent long-term damage.
This is just why the ADA's statement includes the caveat 'well-planned', point out wellness ambassador Alison Middleton and nutritionist Joe Mclean of Health Nation, which hosts workshops and children's cooking classes in Hong Kong to give them the building blocks to lead healthy lives.
"Parents need to pay close attention to their child's needs, energy levels and mood, to ensure he or she is getting all the nutrients necessary for optimal growth and development, even more so if the child is on a restricted diet. What works for a child during one phase might not at another (such as during puberty) so it's important that kids eat right at every growth stage. Providing parents are nutritionally informed and monitor carefully, there is a lot to be said for a vegetarian diet," says Alison.
The key to introducing a well-planned meat-free diet for kids
Scroll on to discover Alison and Joe's list of the best food sources to ensure that vegetarian children don't miss out on must-have nutrients.
*There are different types and degrees of vegetarians so these recommendations should be adapted to reflect personal dietary choices.
Protein
Organic soya products, quinoa, beans, lentils, chickpeas, nuts, eggs, milk and dairy.
"Just be aware that protein intake may need to be increased by 30% to 35% for infants up to two years of age, 20 per cent to 30 per cent for two- to six-year-olds and 15 per cent to 20 per cent for those older than six years of age, according to studies," Alison advises.
Iron
Whole-grain cereals, leafy green vegetables, pulses, fortified cereals and dried fruit.
There are two types of iron. Heme iron, which can be found in meat, is the most readily absorbable iron. Non-heme iron, found in plants, is not easily absorbable. Vegetarians, therefore, need to eat a substantial amount of non-heme iron to avoid anaemia.
Alison recommends adding a source of Vitamin C, such as a glass of freshly squeezed orange juice or vegetables, to every meal to help the body absorb non-heme iron.
Calcium
Dairy products, nuts, dried beans, broccoli, dark-green leafy vegetables such as spinach, bak and pak choi, and kale. Calcium-fortified products including orange juice, soy and rice drinks and cereals.
"Probiotic yoghurts are also a great source of calcium and evidence has demonstrated their benefits on the gut especially in the early years. Just ensure they are not flavoured and full of sugar!" says Joe.
Zinc
Wheatgerm, nuts, fortified cereal, tofu, tempeh, dried beans and pumpkin seeds.
As non-meat sources of zinc are difficult to absorb, some researchers suggest that this increases the zinc needs of vegetarians by up to 50 per cent.
"To make plant zinc more absorbable, soak beans, grains, and seeds in water for several hours before cooking them, and allow them to sit after soaking until sprouts form,"
Alison advises.
Vitamin B12
Dairy products, eggs and vitamin-fortified products such as cereals, breads, soy and rice drinks, and nutritional yeast.
Vitamin D
Milk, vitamin D-fortified orange juice, other vitamin D-fortified products and plenty of sunshine.
Slaying the 'meat myth'
Connie's children, Alex and Claire, are healthy and happy according to recent blood reports, which goes to show that child-vegetarians can thrive if they include the right food sources in their diet.
"Our family doctor made a point of checking their levels of Vitamin B and its family, Vitamin D, iron, zinc, magnesium, calcium and potassium levels. The results were very promising! Everything was at the peak of the 'good' range. My kids are active and happy, they perform well in school and sports, they have very healthy immune systems and they don't get sick too often," says Connie.
The same can be said for Emily Sim's two-year old son, Henry, who is on a vegan diet.
"When I became a parent, I read a lot about nutrition, so I could do the best for my child. My son and I eat a balanced diet of vegetables, fruits, beans and lentils, tofu and tempeh, bread, rice, pasta, nuts and seeds. My son drinks breast milk and calcium-fortified soy milk. We see a dietician regularly to check everything is fine and they are happy with his growth and development,"
says the full-time mother who runs the Facebook group
"Veg parents Hong Kong"
and hopes to campaign for vegan options in schools.
Easy-peasy
Contrary to what some might believe, it's not difficult to follow a vegetarian diet, says Emily. "Fresh fruits, vegetables, and tofu are abundant and affordable at the many wet markets. Indonesian, Thai and Indian grocery shops are also great places to buy fresh tempeh, dried beans and lentils, and herbs and spices. There are over 200 vegetarian restaurants in Hong Kong and there is growing availability of specialty-vegan products such as cheeses, yoghurts, ice creams, and mock meats, etc. We eat a lot of Indian, Thai, Mexican, Italian, Vietnamese, and Ethiopian as well as Chinese and Western food," Emily says. This is great news for Hong Kong's 200,000 vegetarian residents.
Connie says it's easy to source vegetarian food for her adventurous children though – whilst many restaurants now offer a good vegetarian menu – some Chinese restaurants still don't have a proper selection of vegetarian dishes. "They simply omit the meat in a dish and call it vegetarian when it's cooked with chicken broth!" she comments.
You might be interested in: Cow, goal, almond, Soy? Which milk is best for your child?
Parents provide; kids decide
Finding good vegetarian food outside of Hong Kong remains a challenge, says Deepti Ramachandran, who originates from India where vegetarianism is common practice. Often on her travels, she has had to go without a proper meal.
"I wish I had been allowed to choose for myself when I was a kid. I was raised to believe meat is a religious sin. Today, I am vegetarian for compassionate reasons, not religious beliefs. I want my son, now nine years old, to make his own decisions about food. He eats meat when he travels or when he is at a friend's place only if there's nothing else for him to eat. Given the choice, he still prefers vegetarian food," Deepti comments.
Like all parents, Connie, Emily and Deepti raise their children in line with their own values. They recognise their children will make their own choices when they're older.
"John and I discuss our choices with our children. We teach them about what they're eating, the impact on the health and the world we live in. I can't guarantee my kids will be vegetarians when they grow up, but I'm pretty sure they'll make wise choices for themselves when it comes to food," says Connie.
For now, Alex, is more than content with his parents' decision to go meat-free.
"I like veggie curry with red rice, pan-fried tofu, mommy's hummus and carrot sticks. I don't like the way cows, pigs and other animals are treated and I certainly don't feel good eating their meat!"
Kid-friendly vegetarian recipes
Alex's favourite Veggie Curry
Serves four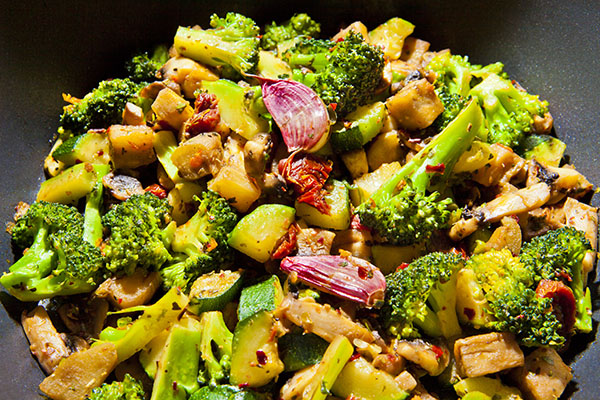 Ingredients:
1 3/4 cups cooked lentils
1 1/2 cups cooked chickpea
4 cups combination of cubed eggplant, broccoli, okra and green beans
1 medium onion, diced
3 gloves of garlic, diced
2 tsp minced ginger
1 tbsp curry powder
1/2 tsp turmeric powder
1 tsp cumin powder
1/2 tsp fine sea salt
1 tsp coconut sugar
1 1/2 cups crushed tomatoes
Vegetable broth (optional)
To serve:
Basmati or red rice
1/2 cup coriander
Heat the pot and add a drizzle of olive oil. Sauté the onion, garlic and ginger 'til the onion has softened.
Stir in curry powder, cumin, turmeric, and coconut sugar and cook for a minute. You'll know when it is done from the fragrant aroma.
Add tomatoes, chickpea, lentils, and the vegetable mix. Let it simmer until the vegetables are cooked to your liking. If too dry, add some vegetable broth.
Garnish with fresh-chopped coriander and serve with basmati rice or red rice.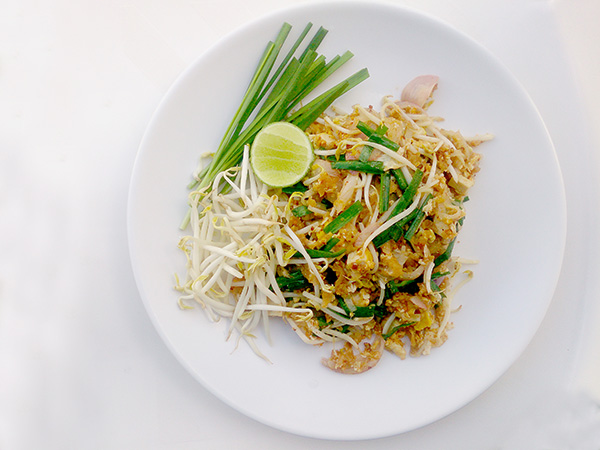 You might also like: Vegan Shepherdess Pie
Henry's favourite Pad Thai by best-selling vegan cookbook author, Isa Chandra Moscowitz
Serves four
Ingredients:
8 oz pad Thai rice noodles, cooked according to package directions, immediately rinsed with cold water and cooled 2 tablespoons vegetable oil, divided 14 oz tofu, cut into 1/2 inch cubes 1/2 teaspoon salt, divided 4 cups broccoli florets and thinly sliced stems 4 cloves garlic, minced 2 cups scallion, chopped into one-inch pieces 1 cup lightly packed cilantro, chopped 4 oz mung bean sprouts
For the sauce: 2 tablespoons tomato paste 5 tablespoons tamari or soy sauce (use gluten-free tamari to make this gluten-free) 6 tablespoons brown sugar 1/4 cup fresh lime juice 2 tablespoons Sriracha sauce 2 tablespoons mellow white miso 1/4 cup water
To serve: 3/4 cup chopped roasted peanuts Extra lime wedges
Directions:
First make the tofu. You'll need a large cast iron pan, or something non-stick that can take very high heat. Preheat the pan over a high heat. Once the pan is good and hot, drizzle in 1 tablespoon of oil. Add the cubed tofu and sprinkle with about 1/4 teaspoon salt. The tofu should immediately sizzle when it hits the hot pan, otherwise, turn the heat up. Cook for about seven minutes, tossing often, until it's nicely browned.
In the meantime, mix together all of the ingredients for the sauce and set aside. The miso may not completely dissolve, but that's okay, just get it as smooth as possible.
When tofu is browned, transfer it to a plate and cover gently with tin foil to keep warm. In the same pan, cook the broccoli in two teaspoons oil with 1/4 teaspoon of salt. Cover the pan in between stirring, to get it to cook faster. It should take about five minutes, and be lightly charred in some places. Transfer to the same plate as the tofu.
Now cook the sauce. Lower the heat to medium. Cook the garlic in the remaining oil very briefly, about 15 seconds. Add the scallion and cilantro and toss just to get them wilted. Now pour in about half the sauce and get it heated through.
Add the noodles and toss to coat. Then add back the tofu and broccoli, the mung beans and the remaining sauce, and toss to coat.
Serve immediately, topped with peanuts and lime wedges, plus extra cilantro if desired.
This article appeared in Playtimes April Issue 2018.
More about Food here.
Related articles: