Reading Time: 2 minutesIf you've ever looked out across the South China Sea and observed a reddish colour near the shores, chances are it's a "red tide". Why and when do we get red tide in Hong Kong and is it dangerous?
Let's take a look at the information at hand.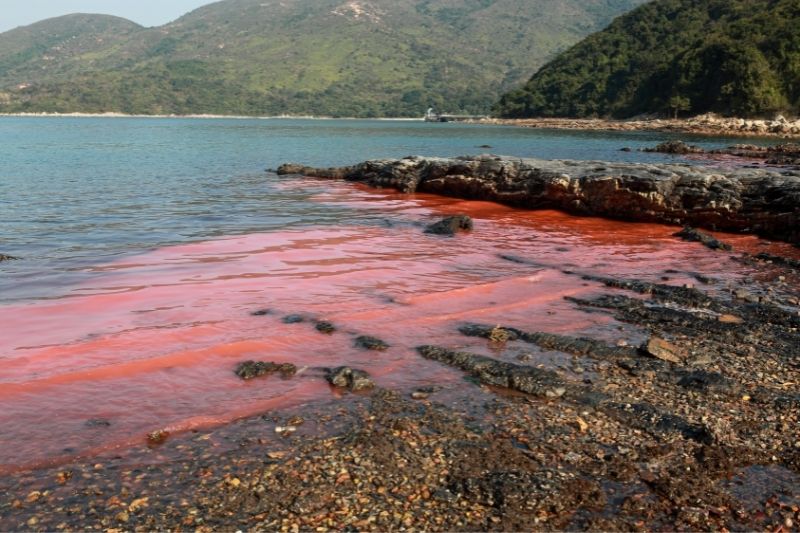 What Are Red Tides?
According to the Agriculture, Fisheries and Conservation Deparment (AFCD), red tides are "natural phenomena in which the rapid multiplication of microscopic, unicellular algae discolour the water by the pigments contained in the algal cells". The colour you see depends on the pigments of the algal cells which could turn the water pink, red, brown, reddish-brown, deep green or other colours.
Is It Safe to Swim?
Personally, I would avoid going in the water. The experts say "most red tides are harmless", however some species of algae may harm fish and humans. If you have been in the water during a bloom, you may have experienced some eye or skin irritation but that would be the extent of it. Rarely, fish can become contaminated or even die but this is not common.
Monitoring Red Tides
When it comes to red tide in Hong Kong, the AFCD coordinates the Red Tide Reporting Network which receives reports of algae blooms, conducts investigations and provides warning to marine fish farmers. Phytoplankton sampling takes place in fish culture zones weekly, fortnightly or quarterly depending on the locations. Additionally, research studies related to different aspects of these algal blooms are being conducted by tertiary institutes.
Before You Head to the Beach
If you're planning a trip to the seaside, you can check to see if there have been any reports in the area where you'll be. AFCD provides a link to a weekly overview as well as reports of the occurrences https://www.afcd.gov.hk/english/fisheries/hkredtide/redtide.html.
Featured Image courtesy of AFCD; Image 1 curtsey of Shutterstock
Not sure which beach is the best for families? Check out our list of family friendly beaches.