Reading Time: 6 minutes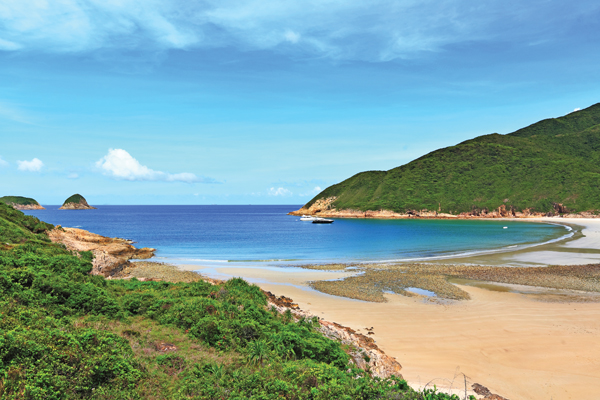 Playing outdoors can help children appreciate nature, as well as improve their immune system and physical development, not to mention burning off some of their seemingly endless energy. Of course, it's up to us as parents to give our children room to discover the environment they live in.
But if you're new to Hong Kong, or new to parenthood, all the skyscrapers and concrete might have you thinking outdoor play is impossible. However, despite its initial impression, Hong Kong does have kid-friendly outdoor spaces. You've just got to know where to look.
Beach basics
Tamara Quinn, a nurse and mother of two young, energetic boys says, "There is no better place to let your child run wild than at the beach. It's a wide open space, where, if they fall, it's onto nice soft sand. I can remember the first time that my son Bren played on the beach. There were some small waves and he just kept crawling into them and laughing until one came and rolled him over. I'd never seen him crawl so fast. He moved himself up onto the beach and just sat there looking amazed at the water for about two minutes. Then he just crawled right back in for more!" she recalls.
Many government-run beaches have showers, as well as a kiosk that sells drinks, light snacks and an assortment of beach toys. But taking your own picnic is fun, and some beaches offer barbecue pits. Why not go early, take some sausages, and have a barbecue breakfast?
Everyone has their favourite beach, and indeed there are many to choose from. The Leisure and Culture Services Department (LCSD) website lists details of the 41 beaches under their care, providing a location map, details of lifeguard service hours, facilities and a photo. Some beaches have fun extras, in addition to the sand and sea – for example, Shek O Beach boasts an obstacle golf course and Trio Beach in Sai Kung has a playground. Check out all of the options at www.lcsd.gov.hk/beach/.
Government-run beaches, however, also have a reputation for being a bit joyless in their rules and regulations: no ball games, no kite flying, etc. As your children get older, you may need to seek out beaches that are not managed by the government, which sometimes only requires moving along to the next bay.
You might be feeling a smidge cautious about the water quality of Hong Kong's beaches. Regardless of the venue, from pools to lakes to seas, children should be taught not to drink the water when they swim. For a bit of peace of mind beyond that, you can visit the water quality website (www.beachwq.gov.hk) to check on the latest readings. As a general guide, beaches in Tuen Mun tend to rate only "fair", whereas most other beaches get a "good" rating.  You should also avoid swimming after heavy rains, which can adversely affect the water quality as water flushes from drains out into the sea. However, despite our fears, children usually survive a day at the beach without any tummy upsets, and come home happy, exhausted and ready to sleep.
A dip in the pool
Even if you are lucky enough to have access to a private swimming pool, some of Hong Kong's public swimming pools are perfect for a family outing, with some even providing theme park-type slides and toys.
Along with Tsing Yi and Tseung Kwan O swimming pools, Sai Kung Swimming Pool has thrilling adventure slides for older children as well as wader pools for the young. It's a favourite for Hulda Thorey, midwife and mother of four, who says, "It's big, clean, the kids always love it and it suits all ages."
Pao Yue Kong, Island East and Chai Wan public pools have fabulous baby and toddler pools with animal-themed baby slides, water jets and fountains. While not all public pools have these fun facilities, most pools do have a dedicated diving pool with a high board, which – even if it makes parents queasy – is an activity older kids love.
Most of Hong Kong's public pools are outdoor and, therefore, only open from April to October. But there are some indoor pools, such as Island East and Morrison Hill, which open during the winter months. Before going to a public pool, do check the LCSD's website, as pools operate in  "sessions", often closing for an hour at lunchtime or in the early evening, and usually close for cleaning one day a week. Entry is free for children under three (or under 96cm), and $8 to $9 for children aged three to 13. You can pay with your Octopus card or with cash, and lockers require a refundable $5 coin to operate.

Create an adventure
With rules and regulations governing most open spaces, the opportunities for adventure can seem limited. But just being outside can lead to adventure. Hulda describes an outing at Trio Beach in Sai Kung when it started to rain. She recalls, "It got really muddy and slippery, so it was not safe to walk, especially with children in our arms. We ended up sliding down the hills on our bottoms – more or less – and by the end of it we were covered in mud. But we had so much fun!"
Fortunately, children's imaginations can also create adventure where adults' minds fail. Tamara recommends the Silver Mine Waterfalls and cave in Mui Wo. "The Silver Mine Waterfall is not only a sight to be seen, but can also encourage a child's imagination: my three-year-old son likes to pretend he is on a bear hunt," Tamara says.
The abandoned Pinewood Battery Barracks, halfway up the Morning Trail between Po Shan Road and the Peak, provides a great place for adventure. Children can look out from the old gun emplacements, check out the bullet holes, and discover the abandoned rooms and imagine what they could have been used for. There is also a flat grassy area for running around, as well as public toilets.
Hong Kong's many country trails can give children a sense of adventure. Children love running along winding paths to see what is around the next corner. Aberdeen Country Park is a perfect example and can be accessed from Wan Chai Gap, where there's parking and a playground, or from Aberdeen. The park is criss-crossed with paths galore, and you will come across streams and hidden picnic areas. Children also love feeding the large goldfish in the reservoir.
"Playing outdoors can help children appreciate nature, as well as improve their immune system and physical development."

Wild at heart
Occasional reports of wild pig and snake sightings, along with some unfriendly monkeys, make trekking off into the woods less kid-friendly than many parents would like. But that doesn't mean you have to do without animals.
Hong Kong Zoological and Botanical Gardens is a pleasant place to take your children for a stroll to see animals such as monkeys, birds and lizards – and even a snake. You can then cross a footbridge and walk down to Hong Kong Park to play in the well-equipped playground.
Tai Tong Lychee Valley has an organic farm where parents and children can pick fresh fruit and learn about various fruits, plants and flowers that grow in Hong Kong. There's also a horse stable and farm animals for children to see. For more information, visit http://ttlv.hk/.
Hulda likes to take her children to Lions Nature Education Centre near Sai Kung because it has "lots of space to run around and plenty of things to do and see. There is a mixture of indoor and outdoor activities. It is clean and safe, with animals, public washrooms, a picnic area and playgrounds. It's also not very crowded and it's free."
Roughing it
In the cooler months, camping can be a fun outdoor adventure. There are 43 government-run campgrounds to be explored throughout Kowloon and the New Territories. Pui O Beach is easily accessible by public transport, and is therefore very popular. Beachside pitches are free and come with access to showers, barbecue pits and a beach kiosk, but you do need to take your own tent and equipment. Also at the same location you can "glamp" with Treasure Island Group (www.treasureislandhk.com), who run a private campsite behind the restaurant.
If half the adventure is getting there, consider the campsites on Wan Tsai Peninsula in Sai Kung. Park the car at the Pak Tam Chung entrance to the Sai Kung East Country Park (no cars are allowed in the park without a permit), take the bus or a taxi to the Wong Shek Pier, and from there take the short boat trip to the campsite, which has showers and barbecue pits. For full details of these and the many other campsites, check the LCSD website (www.lcsd.gov.hk/camp/).
Once you start exploring Hong Kong's great outdoors, you'll be amazed by what you can find. Kids just love to run and jump, and any outdoor space is better than being indoors all day, every day.
Kristrun Birgistdottir is a mother of two and managing director at Annerley maternity and early childhood professionals.