Recently updated on April 13th, 2021 at 11:17 am
Reading Time:
7
minutes
David Tanner, founder of the informative and helpful website Hong Kong Running, offers top tips for running and hiking with kids. He emphasises encouraging your child in different ways to take up running and hiking beyond the playground and the football pitch. Let's begin.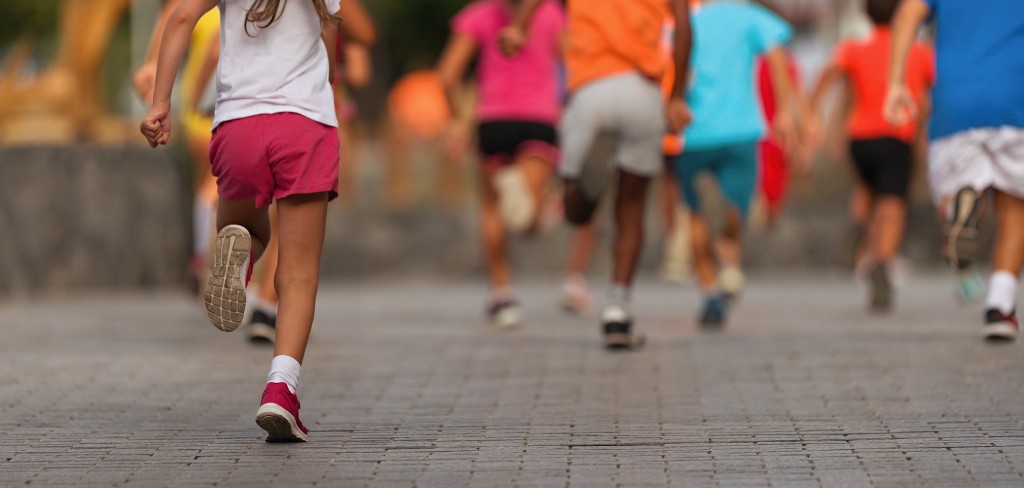 Running and hiking with kids can add so much value to life, the lessons learnt can reach far and wide. The increased pressure of work, school or life in general, together with all the distractions technology can bring, makes it hard to disconnect and get outdoors. But running can help with this.
If children are going to start hiking or running it should be their decision. Instead of pushing them, start creating opportunities for them to discover running, hiking and the outdoors. Encourage kids to participate and try their best. If you are with them don't forget to have a good time yourself. Learn to see things through their eyes, try to see the world in a new way. Be ready to laugh and enjoy the moment, whatever it brings.
When children are having fun, they will continue doing whatever they are doing. They won't see running or hiking as their parents or adults do. The distances, drills, warm-up routines and traditional training ideas can all go out the window when first introducing running to kids.
Read more: Tips for Making Exercise Fun and Exciting for Kids
Effort Counts
Praise their effort. When kids do run, make sure you praise them for it, regardless of their speed or whether they took walk breaks.
Congratulate them; give high-fives, shake hands, or whatever else conveys your support for a job well done. All it takes is one discouraging comment from a parent to make them not want to run anymore.
Setting Goals 
Setting and meeting goals are integral to experiencing success in all realms, but especially when it comes to running and hiking with kids. Some children won't want to run as far as others and will have different goals altogether. Remember to start slowly; a 10-minute fitness session can be a lifetime for a child who doesn't like running. Things like doing one more lap around the block, or doing three runs next week instead of two are more achievable. Set goals that can be accomplished in each run/hike or during the next one.
To make it more fun you could create a chart that you can both complete with fun stickers or stamps earned when you complete training sessions or reach your target goal. Keep track of the distance, time, and how they feel in the chart so he/she can see their progress over time.
If there are a few children on the run you could set team goals, or records for how many laps they complete on a favourite course, or perhaps combined time competitions.
Make Running and Hiking with Kids FUN
Keep it simple and fun. Some ideas could be to make or invent a small obstacle course. Even an easy walk or run on a trail or path, stopping to explore nature along the way, can be an eye opener. You could take a camera, sketchbook, or a plant/insect guide, making notes of what you see along the way in order to identify them when you get home. All these things are just as valuable in creating a love for fitness and the outdoors.
Achieving Variety
Running around cones on a playground may be a good place to start for some children. However, it's important to incorporate games, challenges and anything else you can think of to make each run or hike unique. Kids will tire quickly and want to try something new; this is your chance to explore new places and terrain. Go running or walking on grass, dirt trails, asphalt, track, and on flat and hilly routes. Let them discover the differences each one can bring. Even going on a short night hike with torches can be a huge adventure!
Road or Trail?
Provided you take the necessary safety precautions, why not go running and hiking with kids on a trail as opposed to just around the block? Trail running keeps it interesting and is a completely different experience because it's not flat or straight. It may seem harder, and there are places where you'll have to slow down or walk to give the kids a chance to catch their breath. If you want to give trail running or hiking a try, be sure to let your child set the pace.
Children should be taught how to read trail markers and anticipate what to do when running or walking on a trail – looking for good and secure foot placements on tricky terrain, or how to walk on an angled slope properly so that they stay balanced. Basic awareness of their bodies and what is going on around them are very valuable skills to learn.
Other skills like breathing correctly also need to be learnt. Breathing should vary according to exertion.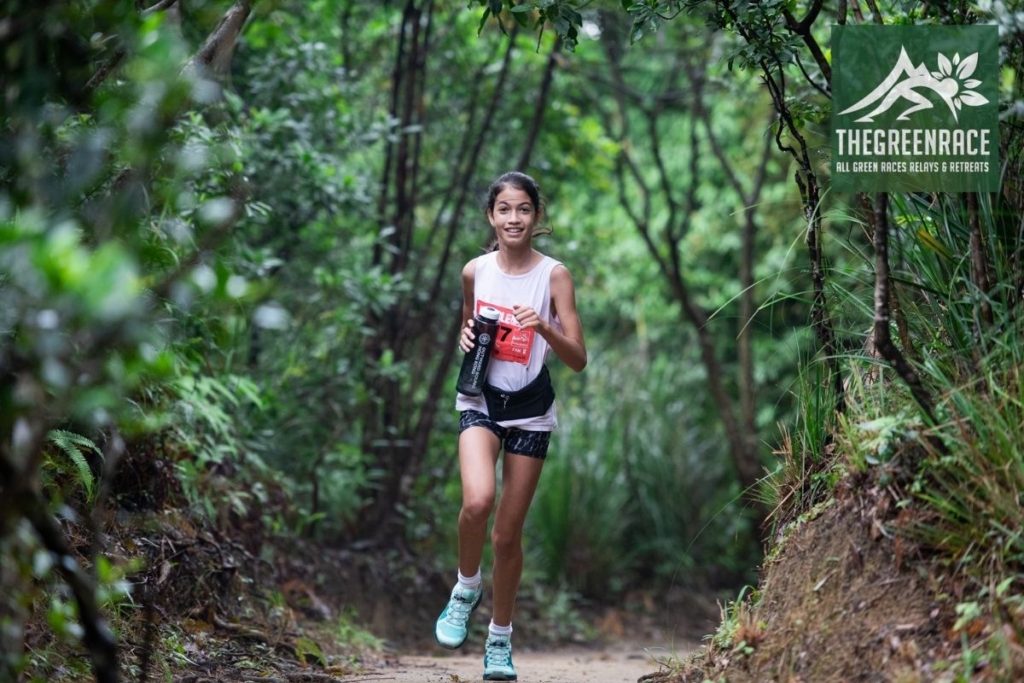 (picture credit to https://tgr.run/)
Off the Beaten Path
Sure, when you go out hiking or running there can be risks: you could twist your ankle, or get caught in extreme weather (hot or cold), you might even encounter dangerous animals such as poisonous snakes, wild dogs and boars. But in our 10 plus years of hiking and running on trails, seldom has anything unfortunate happened.
The key is to be prepared and always think, "If this happens, what will I do?" Always make sure you have the appropriate clothing and gear for your environment. Don't forget to check the weather forecast before you go; if it's very hot, take some extra water with electrolytes, extra sun cream and a hat. If it's cold, take some extra food, and dress in layers. It's always a good idea to carry a small first aid kit with you, with some simple bandages and tape and a bit of cash for an emergency taxi if needed. If you bump into any aggressive animals, just walk away slowly and let them be, usually though they will hear you coming and get out of your way first.
Distance and Speed
Usually when kids run, they run fast and then burn out. A great lesson is to teach them about pacing and running at a lower effort for longer. If they are running at the right pace, they should still be able to have a conversation.
In the beginning it's not about who is fastest or who runs the furthest. Teach them that running or hiking is about being healthy, getting exercise and participating. If running, go until they are a little out of breath, then walk until they catch it. You can gradually build up the time of each session as they progress.
Technique
Once they start getting into the swing of things and are ready, you can teach your kids about correct breathing methods and practicing good form. Starting them off with good habits prevents you from correcting them later. Things like learning to breathe with your steps, not twisting your upper body too much, not excessively swinging your arms or over-striding – these can all be incorporated to help prevent injury.
One of the most important things to remember when running and hiking with kids is to always stretch. This will help to prevent your child's calf muscles getting too tight.
Giving Back
Kids shouldn't just run or hike for the sake of it. Let them see the bigger picture. Volunteer with them at a local race, or simply go to cheer on participants in an upcoming event. Watching people who are a little older than them may help motivate them and enable them to see what they could do in a few years.
Routes to Try
'Gucci Dog' – (3.4 km) Road
This route head starts and ends at the Peak Galleria via Lugard Road. It is nice and flat, so great for beginners, and has lots of nature to see and explore.
'Happy Valley Track' – (1.3 km) Road
Another good starting point is a circuit of the Racecourse in Happy Valley. Surrounded by buildings and popular with many runners during the day, access is through Wong Nai Chung Road next to the Football Club. Lockers and showers are available.
The Whole 9 Yards – (5.5 km) Road/Trail
Starting near Parkview and ending in Repulse Bay, this is a great introduction to hiking on trails. Part road, part trail – with both easy and harder sections – and offering great views, it's one to try!
Porcupine Path – (6.4) km Road/Trail
This is another great route, but with 220m of elevation you need some fitness to get through it. It is a nice mix of road and trail and you might even see some local porcupines or snakes on your way if you are lucky!
Starting at Coombe Road Playground on Stubbs Road and finishing near the Cricket Club.
Also check out Best Buggy Friendly Hikes in Hong Kong for great places to take your littlest ones.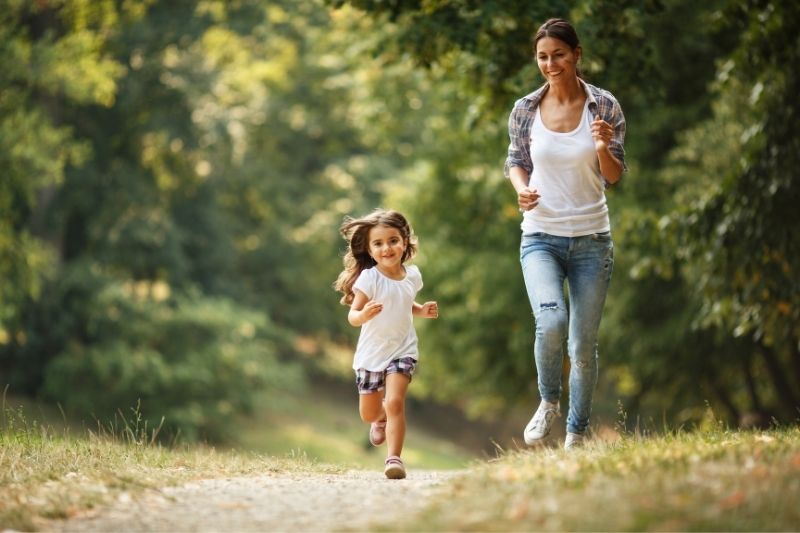 Family fun runs
Hong Kong, on a normal year, has a variety of family fun runs. In light of the pandemic, some of these may or may not take place but it's worth noting down the details in case they do go ahead with these fun events. A fun run can be a great goal to work towards and may provide some motivation to do some training.
The annual race to feed offers the chance for teams with two to four participants (one age 3-12 and one over 18) to participate in a 3k family fun run. The race typically takes place in November, opposite the Hong Kong Science and Technology Park Amphitheatre and features fun and education game booths to add to the fun.
Hope Worldwide Great Santa Run
This festive fundraising event, which takes place in December at the Hong Kong Science Park, brings together thousands of runners dressed as Santa Claus to raise money for underprivileged children in Hong Kong. It features a 3k family fun run and a 1km fun walk. http://hopeww.sportsoho.com
A 1 km race for parent and child teams (age 3-5 category or age 6-8 category) that is organised by The Clearwater Bay Country Club. The chase takes place beginning of January.
Usually held over Easter, this trail run is broken down into categories including an individual kids run (age 11-12, 13-14 and 15-16), and a family run (kids aged 6-8 plus one parent, kids aged 9-10 plus one parent or kids age 6-10 plus two parents).
And that rounds up our tips for running and hiking with kids in Hong Kong. While kids can technically start hiking at any age, paediatricians recommend that kids start running short distances between the ages of 6 and 8. As with anything, start slow and build up. And always remember to keep it fun! 
Related articles: