Reading Time: 7 minutesWriter Pippa Hall considers the benefits of small schools, and wonders if they even exist in Hong Kong.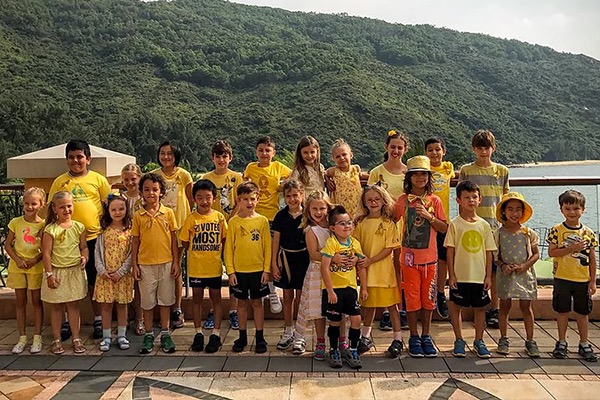 I grew up in the depths of rural Scotland. Rolling hills, country walks and stunning views made up the background of my childhood; and the cherry on the cake of this charmed existence was without doubt my tiny village primary school.
Our numbers were so low that we had just two classrooms. We'd spend the mornings hard at work on the academics and then came together in the afternoon for music, PE, art and project work.
School was like an extension of my family. I knew everyone; they all knew me. I felt at home and like I belonged. Naturally I assumed my own two children would have a similar, gentle introduction to education – and for a while they did. By now we lived in the suburbs of a big city, but I still found them a village-style primary school. It was bigger than the one I attended, but the atmosphere was similar. My children fitted in, felt secure and were happy.
And then we moved to Hong Kong…
Big City, Big Schools
I didn't expect to find a village-style school within the international English-speaking options available, but at the same time I was stunned at the sheer size of the primary schools we viewed. The facilities were impressive: gymnasiums, theatres, and high-tech classrooms, but the scale was often intimidating. I imagined my five-year-old would feel totally overwhelmed by the noise, the vastness of the buildings and the number of children. Some of the schools we viewed were "through schools" with five to 18-year-olds in one campus. The atmosphere was more "university campus" than "cosy primary school".
There is no doubt that big schools are successful learning environments, but knowing that my children would need ID cards made me feel like they were joining some sort of corporation or institution. I didn't want them to be on a register of over a thousand students, just a couple of small bricks in a very large wall.
However, considering where we had chosen to live, I felt I had little choice, so we bit the bullet and enrolled them into a big international school. It's been tough, but they have managed the transition and they are thriving.
But once they had had settled in I realised that I hadn't done my homework thoroughly enough, and that in fact tucked away in a few corners of the city there are English-speaking International schools that operate just like the small village school I attended.
Small IS beautiful
One of them, facing the stunning waterfront of Discovery Bay, is Hong Kong International Learning Academy (HKILA). Like my old primary school it has only a handful of students of mixed ages, taught in just two classrooms. The Principal and Founder of the school, Justine Barlow, was adamant that she wanted to offer parents an alternative to the large mainstream school experience.
She told us, "Our philosophy is simple. By keeping our numbers small, we are able to provide a tailor-made curriculum for each child, and this enables our students to reach their full potential. We believe teaching in structured aged group settings is limiting, so we teach to the "stage" of each child's development rather than the "age." Some of our students are very gifted and would be bored in a large class, so we allow them to work with the older students and develop at an accelerated pace. Other students have additional needs, but here the negative pressure is off, they can work with younger children if necessary which gives them the confidence to succeed."
But does the smaller number of classmates limit the children's social skills?
She says, "Actually, we tend to find the opposite. Our children develop socially in a very holistic way. They interact fluidly and confidently with all age groups and not just their peer group. After all, in the real world no one spends all day in a room of 30 people who were all born in the same year! Mixing age groups and abilities is a much more realistic preparation for life."
What about confidence? Does a small environment hold children back?
"Once again," she says,  "we tend to find the opposite. It can be intimating to do a presentation in front of a class of 30 children, but in smaller groups the students are more comfortable to speak up."
Surely though, the resources and facilities of a small school can't compete with what's on offer in the big schools?
"That's true to an extent," Justine admits. "However our motto is a "big school experience in a small school setting," so we have partnered with other local businesses to offer the broadest range of learning opportunities possible. For example, although we are a small school, our playground is enormous! At lunch time, our children visit Epic Land – which is Hong Kong's largest indoor family entertainment centre. They have trampolines, rock climbing, basketball and more – plus a café. So our children can have a hot lunch and then let off steam. We are also affiliated with our neighbours, The Development Practice, who provide speech therapists, occupational therapists and counsellors, which we can access during the school day if necessary."
Benefits of Small Schools – Rural Idyll
HKILA isn't the only school in Hong Kong offering a small, village-style atmosphere. In the rural environment of South Lantau, the thriving Lantau International School (LIS) also enjoys a strong community, with the emphasis on getting back to nature.
Jim Lambert, Vice Principal of LIS told us, "We opened in 1989 with just two small classes to serve the English-speaking population of the area. In those days we were the epitome of a tiny village school. Over the years the population of South Lantau has grown, and so have we, but at our core we still adhere to the same aim: to serve our local community and to be as gentle as possible to the beautiful countryside setting that we are lucky enough to enjoy. We want to raise responsible citizens who care for each other and for our environment. We aim to be the "greenest" school in Hong Kong and we're proud of the unique and truly special experience we offer our students."
LIS now has over 200 children accommodated in 3 distinct campuses. "Our under 5s have their own campus in Cheung Sha, and move to our Tong Fuk campus for Infants (years 1-3) and then on to our Junior Campus in Pui O. This way we are able to treat each campus like a mini-school. We keep class sizes small so we can be fluid with our age groups if necessary and adapt quickly to the needs of our students. We don't have layers of red tape and admin, instead we have direct communication with our parents which is a huge asset."
Are all the students local? "As we have expanded we've taken in a bigger catchment area, we now have school buses to Discovery Bay and to Tung Chung and we've also had children come from Tsing Yi," Jim says. "We might not have the same facilities as a big school, but we have everything we need – and more. So along with computers and interactive white boards, we have access to the local beaches for PE lessons and are able to offer outdoor activities that you don't often find in city schools, like gardening and camping."
Benefits – Building Character at Small Schools
The Norwegian International School – originally known as The Norwegian School in Hong Kong – is another example of a small, close-knit school. It was established by Norwegian Lutheran Mission and the Norwegian Mission Society to provide education for the children of Norwegian missionaries. In 1994, the school began accepting students from international backgrounds and English became the medium of instruction. In 2010, NIS became part of the Generations Christian Education family, whose vision and mission is to develop competent and compassionate leaders serving the greater global community.
Acting Principal, Bonnie Chan, tells me that with a maximum of just 150 students in the primary school, the classes are kept small and the homely environment of the campus in Kam Shan Village in Tai Po, New Territories, provides students with a great place to grow and explore.
She says, "all the children know each other. Our older students are especially kind, gentle and helpful to the younger children. We see them playing together at recess – it's very heartwarming. And because most of our students move on from year to year with the same classmates, deeper friendships are formed."
Like both HKILA and LIS, Bonnie notices that the students benefit from the individualised attention from their teachers, flourishing when they feel that their teacher has time for them. "Students receive more attention in their daily learning and the teachers get to know the students very well which means they can identify the students who may require extra support and give them one-on-one time, or spot those who are doing exceptionally well and extend their learning. The students feel close to their teachers and are comfortable to share their thoughts, feelings and experiences with them. It makes for happy and confident children," she says.
"We are also able to focus on character development and dedicate time to help students to develop socially and emotionally. In a small school, it is easier to provide each child with more individualised attention in this area."
As observed by HKILA and LIS, Bonnie notices that socially the small environment helps to form tight bonds, and it's not only the students who benefit. "We see the parents of the students becoming friends. In a large school it is hard for parents to get to know or perhaps even recognise all the other parents and staff, but in a small school like ours, the community has a family feel. This is why we still have alumni students and their parents visit us even though the students are starting university!"
Like both HKILA and LIS the small size has not impacted on what the school can offer. "We have a learning support programme for children who need additional help, daily Chinese lessons and a variety of extra-curricular opportunities (including fencing, chess, Brazilian soccer, archery, decoupage, dance and storytelling)."
My children are settled into their big school and they love it, so we wouldn't disrupt them by moving them. But if I had my time again I'd look further than the famous institutions and make a more informed decision. It may be that the school they are in would still be our choice; and this is all about choice and what works for your family as a whole, and your child as an individual. But keep this information to yourself, because if word gets out there won't be any room in these small schools left!
Does Size Really Matter? What are the Benefits of a Small School?
The Research:
Empirical evidence backs the benefits of small schools, saying that small school settings are optimal for learning. Research suggests that in small learning communities, teachers are able to collaborate more with one another to share information which helps students. Students are more visible and their strengths and weaknesses are easier to identify. Statistically small schools have better attendance records, better involvement from parents and happier students. A recent article on the UK teaching website, TES, also states that the high-quality immediate feedback students receive from small group settings or one-to-one tutoring is the most effective way to teach new skills; think of learning to drive, or learning the piano. This "master-apprentice" relationship is a powerful educational model, and lends itself more easily to small schools settings than to large.
Related articles:
This article appeared in Playtimes March Issue 2017
Feature image courtesy of Shutterstock