Reading Time: 4 minutesIt's never too early to help your child build crucial motor skills, as well as cognitive and social skills, which exercise has continuously been proven to provide. Dedicated facilities will be able to give your child the most effective fitness experience in the safest environment. Here's our picks of the best gyms for kids in Hong Kong.
(NOTE: Some of these gyms may have adjusted hours or special measures for COVID-19. Call ahead to find out for sure!)
My Gym HK
Perfect for younger children, My Gym HK boasts large open spaces, specially designed equipment, teachers who are big kids themselves and a programme filled with fun. What's not to love?
Having first opened its doors in Hong Kong back in 2003, My Gym now has two centres – Tsim Sha Tsui and a brand new centre in Wong Chuk Hang. The TST location caters to children up to age six, while Wong Chuk Hang caters to children up to five years. Both deliver a curriculum created by My Gym US. Highly-trained and nurturing teachers design and teach structured lessons in a safe and child-friendly play-gym environment, providing little ones with the opportunity to grow at their own pace and gain in physical and emotional confidence.
See more: Improve Your Child's Physical Fitness With My Gym HK
Find more information at their website.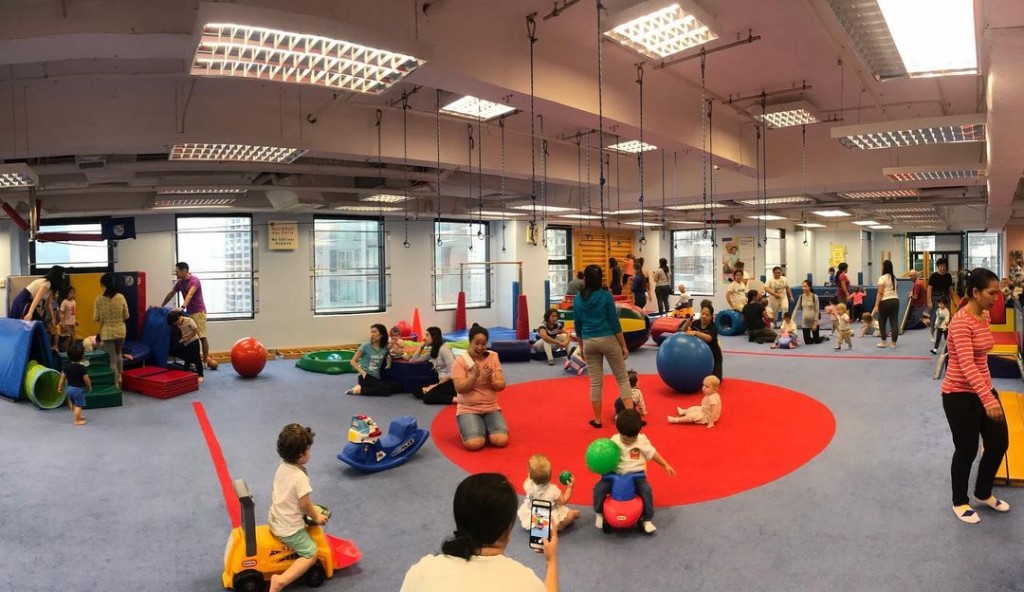 My Gym HK, 6/F Marina 8, 8 Heung Yip Road, Wong Chuk Hang. Whatsapp: 9279 8968. Email: admin@mygym.com.hk 
My Gym TST, 1/F Hecny Tower, 9 Chatham Road South, Tsim Sha Tsui. Tel: 2334 8334
Email: info@mygymhk,com
AlphaStep
AlphaStep is catered to children and teenagers aged 3-17 and is focused on forging the fundamental movement skills children need in their daily lives. They are committed to delivering physical education in a fun and engaging way, with their courses that include ninja warrior facilities. They set realistic goals for your child, and keep track of their progress. 
They have 20 courses across seven categories that are divided into modules. Modules start at $280.
Find more information at their website.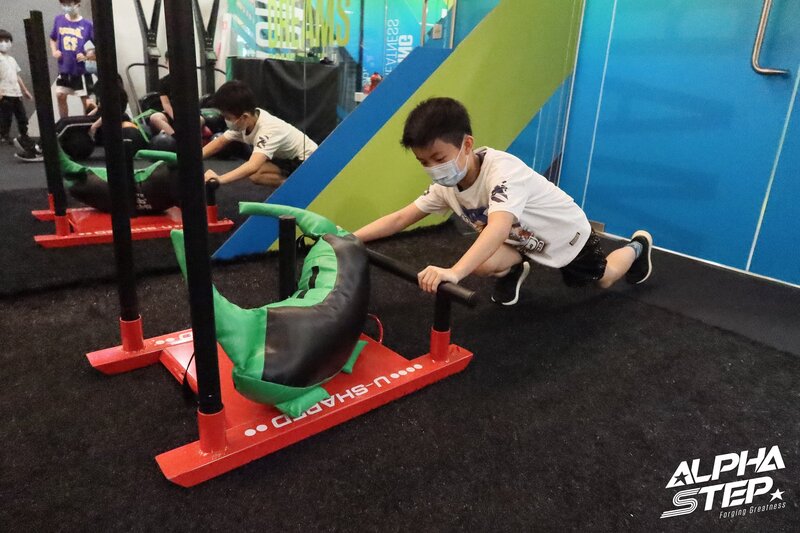 AlphaStep, G20 & G21A, Ground Floor, Monterey Place, 23 Tong Chun St, Tseung Kwan O. Tel: (852) 3791 2626. Email: info@alphastep.com.hk
Strive Fitness
Strive Fitness has a youth fitness programme for kids aged 6-19, in either private or small group coaching. For the younger kids, the programme is aimed at building an athletic foundation: helping children become interested in health and fitness and more active, while enhancing speed, agility, balance, coordination and gross motor skills. Older kids will be introduced to proper strength and conditioning techniques to improve joint and muscle integrity, while enhancing speed, endurance, etc. 
Find more information at their website. 
Strive Fitness, G/F, Kwai Bo Industrial Building, 40 Wong Chuk Hang Rd, Wong Chuk Hang. Tel: 2338 9622.
The Little Gym
The Little Gym has classes for a variety of age groups, from as young as 3 months! There are a lot of sports and programmes to choose from, from enrichment clubs, parent/child classes and gymnastics to karate and dancing. You can book a trial class before committing to a membership.
Find more information at their website. 
The Little Gym, Suite 601, 6th Floor, World Commerce Centre Harbour City, Tsim Sha Tsui, Kowloon, Hong Kong, Tel: 23688777. Email: tlghongkong@thelittlegym.com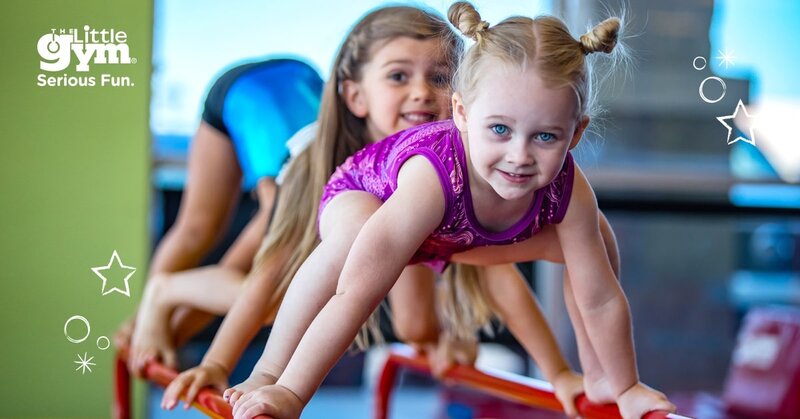 My Kiddy Gym
My Kiddy Gym aims to help your child build physical confidence through their various programmes catered to children aged six months to five years old. These programmes are divided into six age groups, from the Crawlers group to the Builders, where your child will learn all the physical and social skills to grow to become a confident and healthy individual. The older age groups enjoy weekly themes to build cognitive skills.
Find more information at their website. 
My Kiddy Gym, Room 1515, 15/F, Leighton Centre, 77 Leighton Road, Causeway Bay, Hong Kong. Tel: 2759 8811. Email: cs@mykiddygym.com
Asphodel Fitness
Asphodel Elite Performance is this gym's method for teaching Crossfit to children aged three to 18. Teaching the principles of mechanics, consistency and then intensity, AEP helps children to enhance their physical performance, confidence and cognitive performance. AEP has three programmes- pre- school, primary school and secondary school. Children aged 1.5 to three will pay $1,000 for five classes and those aged three to 14 will pay $280 per session.
Find more information at their website.
Asphodel Fitness, G/F, Nam Hung Mansion, 22 Praya, Shop 11, Kennedy Town. Tel: 3568 7719. Email: contact@asphodel.fit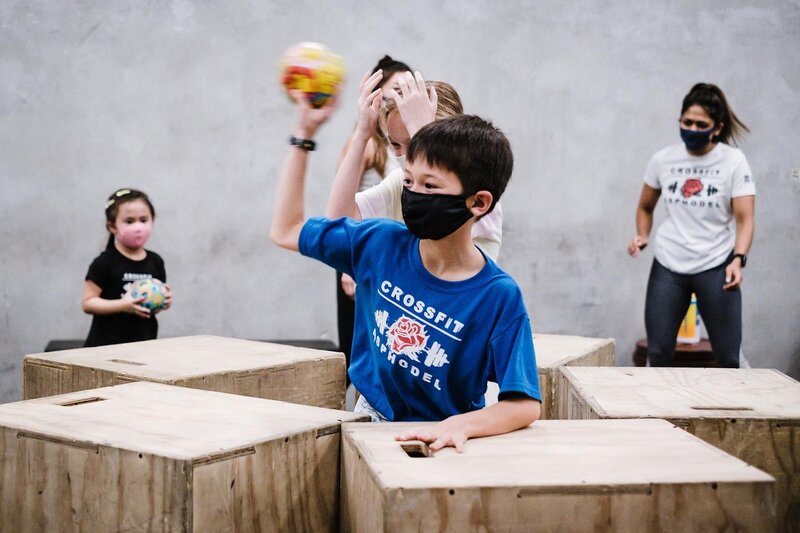 TKO Spot-field
TKO Spot-field is the city's newest and largest rooftop sports space, providing a range of sports equipment to encourage children to adopt a regular exercise regime. The venue has four zones – "Speed Avenue," "Sea of Balls," "Stretching Ring" and "Fun Camp" to challenge you in all sorts of ways!
Find more information at their website. 
TKO Spot, 3/F, 2 Tong Ming Street, Tseung Kwan O, 3977 4957.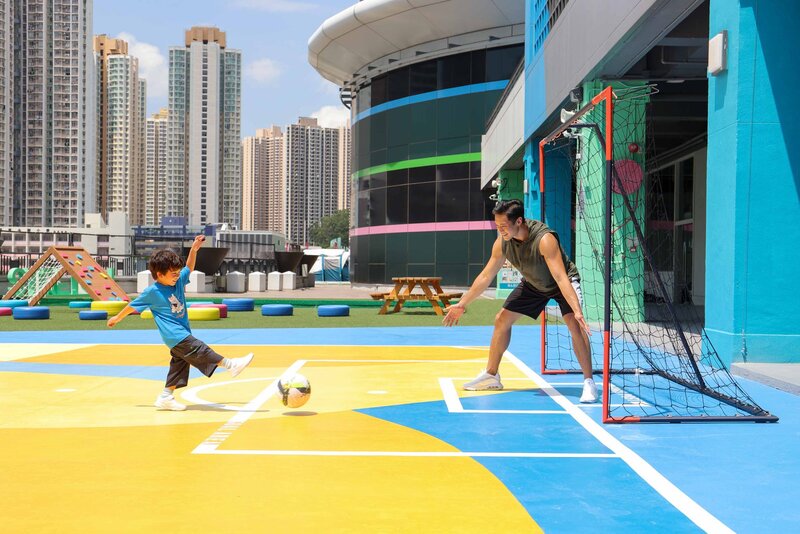 Whatever you're looking for to further your child's physical fitness, one of these gyms for kids in Hong Kong will have what you need!
Sasuke Ninja Park
This recently opened Sasuke Ninja Park in Quarry Bay offers Ninja style fitness classes for children (age 4+), teens and adults in a 3,455 sq ft area. It features a selection of obstacles, including a rope climb, ring toss, cliffhanger, flying bar and warped wall. All classes are taught by experiences, qualified coaches.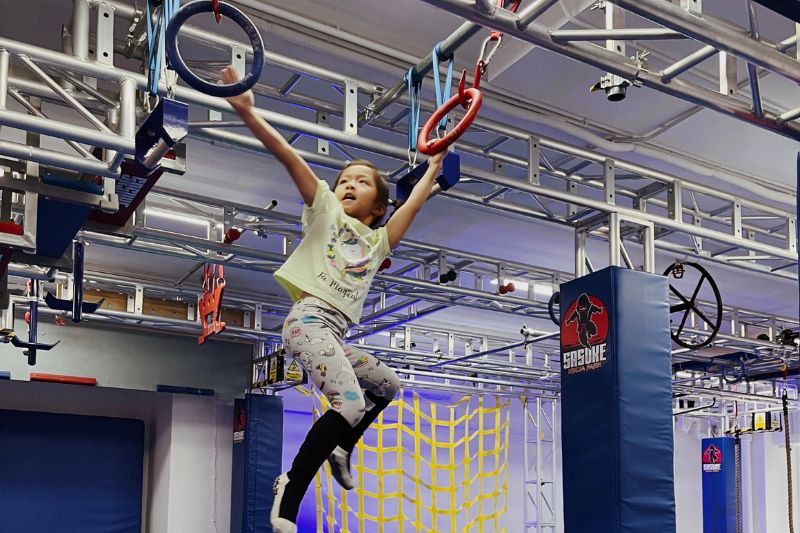 Featured image courtesy of Shutterstock; picture 1 courtesy of My Gym HK; picture 2 courtesy of AlphaStep; picture 3 courtesy of The Little Gym; picture 4 courtesy of Asphodel Fitness; picture 5 TKO Spot; picture 6 courtesy of Sasuke Ninja Park
Related articles: