Reading Time: 5 minutes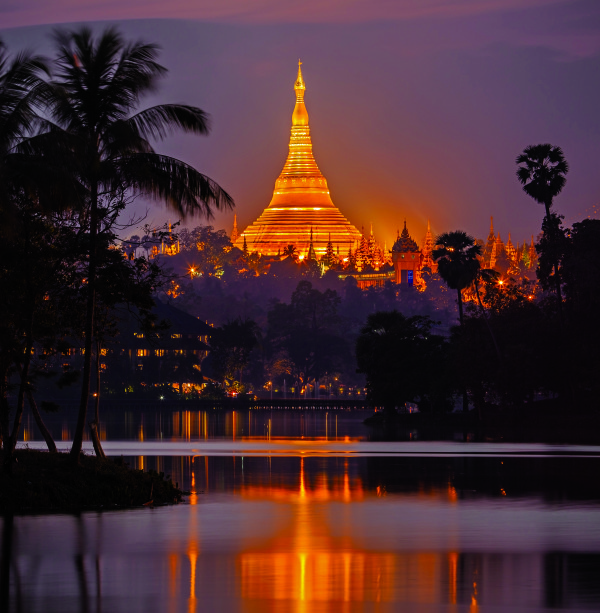 Burma – officially the Republic of the Union of Myanmar – has been drawing more attention of late. While it's now more "open" politically, with a quasi-civilian government, it remains fragile. Despite the rapidly changing economy and rising tourist numbers, this remains a very poor country. ATMs and internet connections are relatively rare, and neither your mobile phone nor your BlackBerry will work. To me, that means it's a perfect place to switch off and experience a true adventure – one that's best explored with the older kids, or as a parents-only holiday.
A heady mix of India and South East Asia, Burma will beguile even the most jaded tourist. Shades of the old British Empire rub shoulders with the ethnically diverse and deeply religious population. It's an intoxicating mishmash of religions, sights, smells and sounds – especially the kissing noise made to attract your attention! Folk from this ancient land are traditionally clad in clashing colours and patterns. It's rare to see Western dress and there are no international brands. Betel nut-chewing and spitting is commonplace, as is the resulting deep red-stained mouths and teeth.
Interacting with the locals is a great way to learn about culture and customs. Be tactful and don't ask about politics, the army or police. You may resort to hand gestures and smiles but these gentle folk will warm your heart. Football is popular, especially the English Premier League – we often passed bars full of cheering men.
The "big hitters" for your checklist are the former capital and commercial centre, Yangon; the serene Inle Lake; Mandalay, the second city; and Bagan, Burma's Angkor Wat; plus a seaside sojourn, if you so please.
Classic Yangon 
Discover the highlights of Yangon (formerly known as Rangoon) on a leisurely walking tour. A feast for your eyes includes street-side food sellers, barefoot monks, females with long hair and cheeks smeared with bark sunblock (thanakha), and cute babies. Start at the centrally located 2,000-year-old golden temple of Sule Paya and take in British colonial buildings, stopping at a traditional teashop.
The stunning Shwedagon Paya is breathtaking. Visit this huge, gilded pagoda both by day and night (try to catch a sunset) to savour its mystical aura amidst the praying locals. A stroll around Kandawgyi Lake is recommended, as is the immense reclining Chaukhtatgyi Buddha.
Shop at the old Bogyoke (Scott) Market for handicrafts and trinkets, and to see ladies making lyongis (the traditional sarongs worn by men and women) with old Singer sewing machines. Drop in for happy hour at the historic Strand Hotel if you can't stretch to the room rates. Or, for respite in the busy city, buy a day pass for a hotel pool to let the kids frolic and adults loll.
---
Tip: Watch The Lady, starring Michelle Yeoh, the evocative tale of Aung San Suu Kyi, before you go. You'll see photos of this graceful, strong Nobel laureate throughout the country, along with those of her late, hero father.
---
Beguiling Bagan
Arriving into town in the middle of the night, we had only an inkling of how beguiling Bagan would be. Taken before dawn by horse and cart to the base of a temple, we climbed up to await the sunrise. What a stunning sight it turned out to be! Dawn broke, opening up a vista as far as the eye could see of temples, temples, temples. There's said to be several thousand ancient sacred stupas, not that we counted them! Hollywood could not have designed a more perfect set. Sunset is pretty special too, as the temples softly change colour whilst the light fades. If you're keen on a lofty view and not short of cash, book a balloon safari.
Touring the temples, or a selection of the better ones, by bike is easy and fun. Alternatively, hire a horse and cart to clip-clop round in style. The pagodas are decorated inside and out, so keep craning your neck. Once temple fatigue sets in, visit the lovely village of Myinkaba to see lacquered bamboo and resin objects being painstakingly handcrafted – you won't be able to resist buying one.
Enchanting Inle 
For a perfect day, hire a long boat and cut through the morning mist to see fishermen balancing on one leg whilst paddling with the other in this huge lake. Potter around floating villages, craft markets and houses on stilts. We stopped at a cheroot factory for a cheeky puff on cigars hand-rolled from local tobacco.

---
Pre-trip tips
First and foremost, all visitors require a visa prior to entry. The greenback is the king of currency, so pack a stack of pristine US dollars in varying denominations. Changing money in banks is becoming easier, but credit card acceptance is rare and many things need to be paid for upfront in cash. It's also helpful to convert a bit of cash into the local kyat for convenience, but don't fall prey to the conmen who offer to change money at unbelievably good rates: they are too good to be true!
Since tourism is starting to take off, resources are limited and prices are rising – fast. Plan well and book transport and hotels in advance. For ultimate convenience, book a package that includes drivers and guides. Seasoned backpackers may brave long-distance buses to experience the "real" Burma, but understand that those buses aren't likely to be fast or comfortable. You'll definitely see another side of life, but if time is pressing or you're a comfort queen, fly between the main sights. The current train service is, sadly, too slow to bother with. 
When planning your trip, avoid the main monsoon season (May to September); instead, travel in the dry season (November to February) when it tends to be hot and sunny everywhere. 
---
Tribes and trekking 
We chose atmospheric Kalaw as a base to explore the surrounding hills. Luckily we arrived on the morning of the rotating market, where various local tribes sell their wares. Bear in mind that the nights in higher places are cool, so pack some cosy clothes. One evening we warmed up in a local bar and joined in a singsong over a few Myanmar rum sours!
Hire a local guide to lead an easy or longer trek through scenic rolling hills, pine trees, tribal villages and fields. During our walk, we were lucky enough to stop at a tiny primary school to chat with the kids.
"On the road to Mandalay …
… where the flying fishes play" was a slow boat in our case. Travelling from Bagan to Mandalay, we chose a day afloat the Irrawaddy River, rather than bussing or flying. The mighty Irrawaddy is the country's main river for water, transport, commerce and fishing. Our "luxury, fast" boat was neither in reality but made for lazy hours on deck reading and sunbathing whilst watching life along the banks.
Mandalay (made famous to Westerners by Rudyard Kipling) was chaotically charming, with an Indian flavour. We explored by bike, tootling round temples and markets, and pedalling along the river before meandering up to Mandalay Hill to see the sunset. The city is close to several ancient sites if you're keen for more culture.
Blissful beaches
We opted to head south of Yangon to the unspoilt village of Ngwe Suang on the Bay of Bengal, which offers 13 kilometres of pristine beach. One blissful day was spent walking along the sand, paddling over to a tiny island and rewarding ourselves with a king coconut before a thorough massage.
If you (or your kids) are looking for something more active, fly to the more developed, but still stunning, Ngapali Beach. This Thai-style resort has fishing boats, seafood restaurants and spas.
Burma bites 
There is plenty to tickle your tastebuds in Burma. The salads are fresh, fragrant and often hand-mixed. Try Shan-style tofu noodles, piquant tea leaf salads or spicy vegetables tossed with peanuts, chilli, chickpea powder and lime. Other moreish Myanmar morsels include tongue-tingling curries and mohinga, a pungent fish broth. Sweeten up with sticky rice and banana cakes. Quench your thirst with local beer, rum, creamy avocado shakes, and Burmese-style coffee or tea.
My advice is to book up for Burma, sooner rather than later, before lattes become as commonplace as lyongis. Enticing and exciting, memories of Myanmar will linger long and deep.