Reading Time: 6 minutes
With the Mid-Autumn Festival just around the corner, we share some interesting history about the celebration
The Mid-Autumn Festival, also known as the Lantern Festival or Moon festival, is an important traditional Chinese celebration. It is referred to asis Jūng-chāu Jit (中秋節) in Cantonese and Zhōngqiū Jié (中秋节) in Mandarin. 
Enjoy sharing the wonderful Mid-Autumn holiday with your family on 29 September 2023.
Why do we celebrate mid-Autumn festival?
The festival dates back thousands of years, with its origins rooted in the worship of the moon for bountiful harvests. Ancient Chinese emperors would pay homage to the moon during the autumn full moon, a time to celebrate the abundant crops and bring people together. The tradition of celebrating the harvest during the autumn full moon can be traced back to the Shang dynasty (1600–1046 BCE). However, it gained widespread popularity as a festival during the early Tang dynasty (618–907 CE). Legend has it that Emperor Xuanzong of Tang started formal celebrations in his palace after exploring the Moon Palace. By the Ming and Qing Dynasties, the Mid-Autumn Festival had become one of the main folk festivals in China.
Moon worship has always been an integral part of the Mid-Autumn Festival. The ancient Chinese believed that the moon and water were associated with rejuvenation. The festival serves as a time for families and friends to come together, express appreciation, give thanks, and admire the full moon. In some ways, it bears similarities to the Thanksgiving traditions in North America, where families and communities gather to celebrate the harvest season.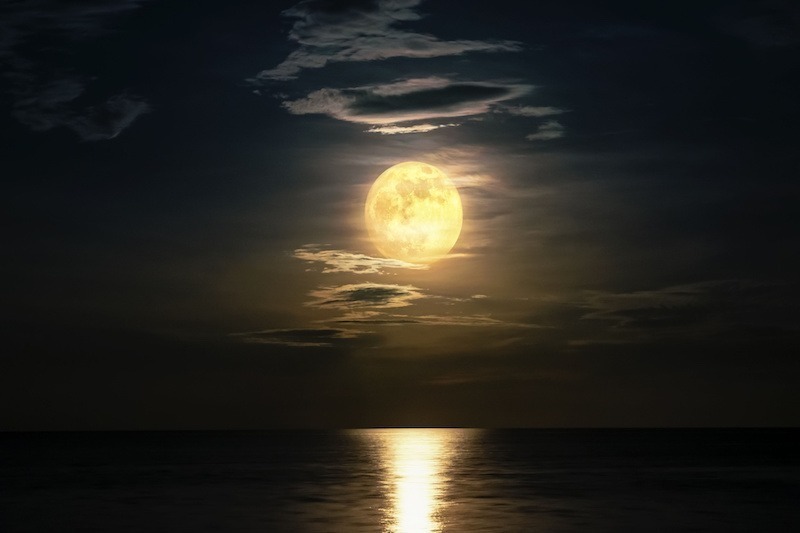 When do we celebrate mid-Autumn festival?
The Mid-Autumn Festival is celebrated on the 15th day of the 8th month of the Chinese calendar, which usually falls in mid-September to early October of the Gregorian calendar. This date is chosen because it coincides with the full moon, symbolising abundance and unity. This year, the Mid-Autumn Festival will be celebrated on September 29th 2023.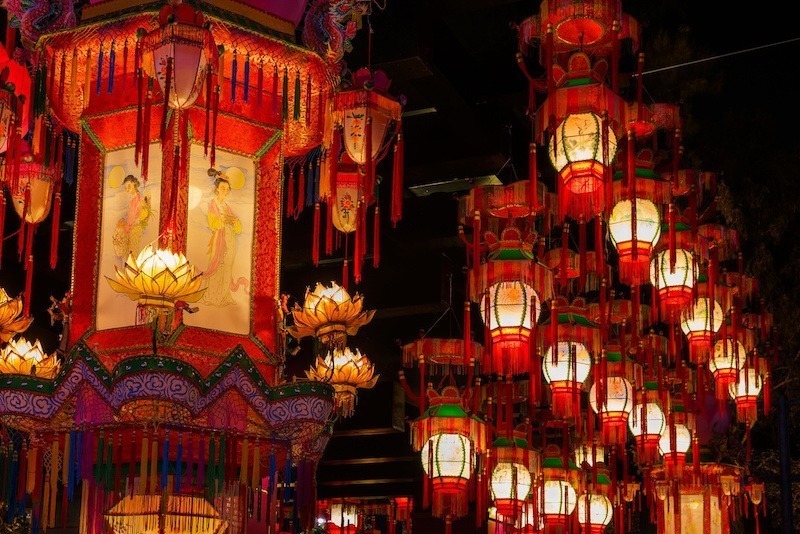 Myths and legends of mid-Autumn festival
There are several myths and legends associated with the Mid-Autumn Festival. One popular tale involves an archer named Hou Yi, who shot down nine of the ten suns to save the crops. As a reward for his heroism, he was granted a potion of immortality. However, when his apprentice tried to steal the potion, Hou Yi's wife, Chang'e, consumed it to prevent its theft. As a result, she became immortal and ascended to the moon. Hou Yi, longing to reunite with his wife, started a tradition of holding a special feast during the fullest moon of the year. People joined in the festival to show their support for Hou Yi and prayed to the moon for a bountiful harvest each year.
Mid-Autumn traditions
Mooncakes, lanterns and gifts
Mooncakes and lanterns are iconic symbols of the Mid-Autumn Festival. Mooncakes are rich pastries traditionally filled with sweet-bean, salted egg yolk, meat, or lotus-seed paste. They are often given as gifts and shared among friends and family during the festival. Historically they were used to pass secret messages (by putting a slip inside the mooncakes or printed on the outside of the cake) Lanterns, carried by both kids and adults, symbolise the illumination of one's path to prosperity and good fortune. Riddles are sometimes written on lanterns, and people enjoy guessing the answers.
Families often head to beaches such as Repulse Bay and Deepwater Bay or to open spaces with lanterns to enjoy the moonlight. This year this would take place on 29th September.
Mooncakes, tea, wine and fruit are often given as gifts among families and friends during the Mid-Autumn festival time. Here's  our guide on where you can buy some amazing mooncakes.
Also, an eco-friendly way to celebrate Mid-Autumn Festival is to make your own lanterns! Check out our easy-to-follow guide. 
The festival is celebrated with many other cultural customs, such as burning incense in respect to deities and the performance of dragon and lion dances, which is mainly practiced in southern China.
The Tai Hang Fire Dragon Legend
There's a legend that in the 1880s, the residents of Tai Hang Village warded off a typhoon and a plague on the eve of the Mid-Autumn festival with a fire dance that lasted three days and three nights. The fire dragon was used in the parade and was made of straw and joss sticks (incense) which were set alight at night. Today it continues to be an impressive tradition during the Mid-Autumn Festival in Hong Kong.
This event is unique to Hong Kong. A 67-metre fire dragon winds through the streets of Tai Hang – just as it did almost 150 years ago – with over 300 performers, 70,000 incense sticks and lots of firecrackers. This year sees the return of the popular event, held 28 – 30 September, 8:15 pm – 10:30 pm. You'll get the best view from Mun Sha Street.
Go Celebrate!
We hope you enjoyed learning about the history of Mid-Autumn Festival and have developed a deeper appreciation for it. However you celebrate Mid-Autumn Festival with your family, have fun and be grateful for this time we get to share. Happy Mid-Autumn Festival, everyone! 
Mid-Autumn Festival Events 2023*
*Keep an eye on these events and always check ahead just in case there are changes.

The Tai Hang Fire Dragon Dance Parade is BACK!
Date and time: 28 – 30 September, 2023  From 8:15 pm – 10:30 pm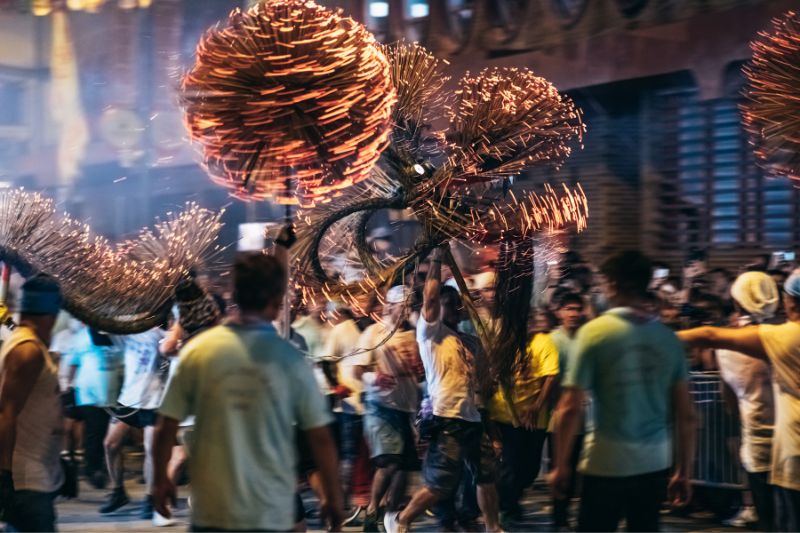 This event is unique to Hong Kong. A 67-metre fire dragon will wind through the streets of Tai Hang – just as it did almost 150 years ago – with over 300 performers, 10,000 incense sticks and lots of firecrackers. You'll get the best view from Mun Sha Street.
Lee Tung Avenue's "Moon Fest Lumiere" & Fire Dragon
Date: 29 September, 2023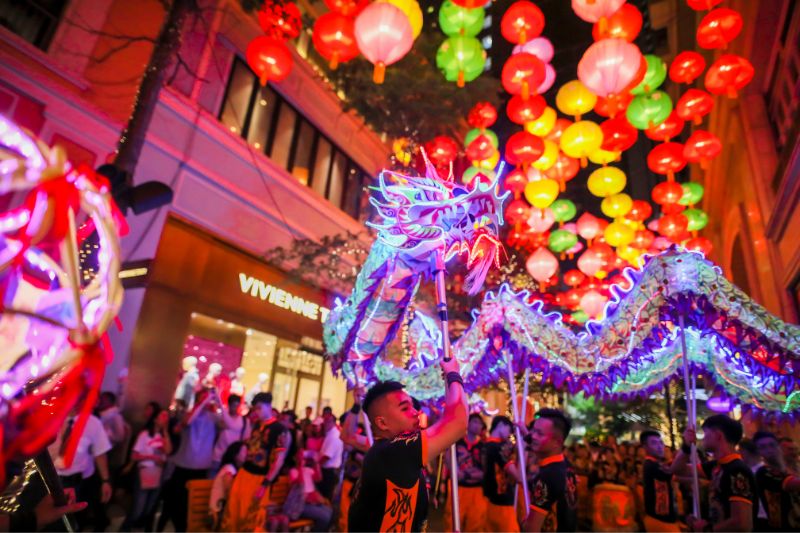 Head to Lee Tung Avenue for "Moon Fest Lumiere", the highlight of which is a stunning light-scape created by over 800 auspicious Chinese lanterns (on display until 23 October 2023). Don't miss the LED Fire Dragon Fiesta scheduled for 29 September. Get ready to be wowed by an 18-metre-long LED dragon, manoeuvred by Kwok's Kung Fu & Dragon Lion Dance Team. Master Kwok will also host some express workshops to share the art form of dragon dance first-hand.
Urban Mid-Autumn Festival at Victoria Park
This amazing event features beautiful lantern displays and a full cultural programme including a Fire Dragon Dance, kung fu demonstrations, music and crafts.
Mooncake Making
Date: 16, 24 September 2023
Learn to make your very own snow skin mooncakes in this three-hour lesson hosted in English and Cantonese. You'll learn how to: make skin from scratch, knead the skin of the mooncake, wrap and mold the skin with choices of filling and then you'll get to take some home with you to enjoy with friends and family. Either join the lesson on 16 or 24 September, or schedule your own private lesson with BiteUnite.
Seaside Vibes Under the Moon @ Discovery Bay
Visit Discovery Bay on Saturday evening to enjoy atmospheric live music – 'busking' style – at the Discovery Bay North Ampitheatre. Or, on the Sunday, wander round the stalls of the Discovery Bay Sunday Market to source a variety of items from local vendors. Sunday also boasts a Kids Latin dance show.
Glowing Bunnies Under the Moon (Discovery Bay)
Date: 22 September – 8 October 2023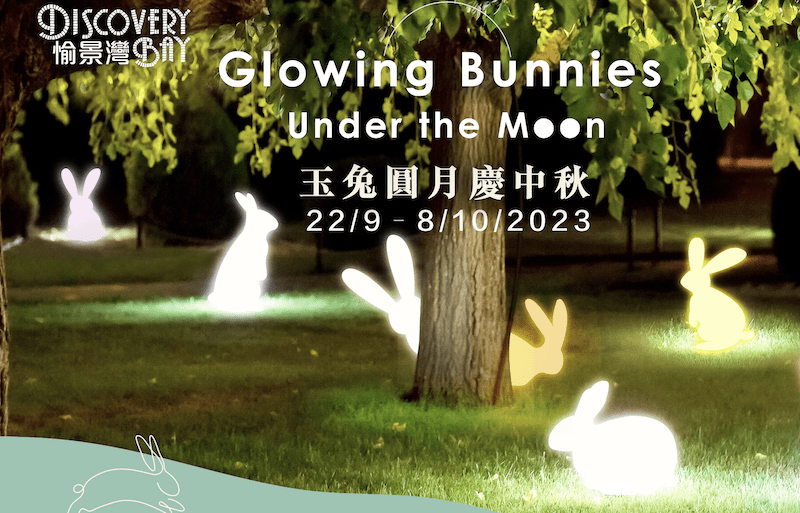 Discovery Bay has some seasonal programmes including moon rabbit themed decorations and a photo competition to celebrate mid-Autumn. There's also a themed staycation at Auberge Discovery Bay. Plus, restaurants and shops in the area are offering special menus, mooncake promotions and free transport. Grab an outdoor seat at one of the restaurants to get a spectacular 180° ocean view.
The lawn outside DB Plaza (near The Coffee Academics) will become a photo spot decorated with 80 glowing bunnies. Follow @VisitDiscoveryBay Facebook or Instagram to participate in the online photo competition and win a prize.
Ngong Ping Mid Autumn Lantern Festival
Ngong Ping Village has been transformed for the Mid Autumn Lantern Festival, with hand-painted lanterns lighting the way through the village. Visit the illuminated half-moon installation, the Heart to Heart Wishing Pavillion or the Bodhi Tree laden with lanterns. Lantern painting workshops and face-painting are also available.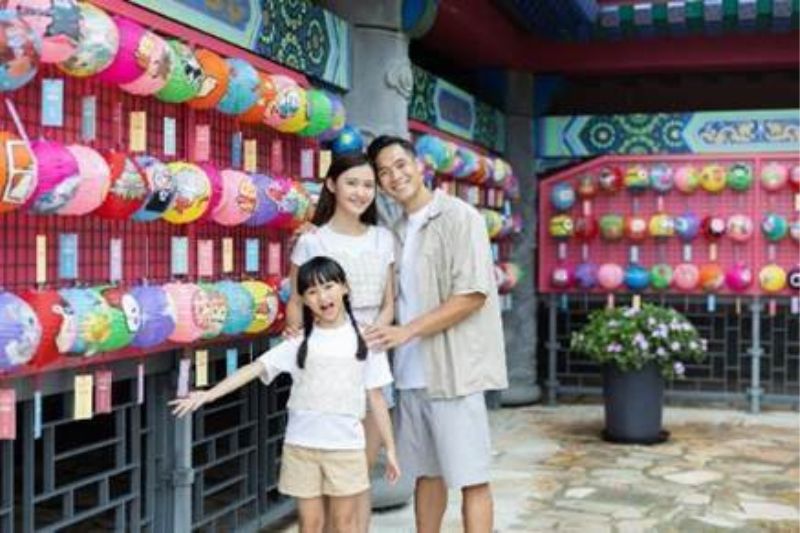 Creative Workshop Fest @PMQ
Get crafty at one of the 'Mid-Autumn Amazing Crafts Workshops" at PMQ. One ticket allows each participant to access eight workshops within three hours. Workshops include Artizen Origami Lantern, Eyewear Acetate Hair Clip, Mountaineering WEAVESY Embellished Bay Workshop, Full Moon Jewellery Box and Mini Kokodama Ball. Each participating adult can bring on child under the age of 8 for free.
Full Moon Reunion Carnival at Hysan Place (TBC)
The fourth floor of Hysan Place has been transformed into a "Heaven of Lights," featuring more than 500 lanterns. You'll also find a range of special promotions, member-exclusive programmes and seasonal menus that are sure to make this Mid-Autumn Festival a holiday to remember!
Temple Mall Mid-Autumn Special: Golden Autumn Lumiere & Mid-Autumn Bazaar (TBC)
Be sure to check out this 3.5 metre-tall Golden Autumn Lumiere interactive lantern installation at Temple Mall, which features a mirror-floored room full of lanterns that change colour when you move.
The Mid-Autumn Bazaar will feature nearly 100 flavours of mooncakes, including Taiwanese Taro and 70% Pure Musang King Durian-filing Snowy Mooncake, to name a few.
Temple Mall, 136 Lung Cheung Road, Wong Tai Sin, Kowloon, Hong Kong.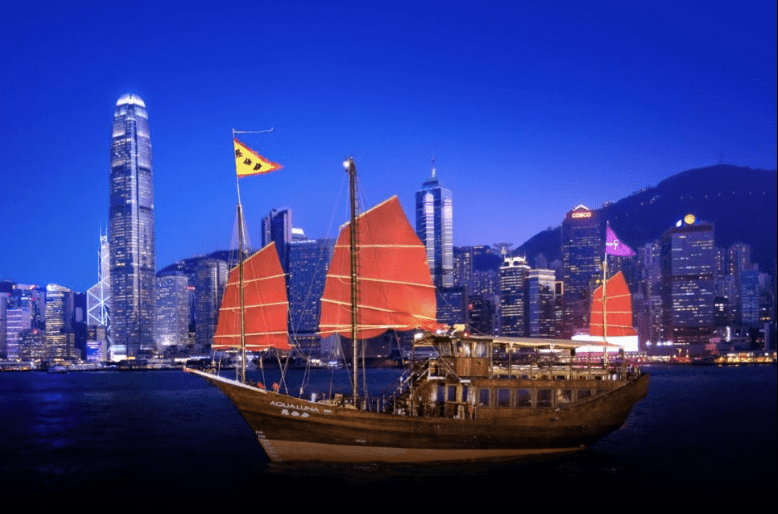 Set Sail on aqualuna
Embark on a magical voyage beneath the Moon and Stars aboard aqualuna. Experience the beauty of the night sky as you sail on the iconic red-sailed aqualuna, capturing the sight of the moon in all its glory. On the 29th of September, aqualuna will gift children complimentary lanterns to illuminate the stellar night of the Mid-Autumn Festival.
Tsim Sha Tsui Lantern Installation (TBC)
This event is set up at the Hong Kong Cultural Centre Piazza. Opening hours for the event are Fridays through Sundays from 6:30pm – 11pm.
Related articles: