Reading Time: 5 minutesMid-Autumn Festival 2023 is just around the corner, and that means there will be an abundance of mooncakes in your future. During the Mid-Autumn Festival, families eat mooncakes together in celebration of the full moon which symbolises prosperity and reunion for all. This year in Hong Kong, the Mid-Autumn Festival falls on September 30th 2023 and in anticipation of it we've rounded up our favourite places to find the best mooncakes. Happy Mid-Autumn Festival to everyone and here's to finding the most delicious Mooncakes to celebrate the season!
If you want to know more about the history of this festival or why we celebrate it, check out our article outlining it all.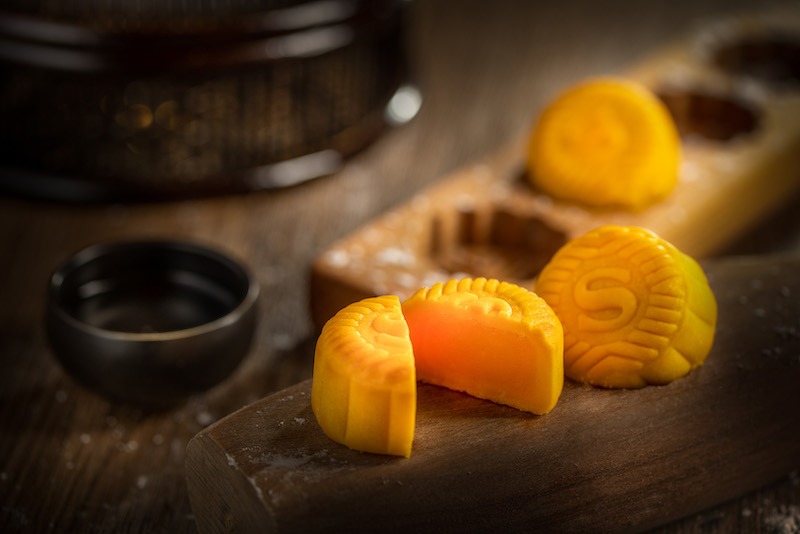 Exquisite Mooncake Collection by Sheraton
Welcome the time for reunion under the full moon during Mid-Autumn Festival with the Exquisite Mooncake Collection by Sheraton. Featuring both the traditional White Lotus Seed Paste Mooncake with Double Egg Yolks (4 pieces, $488) and the Mini Custard Cream Mooncake with Egg Yolk (8 pieces, $488), these beauties are boxed up elegantly with gift boxes designed to symbolise reunion and sophistication. If you're looking for a gorgeous gift set, this is it.
From now until August 30, 2023, order via Sheraton Hong Kong's eShop and enjoy more than 20% savings. The mooncake collection period is from September 13 to September 29, 2023 (12pm – 8pm).
Sheraton Hong Kong Hotel & Towers, 20 Nathan Road, Kowloon, www.sheratonhongkonghotel.com
Frederic Blondeel HK Handmade Chocolate Mooncake
Frederic Blondeel chocolates are freshly handcrafted in Belgium, using only the finest cacao beans sourced from sustainable organic cocoa cultivators around the world. Their truly unique chocolate mooncakes are made with dark chocolate shells and a nutty filling of black sesame, hazelnut gianduja, or almond gianduja with chewy mochi center. The bottom of each mooncake has a layer of crispy feuilletine for a delicious, mouthwatering crunch. Each gift set includes three flavours in a keepsake box doubling as a board game.
The online shop is offering 15% until Aug 20, 2023.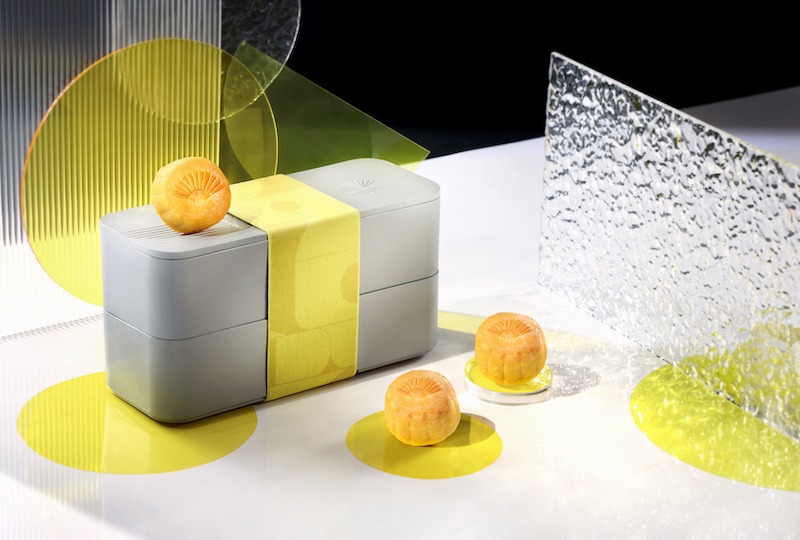 The Landmark Mandarin Oriental Mooncakes
The Landmark Mandarin Oriental, Hong Kong invites all to celebrate this Mid-Autumn Festival with two distinctive mooncake gifting ideas – the trendsetting Mooncake Bento Box  (6 pieces, $458) and the Amber x esca Vegetarian Mooncake Gift Box (4 pieces, $498).
Choose from a crafted double-decker bento box made of corn-fibre materials with six individually packed mini egg custard mooncakes or Chef Richard Ekkebus and team's creation of impressive flavours (Pumpkin Kabocha with Pumpkin Seed or AN Soy, Conspiracy Chocolate Dak Lak Cocoa & Almonds). Or maybe try them all?
The Mooncake Bento Boxes can be recycled and repurposed or you can return the boxes to the Hotel by the end of October to receive a complimentary glass of the Sommelier's selected Champagne, White or Red Wine at Amber, SOMM and MO Bar.
Mooncakes are available online at the Hotel's eShop until 29 September 2023 or until stock lasts.You can also can opt to purchase in person at Amber, MO Bar or The Oriental Spa at the hotel. Enjoy exclusive early bird discounts on Mooncake Bento with up to 15% savings with payment completed by 31 July 2023.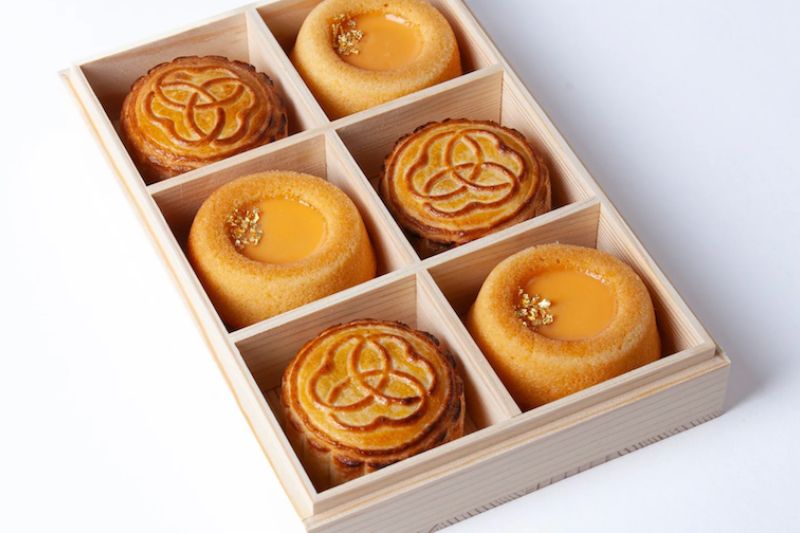 Date by Tate
Embrace tradition this festive Mid Autumn season and indulge in the beauty of these ĀN Soy Milk and Esca Vegetarian Moon cakes presented in an eco-friendly wooden box. Each box contains 3 black sesame filled Moon cakes crafted using ĀN Soy Milk and 3 fragrant Osmanthus Salted Egg Soy Financiers. These are limited edition, so be sure to order soon. Available to purchase at Date by TATE
Date by Tate, 210 Hollywood Road, Sheung Wan, Hong Kong, 6730 2494, reservation@datebytate.com
Lotus Luna Bomb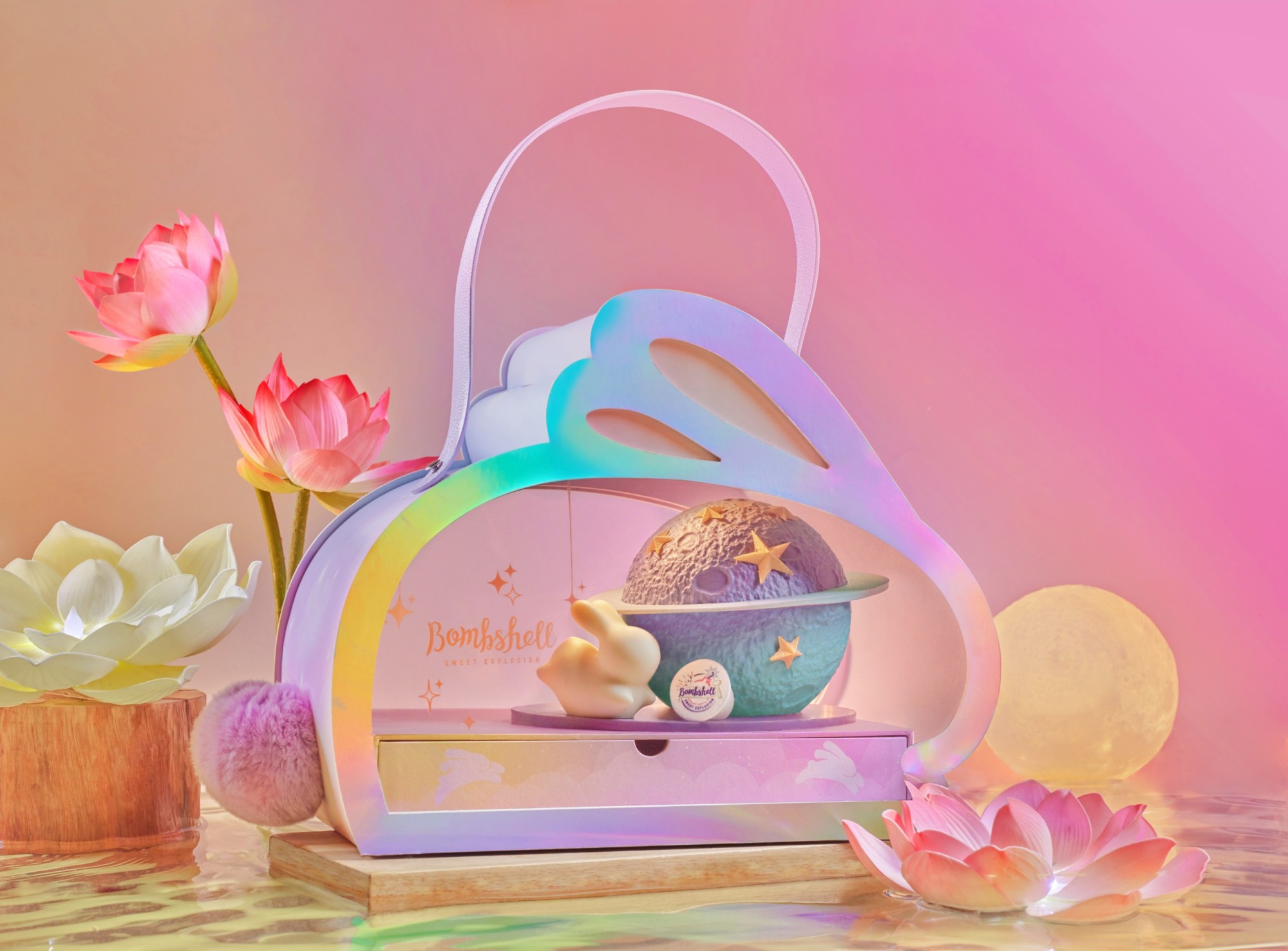 The exquisite Lotus Luna Bomb is a handcrafted moon-shaped mini bombshell filled with a medley of seasonal confectioneries including pink-blushed bunny-mallows, flower mallows, moonlicious chocolate bonbons, and colourful sweets. The elegant rabbit gift box can be transformed into a delicate lantern, adding a touch of imagination. Inside discover eight aromatic egg custard mini mooncakes by Cuisine Cuisine. From Mira estop, these delightful gift sets are at a special price £988 (original £1,288), redeemable Aug 15 – Sep 29
Rosewood Hong Kong / Hong Kong Palace Museum mooncakes
Rosewood Hong Kong has partnered with the Hong Kong Palace Museum to launch a limited-edition mooncake gift box to celebrate the Mid-Autumn Festival this year. The mooncakes for this gift box (White Lotus Seed Paste with Double Egg Yolks and Mini Egg Custard mooncakes) are crafted from time-honoured recipes by Rosewood Hong Kong's Chinese Executive Chef Li Chi-Wai.  The modern harvest moon artwork for the box was done in collaboration with artists Stanley Wong, Victor wong and the AI ink painter known as AI Gemini. This cross-disciplinary collaboration promotes the beauty of Chinese cultural traditions with an innovative approach.
To order your mooncake gift box, visit Rosewood Hong Kong's Online Shop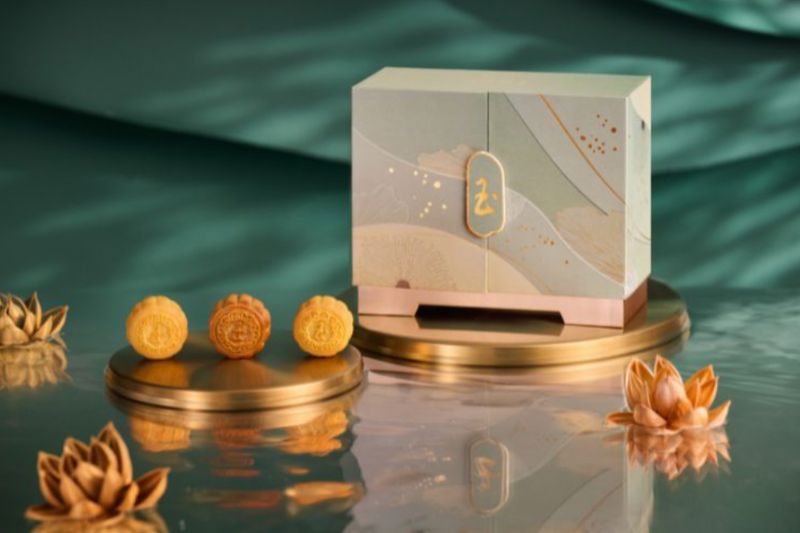 The Fullerton Ocean Park Hotel
The Fullerton Ocean Park Hotel presents a lovely series of signature Mid-Autumn delicacies. Mooncake gifts boxes start from $374 with single gift boxes from $126 and gourmet seasonal hampers too. Order now to enjoy the early bird offers!
The Fullerton Ocean Park Hotel, 3 Ocean Drive, Aberdeen, Hong Kong, 2166 7388, fop.info@fullertonhotels.com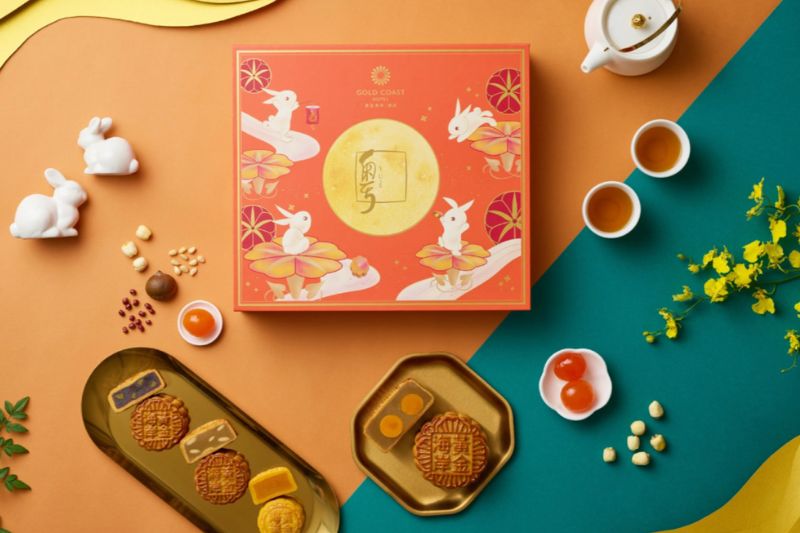 Gold Coast Hotel
Gold Coast Hotel is delighted to present signature Mid-Autumn delicacies from YUÈ, the Chinese restaurant that has been awarded with "MICHELIN Recommended" for 10 consecutive years. Choose from Classic (white lotus seed paste with double egg yolk) or Fragrant Mooncakes (white lotus seed paste with pine nuts, chestnut and red bean paste, egg custard). Or you may opt for the more indulgent Gift Set which includes mooncakes plus Ong Lai' Pineapple Tarts and Sambal Ikan Bilis.
The hotel has partnered with the Music Children Foundation this year to spread joy and happiness to children and families in need. Sino Club members can enjoy up to 25% early bird discount upon online purchase at the hotel website with promo code "SC2023MN".
The Gold Coast Hotel, 1 Castle Peak Road, Gold Coast 
YUÈ: (852) 2452 8668
In celebration of the upcoming Mid-Autumn Festival, Regal Hotels has transformed the love and blessings of family reunions into boxes of delectable mooncakes. Featuring two flavours, Creamy Custard and Earl Grey Egg Custard, and the Classic Collection and the Mini Custard Collection. The seven mooncake gift sets are presented in lotus flower giftboxes.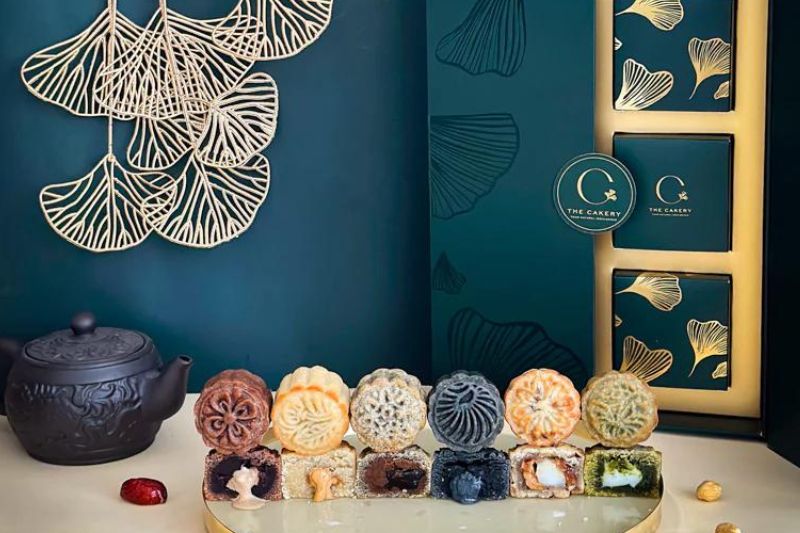 Indulge in the quintessential mooncakes tradition without the guilt with the Cakery this year and their vegan mooncakes. Their mooncakes are gluten-free, vegan, and preservatives-free, with a low sugar content to boot! Flavours include matcha mocha, Earl Grey, black sesame, red date, chocolate hazelnut and coconut peanut. Yum! Presented in a gorgeous gift box featuring detailed golden ginko embellishment, each box contains 6 mini mooncakes (1 piece per flavour, $342). Take advantage of their early bird and bulk order discounts.
The Cakery locations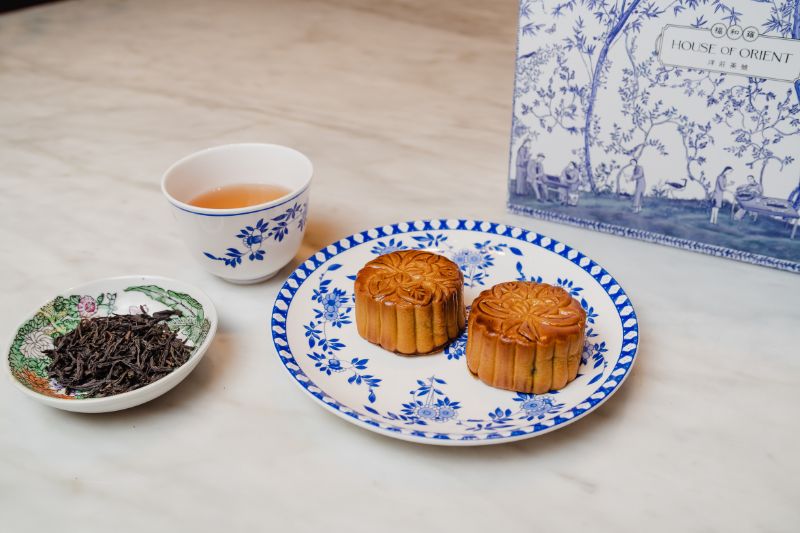 Mid-Autumn Festival is just around the corner, and House of Orient is celebrating with a special Premium Mooncake & Tea Gift Box. The gift box features classic Cantonese-style red bean mooncakes made by House of Orient's master chefs using dried tangerine peel from Lingnan. To make this year's Mid-Autumn celebrations shine even brighter, House of Orient has asked its tea expert to select three premium teas to pair with its mooncake. These include the Heavy Roast Iron Buddha Oolong, a tea with a smooth flavour and natural roasted aroma; the sweet, mellow and fragrant Phoenix Oolong Tea; and the rich and full-bodied Laoman'e Pu'er (cooked tea). Whether you're giving the Premium Mooncake & Tea Gift Box to a novice tea drinker or to greet an old-time connoisseur, there's a brew that's perfect to suit every taste.
House of Orient, Shop C&D, 2/F, Entertainment Building, 30 Queen's Road Central, Central, 2123 9263
Photo 1 courtesy of Sheraton, photo 2 courtesy of Landmark MANDARIN ORIENTAL, photo 3 courtesy of Tate by Date, photo 4 courtesy of Fullerton Hotel, photo 5 courtesy of Gold Coast Hotel, photo 6 courtesy of The Cakery, photo 7 courtesy of House of Orient
Related Articles: