Reading Time: 3 minutesChristmas is around the corner, and while we're happily preparing for our Christmas dinners and parties, we tend to ignore the massive amounts of waste that is produced throughout the festive season. We chatted to Sarah Garner, the founder of luxury kids' clothing reseller Retykle, about the issue of clothing and textile waste in Hong Kong, and she gave us her recommendations for kids' Christmas outfits!
1. Hi, Sarah! Firstly, can you share with us the importance of organisations like Retykle, especially in a city that produces as much waste as Hong Kong?
Sarah Garner: On average, 392 tonnes of textile waste are landfilled every day in Hong Kong. Retykle plays a role in educating, inspiring and providing solutions to our textile waste problem which are easy and habitual. We want to not only raise awareness of fashion's environmental footprint and promote more mindful consumption but to also provide a real solution that is easy and effective for parents. Buying and selling secondhand should not be difficult and by making it more accessible to our community, we are increasing participation and the positive impact it has on our planet.
By only accepting great quality brands, we are rewarding parents for making better purchasing decisions and keeping those items in circulation. We want to fundamentally change how families engage with their wardrobes and create more sustainable habits. This then has the knock-on effect for families to start thinking differently about how they consume throughout their home and what small measures they can introduce to be more eco-friendly.
At Retykle, we see it as our responsibility to help lead change in our community. We regularly work with local schools to help support education on the environment and sustainability. We feel that the 3R – reduce, reuse and recycle – should become second nature to our children from an early age.
2. Christmas is typically associated with an increase in waste. From Retykle's point of view, how can we be more sustainable this festive season?
SG: Christmas is always a difficult time to be more environmentally conscious as we're driven by wants and not needs and the culture of Christmas is to consume and share gifts which can often be wasteful with excessive packaging. Waste-free gifting at Christmas is possible so here are our top tips:
Ditch disposable wrapping or choose recycled paper which can be repurposed for drawing etc. For reusable wrapping bags, we have some great festive options
Consider shopping preloved and local as the environmental footprint is far less than shopping new and you can avoid all of the packaging and carbon created by the logistics of an international purchase
Gift experiences
Gift cards so that the recipient can choose something they truly want/need
Consider volunteering with a friend or family member rather than gifting them something, gift others with your time
DIY your Christmas decorations! This is a great activity to get into the Christmas spirit with your tykes using recyclable materials from your home. Check out some Christmas deco ideas here and here
Create your own Christmas presents. Perhaps you are passionate about baking or you have always wanted to try upcycling treasures found in a thrift store. Giving a loved one a gift that you have poured your heart and soul into will always be more memorable
3. Finally, can you share some kids' Christmas outfit recommendations for various age groups?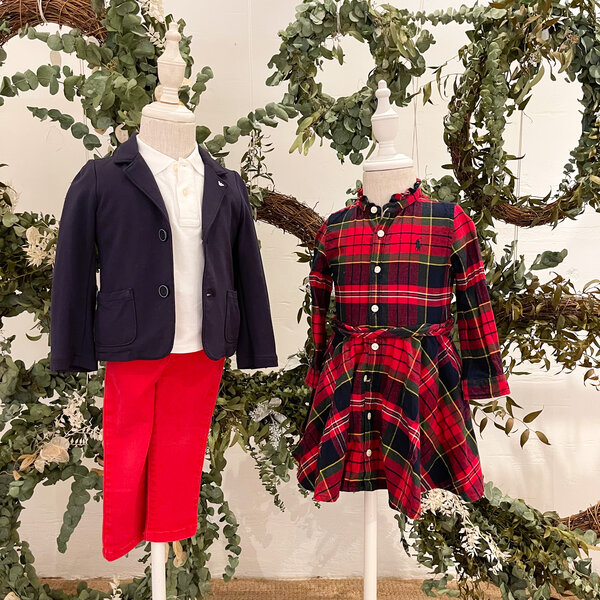 Boy:
Armani Blazer
Ralph Lauren Long Sleeve
Cyrillus Casual Pants 
Girl:
Ralph Lauren Dress 
Reykle has also created a special festive edit which can be filtered by age. Check it out here!
Related articles: