Reading Time: 6 minutes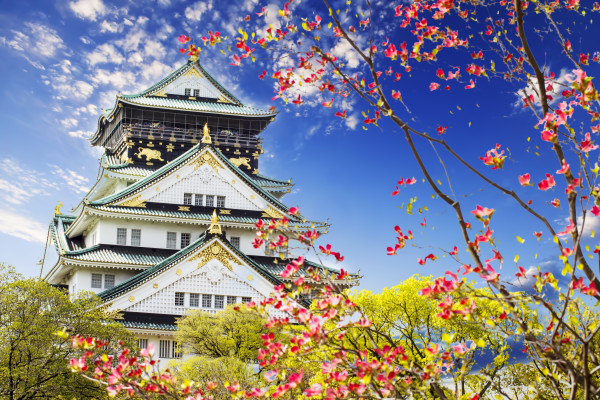 Hmmm, I'll wait to hear how it goes," said a friend, with raised eyebrows, when we unveiled our summer holiday plans: two weeks touring Japan with our kids, aged two and six. I understood his scepticism. Japan remains one of the most "foreign" places in Asia, a barrage for the senses and adamantly against adopting English. But we'd been dying to go long before the beginning of nappy changing and early wake-ups, and we were gung-ho on a trip beyond the usual flight home or quick beach break, even if we were asking for trouble.
Osaka seemed the most sensible place to begin. About three hours' direct flight from Hong Kong, and less busy than Tokyo, Osaka still embodies its local culture. Wandering downtown's Shinsaibashi-suji arcade, with its 600 metres of independent boutiques, chain names and flashing pachinko (arcade) parlours, offered us an instant immersion.
We stuck to the strip on the first day, eating and shopping. The kids devoured coconut syrup-slathered hotcakes, while we sipped our mugs of Kona coffee and took in the views of the Dotonbori-gawa Canal at Honolulu Coffee. Then, aware that our love for retail might be wearing on our children, we designated the next day a kids' day and took a taxi across town to Umeda's Kids Plaza Osaka, where four floors are devoted to fun. We beat and bashed in the percussion area, made life-sized bubbles and role-played postman and sushi chef in a mini-world that entertained for hours. Having worked up a hunger, we headed outside to sample bulbous steaming takoyaki and fresh-grilled okonomiyaki, the fried batter street snacks with squid, mayonnaise and tempura bits that are the city's signature. "Scrummy," proclaimed our two, licking their fingers.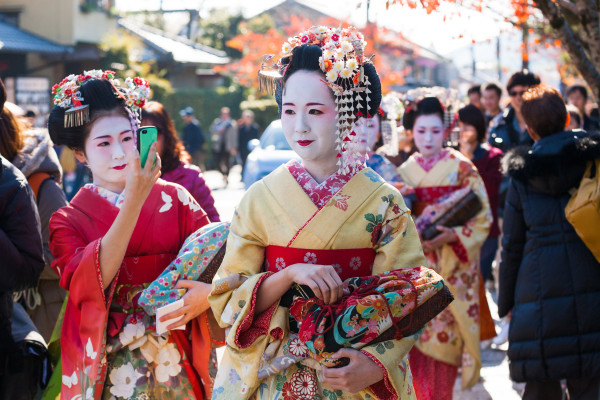 Geisha-spotting
Two full days in Osaka acclimatised us to Japan's differentness, and we felt ready for more. Kyoto, 30 minutes away by train, is Japan's cultural gem and was our next destination. You could wander historical grounds and temples for days, but aware of our young wards' boredom thresholds, we picked only the top tourist-tested sites. Kiyomizu-Dera temple proved breathtaking. Founded in 798 and rebuilt in the 1600s, its huge main hall and veranda overlook lush greenery. We also trekked to the three-storey red-roofed pagoda at the opposite end of the compound, which took under an hour. Lunch was a refreshing bowl of skinny somen noodles dipped in cold broth and eaten al fresco to the sound of the Otowa falls.
Our culture continued on to Yasaka shrine, but we also broke away from temples for a session at the Kashogama Pottery School, where my girl and I spun clay into traditional vessels under expert yet easy-going tutelage. Six weeks or so later we were to re-live this spectacular highlight, when our unique keepsakes were delivered home, freshly glazed.
At the start of the summer, early in July, young Kyoto-ites don brightly coloured cotton kimonos called yukata, and look like clusters of geishas. Of course, there are real geishas to be tracked too, around the area of Ginza, where cobbled streets and preserved machiya traditional houses whisk you back to times gone by.
Dusk is recommended as prime geisha-spotting time. We marched up and down, stroller at the ready, chasing cars with tell-tale blacked out windows like teenage fans might stalk One Direction. At one point my daughter, and loyal aide in the hunt, begged to leave but she changed her mind the instant a maiko, or geisha in training, hurried from a closeted doorway, her silken robes flaring against the setting sun. She quickly joined the throng of photographers with her pink V-tech camera to snap off pictures. Atta girl!
We felt like we joined all of the city out on the streets that night, which were closed to traffic and swollen with snack stands, beer stands and good feeling, all in honour of an annual Kyoto festival called Gion Matsuri. At one intersection, we glimpsed the festival's nominated sacred page: a young robed boy in white face paint perched on horseback, rod-still and solemn. At that arresting sight, time seemed to stop, captivating all but our two-year-old.
Beach break
A week into our break we were ready for relaxation. We made a day trip to Nara, a destination famous for its temple-filled park and roaming wild deer. The wide-eyed creatures were enchanting to our children when docile, but to be feared when food was in view, when they get over-zealous. Then it was on, another 30 minutes or so from Kyoto, to Shiga, and a deserted beach town called Omi-Maiko. We'd found a rustic wooden beachfront house through Airbnb and arrived in a rainstorm to find frothing waves and brooding skies our only companions.
The next three days were brighter, and we swam, sand-castled and wandered deserted streets and day-glow fields, grateful to our host for advising us to bring food and happy enough to sample 7-11's iced treats each afternoon. With Saturday's arrival, the train station teemed with joyful weekend vacationers, who spilled down to the beach and set up barbecues. We waved as we left, Tokyo-bound.
City style
We had reserved seats on the gleaming Shinkansen from Kyoto, which shot us soundlessly up to the capital in less than three hours, and was a highlight of my transport-mad two-year-old boy's trip – he still asks to go on the "big-nose train". From there we took our first subway ride and landed, bruised by the sudden bustle, at sprawling Shinjuku Station, a mega-complex serving three-million passengers every day.
I'd booked the Park Hyatt where Lost in Translation was filmed as a surprise for my husband, who seems to keep the movie on replay. In the hotel's hushed confines, we soon felt soothed, greeted with age-appropriate amenities and fresh, plump local peaches.
And just as well this refuge. The next five days were crammed with myriad sights of the city. Some were obvious. A trip to Disney was seen as obligatory, at least by our six-year-old. Due to her love of The Little Mermaid we opted for a day at DisneySea, procuring tickets a night ahead at the Takashimaya Shinjuku Disney Store to avoid queues on the day. On a slightly humid and overcast day, crowds weren't a problem, and high-energy splashtastic shows performed on water were fun and cooling. That our little princess got to meet hers (Ariel) within the first half hour was icing on the cake.
Shibuya's Meiji Shrine is deemed a must for most visitors and with good reason. Set inside a huge forested corridor, the Shinto shrine achieves ultimate serenity but is still walking distance to Harajuku. This is the playground of pink-haired, pale-faced girls in platforms, whose cartoonish vibe couldn't be more different to the calm timelessness of the shrine. The primped-up characters were a delight for the Katy Perry fans in our family.
Some of our finds were less obvious. We all but stumbled on Shinjuku Central Park outside our hotel, but with its adventure playground and wade pool, the kids begged to stay. Art galleries frequently hold child-friendly exhibitions, and we caught an interactive show at the Museum of Contemporary Art Tokyo, where our images were projected onto walls, and where we made fabric sculptures and slid a slide in a stark white space. The laid-back dining room there, with thick wooden tables and organic seasonal food, was an unexpected highlight.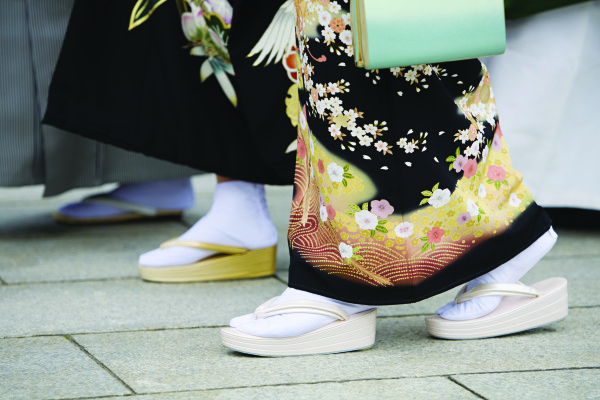 Nuts and bolts
Children in Japan are fully catered to, and this came as something of a surprise. Parks with play areas and even pony rides are not unusual. Upscale department stores put Hong Kong's to shame, with large feed and change areas containing food-warming facilities, seating for toddlers and spare wipes, nappies and bibs. Almost every restaurant we ventured into, be it a thumbprint-sized ramen joint or a ritzy Wagyu beef place, welcomed the kids and set them up with utensils and plastic bowls. By the time our two weeks were up, our children were happily chirping, "Konnichiwa" and "Arigato," back at waiting staff.
Naturally, there was some madness. Squabbles on trains, confusion finding platforms, the inevitable being stuck for what to eat. (Our answer? Dive into the nearest mall or department store for quick rice, noodles or sushi.) But even with our toddler in tantrum mode, we received more sympathetic smiles than stares.
Rather than throwing up barriers, Japan excelled in its extremes by offering something for everyone, and when the time came to board the plane in Tokyo, none of us was quite ready to utter that other familiar Japanese word: "Sayonara."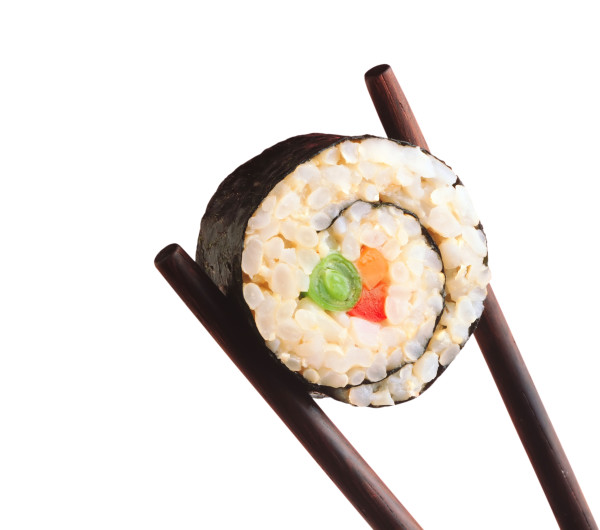 Three ways to make Japan easy
Download Hyperdia: Travel would have been our biggest headache without Hyperdia. This app gives literally up-to-the-minute information on train schedules, ticket prices and even platform numbers.
Research food: Look up food terms and pictures in advance. Menus rarely come in English but do have pictures, so it helps to know what to point at. Still, with noodles, sushi, fried food and rice all staples, there's plenty to please hungry kids.
Secure portable Wi-Fi: My husband gets credit for equipping us with Wi-Fi all through the trip, which is rare to access in Japan and so useful for directions, recommendations and reviews. Rent before you go at: www.wiyo.hk.