Reading Time:
5
minutes
For those of us gearing up for Thanksgiving dinners in Hong Kong, this year Thanksgiving falls on Thursday, November 23rd so it's time to start thinking about preparing to order that turkey or booking yourself a restaurant. Here are our favourites for a fabulous Thanksgiving meal in Hong Kong for 2023.
Whether you plan to celebrate the holiday at home or just appreciate some good old-fashioned comfort food out at a restaurant, we've got the best Thanksgiving dinners in Hong Kong lined up for you.
Bookmark this page and keep an eye out as we continue to update our list with the best Thanksgiving dinners in Hong Kong. 
Thanksgiving Dinners in Hong Kong: Eating Out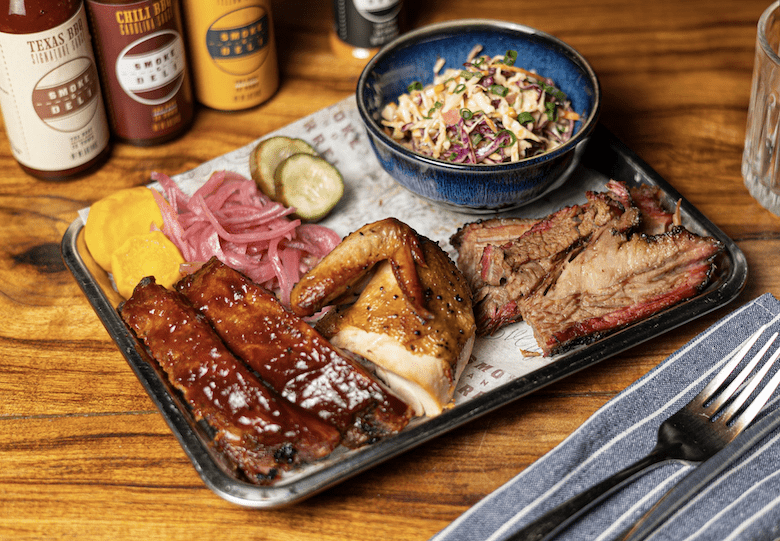 Smoke & Barrel creates rich hickory wood smoked, traditional Texas-style BBQ with their imported wood-fired smoker. Here you'll experience exceptional, full-flavoured meats cooked slow n'low and smoked in-house. Indulge in a world-class spread on the festive Thanksgiving menu. Start your meal with roasted tomato and honey corn salad, BBQ drumsticks and 12 hour smoked brisket carpaccio. Mains include smoked turkey breast or a smoked meat platter. On the side – mashed potatoes, fried Brussels sprouts and cabbage, roasted carrots and jalapeño cornbread. Save room for pumpkin pecan pudding or All-American cheese cake!
Cost: $528 HKD (free flow option for an additional $248)
Address: 1-2/F, 32 Wyndham Street Wyndham Mansion, Central, Hong Kong, (+852) 2866 2120, hello@smokeandbarrelhk.com
La Paloma
For a Spanish-style Thanksgiving feast this year, head to La Paloma for its one-night-only Thanksgiving Dinner Set Menu (23 November). Start off with tapas like lobster brioche with trout eggs, prawns flambé with brandy, chorizo and padron skewers, Iberian ham shoulder and La Paloma's signature Bombas—traditional spicy potato and beef balls. Yum! After your tapas, tuck in to the traditional Thanksgiving centrepiece, wood-roasted organic turkey, complemented by a selection of classic sides like stuffing, Brussels sprouts with pancetta, roasted vegetables, cranberry sauce, house-made gravy, mashed potatoes, and a classic endive salad with apple and walnuts. Be sure to save some space for pumpkin and pecan pie served with vanilla ice cream. 
Cost: $398 HKD per person
Address: 1/F, 189 Queen's Road West, Sai Ying Pun, Tel: +852 2291 6161 
Partake in a festive, gourmet Thanksgiving at Henry from 23 – 25 November. Indulge in a la carte appetisers like Oyster Rockefeller with herbed breadcrumb, spinach, truffle mornay, parmesan cheese, and pork belly, and a rich Lobster Bisque with cognac, cream, Amur caviar and lobster toast. Follow up with Herb Roasted Turkey or a Smoked Prime Rib with chanterelle mushrooms then enjoy your dessert of Chef Mario's Pumpkin Cheesecake with candied pecans, whipped cream, and aged sherry vinegar. For reservations contact: hongkong.restaurants@rosewoodhotels.com.
Cost: Al a carte from $138 – $898 
Address: Level 5, Rosewood Hong Kong, 18 Salisbury Road, Tsim Sha Tsui, Hong Kong, +852 33891 8732 
Thanksgiving Dinners in Hong Kong: Eating In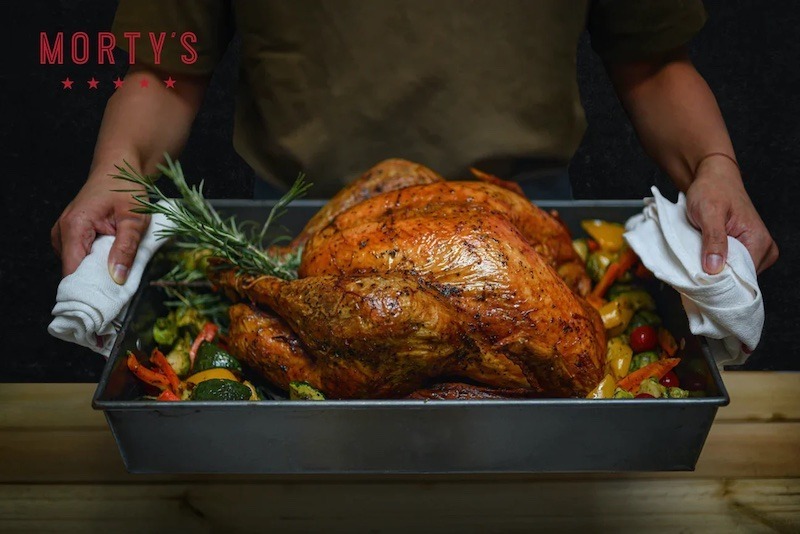 Sit back and relax with friends and family at home, enjoying a perfectly amazing made-to-order feast from Morty's. From roast turkey to prime rib, or honey glazed ham and apple pies, Morty's made-to-order selections have your Thanksgiving feast under control.
Cost: Prices start from$1,988 HKD, and orders must be placed 5 days in advance
Delivery: Pick up or delivery options, Limited Quantities are available so Pre-order Now!
Celebrate with the ultimate Thanksgiving Festive Turkey Set which includes a herb smoked, whole roasted turkey (big enough to feed 8+ people) with all the trimmings. The only thing you need to be worry about is saving room for dessert. Get delivery from 18 – 25 November
Cost: $2,800 HKD 
Delivery: Order online and choose your delivery date
Can't make it to Smoke & Barrel in person? Why not order the whole meal to enjoy at home? Sit back and give thanks to delivery! Check out their impressive Turkey Takeaway menu
Cost: $2,300, advance booking required
Delivery: +852 2866 2120, hello@smokeandbarrelhk.com
If you're after a high quality free range Australian turkey, Steggles turkeys from Feather and Bone are your best bet! These turkeys live a happy, free roaming life, eat a natural grain diet, and are not given hormones or growth stimulants. The results are healthy, delicious turkeys for your festive table. Frozen turkeys take up to 36 hours to defrost so be sure to plan ahead.
Cost: Start from $768 HKD
Delivery: Free for orders over $500 HKD
Ammo is bringing all the highlights of Thanksgiving to your home. The Party Turkey set (suitable for 6 – 8 people) includes a 5kg roasted turkey with stuffing, and all the trimmings. Or order the turkey and sides a la carte.
Cost: Prices start from $1,598 HKD
Delivery: Pick up and delivery options available
If you want an amazing Thanksgiving turkey with all the trimmings but none of the mess in your kitchen, let MO deliver! The Mandarin Oriental will be celebrating Thanksgiving with its annual spread, prepared with care by the hotel's award-winning culinary team. Enjoy your Thanksgiving feast with family and friends at home with delivery or pick up. 
Cost: Prices start from $3,388 HKD 
Delivery: https://hongkong.mandarinorientalshop.com/products/thanksgiving-feast
Offering a taste of Rosewood at home, HENRY's butcher shop features the highest-grade meats straight from American ranches. For Thanksgiving, HENRY's butcher shop has prepared a HENRY BBQ GRILL SET, a curated selection of the butcher's finest offerings including 44 Farms Ribeye (400g), 44 Farms NY Strip (300g), half-rack Berkwood Farms Baby Back Ribs (300g), whole marinated chicken (1.1kg), 4 pieces dry aged beef burger patties (225g each), asparagus (250g), broccolini (160g), assorted pickled vegetables, HENRY BBQ Sauce Set including American BBQ sauce, Bloody Mary Ketchup, Louisiana Hot Sauce (150ml each), and Maldon smoked sea salt (125g). Enhance the Thanksgiving feast with a bottle of Château Sainte-Marguerite, Symphonie, Côtes-de-Provence Rosé, a fresh and zesty choice of wine pairing with an elegant nose of white peach, grapefruit, and star anise.
Cost: $1,998 HKD, advance booking required
Delivery: Contact hongkong.onlineshop@rosewoodhotels.com or +852 3891 8818.
Regal Hotels
If you're after a special festive turkey, check out the range on offer from Regal Hotels. From traditional to modern, Regal is bringing you the goods to prepare a Thanksgiving and Christmas feast to remember. In addition to the 6kg Traditional Roasted Turkey (HK$1,688) with chestnut stuffing, cranberry sauce and gravy, there's a Dried Meat & Glutinous Rice Stuffed Turkey (HK$1,688) which is delicately crafted with Chinese sausages and Chinese mushroom and a Black Truffle and Morel Rice Stuffed Turkey (HK$2,288), filled with mouth-watering truffles. Available to order from 4 November till 29 December, 2022 from Regal Hotels. Be sure to book 3 days in advance. Early bird savings up to 24% on or before 19 December 2022. 
Cost: $1,288 – 1,788 HKD, advance booking required
Delivery: Available to order from 4 November till 29 December, 2022
Thanksgiving Dessert Options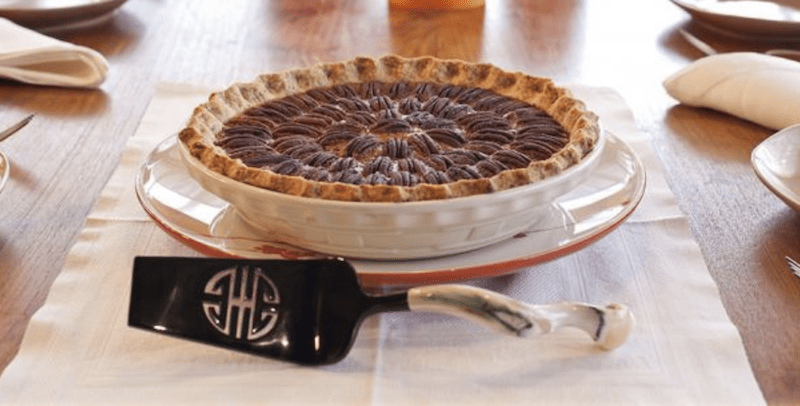 Tai Tai Pie Pies
If it's a more traditional All-American pie you're after for Thanksgiving dessert, Tai Tai Pie Pies is the place. You can find their fresh, delectable pies at Great Food Hall Pacific Place Mall.
Contact: https://www.taitaipiepies.com/
It wouldn't be Thanksgiving without some pies to top off the meal. For classic pumpkin pie, apple pie and pecan pie head over to Dang Wen Li by Dominique Ansel. 
Cost: Pre-orders available, Prices start from $258 HKD
Delivery: Available at all Dang Wen Li shops
The Cakery
If you're after a special Thanksgiving dessert, head over to The Cakery for one of their gorgeous Fall Collection pies. Choose from pecan or apple. Or grab a Thanksgiving Feast Hamper filled with vegan and organic goodies, perfect for any Thanksgiving celebration. 
Cost: Prices start from $388 HKD
Delivery: Pick up in store or choose delivery
We hope our guide to Thanksgiving dinners in Hong Kong takes the stress out of the day, so you can focus on giving thanks!
Main photo courtesy of Shutterstock, photo 1 courtesy of Smoke & Barrel, photo 2 courtesy of Morty's, photo 2 courtesy of Tai Tai Pie Pies
Related Articles: