Reading Time:
4
minutes
Thanksgiving falls on November 25 this year and while we still may not be able to travel easily, we can still enjoy some home comforts! We've rounded up our favourite spots to indulge in Thanksgiving dinners in Hong Kong for 2021. Whether you celebrate or just appreciate some good old-fashioned comfort food, there's something for everyone.
Bookmark this page and keep an eye out as we continue to update our list with the best Thanksgiving Dinners in Hong Kong. 

Eating Out
You can always count on Smoke & Barrel to bring on the flavour with their big eats. For Thanksgiving, expect the usual favourites of turkey and mash with some surf thrown in, all topped off with pumpkin pie and salted caramel cobbler. 
Cost: $488 HKD with free flow option 
Address: 1-2/F, 32 Wyndham Street Wyndham Mansion, Central, Hong Kong, (+852) 2866 2120, hello@smokeandbarrelhk.com
Enjoy Thanksgiving lunch, brunch or dinner at Lawry's The Prime Rib on 26 November. With lots on offer, from turkey, to surf & turf and free flow add ons!
Cost: Prices start from $328 – $568 HKD
Address: 3/F, The Galleria, 9 Queen's Road Central, Central, HK, +852 2907 2218, lawryshk@maxims.com.hk
Available from 26-27 November, Kinship will be hosting a Thanksgiving dinner with turkey, sides and apple pie crumble. For those looking to draw out the festivities, head over to the Thanksgiving brunch from 28-29 November.
Cost: Prices start from $388 HKD
Address: 2 Shelley Street, LL Tower, Central, Hong Kong, +852 2520 0899
Experience a three-course extravaganza from Henry this Thanksgiving. Choose from delicious appetisers, including oysters, devilled eggs and lobster, paired with traditional roast turkey mains, and plenty of sides and for dessert, pumpkin cheesecake, and apple pecan crisp. For reservations contact: hongkong.restaurants@rosewoodhotels.com
Cost: $1198 HKD per person availab
Address: Level 5, Rosewood Hong Kong, 18 Salisbury Road, Tsim Sha Tsui, Hong Kong, +852 33891 8732

Eating In
Let Porterhouse do all the hard work for you with their oven-baked turkeys, and sides delivered to your table.
Cost: $1,980* HKD *Special pre-order price originally $2,200 HKD
Delivery: From November 22 – 28 2021
Can't make it to Smoke & Barrel in person? Why not order the whole meal to enjoy at home? Sit back and give thanks to delivery!
Cost: $1,888HKD, 48 hours advance booking required
To book contact: +852 2866 2120, hello@smokeandbarrelhk.com
The Mandarin Oriental will be celebrating Thanksgiving with its usual annual spread, prepared with care by the hotel's award-winning culinary team. Enjoy a holiday feast with family and friends that can be picked up or delivered anywhere in the city. 
Cost: Prices start from $2,998 HKD for orders placed before 19 November 2021
Delivery: Delivery between 16 – 30 November 2021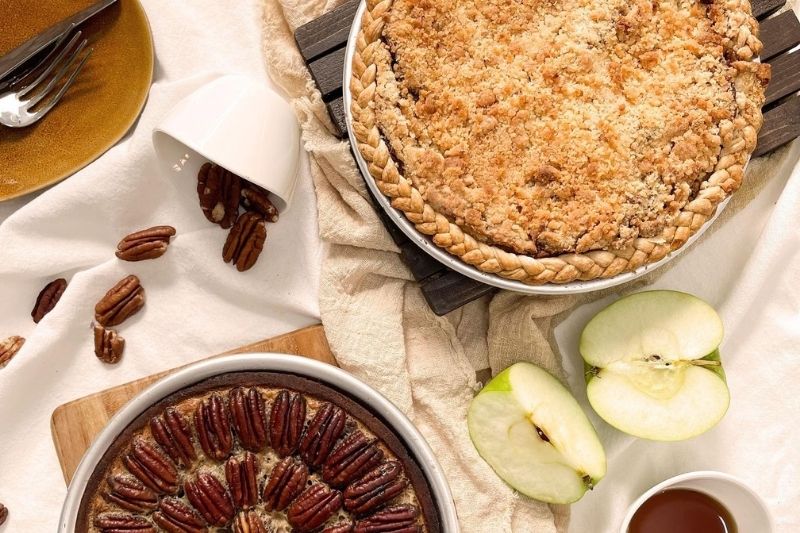 Pre-order your Thanksgiving turkey with The Rosewood now and enjoy a 10% early bird discount offer. Receive a 6kg Turkey, with all the trimmings, allowing you to sit back and enjoy.
Cost: $2,599 HKD, 3 days advance booking required
Delivery: Order before 14 November for 10% discount and complimentary delivery. Delivery and pick up available from 24 – 26 November.
The Cakery
Not too keen on making your own desserts? Head over to The Cakery for their home-style vegan apple crumble and the classic pecan pie, which is also keto-friendly.
Cost: Prices start from $360 HKD
Delivery: $100 HKD on the island, $200 HKD for Kowloon and $300 HKD N.T.
Celebrate with the ultimate Thanksgiving Dinner in Hong Kong with a whole turkey set from Big Sur, big enough to feed 6 – 8 people, served with all the trimmings. The only thing you need to be worry about is saving room for dessert.
Cost: $2,100 HKD early bird offer before November 14
Delivery: Free pick up or delivery starting from $250 HKD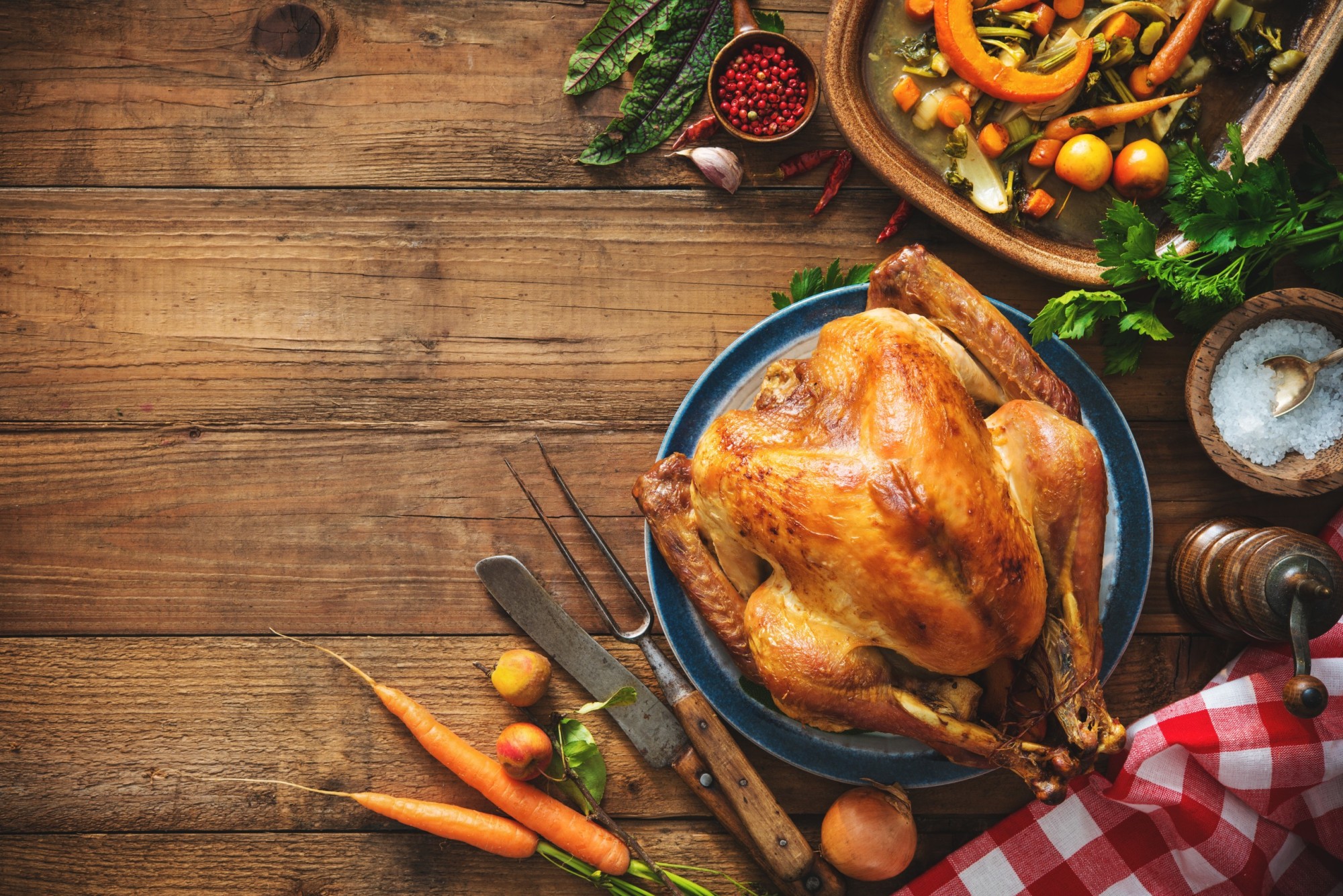 Ammo is bringing all the highlights of Thanksgiving to your home. The Party Turkey set (suitable for 8 people) includes a 4.5kg roasted turkey with stuffing, and all the trimmings. The Party Prime Rib Set comes with rosemary roasted 120 day grain-fed prime rib with gravy and all of the sides.
Cost: Prices start from $2,280 HKD
Delivery: Pick up and delivery options available
It wouldn't be Thanksgiving without some pies to top off the meal. For classic pumpkin pie, apple pie and pecan pie head over to Dang Wen Li by Dominique Ansel. 
Cost: Pre-orders available until 10 November, Prices start from $268 – $288 HKD
Delivery: Available at all Dang Wen Li shops
Gather together with friends and family, with a no-fuss feast from Morty's. Indulge in made-to-order selections featuring Whole-Roasted Turkey, US Bone-in Prime Rib or Honey-glazed Ham.
Cost: Prices start from$2,780 HKD, and orders must be placed 5 days in advance
Delivery: $80 HKD on Hong Kong Island, and $180 for Kowloon and South Side
Buy a Steggles turkeys from Feather and Bone. These turkeys live a pretty happy life, free to roam about in large barns, getting on with their turkey business. They eat a natural grain diet and are not given hormones or growth stimulants. This results in healthy, delicious meat for your festive table. It's a once-a-year kind of meal, so it's worth investing in a quality bird and putting in the effort to cook it just right.  
Cost: Start from $658 HKD
Delivery: Free for orders over $500 HKD
We hope that this guide of Thanksgiving dinners in Hong Kong takes the stress out of the day, so you can focus on giving thanks!
Main photo courtesy of Shutterstock; photo 1 courtesy of Big Sur, photo 2 courtesy of Shutterstock; photo 3 courtesy of The Cakery; photo 4 courtesy of Shutterstock.
Related Articles: