Reading Time: 9 minutesNo visit to Hong Kong would be complete without trying dim sum. And if you've lived in Hong Kong for awhile you no doubt already have a favourite dim sum restaurant. Dim Sum is an institution in Hong Kong, and very much part of it's culture. We've rounded up the very best dim sum restaurants Hong Kong has to offer, from traditional venues, to great family friendly places, and some date night picks, we've also got listed some dim sum classes if you fancy making them yourself!
How much is Dim Sum in Hong Kong?
The cost of dim sum can be very varied in Hong Kong. In most traditional Cantonese restaurants that serve dim sum, you can pay per basket, which usually contains two or four pieces, and the costs starts from around $20 to $40 HKD. In more expensive restaurants the prices can start from $90 and up.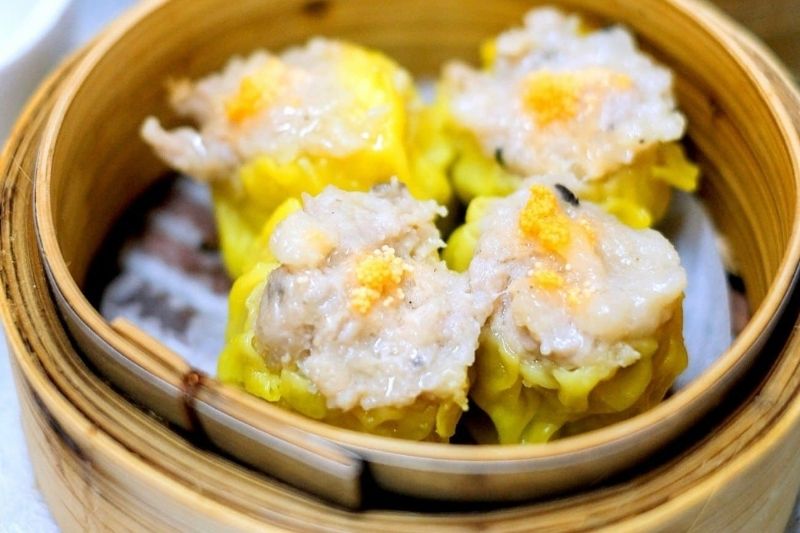 What are the best Dim Sum to order in Hong Kong?
There are SO many delicious dim sim to choose from. If you're new to dim sum here are some of our favourites to try.
Shu Mai – Generally filled with a blend of pork and shrimp with mushrooms, ginger, scallions. Some variations even include water chestnuts or crab. steamed shrimp and pork dumplings with crab roe.
Xiao Long Bao – aka the soup dumpling is a must try dim sum! Traditionally filled with pork (however you can try many different versions) and characterised by the soup inside. During steaming the broth inside liquefies, poaching the pork in a savory soup. As the dumplings cool, the broth solidifies so they need to be eaten quickly, but be careful not to scald your mouth!
Char Siu Bao – This sweet and salty barbecue pork bun is either steamed or baked. The baked Bao is usually glazed with a honey syrup, and the steamed version is fluffy like a cloud.
Char Siu So – This is also made with barbecued pork and comes in a flaky and buttery pastry topped with sesame seeds.
Har Gow – Essentially a shrimp dim sum, the skin is translucent and you can see the texture of the shrimps inside.
Beef balls – A common Cantonese dim sum dish and very popular in Hong Kong. Steamed meatballs typically made with beef, water chestnuts, coriander and lots of seasoning.
Chicken Feet – Whilst these may not sound instantly appealing, chicken feet are an iconic dim sum. The texture can be a little rubbery, but the taste is spicy, sweet, and salty.
Rice rolls (also called Cheung Fun) – These semi translucent rice noodles are simple but delicious smothered in soy sauce. You can get them with out without a filling and are usually a hit with the kids!
Bean Curd Sheets – Tofu skin roll or Tofu roll is a dim sum dish. It can be found in Hong Kong and among overseas Chinese restaurants. It is usually served in a small plate in twos or threes. In all cases, the outer layer is made of tofu skin.
Radish Cake – They can be eaten pan fired or steamed and taste great with soy sauce splashed over them.
Custard Buns (also called Mai Wong Bao) – For something sweet, these steamed custard buns are a Cantonese dim sum favorite. They have a semi sweet, creamy custard centre encased in a fluffy bun.
Best for Families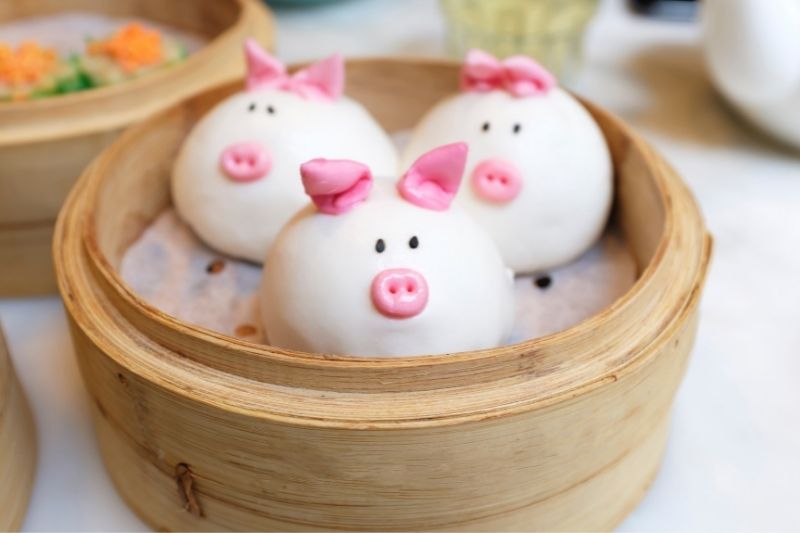 Yum Cha combines traditional Chinese cuisine with a modern twist. A place for family and friends to gather over dim sum and tea. With an inviting East meets West décor, the hanging birdcages are reminiscent of old tea houses and the menu covers all the Dim Sum favourites. The kids will especially love the piggy BBQ pork buns, and the hot custard bun faces that look like they are vomiting! With multiple locations across Hong Kong.
Website: www.yumchahk.com
Fun Shing 1954
Fun Shing 1954 has branches in Sheung Wan, Causeway Bay, Tsuen Wan and Kowloon Bay. The main attraction is the "creative dim sum" that kids will love, particularly the pig buns and custard buns. Website: www.fungshinghk.com
With an impressive dim sum menu, that is constantly evolving, dim dum Library is a great find for a family meal out. Conveniently located in Pacific Place and Elements, be sure to sample their NEW Har Gau series, or make a reservation for their unlimited dim sum dinner priced at $337 per person. Don't leave without trying the Wagyu beef puff with black pepper and the Dan Dan Xiaolong Bao. Website: www.dimsumlibrary.com.hk Contact: Pacific Place: +852 3643 0088  or call Elements on: +852 2810 0898.
Combine a magical day at Hong Kong Disneyland with a round up of delectable dim sum for the kids to enjoy at the Plaza Inn. The Cha Cha room features popular Chinese comfort food, and dim sum favourites include shrimp dumplings, egg custard buns and Mickey-shaped coffee puddings. Address: Hong Kong Disneyland Park Main Street. Contact: +852 2162-5010
Kids will have a blast trying the fun dim sum at The Social Place. With it's little bear bun', 'charcoal custard buns', and piggy shaped caramel pudding to name a few. They also have a dim sum platter if you fancy trying a selection of recommended dim sum, and a menu with lots of larger dishes. With four locations across the island, in Central, TST, Tsuen Wan and Sha Tin, the restaurants are spacious and family friendly.
Website: http://socialplace.hk
Founded over 25 years ago, Crystal Jade is a Singapore based brand which boasts a Michelin Star and is a staple go to in Hong Kong. With a wonderful selection of local dishes and excellent dim sum. they have also recently launched a plant-based menu called "Crystal Green", developed alongside with Hong Kong's Green Monday. Dishes will be made from OmniPork, Beyond Meat and Heura. Website: www.crystaljade.com.hk
You might also like: Your Guide to Plant-Based Foods & Meat Alternatives in Hong Kong
For a quintessential dim sum experience, Maxim's City Hall is the place to go. Established since 1980, and decorated with elaborate pillars and dragon motifs, the restaurant is located on the second floor of Hong Kong's City Hall, and does not take bookings, so expect to queue. Locals and travelers alike flock to Maxims to sit amongst the hustle and bustle of the main dining hall, as dim sum carts zoom around serving up a variety of dim sum. Address: Hong Kong City Hall, 2/F Low Block, Central. Contact: 2521 1303
Hotel Icon – Above & Beyond
Located inside Hotel Icon with views of Victoria Harbour. Dim Sum highlights include the Steamed Lobster Dumplings with Salmon Roe, Steamed Pork Dumplings with Soft-boiled Quail Egg. Address: Location: Level 28, Hotel Icon, 17 Science Museum Road Tsim Sha Tsui East, Kowloon, Hong Kong. Website: www.hotel-icon.com/dining/above-beyond Contact: Email: book.restaurant@hotel-icon.com
For a taste of Taiwan head over to Michelin star Din Tai Fung. A family friendly restaurant with a diverse dim sum menu. Be sure to try the black truffle and pork Xiao Long Bao as well as their delicious steamed dumplings. With five branches across Hong Kong there is plenty of venues to try. Website: www.dintaifung.com.hk
Contact: info@dintaifung.com.hk
You may also like: NEW Family Friendly Restaurants in Hong Kong

Best for Traditional
Luv Yu Tea House
Dating back to the 1930s this long-running Chinese restaurant is one of the most historic in Hong Kong. Decorated in antique furniture, with white tablecloths and art deco details, the restaurant stretched over 3 floors and serves Cantonese tea & dim sum. Regulars and locals are seated on the elegant ground floor dining area, while tourists are usually sent upstairs! Website: www.lukyuteahouse.com Address: G/F-3/F, 24 Stanley Street, Central. Contact: +852 2523 5464.
You cannot get more authentic and local then Saam Hui Yaat in Sia Ying Pun. A place where locals get their breakfasts and everyone knows your name. The five chefs have been in the industry since they were teenagers and still get up at 3m for work! Offering 12 varieties of dim sum the menu remains unchanged since they opened. Everything is made fresh by hand, and spot is a community hang out for locals, the elderly and students. Address: Sai Ying Pun, 11 Pok Fu Lam Rd, Contact: +852 2547 3917.
Another Hong Kong institution from the 1920's, offering classic Cantonese dishes and a truly unique experience with waiters pushing around ancient dim sum trollies. Top tip, don't wait to be served, head on over to the waiter and order from them as soon as you see the food, as it runs out quick! their signature Lin Heung Peking duck is also a must try. Address: 40-50 Des Voeux Rd W, Sheung Wan. Contact: +850 2156 9328.
Ranked 25 in Asia's 50 Best Restaurants 2020. Seventh Son celebrates Cantonese cuisine in an elegant setting. Head chef Chui Wai Kwan comes from a family of celebrated Chinese cooks. The food is classic and serves up traditional dim sum. Website: www.seventhson.hk Address: 57-73 Lockhart Rd, Wan Chai. Contact: +852 2892 2888
Often referred to as "the world's cheapest Michelin-star restaurant", Tim Ho Wan now has franchises in 12 countries. Started by Chef Mak Kwai Pui, formerly of Lung King Heen restaurant in Hong Kong's Four Seasons Hotel. The restaurant is known for its signature BBQ pork buns, and all the dim sum is a must try. Not one to miss.
If you're looking for very good dim sum, at very reasonable prices then One Dim Sum should be on your list. The Michelin restaurant is no frills, but the menu is simple and the place is always crowded so get ready to queue. They have all the iconic dim sum you could want, from Har Gao, to Siu Mai and everything comes out very quick, and streaming hot and fresh. Website: www.timhowan.com.hk Address: G/F, 209A-209B Tung Choi Street, Prince Edward. Contact: +852 2677 7888
Part of the Kennedy town neighbourhood for than 30 years. Sun Hing opens at 3am every day, a place for early risers, taxi drivers and students burning the midnight oil. Head over for hot steaming dim sum and local Cantonese cuisine. Don't forget to try the Salted egg custard bun. Address: Shop C, G/F, 8 Smithfield Road, Kennedy Town. Contact: +852 2816 0616
Best for Date Night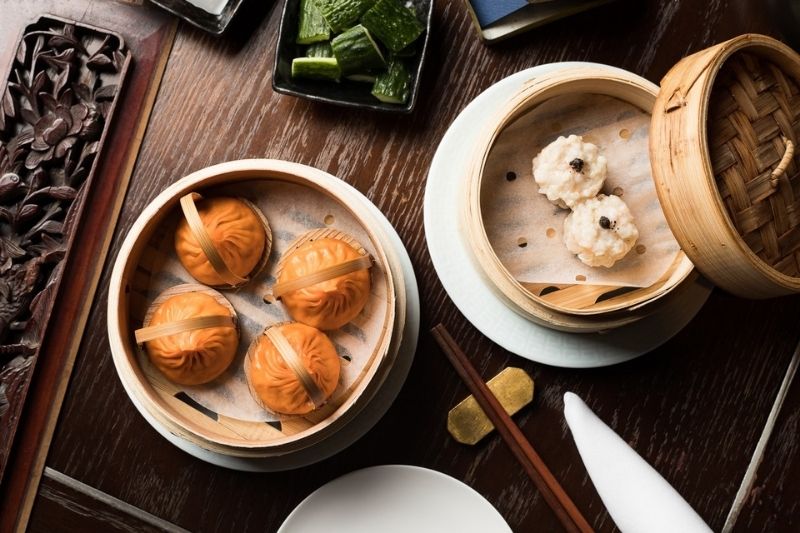 "Mott 32" pays homage to 32 Mott Street in New York, where the city's first Chinese convenience store opened in 1891. The contemporary Chinese restaurant located in Central is a perfect date night spot. the interior is opulent and the food is not to be missed. Their dim sum melts in the mouth and the signature pekin duck is outstanding. Website: https://mott32.com/hk/ Address: Standard Chartered Bank Building, 4-4A Des Voeux Rd Central, Central. Contact: +852 2898 3788 reservations@mott32.com.
Located in The Peninsula, Spring Moon is a Michelin-starred Cantonese restaurant, with beautiful interiors, stained glass windows, a the tea bar, with a wall of antique tea pots and mellow lighting, perfect for a intimate dinner. Specialties include dim sum, seafood and the restaurant's XO sauce made from a secret recipe. The dim sum is classic and features favourites like barbecued pork puff and steamed lobster and shrimp dumpling with a refined twist. Website: www.peninsula.com Address: The Peninsula Hong Kong, Salisbury Road, Kowloon Hong Kong. Contact: +852 2920 2888.
With gorgeous views of the Harbour, Hutong is a special occasion restaurant. The dark, atmospheric interior sets the tone for an intimate dinner, offering a modern interpretation of traditional and authentic Chinese cooking. Website: https://hutong.com.hk Address: 28/F, 1 Peking Rd, Tsim Sha Tsui. Contact: +852 3428 8342
Helmed by Executive Chef Lau Yiu Fai, who has over 30 years of experience with the hotel, Yah To Heen is a Michelin Star, serving traditional Cantonese dishes with a modern flair. Address: Lower Level, InterContinental Hong Kong, 18 Salisbury Road, Kowloon, Hong Kong (accessible via K11 Musea, ground floor).
Located in the Four Seasons Hong Kong, the Michelin three-star Lung King Heen serves up Chinese food with an elegant flair. Dim sum is only available at lunch so be sure to book well in advance. Address: Four Seasons Hotel, 8 Finance St, Central.
Celestial Court Chinese Restaurant offers dim sum over lunch. Located in the Sheraton, must try dim sum includes, the steamed char siu baos, vegetarian spring rolls and crispy squash. Address: 2/F, 20 Nathan Road, Kowloon, Hong Kong. Contact: +852 2369 1111
A unique dim sum experience set inside Hong Kong park. Tea is the king at this restaurant but the selection of vegetarian dim sum is not to be missed. A truly beautiful interior offering a very different calming dining experience.  Address: G/F, The K.S. Lo Gallery, Hong Kong Park, 10 Cotton Tree Drive, Admiralty. Contact: +852 2801 7177.
You might also like: 10 Unique Hong Kong Experience Gifts for Him and Her
Dim Sum Classes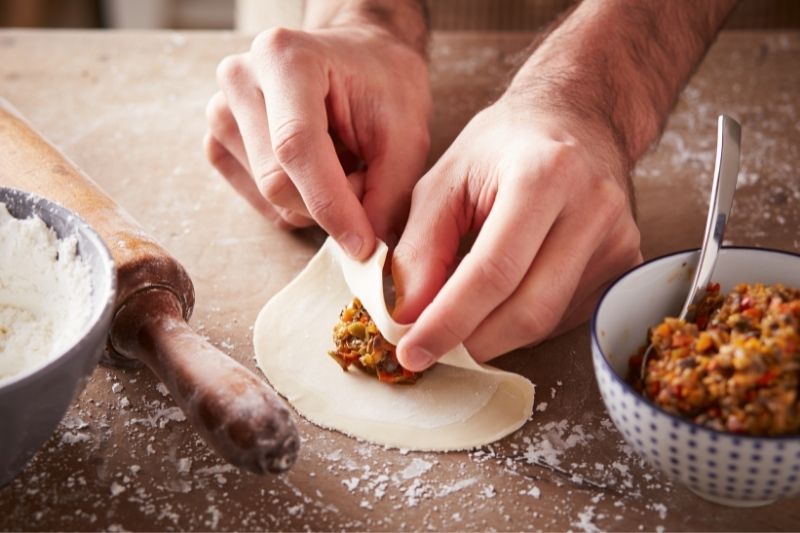 Organic Dumpling Workshop from Market Walk to Kitchen – Learn to make traditional Dim Sum with Felicity using the skills she picked up from her mum as a child. The class also includes a local market visit to buy the freshest ingredients, and you might even pick up a little Cantonese! Learn to make handmade wrappers and fill with organic Black Iberian Pork (veg and fish options also available). All classes can be tailored.
Duration: 2 hours
Location: Shau Kei Wan
Price: Starting from $500 HKD
Yum Cha – You can book a private dim sum class with afternoon tea at Yum Cha. Learn to make hot custard buns and siu mai. Workshops are in Cantonese with English translation if required. To book contact central@yumchahk.com or call + 852 3708 8081
Duration: 2 hours
Location: Central
Price: Starting from $550 adults and $350 children (ages 2-12).
Cordis Hong Kong – Stay and dine at the Cordis with this one of a kind dim sum staycation. Indulge in some Cantonese cuisine at Michelin-starred Ming Court, and learn how to make Ming Court's signature dim sums with an expert local Chef.  This staycation is available for two adults and one child, with prices starting from $1,798.
Main photo courtesy of Shutterstock; photo 1 courtesy of misstamchiakblog, photo 2 courtesy of Shutterstock, photo 3 courtesy of ewenkahryu Instagram, photo 4 courtesy of Mott32 FB, photo 5 courtesy of Shutterstock.
Related Articles: