Reading Time:
7
minutes
Mid-Autumn Festival is almost upon us, and that means there will be an abundance of mooncakes on the horizon. At Mid-Autumn Festival families eat mooncakes together as the full moon symbolises prosperity and reunion for all, a wonderful sentiment for what has been a challenging few years for the world. The festival falls on September 21st 2021 this year and in anticipation we've rounded up our favourite places to find the best mooncakes for Mid-Autumn Festival 2021. Happy Mid-Autumn Festival to everyone.
Check out The Cakery's vegan and gluten-free mooncakes, beautifully packaged in an elegant Chinoiserie gift box which lights up in the centre like a lantern. The four creative mooncake flavours are gluten-free, vegan, and made without any food colouring, making them much lower in sugar. The box includes: Black Sesame Lava, Mango Bean Paste Lava, Jasmine Raspberry and Taro Bean. Priced at HK$628 per box of 4, with discounts available for bulk orders. Order online or in store.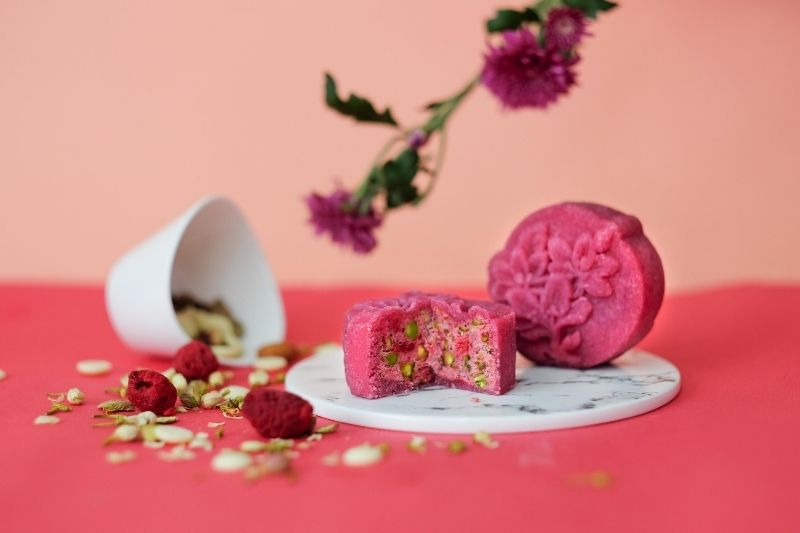 This Mid-Autumn Festival, Master Chef of three Michelin-starred T'ang Court, presents two classic mooncake flavours, White Lotus Seed Paste with Double Egg Yolks and Mini Custard with Egg Yolk, all presented in a beautiful wooden pink peony jewellery box. Prices start from $548 for 4 White Lotus seed mooncakes and $518 for 6 of the Mini custard egg yolk mooncakes. Orders can be placed online.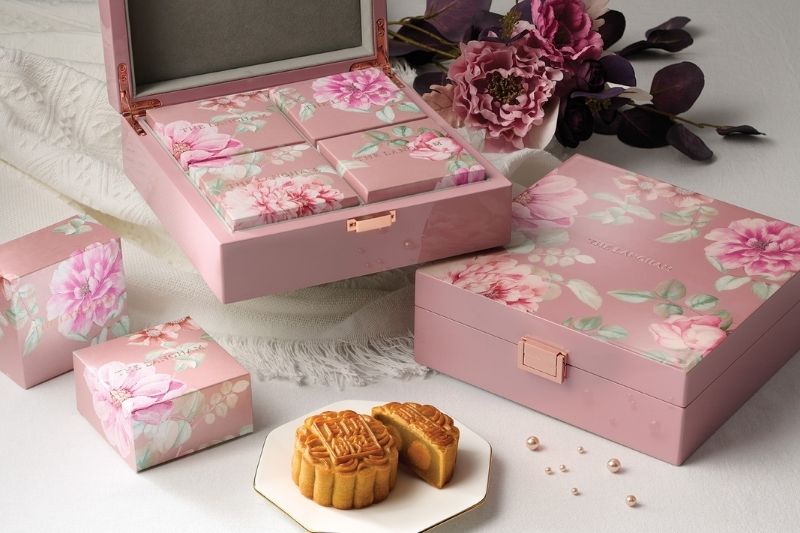 The Peninsula Hong Kong offers classic simplicity this Mid-Autumn Festival with its homemade mini egg custard mooncakes in an exquisite gift box, inspired by Art Deco design, and limited edition heart-shaped mini egg custard mooncakes. If you fancy something a little more grand, the Deluxe Gourmet Hamper, featuring a box of limited edition mini egg custard mooncakes and an array of seasonal delicacies is also available for purchase. Prices start from $580 for (8 pieces), whilst the hamper will set you back $3888. Available for purchase online here while stock lasts.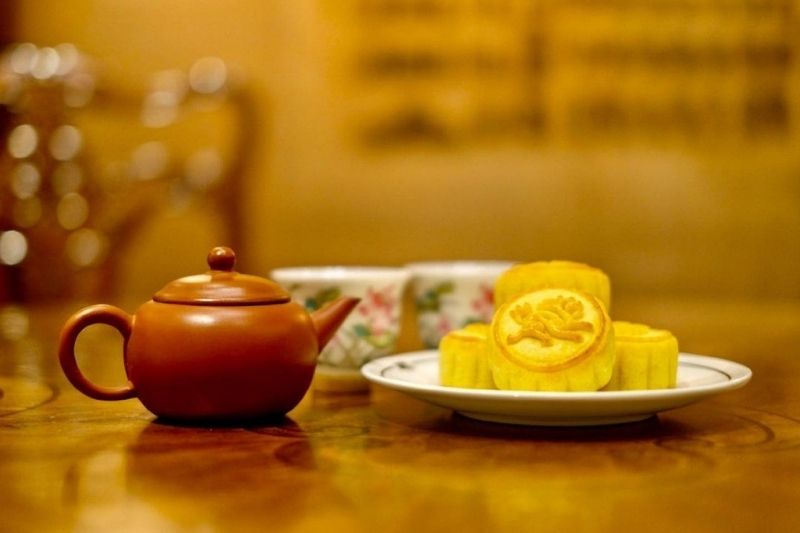 The Rosewood Hong Kong celebrates Mid-Autumn Festival with a mooncake collection by The Legacy House's Executive Chef Li Chi-Wai, and a collaboration with Dashijie.  Celebrating Rosewood's A Sense of Place ® philosophy, the set of four cakes are an interpretation of the classic Cantonese-style mooncake, including yellow lotus seed paste, olive seeds and salted duck egg yolks. With a series of hampers and gifts boxes (made from 100 per cent recycled paper) to suit all needs. Prices start from $458 – $3388. Mooncakes are available for pickup and delivery from 23 August to 21 September 2021 and orders can be placed here.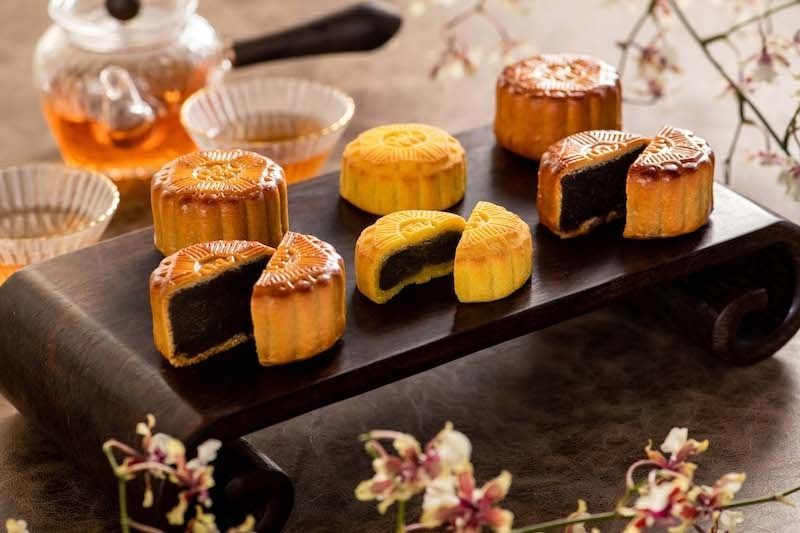 Duddell's has a series of gift boxes and hampers on offer filled with their signature Lava Cream Custard Mooncakes. The gift boxes come in five styles; Signature Gift Box $368, Vegan Signature Gift Box with Tie Guan Yin Mooncakes (6 mooncakes) $428, Limited Edition LED Lantern Gift Box (8 mooncakes) $588, Mid-Autumn Deluxe Gift Hamper $1688 and Mid-Autumn Premium Gift Hamper $3088. Ordered can be collected from 23 August – 20 September and delivery is free on purchased above $4000.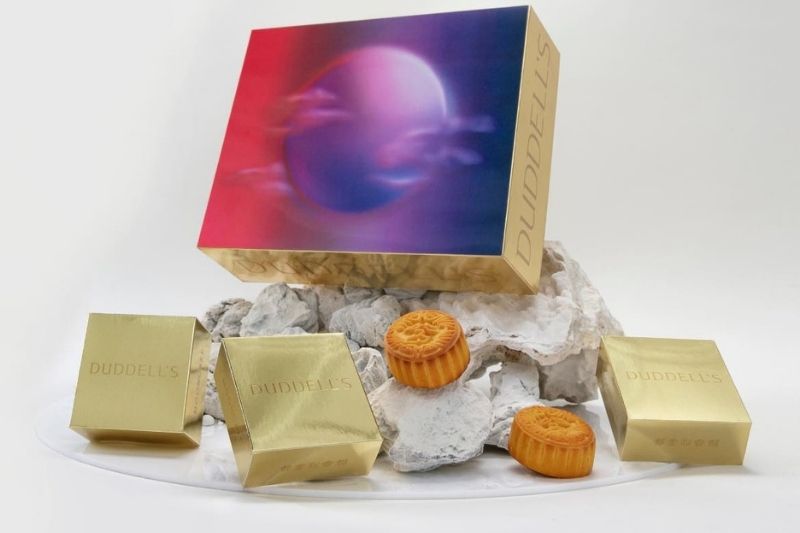 Mastercard cardholders can enjoy up to 50% on selected Saint Honore mooncakes from now until September 21, 2021, at all of its Hong Kong stores. Choose from traditional lotus seed paste to lava custard and snowy mooncakes. Discounts are only available in-store. Check the store locator to find your nearest outlet.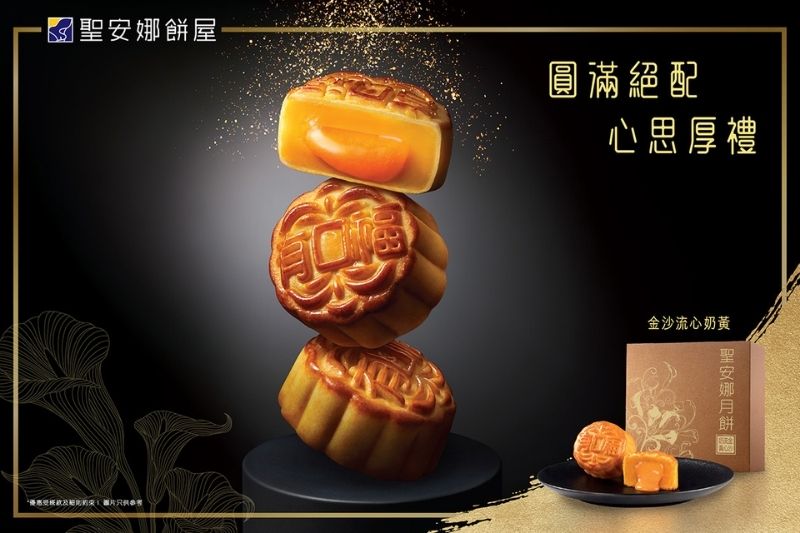 If you're looking for traditional mooncakes these mini egg custard mooncakes from Ying Jee Club are just the ticket, with a crusty golden shell and silky-smooth egg custard filling. Presented in a set of six kept in an elegant teal jewel box, it is a great gift for family and friends. Visit Ying Jee Club in person or WhatsApp 5291 0503 for orders. Prices start from $398 per box and mooncakes will available for collection from 7 to 21 September 2021.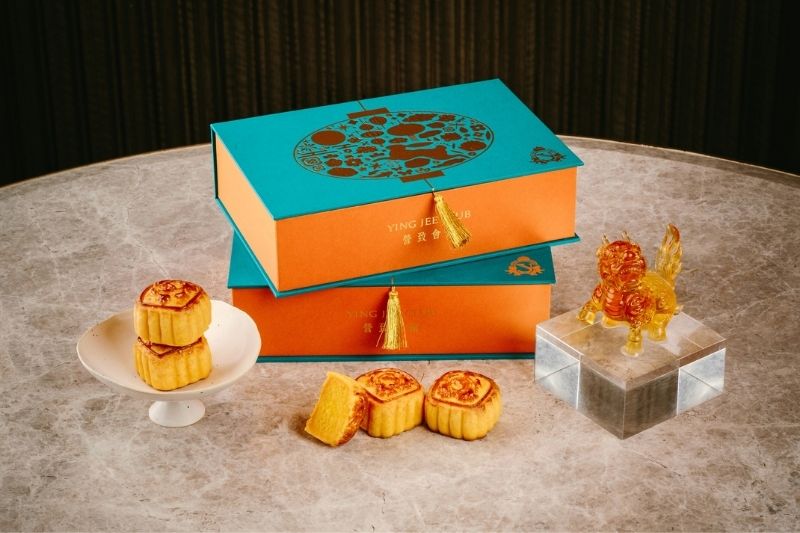 Ali Oli Bakery is paying homage to all animal lovers this Mid-Autumn Festival with their  limited edition People & Pet Mooncake Gift Box ($348), consisting of three mooncakes; Adzuki Bean and Tangerine Peel, Classic Golden Yolk and Espresso Walnut and three chicken-based mooncakes for their pet. In collaboration with local Hong Kong-based artist OH! You Made My Day, the gift box features watercolour paintings of cats and dogs. In addition Ali Oli is also offering the Harmony Mooncake Gift Box ($238) and the Full Moon Mooncake Gift Box ($218) for everyone, featuring four flavours: Pineapple, Azuki Bean and Tangerine Peel, Espresso Walnut and Golden Yolk. For orders contact orders@alioli.com.hk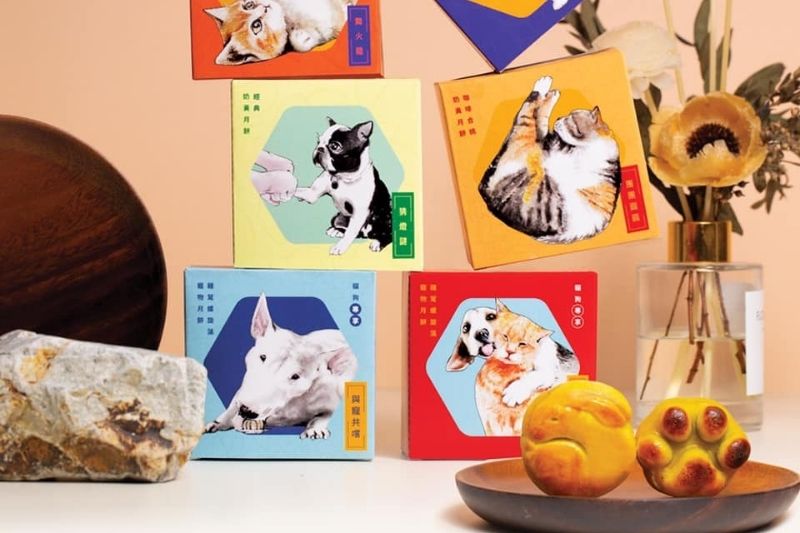 Eat FRESH is partnering with Impact HK this Mid-Autumn Festival with ethically sourced chocolate mooncakes, suitable for vegans and gluten-free. All profits go to projects for those experiencing homelessness. Delivery is free with a special discount of $50 for an Eat FRESH order of fruits and veggies. The mooncake boxes are priced at $380, which includes four mooncakes; Caramel & Walnut and Young Ginger Ganache. Mooncakes can be pre-ordered until 2 September, delivery T&C apply. Visit Eat FRESH for more information and to order. #Kindnessmatters Mooncakes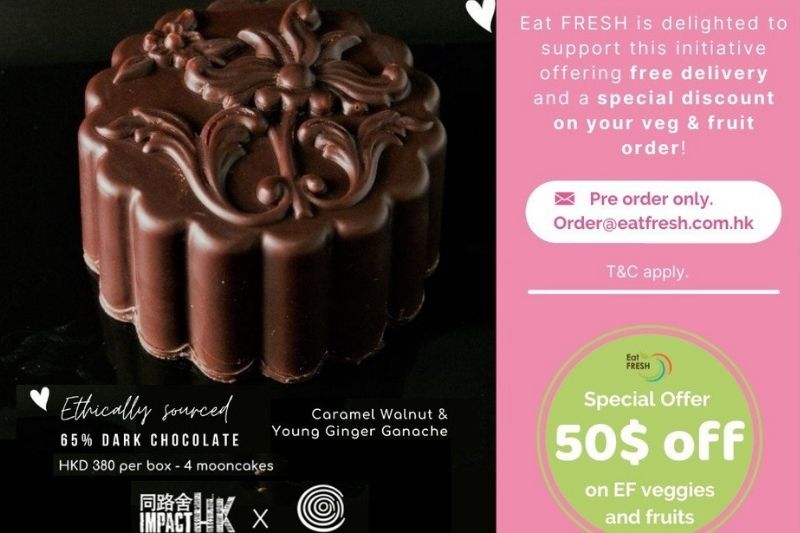 To celebrate this year's mooncake festival, The St. Regis Hong Kong is launching a new collection of mooncakes, presented in bespoke boxes inspired by André Fu's design of the traditional Chinese tea pavilion setting of the hotel's one-Michelin-starred Cantonese restaurant Rùn. Introducing three flavours compromising of: White Lotus Seed Paste with Double Egg Yolks, Mini Red Bean Paste with Aged 15 years Tangerine Peel and Mini Assorted Caramel Nuts Mooncake, with a complementing crafted tea selection. From now until 20 September 2021, the mooncakes will be available for purchase online at e-boutique or in-person at Rùn. Guests can also enjoy early bird promotion purchases made before 25 August. For more enquiries and orders contact +852 2138 6808.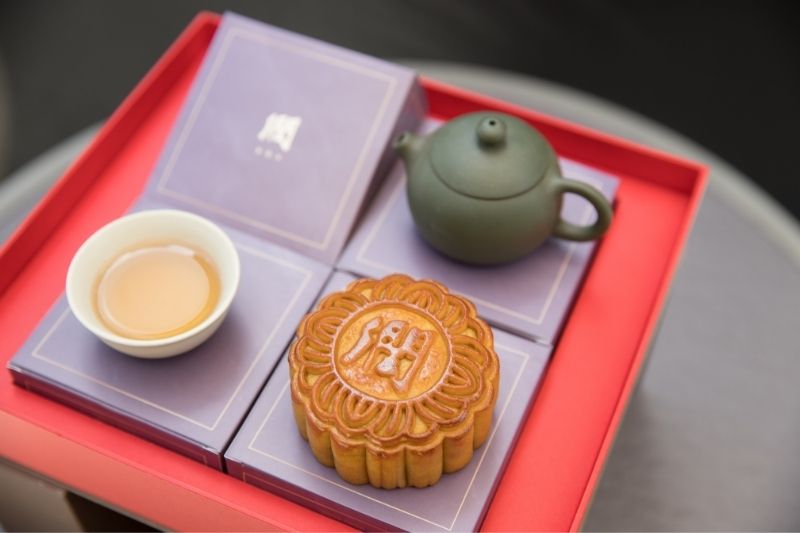 Celebrate the Mid-Autumn Festival with Mandarin Oriental, Hong Kong, and their beautiful collection of gift boxes and hampers to suit all needs. The iconic fan shaped gold boxes are filled with a range of traditional mooncakes and specialty flavours, including lava chocolate and red bean paste with dried tangerine peel. Prices range from $418 – $4188 and can be purchased online here.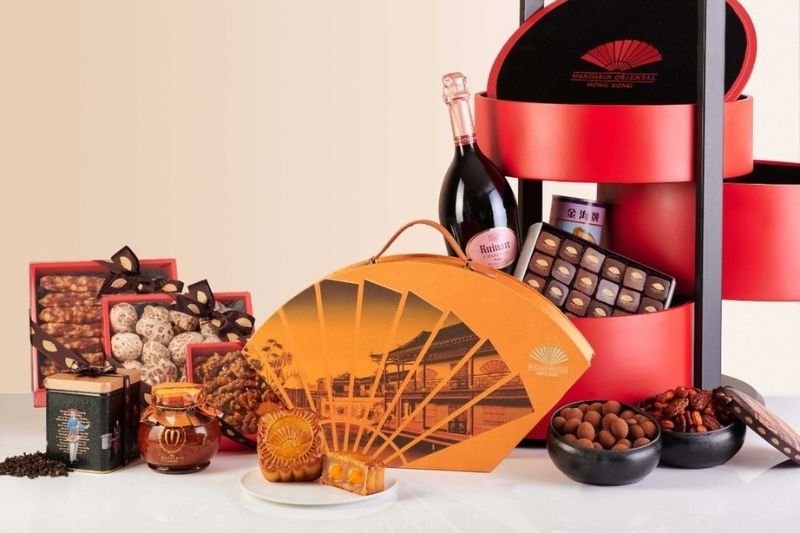 With an impressive range of gift boxes and hampers, The Four Seasons Hong Kong is a one stop shop for gifting this Mid-Autumn Festival. With classic mooncake flavours courtesy of Lung Keing Heen, you can even enjoy an early bird discount of 15% until 31 August. Purchases can be made in person or online from the Cake Shop.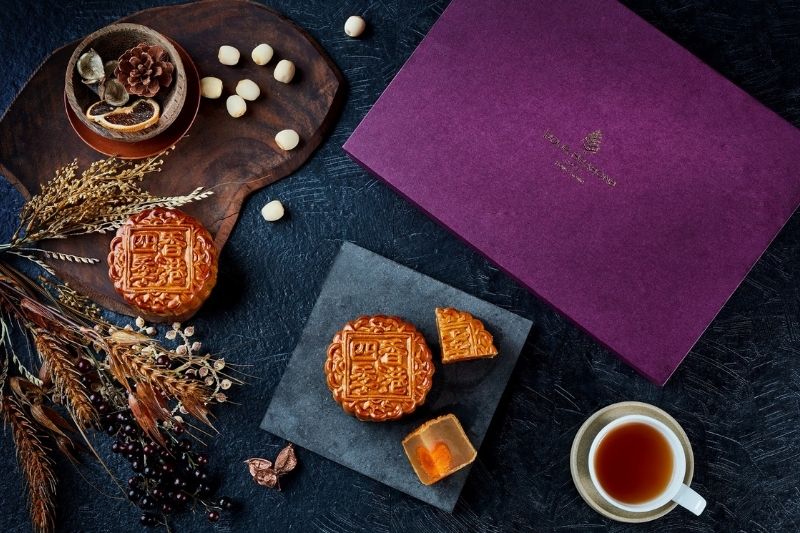 Illuminate your Mid-Autumn Festival with Tea WG's Moon Dance Tea Mooncake Music Box. Showcasing the limited-edition Moon Dance Tea from the Haute Couture Tea Collection® at Tea WG. If Tea is your thing, these handcrafted mooncakes will be right up your alley, infused with delicate tea blends. An early bird offer of 5% is available until 20 August.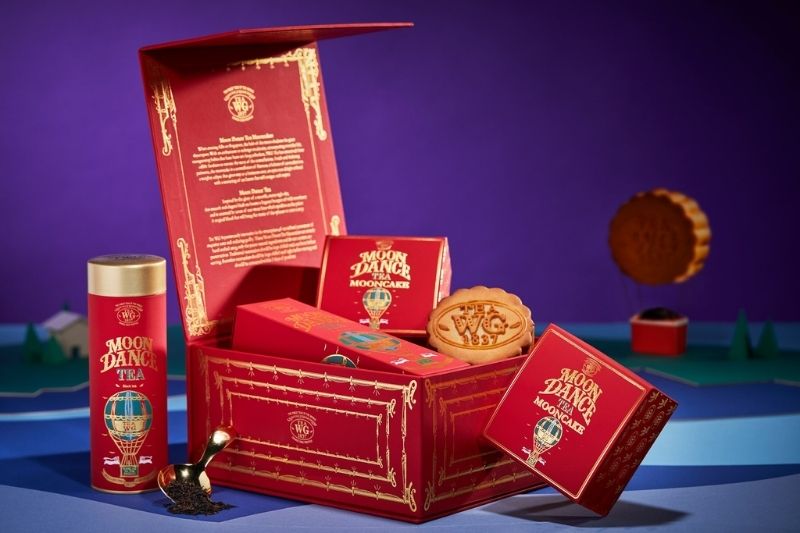 Celebrating Mid-Autumn Festival with a sustainable, reusable and vibrant green box, Michelin Star Yat Tung Heen brings us, mini custard egg yolk and white lotus seed paste mooncakes. The eco-friendly wooden case can be repurposed for many other usages, the kids will love the mooncakes and the box! Prices tart from $318 and orders can be placed online.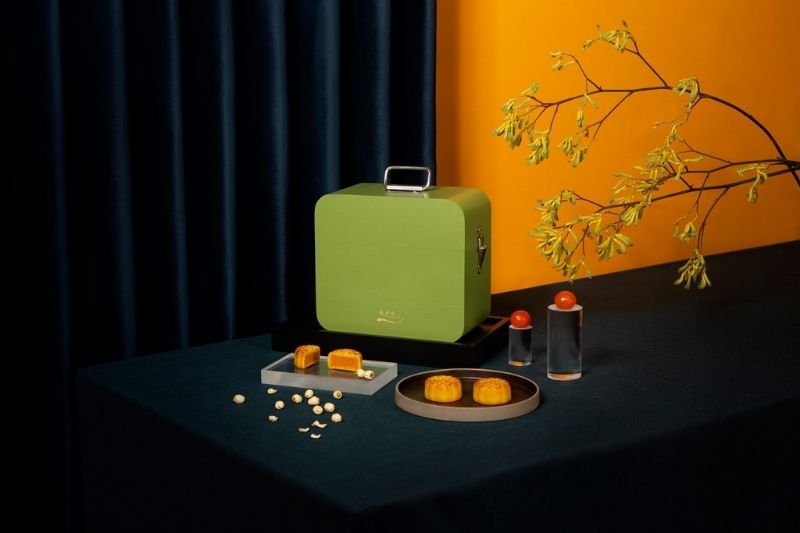 Enjoy mini egg custard mooncakes with the Upper House whilst also giving back to the community. 10% of profits from all Mooncake sales will be donated to Mother's Choice, a local charity serving children without families, and pregnant teenagers and young women in Hong Kong. Thought and care has also gone into the packaging with a stylish and sustainable mooncake box. Both environmentally friendly and beautiful enough to reuse. Mooncakes are for collection only at Level 6, The Upper House, Pacific Place, 88 Queensway. To order visit Upper House or order at the e-shop.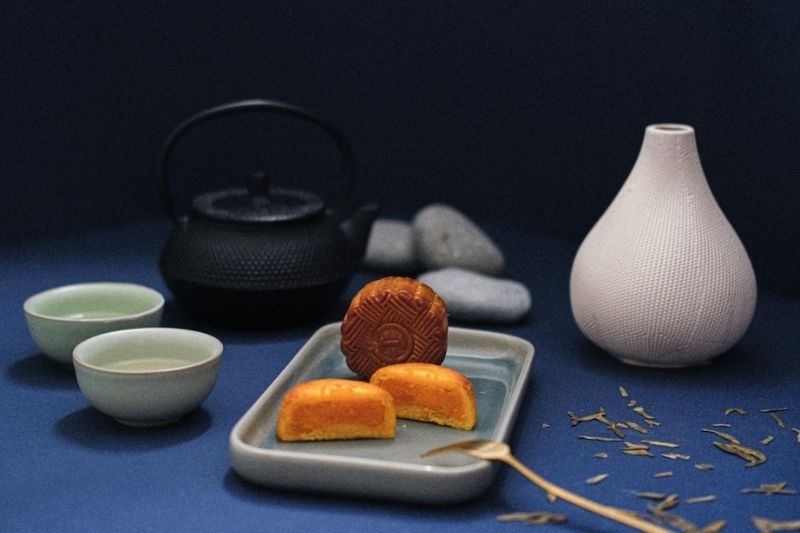 The mooncake boxes from China Tang are almost pretty to open! Beautiful Chinoiserie motifs encase traditional White Lotus Seed Paste with Double Egg Yolks mooncakes, and Mini Crafted Egg Custard mooncakes. A luxury treat in luxury packaging, a great gift for loved ones and yourself! Orders can be placed here.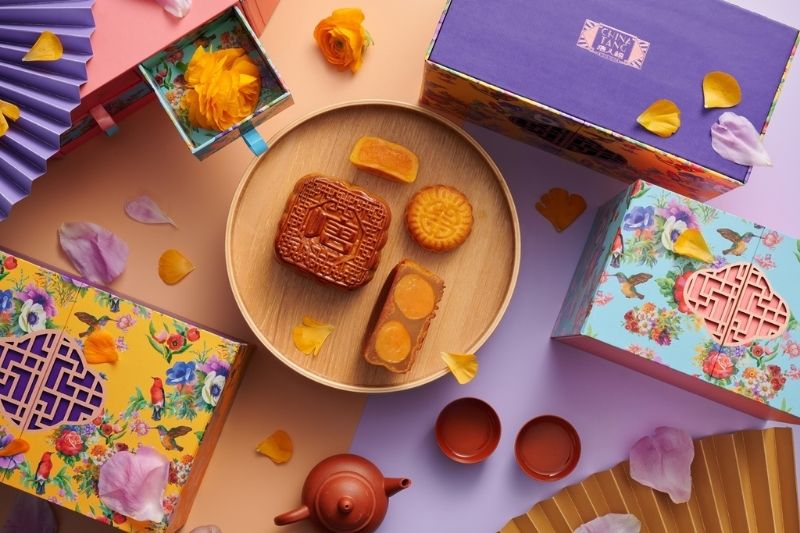 Take you on a trip to New York City, with Dominique Ansel this Mid-Autumn Festival. Based on the city where the bakery was born, the Fly Me To New York Mooncakes Gift Box lights up the New York skyline, showcasing a silhouette of signature architectures and icons under the moonlight in the big apple. Each gift box features 6 pieces of artisan mooncake made locally in Hong Kong. Flavours include Earl Grey Custard and Original Custard. Priced at $498 with pick up available at all three locations.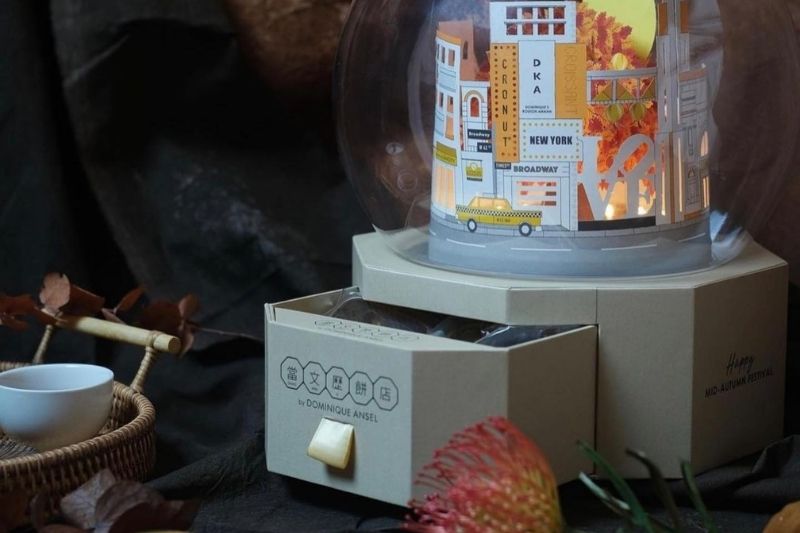 Chef Vicky & Chef Graff at Date by Tate have created a beautiful Mooncake box with a series of wonderful flavour combinations to try. Elements include; Yuzu & Sesame Rocher, Salted Egg Yolk Cookie, Five Nuts Chocolate, Surprise Lychee Marshmallow, Osmanthus Milk Jam (Dulce de Leche), and Lemon & Osmanthus Marmalade all inside a wooden Gift Box, Scarf, with a personalised message. Priced at $1080 and available for pick up or delivery from September 14th to September 21st.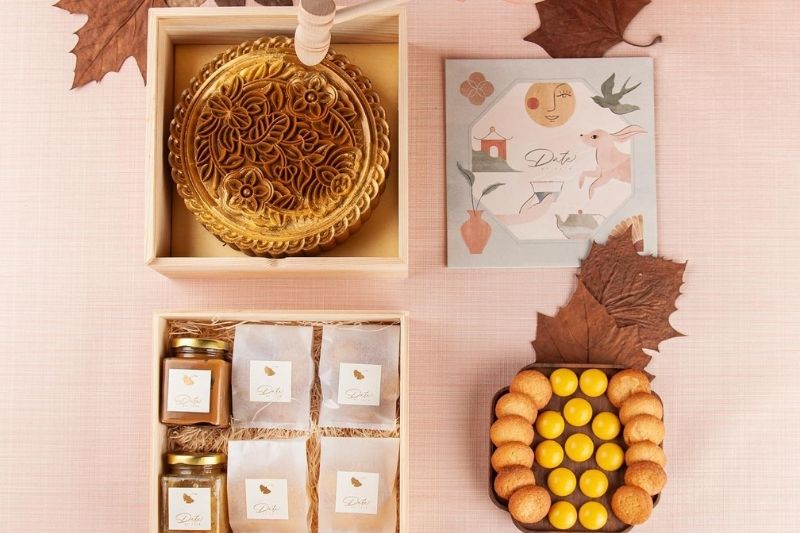 If you were a fan of the Netflix movie Over the Moon, you will love the inspiration behind this years Mid-Autumn Festival mooncakes from Cuisine Cuisine at The Mira Hotel. The Guojinxuan Prestige Mooncake Series is packaged in a Renaissance-style design chest box and individual colourful paper boxes inspired by the Mid-Autumn mythology featuring; Full Moon, Paper Lantern, Jade Rabbit and the Moon Goddess, Chang'e. A perfect gift for all the little ones! Order online here.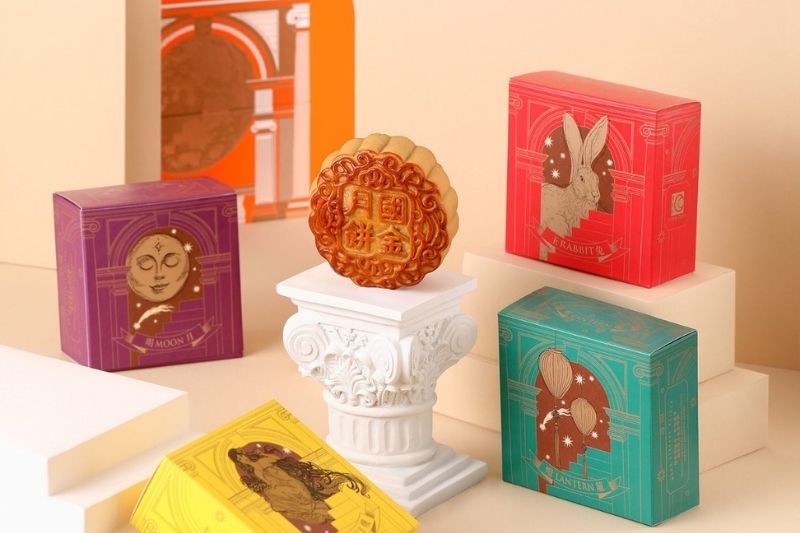 Fancy a caviar mooncake? Well, look no further than the Royal Caviar Club. The world's first caviar mooncake is available this Mid-Autumn Festival. The mooncake is made with a snow skin outer coating, filled with Imperial Ossetra Caviar and paired either with cream cheese filling or fresh vanilla filling from Madagascar, packaged in a limited-edition gift box, priced at $580. Enjoy an early bird special offer of $100 off for all orders before 21 August 2021. Delivery will be available for $150 on Hong Kong island, or pickup at the Sai Ying Pun showroom. For more information WhatsApp at +852 9447 8565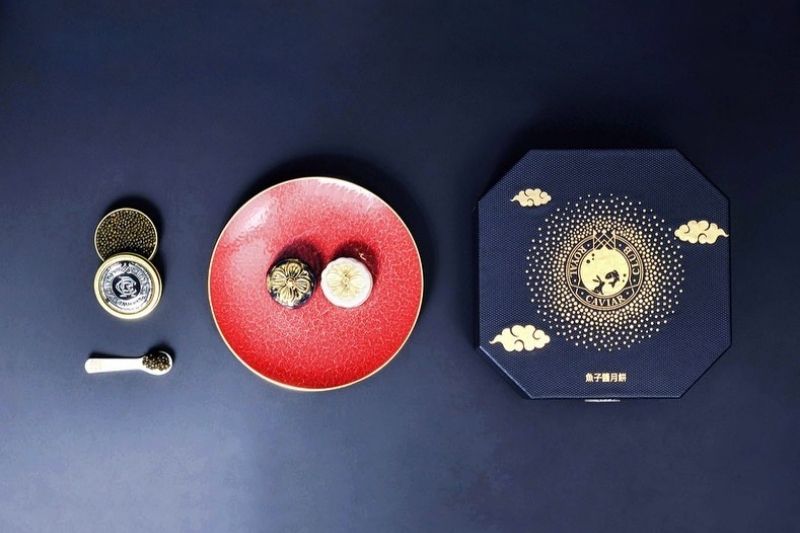 Celebrate this Mid-Autumn Festival, with the ultimate comfort food –  the original Mooncookie. Cookie Smiles has created a range of sweet and savoury Mooncookie flavours in Coconut Jam & Egg Custard, Sesame & Egg Custard and Chicken Floss, Egg Custard & Black Pepper. Enjoy these yummy mooncookies, whilst also supporting those in our community. The cookies are baked by disadvantaged bakers and 20% of their annual profits go to Impact HK and SPCA. Get your mixed bag of 6 Mooncookies for $90.00 by ordering ONLINE or on DELIVEROO.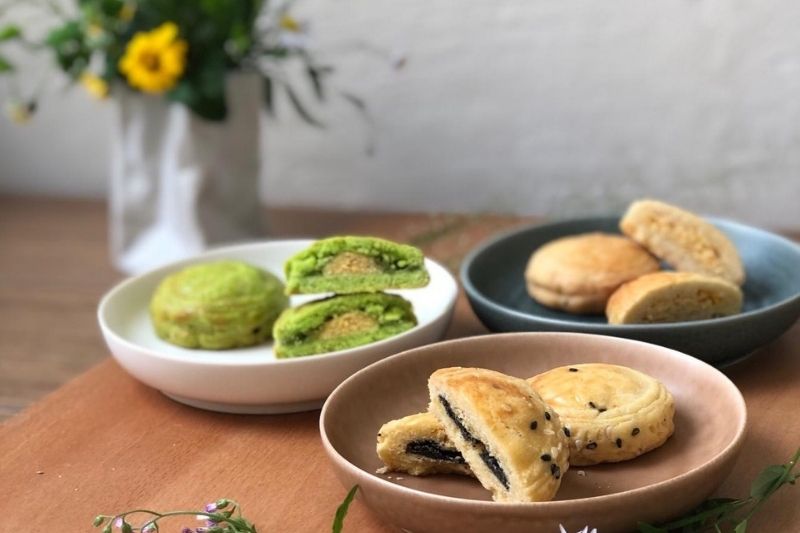 Main photo courtesy of Shutterstock; photo 1 courtesy of The Cakery, photo 2 courtesy of The Langham; photo 3 courtesy of The Peninsula; photo 4 courtesy of Rosewood; photo 5 courtesy of Duddells; photo 6 courtesy of Saint Honore; photo 7 courtesy of Ying Jee Club; photo 8 courtesy of Ali Oli; photo 9 courtesy of Eat FRESH; photo 10 courtesy of The St Regis Hong Kong; photo 11 courtesy of The Mandarin Oriental Hong Kong; photo 12 courtesy of Four Seasons Hong Kong; photo 13 courtesy of Tea WG; photo 14 courtesy of Yat Hing Heen; photo 15 courtesy of Upper House; photo 16 courtesy of China Tang; photo 17 courtesy of Dominque Ansel; photo 18 courtesy of Date by Tate; photo 19 courtesy of Cuisine Cuisine; photo 20 courtesy of Royal Caviar Club; photo 21 courtesy of Cookie Smiles.
Related Articles: