Reading Time: 8 minutesWeekends are made for brunches. In Hong Kong, brunch has birthed a life all of its own, with brunches that can stretch for hours, plus new and exciting cafes popping up in our local areas all the time. What better way to luxuriate over a lovely late morning meal than to head out to enjoy one of the family friendly brunches in Hong Kong. From brunch classics like eggs benedict to buffets, Asian fusion, dim sum and more (with or without free-flowing drinks packages), here are a few of our favourite family friendly brunches in Hong Kong.
Editors Note: Due to the current COVID-19 pandemic, social distancing restrictions are changing daily, please check with venues for regular updates.
You might also like: Our Kennedy Town Neighbourhood Guide
Family Friendly Brunches in Hong Kong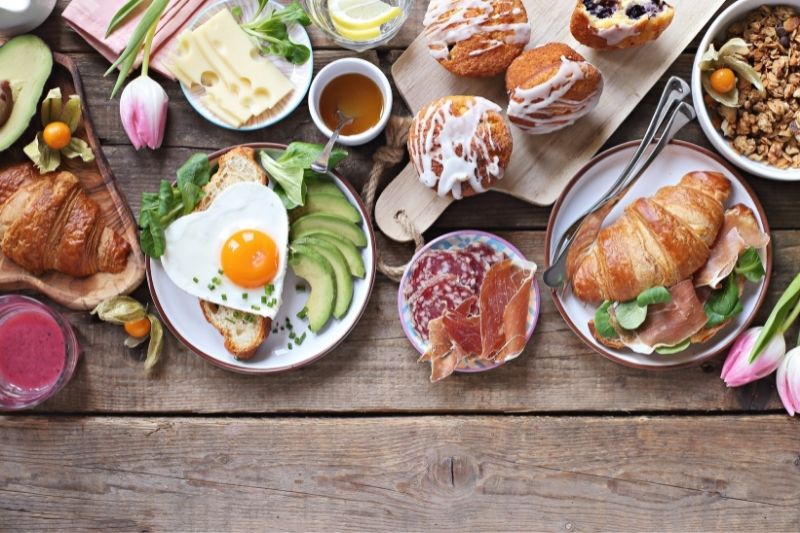 Brunch at Little Bao
Little Bao's brunch, which launched earlier this year, features chef May Chow's delicious breakfast-inspired plates, showcasing her signature culinary style. Try t
he Breakfast Bao, stacked high with a house-made sausage patty, Chinese pickled mustard greens, fried Japanese egg, HK Island dressing, tomato jam and a layer of cheddar. Yum! Or indulge in the caramelised thick-cut brioche French toast, inspired by a local cha chaan teng favourite,  which includes French custard, Mr. Black coffee liqueur maple syrup and seasonal berries. The toasted brioche prawn toast is not to be missed as it includes a heap of prawn paste paired with a shiso scallion salad, or the Crab Benny with Cajun crab avocado salad, topped with runny Japanese eggs. The 
Brunch Set for 2, 
from HK$288 per person includes two brunch items 
or
 fried chicken, plus four shared plates. Add the two-hour free-flow for just HK$198 and choose from sparkling, red or white wines, and beer.
Flower Power Brunch at Chaiwala
A new monthly hippie-inspired theme brunch with free flow, lively music and performances will be available at Chaiwala, the third Saturday of every month, starting from 23 July. Think Woodstock vibes, with psychedelic music, dance performances, free-flowing drinks, plentiful food, bright flowers, and colourful lights. With Indian street food staples and Chaiwala's signature curries. Priced at $688pp for brunch menu and free-flo, with Champagne upgrade available for $888. Dresscode is Bell bottoms, vibrant colours, sunglasses, and flowers of course!
Chaiwala, Basement, 55 Wyndham Street, Central, Hong Kong, 2362 8988
This has to be one of our city's most loved brunches of all time. The food is divine and the setting is glamorous but also kid friendly. If you love a Japanese izakaya, this is the brunch for you. Book in for a seating 11am to 3pm and add free-flow if you're up for a chilled afternoon.  Start with the delectable sharing plates and save room for mains (teriyaki salmon, spicy beef, sashimi, miso black cod, roasted lobster and more). The deluxe dessert platter of fresh fruits and ice-cream is the perfect ending.
Zuma, Levels 5 & 6, Landmark Atrium, 15 Queen's Road Central, Central, Hong Kong, 3657 6388
If you're after a beautiful weekend buffet brunch, look no further than The Grill at the Grand Hyatt which serves seafood on ice, char-grilled specialties, and signature homemade desserts. Within a lush poolside garden, enjoy DJ entertainment for alfresco dining. Drinks packages available.
The Grill at the Grand Hyatt, 11/F, Grand Hyatt Hong Kong, 1 Harbour Road, Wan Chai, Hong Kong, 2584 7722, www.hongkong.grand.hyattrestaurants.com
Yum! That's the best way to describe what's on offer at the Green Waffle Diner. The unique variety of tea and coffee drinks will start your brunch off beautifully. Choose anything from a standard Americano coffee to a ginger caramel latte or an iced coffee green tea latte. There's a long list of juices, smoothies and even chocolate milk for the kiddies. The food menu has a dizzying array of choices with everything from a full breaky (lumberjack's breakfast) with eggs, sausage, bacon, smoked salmon, waffle, and homefries or salad/fruit to lighter fare like fruit or pandan pancakes. The waffle combo meals are another delicious option – choose from the classic, almond milk buckwheat, pandan or chocolate chip base with toppings like berry, mango, banana, caramel apple or pistachio. Or if you've had breakfast and are ready for more of a lunch menu, Green Waffle has you covered with pasta, sandwiches, risotto, salads and more.
G/F, The Workst@tion, 43 Lyndhurst Terrace, Central 852 Hong Kong, Hong Kong, Facebook
1303 Hysan Place 500 Hennessy Road Causeway Bay, Facebook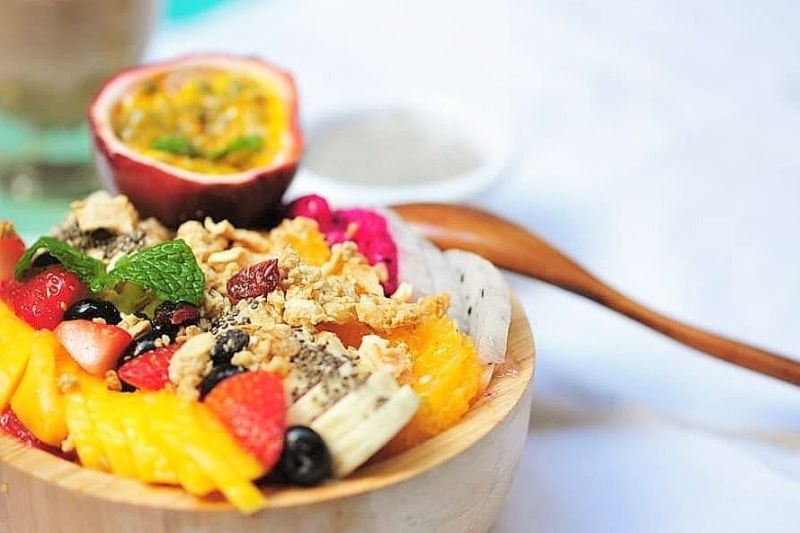 The brunch menu at Frites is simply perfect and one of the best family friendly brunches in Hong Kong. From the big breakfast for those with a big appetite to sweet souffle pancakes for your little sweet-tooth and a Croque Monsieur/Madame for those who really want lunch. The kids menu has all the goods to with spag bol, fish and chips, burgers and more. On weekends on public holidays, brunch is on offer from 11:45am – 3pm. Frites also runs Happy Hour daily (50% off beer, wine, champagne and spirits) in case you miss out on weekend brunch.
Multiple locations in Hong Kong
Hutong
At Hutong, the Feng Wei Brunch runs Friday to Sunday so you can start the weekend early. Your brunch will start with a selection of appetisers, a choice of sharing dishes, unlimited serves of small dimsum plates and a choice of mains. Save room for a dessert platter too. Friday brunch runs from 2:30pm – 6pm. Early weekend brunch is 11:00am – 1:30pm while the non-stop brunch runs from 1:30pm – 6pm if you want to settle in with free-flow champagne, cocktails, wine, sake, and beer. The menu for this month looks scrumptious!
Hutong, 18/F, H Zentre, 15 Middle Road, Tsim Sha Tsui, 3428 8342
With the weekend (and public holiday) brunch at the cosy Chaiwala basement restaurant, you're in for a Modern Indian cuisine treat. Start off with a choice of "chaats" or snacks served to your table for sharing. Then choose a biryani, a selection from the tandoor and a curry. After a champagne or lassi freevflow, and if you saved room for sweets, you'll be delighted with the chef's selection. Brunch from 11am – 6pm.
Chaiwala, Basement, 55 Wyndham Street, Central, Hong Kong, 2362 8988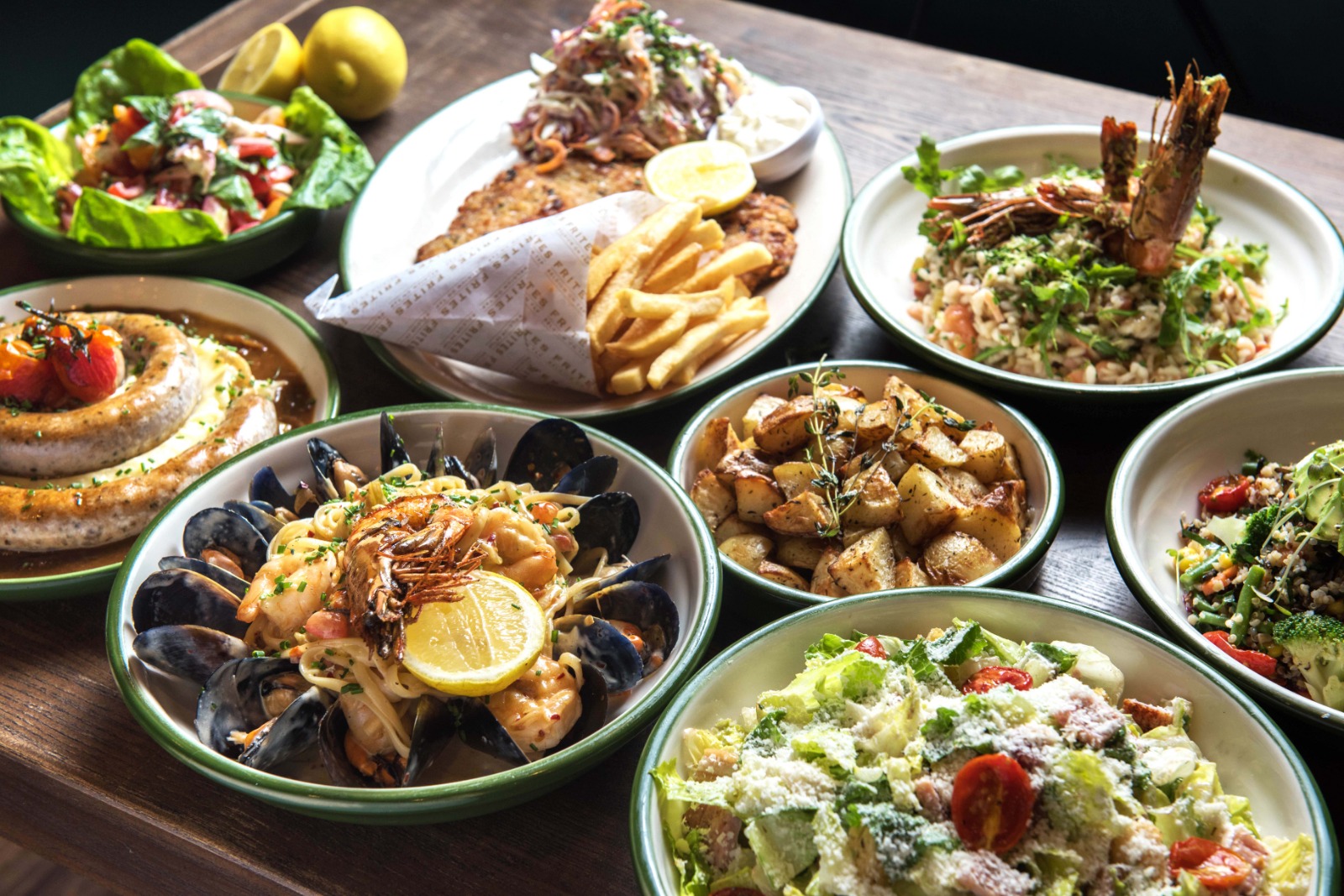 Madame Fù's Brunch is a curated, contemporary take Chinese classics with dishes like Mozzarella, Spinach and Bamboo Pith Dumplings, Seafood and Honey Pea Dumplings and Madame Fù's Iberico Char Siu Bao. The vegetarian and vegan menu features dishes like Steamed Garlic Baby Cabbage, "Impossible" Stir-fried French Beans and Peanut and Sesame Cantonese Sticky Rice Cake for dessert. There are Gluten free options too. Add-on free flow drinks available in 2 or 3 hour blocks.
Madame Fù Grand Café Chinois, 3rd Floor, Barrack Block, Tai Kwun, No. 10 Hollywood Road, Central, 2114 2118, www.madamefu.com.hk, reservations@madamefu.com.hk | WhatsApp
You might also like: Where to Get the Best Dim Sum in Hong Kong
On weekends and public holidays TokyoLima does an incredibly tasty Peruvian/Japanese brunch from 11am – 2pm. Start with a coffee cocktail welcome drink and salmon tartare, ceviche or tuna with avocado then move on to pork belly bun or karaage style fried chicken. Main courses like grilled salmon, traditional beans and rice, short ribs, grilled chicken or slow cooked pork belly go well with the sharing salad. They also offer classic (wine/beer/cocktail) and champagne free flow options.
TokyoLima, G/F, Car Po Commercial Building, 18-20 Lyndhurst Terrace, Central, 2811 1152, www.tokyolima.hk
Brunch at Aqua Friday 2:30 – 6pm or Saturday/Sunday 11am – 1:30pm or 1:30 – 6pm. If you arrive hungry, don't worry as you will be served unlimited edamame to tide you over until the Chicken karaage, pork gyoza, fried tofu fish cake and arancini arrive. Try one their thin crust pizzas or sushi sets but save room for the main course and dessert platter. Free flow or food only packages are available and kids under 5 are complimentary.
Aqua, 17/F, H Zentre, 15 Middle Road, TST, Reservations: +852 3427 2288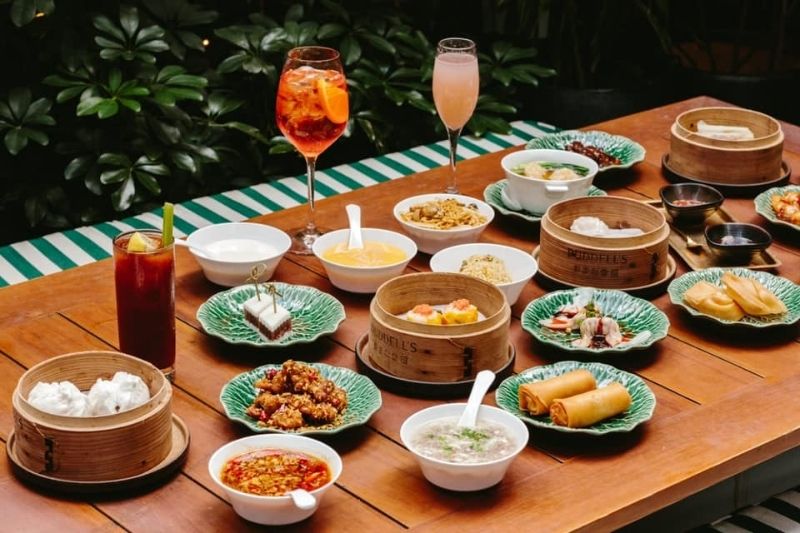 The Weekend (and public holiday) Salon Brunch is on from 12 – 3pm. Eat dim sum to your content with dumplings, buns and rolls. Indulge in mains like Peking duck, beef tenderloin or try the Tomago tofu or braised vegetables. There's also fried rice, noodles and soups to choose from. The dessert menu has some lovely light delights too. Free flow drinks choices are part of the deal.
Duddell's, 3-4/F, Shanghai Tang Mansion, 1 Duddell Street, Central, 2525 9191, www.duddells.co
The Brunch Club believes in quality food and a friendly environment. Choose from brunch favourites like eggs benedict and omelets plus light meals (muesli, fruit, yogurt) or something heartier (steak and eggs, chicken and waffle, shepherd's pie), salads, burgers, tacos and everything in between. With its friendly staff, downhome feeling, delicious foods and freshly baked artisanal breads from their own "Marie's bakery" and gourmet coffees and juices, the Brunch Club is one of our favourite family friendly brunches in Hong Kong.
G F, 70 Peel Street, SOHO, Central, info@brunch-club.org, 2526 8861
1/F, 13 Leighton Road, Causeway Bay, Hong Kong, Info@brunch-club.org, 2890 2125
The Mandarin Oriental's Clipper Lounge
The Sunday buffet brunch at this gorgeous Hong Kong institution is a treat for all. With an awesome array of Western, Chinese and Japanese dishes, you won't leave hungry in fact you won't want to leave. From seafood to sushi to European cheeses, noodles, and more, the choices are plenty. The dessert menu is also extensive and includes favourites like tiramisu, crème brule and a collection of cakes, baked goods and chocolate plus an ice cream station. It all happens on Sunday, 12pm to 3pm. Drinks packages available.
Clipper Lounge, Mandarin Oriental, Hong Kong, 5 Connaught Road, Central, 2825 4007, www.mandarinoriental.com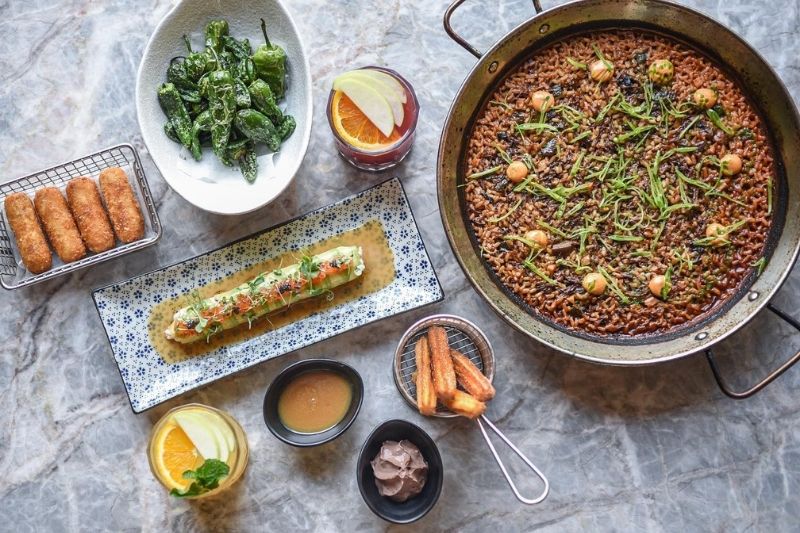 Available on Sundays, La Rambla's brunch menu features unlimited tapas to start, amazing mains and sharing dishes or you might prefer paella but do save room for a decadent churro sundae for dessert. Kids under 7 eat free. Drinks packages are available as are pitchers of sangria. Ole!
La Rambla, 3071 – 73 Level 3, ifc mall, Central, Hong Kong, 2661 1161, reservations@larambla.hk
Oolaa is an ideal mid-week spot for new mums and families. The staff stellar, and Oolaa's booths are built for mums still trying to get the hang of breastfeeding, juggling a new baby or just wrangling the kids! The menu has something for everyone and the coffee is good. You can't go wrong. Oolaa Central has moved to a NEW location on Stanley street. There is also a branch of Oolaa in Tseung Kwan O.
Oolaa, G/F, 28 Stanley Street Central (plus 3 other locations across the city), 2796 6988, oolaacentral@oolaagroup.com
Uncle Bruno's Brunch at Ask For Alonzo
Head to Ask for Alonzo for a well-priced classic Italian brunch. Available at all Ask for Alonzo locations, the 'Uncle Bruno's Brunch' includes a selection of sharing starters, such as a Breakfast in Tuscany platter with toast, puttanesca, parma ham and eggs, followed by a choice of pasta, and a hearty main course of Breakfast Carbonara or Alonzo Milanese and finished off with a White Chocolate Panna Cotta. All of this for just $268 per person. Wanting to enjoy a tipple, too? An additional $198 covers two hours of unlimited wine, prosecco, beer, gin and vodka.
Ask for Alonzo is located in Soho, Happy Valley, Quarry Bay and Tai Hang
Zak's at Discovery Bay is worth the trek, and they welcome mums and families with open arms. Zak's offers lots of space for strollers, an abundance of high chairs and a little pirate ship for older kids to play on. They do great kids' food, have a lovely breakfast menu and a decent drinks list for those looking to let loose. You can even take a very pram-friendly stroll along the water front all the way down to the beach. This is an easy day out for new parents and if you don't live on Lantau, it's a nice contrast to the hustle and bustle of high-density Hong Kong.
Zak's, Shop G04, Block A, Discovery Bay Plaza, Discovery Bay, Lantau Island, Hong Kong, 29876232, zaks@casteloconcepts.com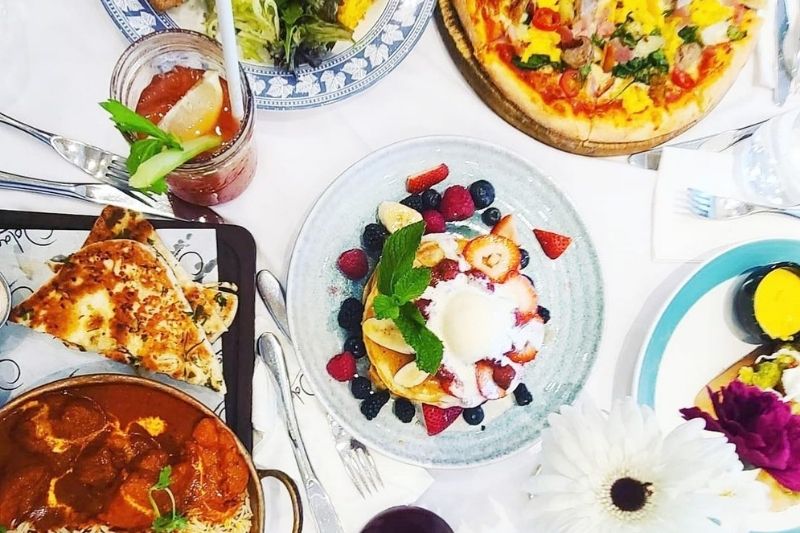 Known as 208 to locals, this beautiful restaurant hosts a gorgeous brunch on weekends, providing a solid option for special occasions. 208 welcomes families of all shapes and sizes, including little tykes and breastfeeding mums. The restaurant caters for babies under 12 months with high chairs and baby change facilities. The Italian menu caters for big and little people, and they also have multiple vegetarian options. The kids will love the pizzas and mum and dad will love everything else. This is a great venue for hungry dads – it's full of delicious pastas, meats and platters.
208 Duecento Otto, 208 Hollywood Road, Sheung Wan.
Yamm is another family-friendly venue young families should check out. This is another venue with plenty of room for prams, so it's a great option for those with very new babies. You'll find lots of space and staff at the ready to help you with your family needs. Yamm's buffet usually include all the usual suspects – a carvery, fresh seafood, and even eggs with Black Truffles. They also have a dessert buffet that's perfect for bribing kids to show their best behaviour. Check their website for brunch times, prices and entertainment.
Yamm at The Mira, G/F Lobby, The Mira Hong Kong, Mira Place, 118 – 130 Nathan Road, Tsim Sha Tsui, +852 2315 5111 yamm@themirahotel.com, WhatsApp +852 9049 7122
Main Image courtesy of Shutterstock; Picture 1 courtesy of Shutterstock; picture 2 courtesy of Green Waffle Diner FB; picture 3 courtesy of Frites FB; picture 4 courtesy of Duddells FB; picture 5 courtesy of La Rambla FB; picture 6 courtesy of Oolaa FB
Related Articles: